Letters from Lodi
An insightful and objective look at viticulture and winemaking from the Lodi
Appellation and the growers and vintners behind these crafts. Told from the
perspective of multi-award winning wine journalist, Randy Caparoso.

July 26, 2018 | Randy Caparoso
LangeTwins Family's all-in commitment to exciting Italian varietals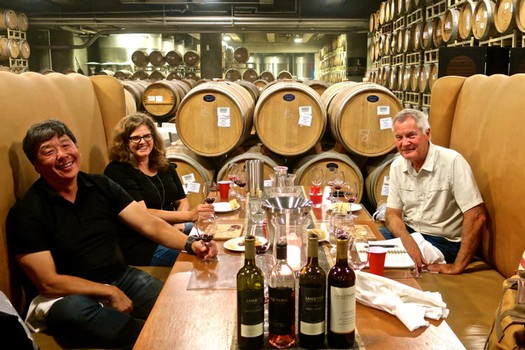 Lodi's LangeTwins Family Winery & Vineyards is going Italian!
Never mind the fact that the Langes are descended from Germans: Johann and Maria Lange, who settled in the Lodi region and began farming crops like watermelons during the 1870s.
The Lange family's first vineyard was established by 1916; although it was the fourth generation twins, Brad and Randy Lange, who first decided to go into the wine grape growing business big time, back in 1974. Today, a fifth generation of Langes – Marissa, Aaron, Phillip, Kendra and Joe – is deeply involved in all aspects of the winegrowing, wine production, marketing and sales of the brand, with still another generation on the way.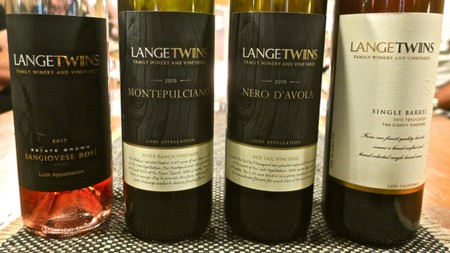 But why Italian grapes? Simply because, after over 100 years of experience, it has proven to be the logical thing to do, given the Mediterranean climate of the Lodi Viticultural Area. As primarily grape growers, of course, the Lange family is sensitive to the needs and demands of other wineries.
But as the market has progressed, with consumers become more open to wines other than mainstream varietals (such as Cabernet Sauvignon, Pinot noir, Chardonnay, Sauvignon blanc, etc.), movement towards wine grapes that are naturally conducive to the region's terroir has just made sense.
Last week co-owner Randy Lange, along with his winemaking team of David Akiyoshi and Karen Birmingham, sat down to share their current portfolio of Italian varietals.
Their wines and thoughts: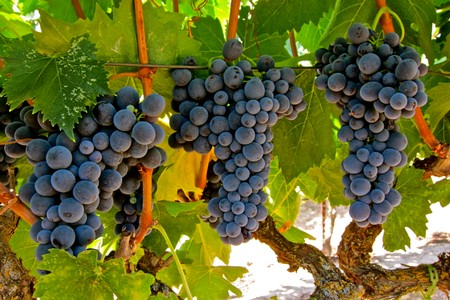 2017 Lange Twins Family, Lodi Sangiovese Rosé
Tasting notes: Bright coral pink and strawberry/watermelon aroma; crisply dry, mouth-watering summer fruit sensations in a medium-full body, with a refreshingly dry, tart and palate-ringing, cranberry-edgy taste. $15.
K.B.: We knew Sangiovese would make a great rosé, but we weren't 100% sure of the reception; and so in 2011 we started with just a couple of hundred cases. Every year the wine has been selling out within a few months – in just weeks, sometimes – and so we're now up to 2,400 cases.
The Sangiovese comes from our estate vineyard located right across the street (Jahant Rd.) from the winery.
D.A.: This grape has always appealed to us. I've always considered Zinfandel to be the progenitor for the California wine industry. When Italian immigrants first got to the West Coast during the 1850s, they didn't have access to Italian varieties. But Zinfandel reminded them of their grapes at home, and it became their go-to wine. It took over 100 years before we learned that Italian varieties like Sangiovese also work well for us here.
What's interesting about Sangiovese is that it can be harvested earlier (since grapes used to make rosés always need to be picked at lower sugars with higher natural acidity) and yet exhibit beautiful fruit character, with no pyrazines (i.e. green/vegetal or underripe characteristics). It is an ideal grape for rosé.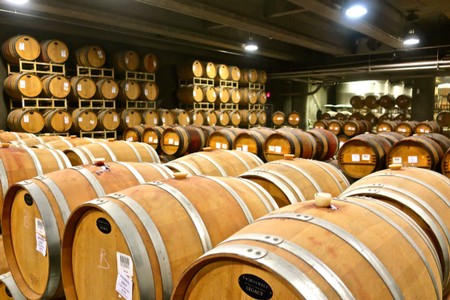 K.B.: Our Sangiovese is grown and picked specifically to become rosé – it is not a saignée (i.e. light colored juice "bled" off of vats of wine picked at higher sugars and lower acidity to make red wines). After picking, the grapes are allowed to settle on the skins for just a short time, until we get the exact color we want.
R.L.: The Sangiovese was originally planted in the 1990s for Robert Mondavi's Woodbridge program. I believe that in the beginning it was used as a blender for varietal bottlings of Merlot or Zinfandel. A small patch of it has been going to Korbel – they love it as a blender for their sparkling wines. But as our Sangiovese Rosé has grown, less and less of it has been going to Korbel, and we keep most of it for ourselves.
D.A.: Korbel has had good reasons to love the Sangiovese. It produces beautiful fruit: wild strawberry, watermelon flavors – really 'juicy' qualities.
K.L.: Over the years we've been able to dial into the vineyard; getting just the right fruit qualities, the right color, and balance of flavors. We ferment it like a white wine; with a yeast that doesn't pull an excess amount of color, and gives us a nice, slow fermentation. It's not quite bone-dry. There is .3% residual sugar – a level that the vast majority of people perceives as completely dry, yet just enough to enhance the fruit qualities.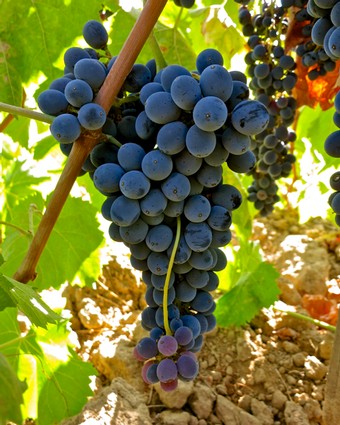 2015 LangeTwins Family, Lodi Nero d'Avola
Tasting notes: Medium ruby color and beautiful red cherry nose with caraway-like notes, brown spice and faintly vanillin flourishes from oak (aged completely in neutral – i.e. older – barrels). On the palate, medium bodied flavors are couched in a zesty acid/moderate tannin frame, giving a firm, edgy yet well rounded, pliant feel. $25.
D.A.: This is our second vintage of Nero d'Avola. The thing I love about working with it is that it is unlike working with Bordeaux grapes (i.e. varieties such as Cabernet Sauvignon, Merlot, Malbec, Cabernet Franc or Petit Verdot). It's interesting because it doesn't make a monolithic tasting wine like Cabernet Sauvignon, yet the flavors are memorable. There is plenty of depth and substance, yet it finishes at a very reasonable 13% alcohol, so you can drink several glasses of it!
K.B.: We do not do extended maceration (i.e. skin contact) of the Nero d'Avola, which enhances its drinkability and explosion of fruit, which is intriguing, and unique. It also has great stability. We are always surprised by how deep and bright its color is, even after a year in barrel. I like that its tannin is sturdy but not edgy, and the acid is naturally bright. These components play up the Nero d'Avola's perfumey fruit quality, which remind me of wild cherry and sour plum.
R.L.: I love the Nero d'Avola precisely because it's not the same ol', same ol'!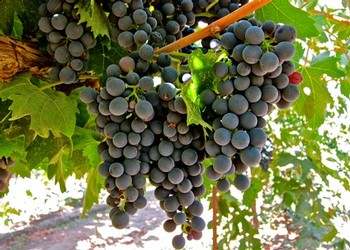 2015 LangeTwins Family, Lodi Montepulciano
Tasting notes: Fairly dark ruby color and pungent nose suggesting meaty, earthy notes mixed with dried plum fruit, spice and a tinge of leather. On the palate, a beautiful velvety feel and sense of acid/tannin/earth toned fruit qualities; medium-full, with a dense feel, without being filling or "big." $25.
R.L.: I love the Montepulciano's nose. It's very "Italian." That is, it's not one dimensionally fruity. It makes me think of how differently wine is looked upon in Italy from the way it is here. In Sicily, for instance, we once visited a winery and saw an entire school bus filled with kids pulling up beside us. We saw the school kids getting a winery tour; and afterwards, each one received a bottle of wine to take home. Definitely a different sort of wine culture from ours!
D.A.: I'm with Randy. Italy probably has a more sensible approach to wine than we do. Kids are raised to appreciate wine, and they drink it more responsibly as adults. The Montepulciano personifies that. It's a complex wine, with multiple components to its nose and flavor.
R.L.: Although this wine is available for sale only at the winery, we still love to take it out to the markets. We sort of "bootleg" it in; carrying it with us when we do wine dinners in other cities. A reward, so to speak, for guests who sign up for LangeTwins events. The Montepulciano is a tremendous conversation starter – people love it, even if they can't buy it, and it tells us that we are on the right track.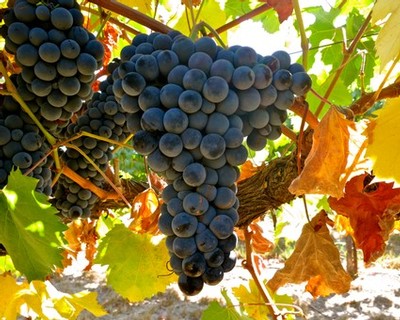 2013 LangeTwins Family, Single Barrel Lodi Teroldego
Tasting notes: A color as black as a new moon night; followed by a nose that fulfills this visual promise with an intensely concentrated nose suggesting perfumey black fruit with vanillin oak undertones. On the palate, this dark fruit concentration becomes almost chocolaty in its richness and texturing. The feel is thick, dense, somewhat burly, yet moderately full (that is, not gigantic) all the same. $50.
K.B.: To me, the Teroldego is almost balsamic-like in its richness, sense of depth, plus in this particular wine's slight age.
R.L: We originally planted the Teroldego for E. & J. Gallo; but like our other Italian grapes, the more we use to produce our own wine, the less they get.
D.A.: The Teroldego completes our current package of Italian varietals. We grow four unique Italian grapes to produce four completely different wines. This gives us a unique identity as a winery.
The important thing, I think, is that we don't try to make these wines into anything they're not. We don't add Petite Sirah, for instance, or use excess oak to get a profile people may be accustomed to. We want to express the individuality of the grapes; and in doing so, we believe we are also expressing the unique qualities of the region.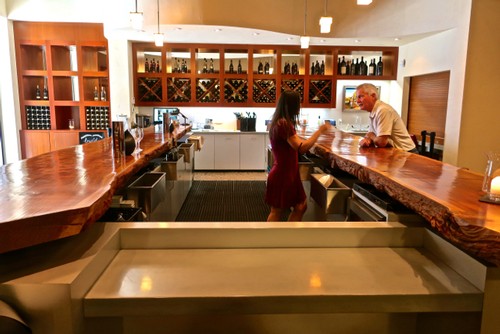 Comments