Letters from Lodi
An insightful and objective look at viticulture and winemaking from the Lodi
Appellation and the growers and vintners behind these crafts. Told from the
perspective of multi-award winning wine journalist, Randy Caparoso.

July 26, 2019 | Randy Caparoso
LangeTwins Family kicks Lodi up a notch with an impeccable vineyard-designate Sauvignon blanc, Montepulciano and Petite Sirah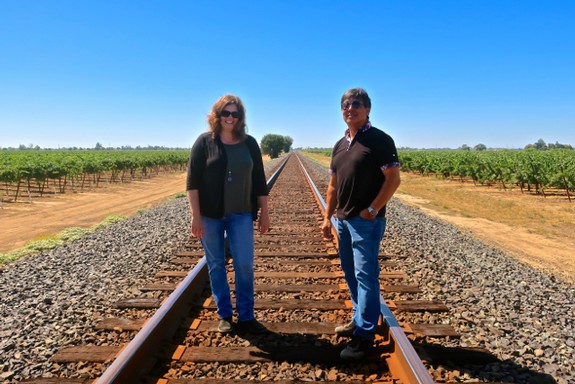 One of the most important recent developments here in Lodi is the bottling of five new single vineyard designated bottlings by LangeTwins Family Winery & Vineyards – a family that traces their farming roots in the Lodi Viticultural Area as far back as the 1870s.
The significance is twofold:
1. The highlighting of single vineyards on labels does more than bolster a region's impeccable grape growing reputation, to which the Langes have contributed tremendously. It also showcases a maturation of winemaking philosophy and skill on the part of this particular winery's two lead winemakers, David Akiyoshi and Karen Birmingham. Akiyoshi and Birmingham – whose winemaking mastery reflects over 50 years of combined experience in the industry – are no longer focusing purely on capturing the "varietal character" of grapes, or a predictable brand style. Just as important, or more, to them is capturing the qualities of grapes within the context of specific vineyard sources. Therefore they have adjusted their entire winemaking protocols to achieving exactly that: Putting a strong sense of place – something that is often called terroir – on equal or greater footing with objectives such as sheer intensity or even house style (although you can also say that LangeTwins Family's brand style has now become terroir focused).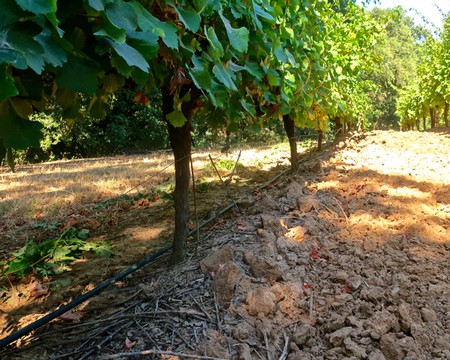 2. When you shift your focus to single vineyards, you also end up highlighting appellations – the regions within which the vineyards are located. Lodi is subdivided into seven appellations, a.k.a. American Viticultural Areas (or AVAs), distinguished primarily by different soil types and topographies. In Lodi, the Langes farm extensively in three of these AVAs: primarily Jahant (distinguished by sandy clay loam soils on fairly level terraces), Clements Hills (gravelly or rocky clay loams on rolling hills), and Mokelumne River (Lodi's "heritage" sub-region, marked by much deeper sandy loam soils, void of clay or gravel, on flat topography).
In the most recent Lodi Vineyard & Wine Economics Symposium (June 27, 2019), longtime wine editor/columnist Jim Gordon (of Wine Enthusiast and Wine Business Monthly) told an audience consisting of industry professionals that the use of sub-AVAs is an important step because "the perception among media is that the smaller the AVA, the more likely the wine is better." In other words, even if your "Lodi" appellation wine is just as good your wine with a "Jahant-Lodi" appellation on the label, both media and consumers (since to a large extent media opinions reflect those of consumers) will still perceive a Jahant-Lodi wine to be superior. This is true for American wines, just as much as it is true for wines from classic wine countries such as France, Italy, Spain and Germany; and when it comes to marketing, perception is everything.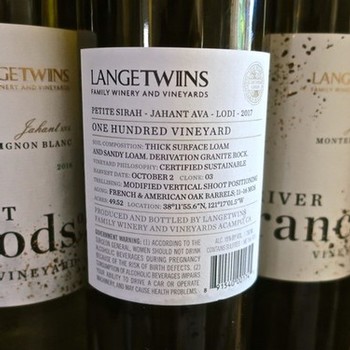 In the same seminar, Gordon also shared what he found among wine professionals and even wine educators across the country when he asked about their opinions of Lodi wines. "The big question," says Gordon, "was still, where is Lodi?... I met one wine professional who asked, 'Is it near Paso Robles?'" If anything, this points to the importance of putting even more emphasis on sense of place on Lodi wine labels, in the marketing of Lodi wines, and in the actual sensory qualities of wines grown in Lodi. The sooner wine professionals and consumers around the world have a stronger idea of Lodi as a region – consisting of diverse appellations with distinctive attributes – the better off we'll all be.
LangeTwins Family Winery & Vineyards has released three of their first five Lodi grown vineyard-designated bottlings, all from Jahant AVA vineyards: a Sauvignon blanc, a Montepulciano and a Petite Sirah. This coming fall they will also release a Jahant AVA Cabernet Sauvignon as well as a Clements Hills AVA Barbera with vineyard-designate labels. According to Akiyoshi and Birmingham, there will be even more to follow.
Our notes on LangeTwins Family's current single vineyard Lodi bottlings, with comments from the winemakers: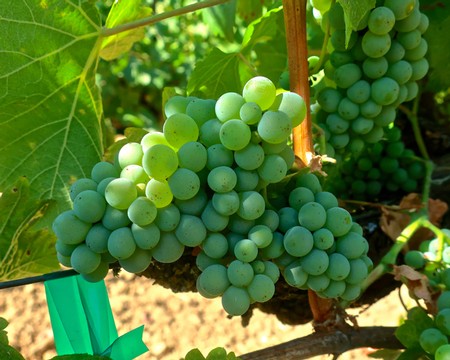 2018 LangeTwins Family, Jahant Woods 01 Vineyard Jahant-Lodi Sauvignon Blanc ($20)
The wine: Pungent, mildly herby, tropical flower scented, combining citrus and exotic fruit while being far from overripe or tutti-fruity. Tart, dry, lemony, mouth-watering crispness; light, deftly balanced and refreshing on the palate.
Akiyoshi: "The Langes' Sauvignon blanc plantings consist entirely of the Sauvignon musqué clone of the grape. The second thing I'd like to point out is how the label, with its specks of golden brown replicates the texture of the Jahant soil, which is sort of a clumpy surface clay, mixed with shallow sandy clay loam of granitic origin. Consumers will find detailed information on the soil and vineyard on the back-label. Insofar as the wine inside, Karen did a great job crafting a site-specific Sauvignon blanc, showing the beautiful perfume and balance we can get from this clone of the grape grown in this soil."
Birmingham: "The winemaking is actually straightforward. The most important thing is getting the fruit picked at the right time, at optimal balance of fruit and acid. The grapes are picked in the middle of the night when it's nice and cold, and goes direct to press, and we let the juice settle before fermentation."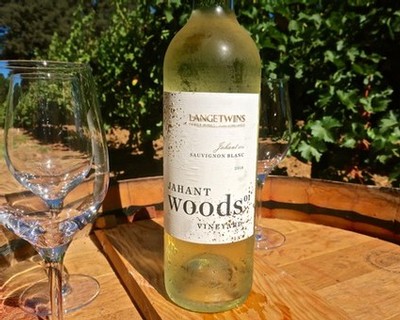 Akiyoshi: "It is true that the higher the quality of grapes, the fewer winemaking decisions have to be made. But Karen does reductive winemaking, excluding air during the first part of fermentation – done with dry ice and by suppressing oxygen in the tank."
Birmingham: "The idea of reductive winemaking is preserving the aromatics of the grape, which are easily oxidized. You especially want to preserve the terpenes (i.e. molecules responsible for fragrant qualities in wines) which give a wine like Sauvignon blanc its character. That character, of course, originates during the ripening process in the vineyard, and is maximized by the right decisions made by talented growers like the Langes. The great thing about bottling this wine as a vineyard-designate is that it clearly points to where the quality really comes – in this case, from a vineyard farmed by a six-generation farming family in Lodi. When you start with great grapes, as winemakers we don't have to do as much."
Akiyoshi: "These days a lot of people talk about the excellent Sauvignon blancs coming out of cool climate regions like New Zealand. Yet we can clearly make wines with just as much freshness, balance and character in a warmer region like Lodi. The aromatics of the Jahant Woods Sauvignon Blanc are really clean with distinctive citrus and green melon, and a little touch of pineapple guava. This is what we get from Sauvignon musqué in Jahant. It is very light yet has real length in the mid-palate and finish, carried by an ample natural acid level."
Birmingham: "The goal is a perfectly balanced Sauvignon blanc that fills the senses yet is light and pure. The label says the wine is 13% alcohol, but in actuality it is just 12.3%. I think the wine really zeroes in on the style of Sauvignon blanc most people are looking for today."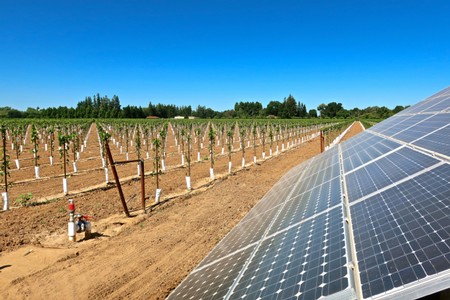 2016 LangeTwins Family, River Ranch Vineyard Jahant-Lodi Montepulciano ($28)
The wine: Bright medium red. Deep, fresh, pure dark cherry aroma with a sense of polished elegance. Velvety yet very zesty and even keeled on the palate; the pure fruit qualities coming across as ripe, electric, and well contained within a smooth medium body (13% alcohol).
Akiyoshi: "The nice thing about the Montepulciano grape grown in Jahant is you get so much of the varietal fruit quality at a lower Brix (i.e. a restrained sugar reading, which translates to a moderate alcohol level), without having to go through any lengths to over-extract flavors or tannins in the winery."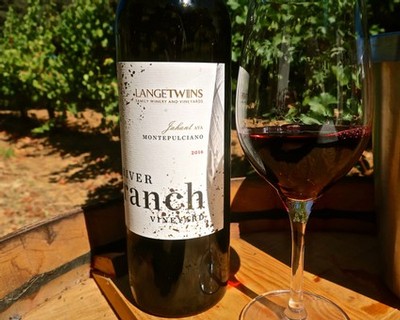 Birmingham: "This is our second bottling of Montepulciano. In the first vintage we tried some newer barrels and found that they really aren't necessary. So in 2016 we aged the wine 22 months in almost all neutral barrels, which brings out the fruit qualities in the wine; and because the wine is grown in the clay soils of Jahant, we get a good tannin structure without having to bolster it with oak tannins."
Akiyoshi: "I also think the long barrel aging brings out a subtle spices, plus an interesting fig quality, in our Montepulciano. The tannin become much finer, not aggressive, with the fairly long barrel aging, and the resulting overall balance lends a versatile food quality to the wine – it is not just for 'red wine' dishes."
Birmingham: "I like that the overall character is fruit driven, the tannins are there but not excessive, and alcohol is moderate – something we find in all our Italian varietals. This is the big reason why LangeTwins has made a strong commitment to native Italian grapes like Montepulciano as well as Teroldego, Aglianico, Sangiovese and Nero d'Avola – they work so well here!"
2017 LangeTwins Family, One Hundred Vineyard Jahant-Lodi Petite Sirah ($32)
The wine: Deep dark color promising a "big" wine, but in actuality this is an ultra-smooth, velvety textured wine with layers of blackberry and blueberryish fruit, like a dollop of fresh baked wild berry pie on the palate. It is still full bodied (15% alcohol), but the emphasis on the fruit gives it a svelte, well proportioned feel.
Akiyoshi: "There is a deep colored, richly extracted quality to this wine, but it is still very drinkable. The fruit is intense, but it doesn't come across as overly extracted and not a bit of harshness. This sense of balanced intensity is a mark of Karen's special talent when it comes to this grape, which most wineries turn into rough, coarse wines."
Birmingham: "This vineyard is called One Hundred becomes it comes from a vineyard totaling 100 acres, 49.52 of those acres planted to Petite Sirah on a high, modified VSP trellis (i.e. vertical shoot positioned with cross-arms to create canopy allowing shading with dappled sunlight). My goal is to showcase the vineyard in a natural way.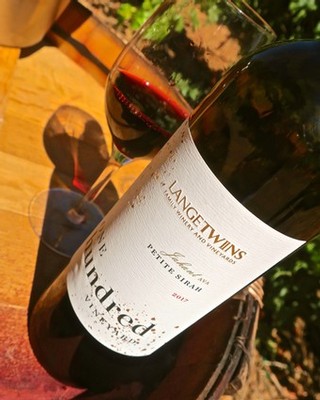 "The challenge with Petite Sirah is always achieving a style with some semblance of elegance. Backing off on excess oak – by aging the wine strictly in neutral French and third-year American oak (11-16 months) – helps to achieve that, since oak can add tannin to a varietal that already has generous amounts of it, especially in Jahant's sandy clay soils. During the fermentation we are conscious of reducing tannin extraction from the skins by regulating pump-overs, and we press off the skins before the wine comes to complete dryness.
"The story of all three of our new vineyard-designate Lodi wines is that it's all about the vineyards. The Langes are first and foremost a grape growing family, smart enough to select their grapes very carefully and plant them in all the right places. As winemakers David and I feel it's our job to showcase that fact!"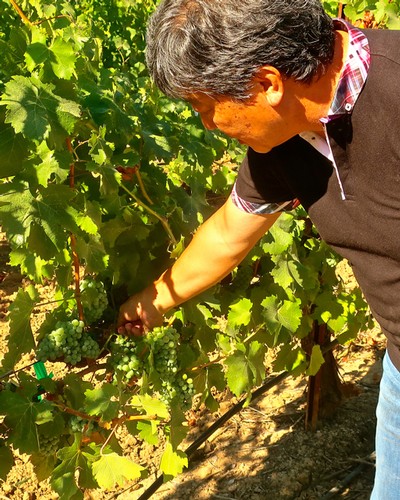 Comments