Letters from Lodi
An insightful and objective look at viticulture and winemaking from the Lodi
Appellation and the growers and vintners behind these crafts. Told from the
perspective of multi-award winning wine journalist, Randy Caparoso.

December 12, 2019 | Randy Caparoso
LangeTwins Family adds a classically Lodi Barbera to its groundbreaking line of vineyard-designates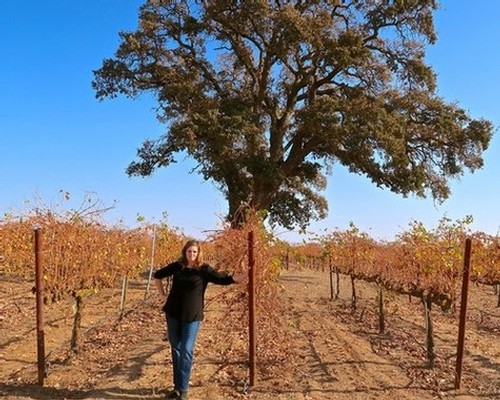 LangeTwins Family Winery & Vineyards continues its bold commitment and leadership in the Lodi wine industry with the release of a third Lodi-grown wine under its program of single-vineyard designated wines: the 2018 LangeTwins Family Macotera 09 Vineyard Barbera ($28).
And the wine, in a word, is a dandy: Flashy with perfumes suggesting fresh cherry, dried cranberry, and suggestions of rose petal and rosemary rubbed between the fingers; backed up with a lip-smacking zestiness reflecting the varietal's naturally elevated acidity (Barbera, among all red wine grapes, retains a higher natural acidity than any other black-skinned variety), yet with the sleek, flowing, meaty layering of flavors reflecting the round, moderate tannin structuring typical of Lodi style Barberas in general, and Macotera 09 Vineyard in particular.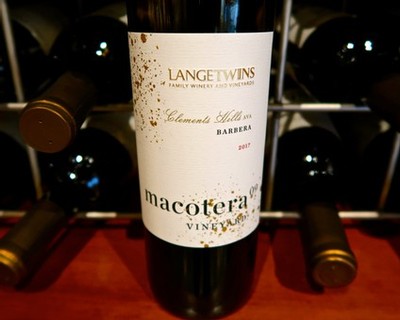 Karen Birmingham — LangeTwins Family's lead winemaker in their single-vineyard project — tells us: "The Macotera property was planted by the Langes in 2001, and the vineyard consists entirely of Barbera, which is amazing in itself. Early on, while I was still working for Woodbridge (by Robert Mondavi) winery, I noticed how, of all the vineyards we worked we worked with, the wines coming off of Macotera were consistently brighter, better defined, and well-balanced. In other words, great Barbera. Naturally, when we started the single-vineyard program here at LangeTwins, this became one of the vineyards we had to work with.
Lodi-grown Barberas, in general, tend to have a rounder tannin structure than Barberas from, say, the grape's native region in the Piedmont of Northern Italy, as well as when compared to the Barberas grown in higher elevations of Amador County, just a few miles to the east in the Sierra Foothills AVA. Consequently, Lodi-grown Barbera tends to be less edgy or sharp, while still retaining an inner core of zesty fruit typical of this high-acid varietal.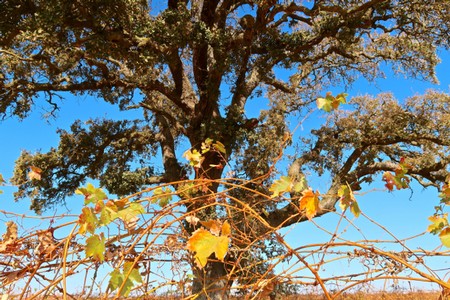 If anything, LangeTwins Family's Macotera 09 Barbera stands out among other Lodi Barberas because it is grown in the Clements Hills sub-appellation, well east of the City of Lodi on a slightly sloping block of pale-orangy soil similar to much of the rest of Lodi in its moon dusty, sand-like topsoil, but shallower in its depth of soil — a factor evidenced by the blue oak trees peppering the property (a species of oak that thrives in shallower foothill and mountain environments, in contrast to valley oaks that once predominated in the deeper, richer sandy loam soils typified by the Mokelumne River appellation surrounding the City of Lodi).
David Akiyoshi, LangeTwins Family's senior winemaker, lauds the restraint with which Birmingham crafted the Macotera Barbera, telling us, "One thing Karen and I both learned when working for Mondavi was to never over-oak a wine that doesn't need it." Birmingham explained that the Barbera was aged 12 months strictly in 2 and 3-year-old American oak barrels. "In my experience, American oak can add a subtle sweet tone that compliments the acid-driven structure of Barbera, but you don't need a lot of it, and you certainly don't need to add extra tannin from the barrel... you want just enough to amplify the red fruit and bring out the floral rose petal qualities, plus the character I like to describe as a 'rosemary mushroom tart.'"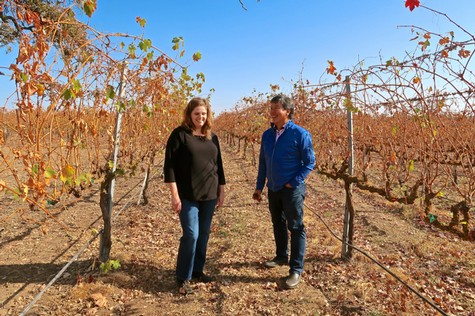 The Macotera 09 Vineyard Barbera is, in fact, the LangeTwins Family's seventh bottling of single-vineyard wine, all currently available at the winery (and in limited distribution across the country). The three other Lodi-grown wines in this program include a brightly scented and finessed 2018 Jahant Woods 01 Vineyard Sauvignon Blanc, a velvety rich and food-versatile 2016 River Ranch Vineyard Montepulciano, and a typical spice inundated yet unerringly balanced 2017 One Hundred Vineyard Petite Sirah.
Because the Langes also own and farm extensive acreage in the Clarksburg AVA, they are also offering an outstanding line-up of vineyard designates from this neighboring appellation: Including a rich, bright, first-class 2016 Miller Vineyard Cabernet Franc, a pure and aromatic 2018 Merrill Vineyard Chardonnay, and a pretty, off-dry yet deftly balanced 2018 Prince Vineyard Chenin Blanc. Needless to say, something serious to consider if you are contemplating Christmas "packages."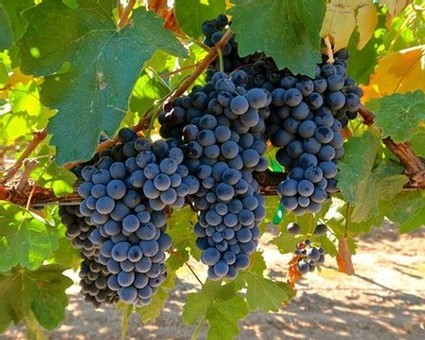 A Short History of Single-Vineyard Wines in Lodi
Why are single-vineyard wines — often called "vineyard-designate" wines — important in the world of wines? Someone actually posted about "vineyard designated wines" in Wikipedia, which makes as good an explication of the concept as any, at least for our purposes. Re:
A vineyard-designated wine is a wine produced from the product of a single vineyard with that vineyard's name appearing on the wine label.
Throughout the history of winemaking and viticulture, the differences in quality between one plot of land and another have been observed with the boundaries of this vineyard generally well-demarcated. In Burgundy, the vineyards of the area are classified as the highest quality vineyards receiving the ranking of Grand Cru. The names of these vineyards, such as Montrachet, will often appear on the wine label of Burgundy wines in bolder, more prominent print than even the name of the producer.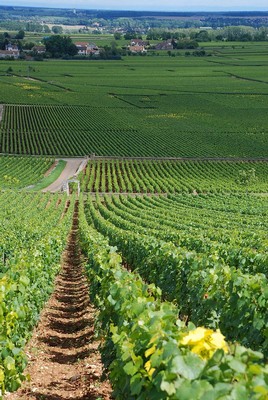 In the United States, the appearance of vineyards name on wine labels is a relatively recent phenomenon with one of the first vineyard-designated premium wines in California being the 1966 vintage Heitz Martha's Vineyard Cabernet Sauvignon. Later examples include the 1975 Robert Young Vineyard Chardonnay from the Sonoma wine estate of Chateau St. Jean. On the East Coast, Unionville Vineyards produces single vineyard wines, primarily Chardonnay. Under U.S. wine laws, if the name of the vineyard appears on the label at least 95% of the grapes used to make the wine must come from that vineyard.
In 1978, The Lucas Winery pioneered the concept here in Lodi by coming out with the region's first single-vineyard wine, their ZinStar Vineyard Zinfandel, from the 3.5-acre heritage planting (dated back to 1933) located right behind owner/grower David Lucas' N. Davis Rd. property. These own-rooted vines are still grown today by Mr. Lucas, and the vineyard is managed and crafted by his wife and winemaker, Heather Pyle Lucas.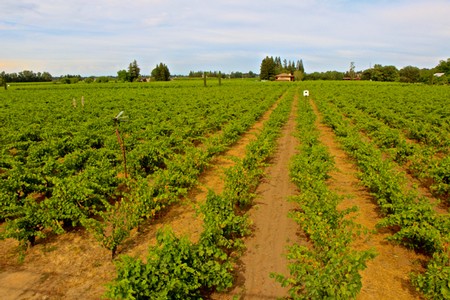 Lodi is California's (and the U.S.'s, for that matter) largest winegrowing region primarily because it supplies the grapes going into the bulk of the value-priced wines sold in grocery and beverage stores from Hawaii to New York. The wines that the majority of American wine lovers actually consume. By and large, the idea of vineyard-designate wines has never been part of the programs of the "big" wineries (starting with companies such as E. & J. Gallo and Constellation Brands) sourcing Lodi fruit, who are focused on producing multiple brands of wines with a consistent taste. Therefore, it took a few more years before other small, independent wineries in Lodi began following The Lucas Winery's example of specializing in labels stamped by single vineyards.
But it was bound to happen, once ultra-premium production began to take hold in Lodi. A significant move was St. Amant Winery's first vineyard-designate Zinfandel: 1999 from the 8.3-acre Marian's Vineyard, planted in 1901 and now owned and farmed by the Fry family of Mohr-Fry Ranches. In fact, prior to that several vintages of "Mohr-Fry Ranches" Zinfandel — technically a single-vineyard wine, since all the lots came from Marian's Vineyard — were produced in the mid-1990s by a Santa Barbara-based label called Makor (crafted at the prestigious Au Bon Climat winery).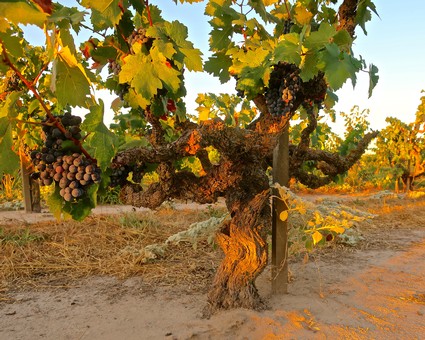 If you are interested in learning how many of these early bottlings are holding up, our early 2019 post entitled Do Lodi Zinfandels age? delves into the sensory qualities of Zinfandels as old as The Lucas Winery's 1984 ZinStar Vineyard, the 1996 Makor, the 1997 Turley Wine Cellars Dogtown Vineyard, and McCay Cellars 2007 Jupiter bottling.
The wines, in fact, are holding up quite well; largely because they either follow David Lucas' original approach of picking grapes at lower sugars (as early as 19° to 23° Brix, i.e. sugar reading) and higher balancing acidity, or Turley Wine Cellars' vaunted style of producing wines as "naturally" as possible (starting with 100% native yeast fermentation, and letting Zinfandels express the full extent of their fruit character by nixing any additives and refusing to "cut" alcohols with addition of water, which is more typical of commercial Zinfandel production in California).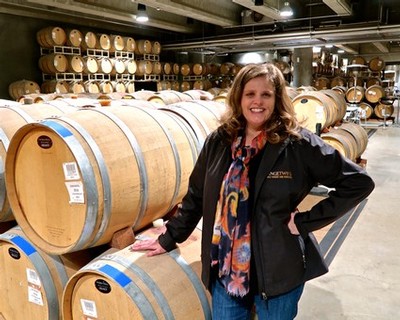 As in the rest of California, the bottling of single-vineyard wines in Lodi is still much less of a norm than the usual approach of emphasizing brand names and varietal designations on labels. Wineries still prefer the freedom of blending wines from different vineyards to achieve their commercial or artistic goals.
But as in all wine regions of the world, the more the taste of wines from single vineyards comes to be highlighted by producers and appreciated by consumers, the more the world, in general, comes to know and appreciate the specific tastes of wines associated with wine regions. Does this mean Lodi can have its own "Montrachet" or "Martha's Vineyard?" Of course not — Montrachet is found only in France's Burgundy region, and Martha's Vineyard will be forever special to Napa Valley.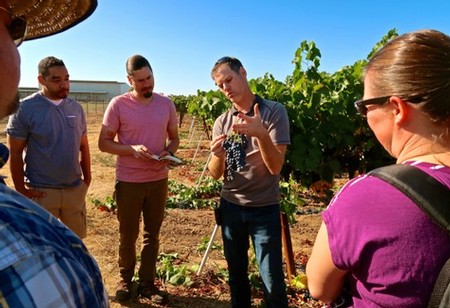 Burgundy and Napa Valley, however, will never produce the rounder, gentler, more sumptuously fruit-forward, and earth-nuanced styles of Zinfandel coming out of vineyards like ZinStar or Marian's. Or the perfumed, zesty yet sleek, friendly styles of Barbera like that of LangeTwins Family's Macotera Vineyard, which is not too different from the Barberas produced by Lodi wineries by, say, St. Amant and Oak Farm Vineyards.
In other words, more clear-cut ideas of what constitutes a uniquely Lodi style of Zinfandel or Barbera, and for that matter, Albariño, Chardonnay, Grenache blanc or red Grenache, Kerner or Dornfelder, or any other type of wine in which the region is already beginning to excel. And it can all start with more single-vineyard wines that exemplify only-in-Lodi attributes.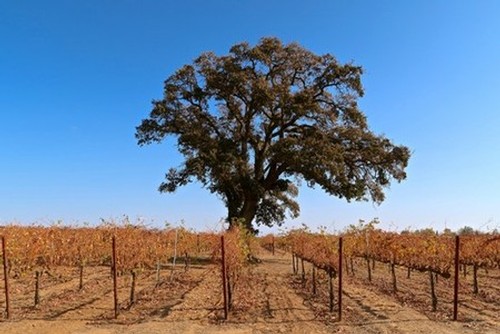 Comments