Letters from Lodi
An insightful and objective look at viticulture and winemaking from the Lodi
Appellation and the growers and vintners behind these crafts. Told from the
perspective of multi-award winning wine journalist, Randy Caparoso.

June 30, 2020 | Randy Caparoso
How PRIE's Marzemino personifies Lodi moxie and originality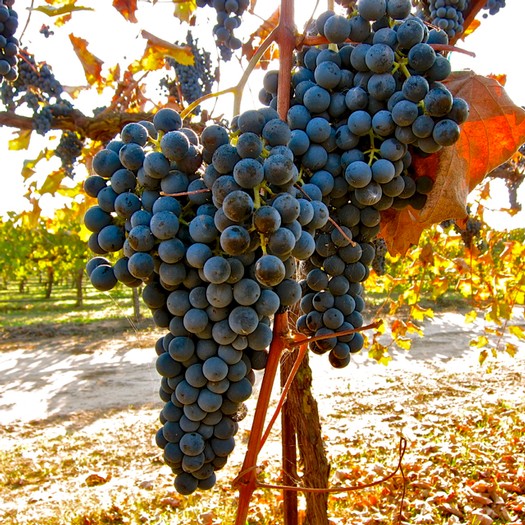 PRIE Winery, one of Lodi's smaller handcraft wine producers, has just released a red wine made from a grape called Marzemino.
Why in the world, you may ask, should you sit up and pay attention to a wine called Marzemino when there are so many other fine wines out there, made from the usual, dependable grapes (Cabernet Sauvignon, Chardonnay, Zinfandel, etc.)?
The biggest reason: Is that the 2017 PRIE Winery Hux Vineyard Lodi Marzemino ($29) is a truly delicious and distinctive tasting wine. Do you like red wines as deep colored and sturdily dry as a Cabernet Sauvignon? The PRIE Marzemino is plenty deep in the ruby cast and has a body that is full, dense with tannin, and even a little sinewy.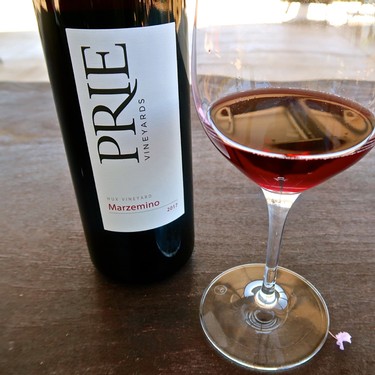 Do you prefer red wines with the balance of, say, a good Pinot noir, and the zip of a trusty Zinfandel? There is an even more clearly delineated zestiness of natural tasting acidity in the PRIE Marzemino than what you find in most Zinfandels, yet at the same time there is a perceptible silkiness and sense of balance that recalls a Pinot noir, perhaps even more so because PRIE's Marzemino finishes at just 11.9% alcohol (whereas the vast majority of Pinot noirs from California, as well as Oregon, weighing in at well over 13% or 14% alcohol).
At the same time, there are fittingly unique aromatic notes in the Marzemino — suggesting red stone fruits (particularly Bing cherry) and smidgens of walnut, caraway, and licorice — that are unlike that of any other varietal reds. Lovers of Northern Italian red wines such as Valpolicella, Lagrein, or Dolcetto might be struck by a certain kinship (in terms of zestiness and nut-toned qualities) in the varietal character of Marzemino to those European wines; and for good reason, since Marzemino is, after all, native to the Italian Alpine regions of Lombardia and Trentino. Marzemino, however, is distinctly "Marzemino," and has been for a long time (e.g. in Mozart's famous opera Don Giovanni, which debuted way back in 1787, the unsavory lead character Don Giovanni calls out for a glass of Marzemino before he is carried off into hell).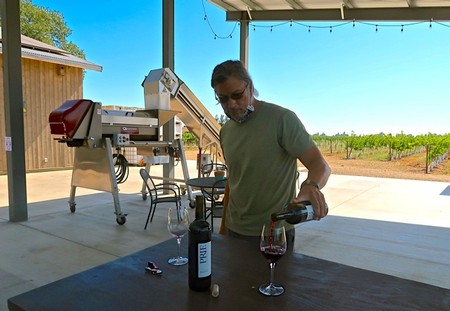 And besides, since when has unfamiliar singularity ever stopped the legions of Lodi wine lovers, who have grown accustomed to appreciating varietal wines made from grapes that are a little out of the mainstream? Albariño or Aglianico, Graciano or Garnacha Blanca, Verdejo, and Verdelho, Alicante Bouschet to Zweigelt — it's long reached a point where local connoisseurs barely bat an eye when offered a sample of this or that coming out of left field in a Lodi tasting room.
When in Lodi... well, you drink what they drink in Lodi, which is often something made from the 100-plus grapes now commercially grown in this region blessed by a warm, steady Mediterranean climate and classic, well-drained soils where wine grapes (i.e. Vitis vinifera, which originated in the Mediterranean Basin sometime over the seventh and fourth millennia BC) have found a second home.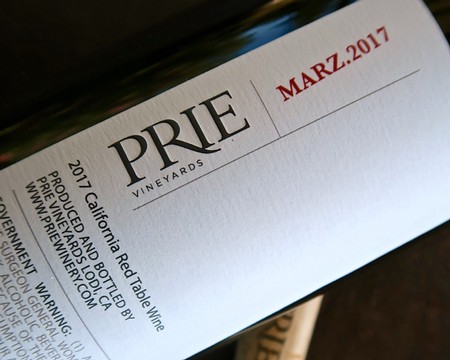 Marzemino, as it were, is so rare and unusual in the U.S. that the TTB (the government's Alcohol and Tobacco Tax and Trade Bureau, which regulates wine labels) does not even recognize it as a grape; and so, technically, it is not legal to put it on a wine label. PRIE Winery co-owner/winemaker John Gash (with his wife Lisa Gash) explained that in order to get around that problem when seeking approval from the TTB, they simply submitted their back label as their front label, which declares the wine as a "California Red Table Wine." The label identifying the wine as "PRIE Winery Hux Vineyard Marzemino" is technically their back label.
What is missing on both the back and front labels, however, is a "Lodi" appellation. Hux Vineyard, in fact, is a 3.5-acre vineyard located along Scottsdale Rd. in Lodi's Mokelumne River appellation, just east of the old Southern Pacific Railroad tracks, and it was planted in the late 1990s by Dave and Barbara Huecksteadt. Dave passed away in 2010, but Barbara — who is also the Senior Agricultural Biologist for the San Joaquin Agricultural Commissioner's office — still cultivates this typically eclectic (for Lodi) collection of grapes, which includes Roussanne, Grenache blanc, Mourvèdre, Souzão, Tempranillo, Teroldego, Petit Verdot, a little bit of Zinfandel and Petite Sirah, and course, the esoteric Marzemino. The Huecksteadts' own last vintages of Marzemino were bottled under the Hux Vineyards "Dave's Aria" label and were memorable as ultra-dark and intense, high-toned wines.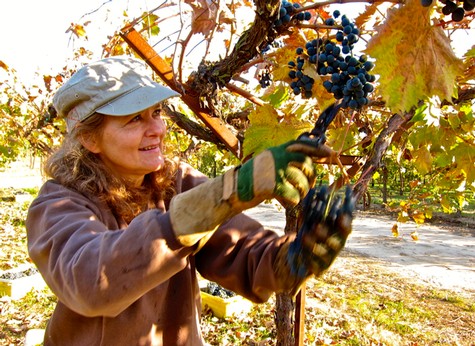 According to Mr. Gash, Barbara Huecksteadt introduced them to her Marzemino grapes five years ago. They produced less than a barrel of the wine in 2015 and 2016, which was subsequently blended into other PRIE reds. In 2017 the Gashes produced enough for their first varietal bottling of Marzemino, and they have a 2018 and 2019 in the works. According to Mr. Gash: "The 2017 was aged for 22 months in neutral French oak, and bottled in mid-2019. We did as little as possible, winemaking-wise, doing a whole berry fermentation with a combination of natural and inoculated yeasts, and bottling unfiltered.
"Throughout its time in the barrel and just after bottling, the wine went through several peaks in fruit intensity, acid, and tannin, and finally started coming together this past March, just as the coronavirus hit, which ended up delaying its release. We've been amazed by the Marzemino's transformation over time — that intense tannin is now coming across as light and soft, while it has always kept its beautiful acidity."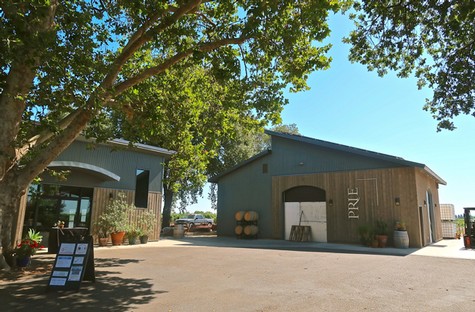 Like other small Lodi wineries, PRIE re-opened to the public two weekends ago on a limited basis. Says Mr. Gash, "We're welcoming visitors by reservations only, 12:00 to 4:00 PM Wednesday through Sunday. You can call or reserve your seating online. Tables are spaced wide apart on our outdoor patio and crashpad, and we can only seat 6 parties at a time, every hour and a half."
And whatever you do when you do visit PRIE out on Lodi's east side, be sure to ask for their Marzemino!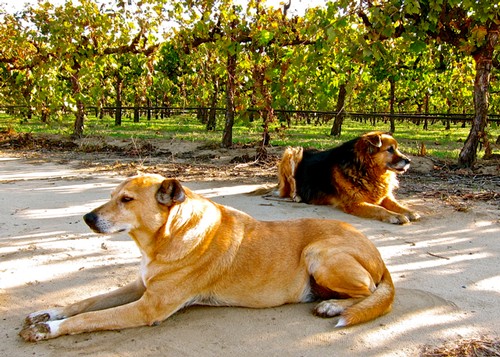 Comments