Letters from Lodi
An insightful and objective look at viticulture and winemaking from the Lodi
Appellation and the growers and vintners behind these crafts. Told from the
perspective of multi-award winning wine journalist, Randy Caparoso.

October 4, 2018 | Randy Caparoso
Holman Cellars pays homage to Lodi vineyards with natural style wines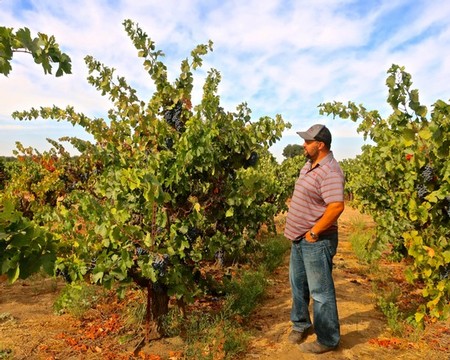 As wineries go, the Napa based Holman Cellars is definitely small-fry – only about 1,200 cases a year, which is probably just right for owner/winemaker Jason Holman, who labors as a 1-man team. And because Mr. Holman is all about, as he puts it, "unique things," at least 60% of the grapes he uses come from Lodi.
Thus, Holman's goal is to focus on just 1 to 5-barrel lots; defining size in terms of diversity of varietals and blends, rather than sheer volume of production. He is also not above utilizing the assistance of children – that is, his three kids, Marina (age 8), Duke (6) and Adelaide (just 3), although the youngest pitches in only when she's in the mood – because when it comes to crushing grapes, Mr. Holman prefers to do it the old fashioned way, with feet.
Foot treading may not seem like a practical way of producing serious, commercial wine. But when you're a small winery, it can be; especially if, for you, the ideal approach to winemaking entails being as gentle as possible on grapes, yet at the same time extracting as much flavor as possible from grape skins and into fermenting wines. An argument can be made that no tool, or piece of machinery, has ever proven to accomplish this as effectively as bare feet. In Holman's case, the feet of little people. Which is why this "back-to-nature" practice makes all the sense in the world to Mr. Holman.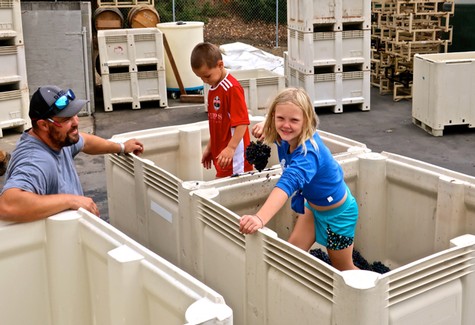 This is all part of an approach to winemaking that has, in fact come under a bit of criticism in recent years. That is, the pursuit of "natural" wines. A big part of the natural winemakers' tool kit is, well, dispensing with the usual tools. For instance, utilizing strictly native yeasts found on the skins of grapes to ferment wines; as opposed to inoculating grape musts with yeasts developed in labs to achieve very specific objectives in resulting wines. A so-called natural winemaker would prefer that grapes from specific vineyards determine their own objectives. Let the wine be what it wants to be, not what you think it should. Which is, like, crazy talk for most commercial winemakers, who see no reason for relinquishing control.
The natural approach to winemaking also entails avoidance of the typical "adjustments" routinely applied to at least 99% of wines made in the U.S. No addition of water to help reduce alcohol levels. No acid added to sharpen fruit qualities and assure cleaner fermentations. Minimal, if any, filtration or fining of finished wine. No use of new oak barrels – and certainly, no amendments like oak staves or granulated powders – which can add positive flavors but blur the perception of intrinsic fruit and vineyard qualities in finished products. You get the picture. Natural winemakers want to "let it all hang out."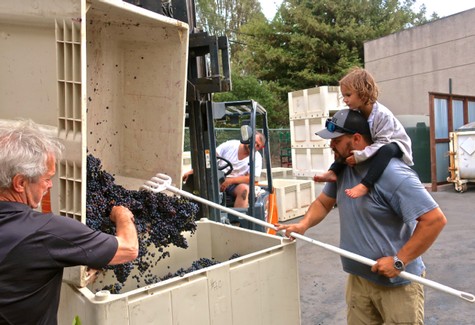 This attitude bugs a lot of people because it implies a criticism of the rest of the wine industry. What's wrong with, say, cleanly made, well balanced wine, wine enriched by oak qualities, or improved by judicious amounts of acidity? Absolutely nothing, of course. Consumers demand, and deserve, well-made and consistently appealing wine. It's not that small producers who go "natural" are snubbing convention. Okay, admittedly some of them are. But mostly, it's because they are winemakers like any other winemakers, endeavoring to carve out a unique niche true to their own sensibilities, while catering to their own chosen audience: people who prefer a so-called natural wine, as unpredictable as it may be. They're out there, as weird as they may be.
Yet, as one widely read pundit wrote, "'Natural' is nothing more than a meaningless marketing term," while admitting that the word "natural" implies that most wines are "plastic, constructed, inauthentic... industrial 'frankenwines.'" Yet another highly regarded – in fact, multi-award winning – industry blogger has described "Natural Wine" as a "fringe movement... a wine cubbyhole, and, therefore, broad and meaningless and stupid." There is lot of pent-up resentment in those diatribes, even if they seem to miss the much broader point; which is: If people didn't like these wines, they wouldn't be buying them. To thine own taste be true.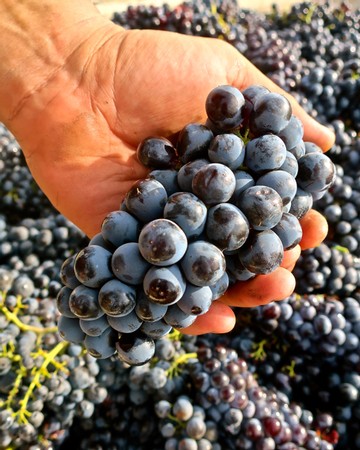 But here's two other things about wines made by small-fry like Jason Holman, even if they are a little touch-feely, or footsy:
1. These wines can be darned good (and what's wrong with that?).
2. By dint of their sensory objectives (focusing on natural qualities of fruit and vineyards), these wines invariably cast a positive light on a wine region like Lodi, which is becoming increasingly identified by its bounty of historic vineyards as well as plethora of alternative wine grapes that are less common in other American wine regions. Anything, that is to say, that helps differentiate Lodi from other regions is probably a good thing.
Like a number of small wineries in Lodi itself, Holman Cellars makes a fetish out of exploring lesser known (at least in the U.S.), Lodi grown varietals like Verdejo, Bacchus and Piquepoul; whereas in most coastal California wine regions, it is no longer commercially feasible to focus on anything except the most popular varietals (namely, Cabernet Sauvignon, Chardonnay, Pinot noir, Merlot, and a handful of others). Simply put, Lodi growers can do it because not only does the region's multi-grape friendly climate and soils permit it, but also because their cost of farming, for a number of reasons, is lower; and vintners like Holman are reveling in that.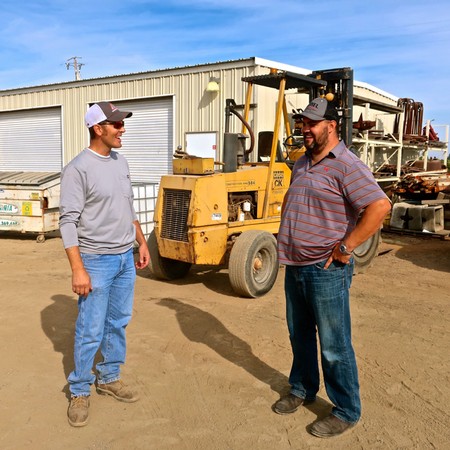 Last week Friday (September 28), Mr. Holman was in Lodi for the harvesting of 6 tons of Carignan from an old vineyard (planted between 1927 and 1930) called "Mule Plane," owned and farmed by Shinn Ranch on the west side of Lodi's Mokelumne River AVA. Mule Plane is a perfect example of the type of vineyards burnishing Lodi's growing reputation as a wine region of unique, even great, interest. These are vineyards whose sole purpose, not too long ago, was filling up "industrial" sized tanks going into big, commercial wine brands. But today – bottled as vineyard-designate wines by small producers like Holman, m2, Precedent, Leaf and Vine and Birichino – Mule Plane is now regarded as something quite a bit more special, with an intriguing story of its own.
Says sixth generation Lodi grower John Shinn: "As the story goes, the Carignan block got its name from when my grandfather (Jack Shinn) was a young boy, and he saw his uncle 'planing' the field with a mule to plant the vineyard. Historically, it's been a big producer – as much as 8 tons per acre. These days we farm it according to LODI RULES (for Sustainable Winegrowing) certified, and it is now registered with the Historic Vineyard Society."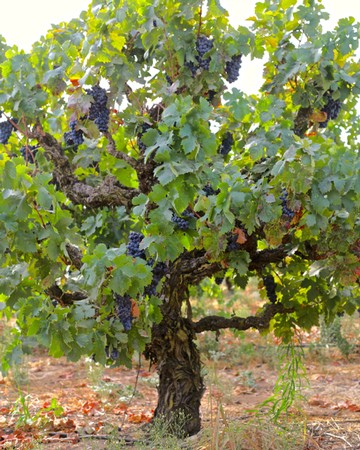 Says Mr. Holman: "This morning the Carignan was picked during the type of perfect Lodi day that drew me to this region in the first place – beautifully clear skies, and cool, 54-degree temperatures. The fruit is plump, ripe and fresh, even at just 22°, 23° Brix – perfect for our style of winemaking." That is, a style of winemaking that avoids having to make adjustments like lowering alcohol or adding acid by doing a simple thing: picking the grapes early enough, when grape sugars are moderate, with more than adequate amount of acid (if you want to get technical, pH about 3.4 and total acidity between .68 to .72 in Mule Plane's 2018 Carignan)
That morning, the 2018 Carignan fruit still hanging on the Mule Plane vines tasted bright and sprightly; with crunchy brown seeds imparting moderate tannin. Later, Mr. Holman made his point with a tasting of his 2016 Uncharted Lodi Carignane ($42): Pure, ringing red cherry perfume with faint yet evident, dusty notes of loamy earth; and on the palate, the bright sensations titillating the palate with perky natural acidity suggesting bursts of fresh raspberry/cherry, backed by edgy yet seamlessly integrated levels of tannin tucked into a silky fine and restrained body. A wine that tastes exactly like where it comes from, which even the grumpiest nabob of anti-natural negativism might actually like.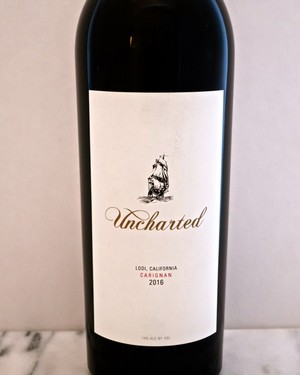 Elaborating on why, for a Napa Valley guy, Lodi grown Carignan is such a turn-on, Mr. Holman explained: "For small houses, paying big prices for high end Napa Cabernet doesn't make sense. Napa is more of a corporate dynamic; a tough market for small guys to compete in. Personally, I have found Lodi more interesting because you can find grapes like Carignan from Shinn Ranch.
"When I started sourcing grapes from Lodi in 2013, it was an eye opening experience – it was not just the sheer amount of acreage but also the breadth of varietals to choose from, plus the Delta breeze making it such an ideal climate for many of these varietals. My style of winemaking necessitates picking earlier than other producers. For reds, I prefer to whole-cluster ferment. It's as simple as putting the whole clusters, stems and all, into the open-top bins. I prefer the 1.5-ton 48S macro-bins for Carignan, and then I get my three kids to get on top to juice it up a little with their bare feet."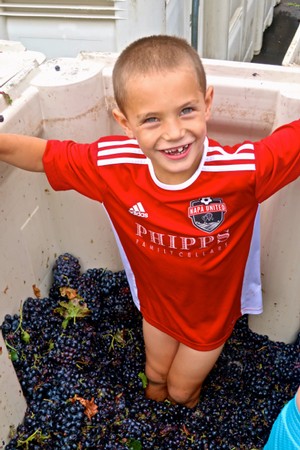 Obviously, the objective behind the use of little feet is not to squeeze out every possible amount of juice from all the bunches in the vat. Explains Holman, "The stems create a mesh that holds them up, and so it's pretty much the clusters on top that get their skins broken up. Because of the large percentage of completely intact clusters at the bottom that don't get to the surface, you get a nice bit of carbonic maceration (i.e. intracellular level fermentation taking place within individual whole berries) going on during the fermentation process. This is what enhances the bright fruit component in the finished wine."
One of the most common explanations for why native yeast fermentation is not used by larger scale commercial wineries is that it involves risk. It doesn't make sense to rely on indigenous flora that may or may not even be strong enough to ferment, say, a red wine all the way to dryness, or without picking up off-putting aromas like the vinegary smell of ethyl acetate (resulting from wines excessively high in volatile acidity, or VA). Especially if this involves thousands of gallons of wine (although there are some fairly big producers who employ native yeast fermentation in their entire operation).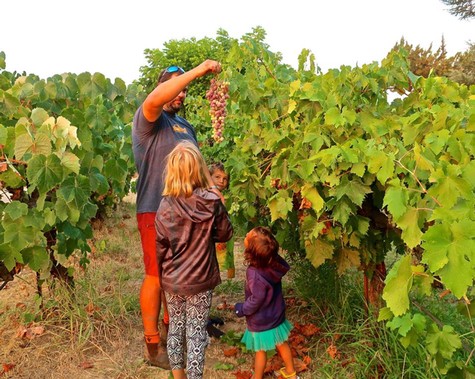 Says Holman, "Native yeast fermentation usually begins spontaneously after two, three days, and generally takes three, four weeks to finish. Eventually it gets done. After fermentation, we drain the free-run juice and do a light pressing of the skins before aging in neutral French oak puncheons (i.e. 132-gallon barrels). All of our barrels are at least 5, up to 10 years old, and so they're not imparting oak flavors to the wines.
"I'm conscious of VA – vinegary wines are a big turn-off for me. I've never tasted a wine with taste-able levels of Brettanomyces (another common, yeast related wine flaw, manifested as smells suggesting "leather" or "barnyard") that I'd considered acceptable. As a matter of fact, I filter all my wines – albeit, a coarse filtering – because I'm not of big fan of haze in the bottle.
"In Napa Valley, 'natural' is a strong word – like drawing a line in the sand. It's a category I pride myself on being part of, but I'm not in the business of producing bad wine. So I'll make the minor adjustments when necessary; but it generally hasn't been necessary. Whether I'm making Carignan from Lodi or Cabernet from Napa, I try to select vineyards where you can get fruit that retains a better balance – picking based upon acid and flavor rather than sugar ripeness – which enables you to do as little as possible in the winery.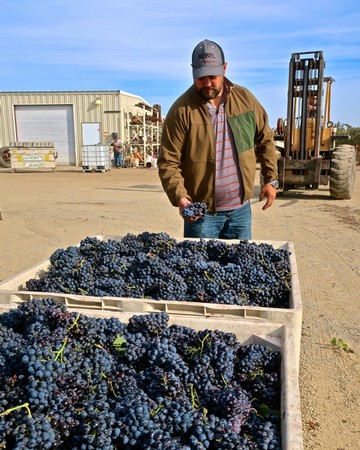 "The Mule Plane Carignan is a perfect example. We could have waited and picked the grapes a little riper, maybe even a little more intense in flavor. Still, the seeds are brown and the fruit is physiologically ripe. The longer you wait, the more chances you'll take on bird or bee damage, slip-skin, bunch rot, or anything that might create more problems in the winery. More important, the balance is already there, in the fruit. Far as I'm concerned, the less you have to do to the wine to get that balance, the better.
"Besides, a lot of this 'natural' approach is inspired by the vineyards themselves. It seems to me, back in the late 1920s, that the Shinns didn't apply any mechanical intervention in their farming of Mule Plane. As the name implies, the field was leveled off with a mule and plow – no tractors, certainly no mechanical harvesters. To me, the minimal approach honors the original intent of the vineyard."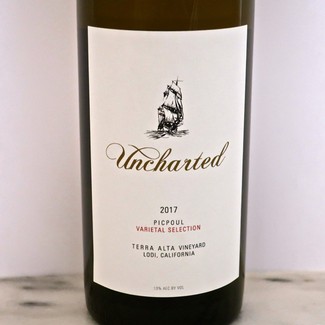 Like a good number of other contemporary, boutique style producers, Holman is a big fan of Lodi's Bokisch Ranches, and he sources three white wine grapes from vineyards farmed by Markus and Liz Bokisch, Mr. Holman finds that Piquepoul – known as the "lip stinger" grape of South-West France – needs the least amount of winemaker-input. Holman foot treads the grapes in the vineyard and macro-bins while they are being picked, which is followed by about 24 hours of skin contact before neutral barrel fermentation and aging for 8 months prior to bottling. Hence, the 2017 Uncharted Terra Alta Vineyard Lodi Picpoul ($24) is feathery light yet deeply flavored with lemon drop sensations; the slightest briny note in the nose and palate just begging for raw oysters, cold shrimp or something like clams in fennel/white wine broth.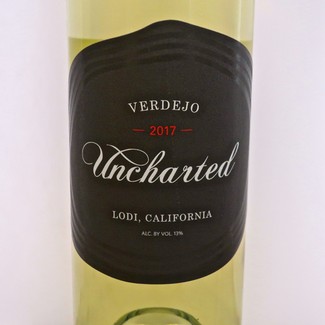 Holman's 2017 Uncharted Lodi Verdejo ($24) – sourced from the rocky, red clay slopes of the Bokischs' Clay Station Vineyard in Borden Ranch-Lodi – is fermented and settled for 6 months exclusively in stainless steel tank; preserving the fresh peach skin/mandarin orange wedge character in the grape, which energizes the palate in coiled, bone dry, tart-edgy sensations screaming for small plates of panko crisped oysters, fresh anchovy or calamari.
Also from Clay Station Vineyard, the 2016 Uncharted Lodi Grenache Blanc ($38) is a more lavish dry white; whole cluster pressed, then fermented and aged 16 months in neutral barrels – a style of winemaking more akin to Chardonnay production. The result is slivers of white, fleshy pear with the lightest dusting of shaved nutmeg (or is that cardomom?) in the nose; with mildly creamy texturing in a full bodied (14% alcohol) mouth-feel.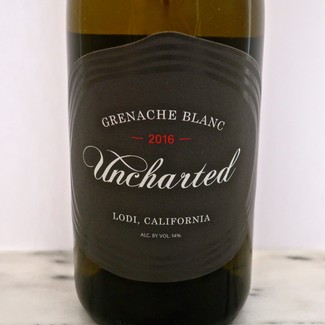 But the most iconoclastic wines in the Holman portfolio are undoubtedly those grown in Lodi's Mokelumne Glen Vineyards; known for its plantings of over 50 varieties of grapes of German or Austrian origin. Says Mr. Holman, "What the Koth family has done is a bold statement in itself. With Mokelumne Glen, I started off with a varietal white made purely the Bacchus grape (a German crossing of Riesling x Silvaner with Müller-Thurgau, which in itself is a crossing of Silvaner x Riesling). I added on a field blend of red wine grapes from their German Collection block, and in 2018 I picked both a white and red field blend.
"Grapes like Riesling are grown all around the world, but a vineyard that also includes Bacchus, Kerner, Grüner Veltliner, Zweigelt, Spätburgunder, and dozens more – no one in the world has ever had the opportunity to make wine from a combination of all these grapes, and probably, no one would ever again if this vineyard should suddenly disappear. By far and away, the favorite part of my job is sampling the grapes in Mokelumne Glen's German block each year, to decide when to pick."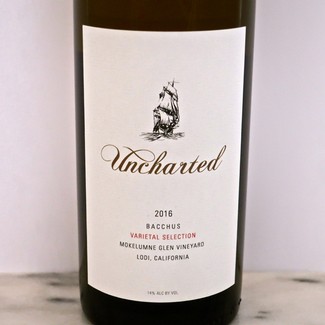 As it were, the 2016 Uncharted Mokelumne Glen Vineyard Bacchus ($25) would fall in few consumers' wheelhouse. It is not the type of wine where you find the usual fruit-related aromas (apples, peaches, citrus, pineapple, etc.). Nonetheless, its pungent nose – more like a garden of leafy herbs (particularly lemon balm and orange mint) with just dribbles of nectarine, kaffir and bergamot – creates a funhouse of its own; and the bone dry, fleshy, mineral/stony sensations, braced more by slightly phenolic grape skin qualities than the predictable fruit acids, challenge the palate, while firing up the imagination. That said: not your usual seafood white, yet dynamite with many of the white meats many of us love to eat, like shake-n-bake chicken thighs, piccata style pork, or a dish recently tried in Lodi's latest "sushi bistro," tempura style lobster with a creamy lemon aioli.
Says Mr. Holman, "I wouldn't pigeonhole myself as a 'natural' winemaker, or any type of winemaker. My real goal is to find unique varietals and produce wines reflecting places." In other words, terroir (i.e. sense of place) focused wines, which invariably make a differentiating statement. And it is no coincidence that a winemaker like Holman finds much of what he needs to achieve that... in Lodi!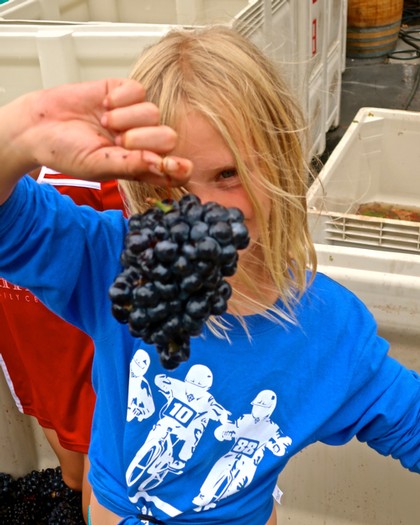 Comments