Letters from Lodi
An insightful and objective look at viticulture and winemaking from the Lodi
Appellation and the growers and vintners behind these crafts. Told from the
perspective of multi-award winning wine journalist, Randy Caparoso.

September 14, 2020 | Randy Caparoso
Florida sommelier shares déjà vu from tasting Zinfandel from Lodi's oldest planting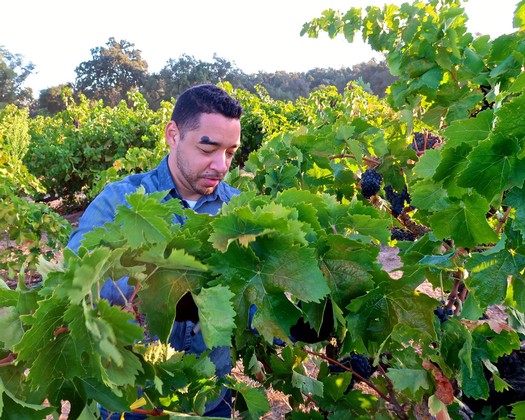 Last week Louis Anthony Chico, a sommelier living in Orlando, FL, wrote to us saying he had just experienced a déjà vu. It came upon tasting a 2016 Alquimista Cellars Jessie's Grove Lodi Zinfandel while listening in on a recent Zoom virtual tasting broadcasted from Lodi's Jessie's Grove estate, led by Alquimista Cellars winemaker Greg La Follette and Jessie's Grove owner/grower Greg Burns.
"Where did the wine take me?" wrote Mr. Chico. "To last year on Tuesday September 10, 2019. We were there before 7:00 AM, just as the sun was coming up. It was a chilly morning, and it was special because we were in Jessie's Grove's Royal Tee Vineyard, Lodi's oldest and most historic Zinfandel vineyard!"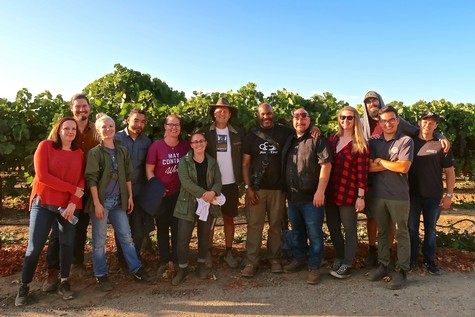 A year ago Mr. Chico was one of nine sommeliers visiting Lodi for three whole days as part of a scholarship program organized by the SommFoundation and sponsored by the Lodi Winegrape Commission. These wine professionals were selected from a list of over 60 applicants.
Last year Mr. Chico was serving wine at Downtown Disney's Paddlefish Restaurant. But like most American sommeliers, since the outbreak of coronavirus Chico has been out of work. He does have a family of three, and so he does what he can, while continuing his wine studies in earnest, including nurturing his keen interest in Lodi grown wines.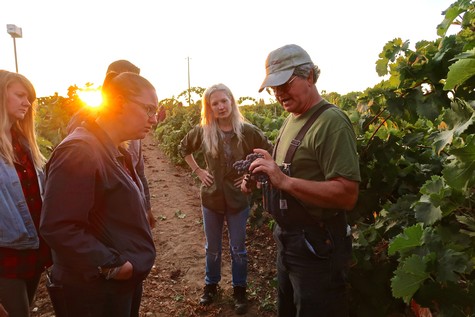 Before visiting Lodi in 2019, says Chico, knowledge of Lodi was more like a big "secret," even among those in the wine trade who buy and sell Lodi wines. Wrote Chico immediately after his visit, "What I knew about Lodi is that it has Zinfandel, and that's about it."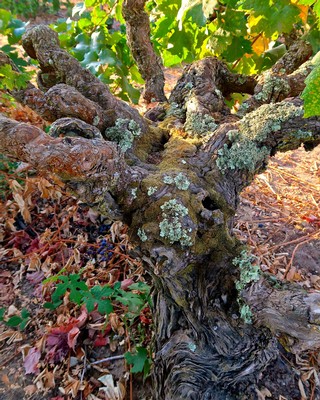 Here is what Mr. Chico wrote this past week about his ongoing experience of Lodi, a full year after his first visit:
Wine can transport you back to a place and a time in a unique way. It can do that in two ways — by terroir and by the expression of the vintage in which it was grown. Terroir is a French term that essentially means "sense of place." If I was to say a wine I am drinking exhibits great terroir, then all I am saying is that the wine I am drinking tastes the way a wine grown and made in a region should taste, which is of that region. The taste of the 2016 Alquimista Cellars Jessie's Grove Zinfandel brought me right back to the Lodi terroir that I was privileged to experience the year before.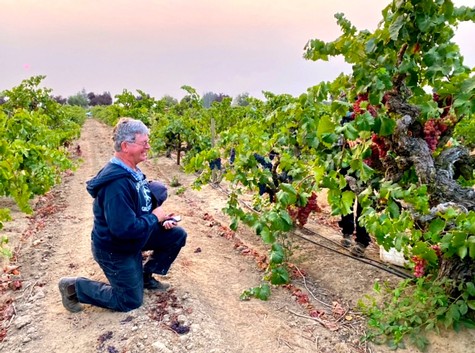 What was special about my visit is that the place where the Jessie's Grove Zinfandel comes from, called the Royal Tee Vineyard, is right next to a large oak grove [32 acres] that has been preserved in such a way as to be a living window through time. You can see exactly what Lodi looked like over 100 years ago, before there were any vineyards!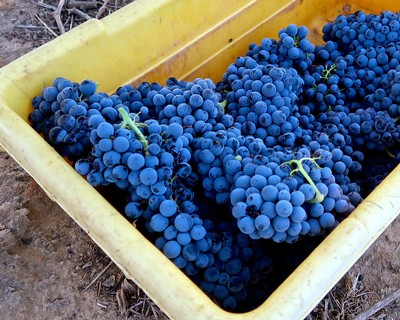 The Royal Tee Vineyard was originally planted in 1889, in the sandy loam soil that now defines sub-region of Lodi known as the Mokelumne River. On the chilly Tuesday morning of our visit we got to experience this special place by assisting with the 2019 harvest. Besides its historical significance as Lodi's oldest Zinfandel planting, the Royal Tee is particularly interesting because of its unique "field mix." Whereas most of Lodi's Zinfandel vineyards are 100% Zinfandel, the 4.95 acres of Royal Tee consists of 84.5% Zinfandel, about 10.5% Carignan, 4% Flame Tokay, .5% Mission, and .5% Black Prince (the last grape, an extremely rare and elusive variety).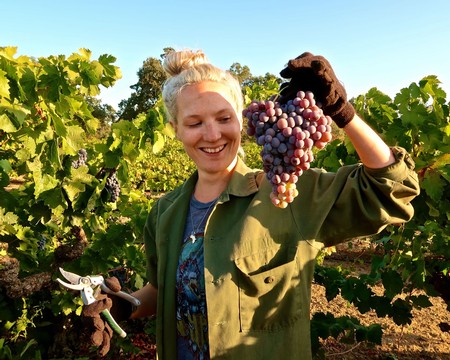 The Zoom virtual tasting that I attended featured Alquimista Cellars winemaker Greg LaFollette. Alquimista translates as "alchemist" in Spanish. Greg is widely admired and respected in the wine industry for his mastery of the science of winemaking, yet he spoke about the fact that he prefers to pick his grapes according to their flavor. To him, the optimal maturity of grapes is far more important than actual numbers.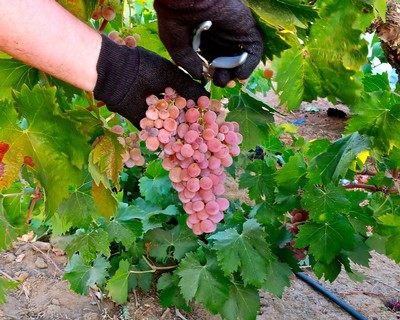 As I was enjoying a glass of his wine and taken back in time to 2019's morning harvest, Greg shared his innovative approach to Zinfandel, which is more like the way Pinot noir is made. He starts off by separating the Black Prince and Flame Tokay into a separate bin to allow them to undergo a partial "carbonic maceration" — a unique form of fermentation in which the grape clusters are placed whole into a carbon dioxide-rich environment and the pressure from the clusters at the top of the container causes the berries of the clusters on the bottom to literally explode, initiating fermentation and imparting unique flavors with an intense fruitiness.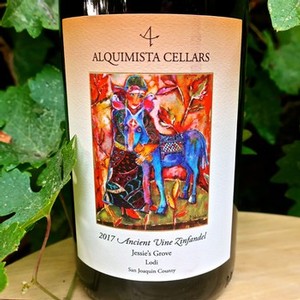 Later, Greg combines the carbonic Black Prince and Flame Tokay to the fermenting Zinfandel, Carignan and Mission. The wine undergoes native yeast fermentation, which also increases the ability to taste a wine's "sense of place." Following fermentation the wine is aged briefly in neutral oak barrels, which lends a fresher and lighter character, and is bottled unfiltered. The end result is a Zinfandel driven by a distinct purity of fruit and finesse, much like a Pinot noir!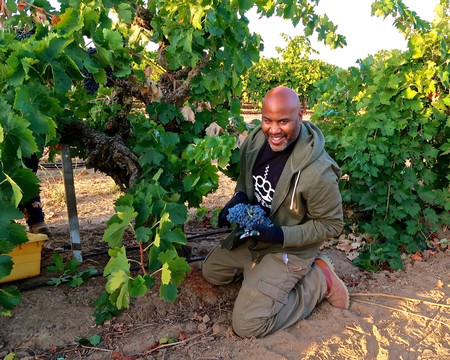 Via Zoom I had a chance to ask Mr. LaFollette about one his favorite food pairings for the wine, and he suggested "lollipop lamb." This is a fantastic match when you consider the moderate weight and exotically spiced characteristics of the Alquimista Zinfandel, which parallels the typical, lightly char-grilled flavors of lamb with its usual partnership of rosemary and mint jelly — a combination that achieves both a natural balance and harmony of flavors.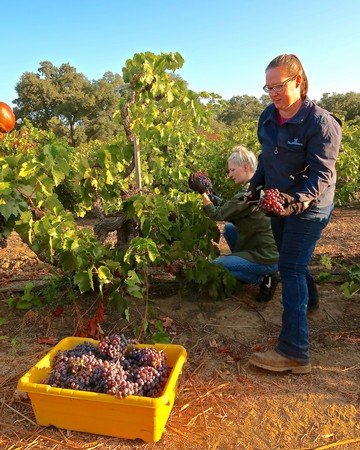 l should also mention that as a varietal, I have found Zinfandel to be extremely diverse in its food pairing résumé! I describe it as having the flexibility of a gymnast along with having a strength reminiscent of Italy's Amarone in the way it can match heavier dishes rich in sauces and seasonings. When you take a softer approach to the varietal as does Mr. La Follette, your Zinfandel moves more with the grace and elegance of a ballerina, allowing it to match up with lighter dishes. In the end, Zinfandel leaves you with more options than most wines.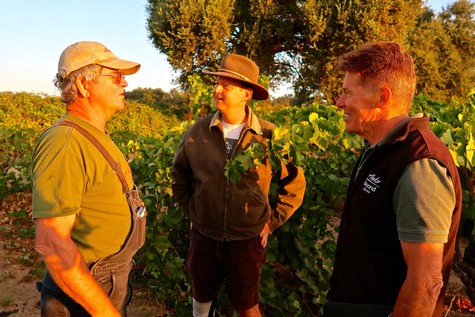 A great bottle of wine is like a time machine. Allowing you to take a sip that tells the story of the vine. Where her roots were laid. How the weather treated her that year. This story, like a book, can be read anytime you so desire. Be it a year from now, or 10 years from now! If you take care of the bottle it will be waiting until the day you pop the cork and decide to turn its first page. I just so happened to have read the memoirs of Royal Tee vineyard in 2016 as they were written by Greg La Follette (please visit our 2017 post, Greg La Follette's Alquimista Zinfandel celebrates Lodi's ancient vines). I encourage you as well to "visit the library."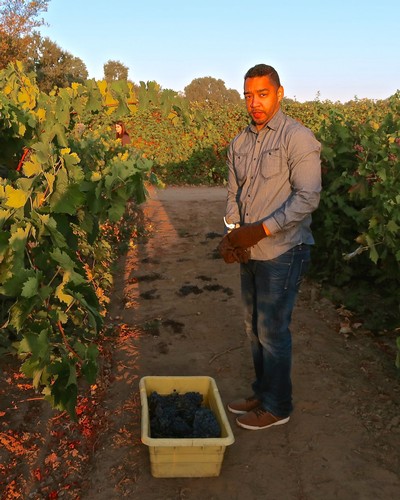 Comments