Letters from Lodi
An insightful and objective look at viticulture and winemaking from the Lodi
Appellation and the growers and vintners behind these crafts. Told from the
perspective of multi-award winning wine journalist, Randy Caparoso.

March 16, 2017 | Randy Caparoso
Greg La Follette's Alquimista Zinfandel celebrates Lodi's "hallowed" ancient vines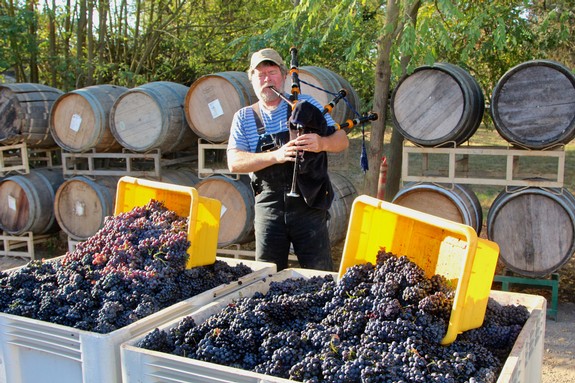 Count Greg La Follette as another widely proclaimed winemaker based outside the Delta who has come to appreciate the distinct beauty of the Lodi Viticultural Area.
Mr. La Follette – who previously established his field creds as a North Coast Pinot Noir and Chardonnay specialist of considerable notoriety at wineries like Flowers, Hartford Family, De Loach, and most recently his own La Follette Wines (formerly called Tandem) – has recently begun selling "futures" for a 2015 Alquimista Cellars Jessie's Grove Ancient Vine Zinfandel ($55). The Sebastopol/Sonoma based Alquimista Cellars is La Follette's latest project, started two years ago in partnership with Patrick Dillon, following a disassociation from his former eponymous business.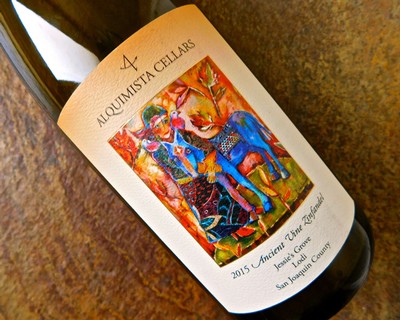 The 2015 Alquimista Zinfandel is sourced from what Jessie's Grove Winery calls their Royal Tee Vineyard: an historic block of majestically own-rooted, head trained, spur pruned vines originally planted by Joseph Spenker in 1889. A planting La Follette (paraphrasing Alexandre Dumas) always says should be approached "kneeling, with head bowed."
Three things make this particular tandem of vineyard and winemaker unique, if not downright freaky:
• Jessie's Grove's Royal Tee is the only remaining ancient vine Zinfandel block we know of in Lodi that is barely 75% Zinfandel. It was also planted – way back in the late 1800s on the advice of Stockton's El Pinal Winery nursery – to Carignan, Mission, Tokay and Black Prince (the latter, identified by the California Department of Agriculture as Rose of Peru).
• Winemakers associated with cutting-edge, terroir focused (i.e. not so on much brand, varietal or winemaking style) Pinot Noirs are hardly known for their love of Zinfandel. Most vignerons of that ilk would probably prefer to kiss a frog.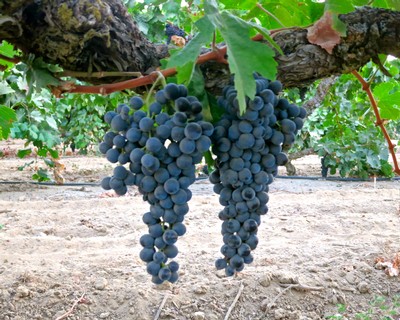 • From a sensory standpoint, the Alquimista Zinfandel is indeed a piece of exotica; almost belonging in a museum, behind glass. From its inception, its extravagant fruit quality has borne a closer resemblance to white peach, nectarine, tropical flowers and fragrant spice notes rather than the cherry/berry jam notes normally associated with the varietal (although blueberry/cherry notes serve as aromatic underpinnings). If this sounds like it smells more like a white wine, that's exactly what we mean. Yet on the palate, it is dense, layered, fleshy, and revved up by zesty natural acidity, while unperturbed by excess tannin or oak.
Frankly, if you hate Zinfandel, you may love the Alquimista for its un-Zinfandelish character. Then again, if you love Zinfandels of utterly unique provenance and style, you may also love the Alquimista.
La Follette's recent presence in Lodi, not coincidentally, is tied to the evolution of the region's ground-breaking Lodi Native project (please see our most recent post on the 2014 Lodi Natives). La Follette began making twice or thrice yearly trips to the region in early 2012 to, at first, lend some advice on native yeast fermentation (a subject in which La Follette is extremely well versed as a high-demand educator and consultant); and then to advise on viticultural strategies to optimize fruit maturation at lower sugar levels (one of the keys to successful native yeast fermentation of Zinfandel, or most wines for that matter).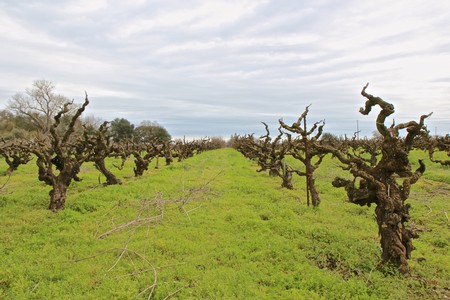 That said, this past week we were able to glean a few more insights on this most unusual union of North Coast Pinot Noir specialist and Lodi grown Zinfandel through a phone conversation, followed by email exchange, with Mr. La Follette:
RC: Are you pleased so far with the response to your offer of the Alquimista Zinfandel as a futures bottling?
GLF: The response has been overwhelmingly positive, which is all the more gratifying because we never figured we would do a Zinfandel, from anywhere. But since coming back and forth to consult with Lodi Native growers and winemakers on best practices, I got re-introduced to the area.
RC: "Re-introduced?" In what way?
GLF: No one really knows about this, because back in 1997 it wasn't the thing to do, but the first bottling of Flowers "Perennial" (a Sonoma Coast Pinot Noir based proprietary blend) that we did was 40% Zinfandel, supplied by Lodi's Mohr-Fry Ranches. We were forbidden to tell anyone that because, at the time, Lodi didn't have a great reputation; but of course, we knew, and people in Lodi knew, just how great Zinfandel from this region can be. Now we are anxious to proclaim it. Also no reason to hide the fact that we're very proud of being associated with not just the region, but also the Lodi Native group – who ought to be applauded for their bold vision and accomplishments.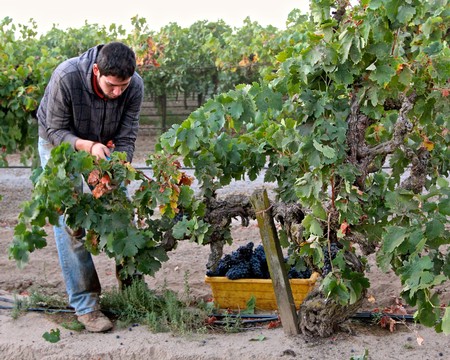 RC: Please share some of your general thoughts on the Jessie's Grove/Royal Tee planting.
GLF: This is pretty standard California practice for plantings of the day (in the late nineteenth century), with its shotgun approach to mixing in other varietals in small amounts. As Patrick noted, we celebrate those differences by trying to respect each varietal with differing contributions, and by combining them rather than separating them out.

RC: So you definitely co-fermented all the grapes together. What is your estimated grape mix ending up in the 2015 and 2016 Alquimistas from the Jessie's Grove block?
GLF: Both the 2015 and upcoming 2016 vintages were about the same – about 86% Zinfandel, and the rest Carignan, Flame Tokay, Mission and Black Prince in order of appearance.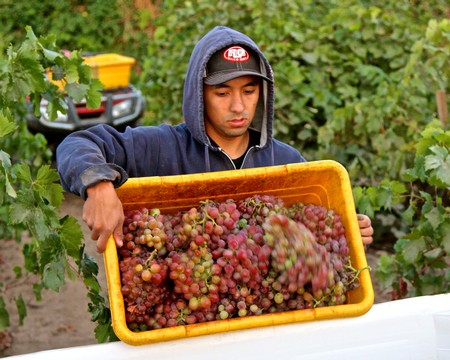 Co-ferment of ancient vine Flame Tokay going into 2015 Royal Tee Vineyard harvest
RC: Since a lot of people may be interested in the details on how a Pinot Noir winemaker approaches Zinfandel, can you give a little more detail about what you did in the winery?
GLF: 2015 saw the Flame Tokay, Mission and Black Prince placed whole-cluster in the bottom of a "hot tub" – a 1.33-ton open top fermentor that had all air replaced by CO2, creating an environment for an anaerobic carbonic maceration. We placed the destemmed but uncrushed (i.e. intact whole berries) Zinfandel and Carignan on top, burying the rest, also anaerobically. Due to a moderate level of sour rot complex that we noticed in the grapes, the total amount of SO2 added was 75 ppm; quite high, but allowing for the native fermentation to start after 11 days of cold soak after an overnight of cooling down to about 48° F. on the first evening. For those 11 days, punch-downs were kept topically at one to two times a day, with only about 12 inches of the top of the must punched with dry ice to keep the whole clusters at the bottom fully intact and undisturbed.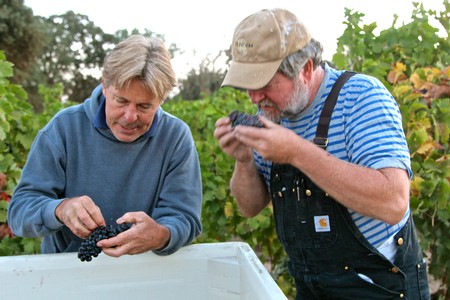 RC: I presume, strictly native yeast fermentation, following pretty much the same protocols as the Lodi Native project?
GLF: That was the idea. On the twelfth day, the wild yeast fermentation took off very slowly; and on the eighteenth day, many of the whole clusters started rising to the surface due to the carbonic maceration, giving the berries more buoyancy from the internal CO2 generated from the carbonic maceration. The wine was pressed off at 21 days in a small basket press at about 5° Brix (i.e. sugar reading); but because of the whole cluster contribution, at the end of pressing the Brix was at 8°.
RC: And the barrel regime?
GLF: The wine was transferred to two once-used and two twice-used barrels at Chardonnay fermentation height, about 2/3 full, as the fermentation was still boiling along. Once the primary fermentation settled down, the barrels were consolidated to two full barrels and one partial, with stirring done weekly, like a Chard, until both primary and secondary (i.e. malolactic fermentation) finished. We kept stirring this monthly on the heavy lees – lots of yeast, since the fermentation finished in barrel – until close to bottling after a full 10 months on the lees. By the way, the secondary fermentation finished before the primary did. Bottled unfined and unfiltered. We don't know of any other red wine that was made exactly this way, Randy.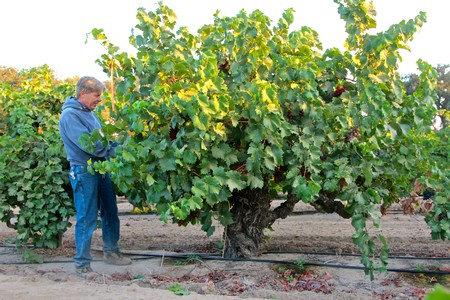 RC: While the approach is meant to be minimalist, it sounds like you went way out of your way to coax what you can out of these grapes.
GLF: We really pulled out all of the stops on this one to make an enigmatic, expressive wine that we feel really speaks to the imagination of what the ancient land and careful attention to its many voices can do. We want to think out of the box on how we can address our vinous brethren and honor such a hallowed spot as Jessie's Grove. Perhaps the whole-cluster component heirloom grapes speak more loudly since we gave them their due, but for better or for worse, we chose a path that we felt would give voice to this historic vineyard.

RC: I know what I think of the two vintages of Jessie's Grove Zinfandel you've done so far. What are your impressions?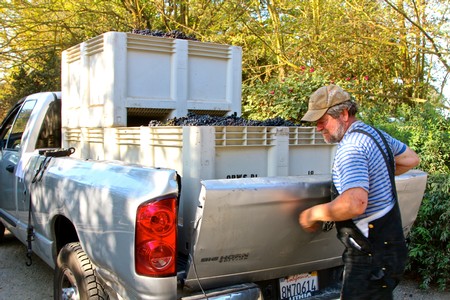 GLF: Patrick has given a pretty good description of the '15. The 2016, being picked at a riper time – the '15 was picked a full 2 weeks before other folks started picking – and having less carbonic time, only 5 days, before the primary fermentation started, will probably be much more "Zin-like," as you may have noted in your own tasting so far. People are hard-pressed, no pun intended, to describe the 2015 as a Zin, but the 2016 is unmistakably a full-throttled Zinfandel with more jamminess and less carbonic character.
In a separate conversation with La Follette's partner, Mr. Dillon aptly summarizes both of their feelings thus far: "Greg and I have discussed this several times over. Our visits to Jessie's Grove and the Royal Tee continue to imbue in us a sense of graceful venerability, and therefore reverence. We feel compelled to speak in hushed tones but also to shout 'Hallelujah!' And we are so grateful that this vineyard has been so nurtured and protected by (Jessie's Grove owner/grower) Greg Burns and his crew."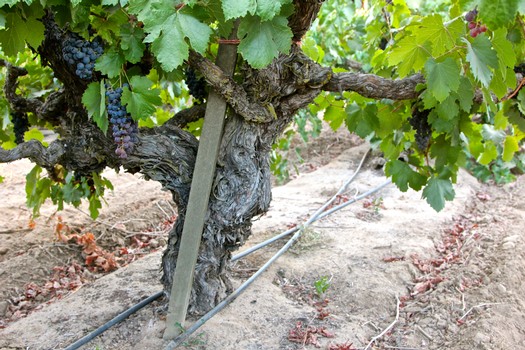 Comments