Letters from Lodi
An insightful and objective look at viticulture and winemaking from the Lodi
Appellation and the growers and vintners behind these crafts. Told from the
perspective of multi-award winning wine journalist, Randy Caparoso.

April 12, 2017 | Randy Caparoso
Does Lodi Albariño age (or does it matter)?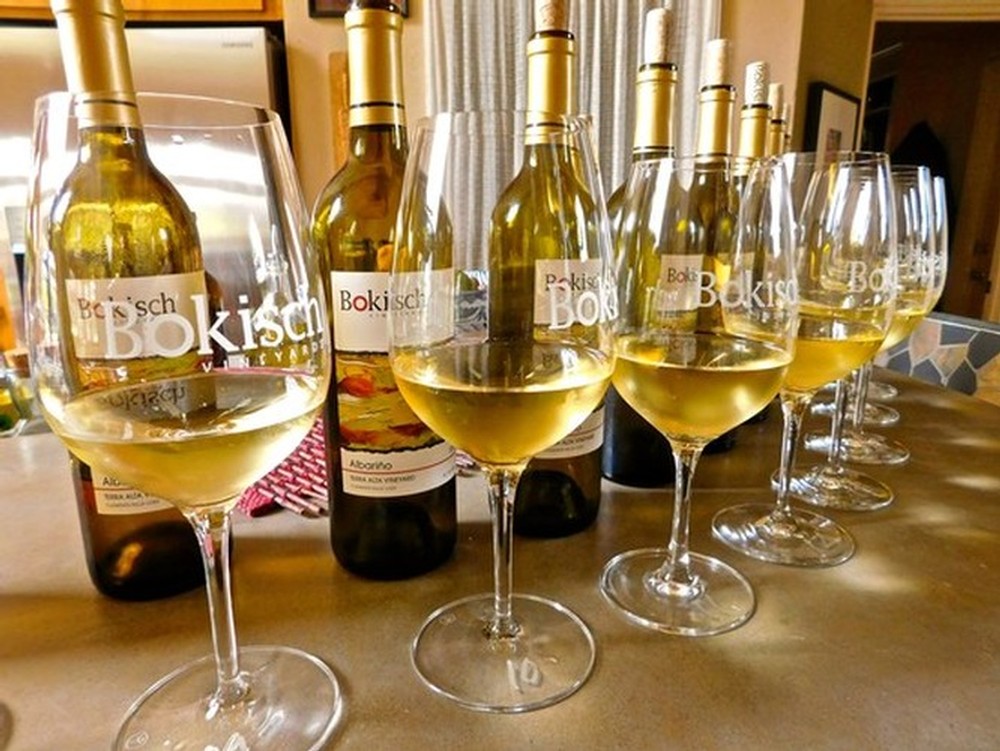 Does a white wine like Albariño age? Does it really matter?
Whites like Albariño, after all, are produced to be consumed immediately upon bottling, which is fine by the vast majority of American consumers who pop their bottles within days (more like hours or minutes) upon purchase.
Nonetheless, Markus and Liz Bokisch of Lodi's Bokisch Vineyards – one of the California pioneers, and indubitably the acknowledged masters, of this Spanish grape – did something unusual, even for them, this past week. They lined up nine of the most recent vintages of Bokisch Albariño – all sourced from their Terra Alta Vineyard in Lodi's rolling Clements Hills sub-appellation – and tasted them all together.
"We'd never done this before," said Liz Bokisch, "and I don't know why." Their ostensible reason, she explained, was to select four of the vintages to showcase as part of an event coming up on April 23, 2017; marking the first-time release of their latest wine, an old European style 2015 Bokisch Lodi Vi de Panses – an orange-brassy tinged, raisiny, sweet style of Albariño made from grapes that were picked extra-ripe (at 26° Brix), then deliberately dried to further heighten the sweetness and the lemon peel/tangerine intensity of the grape, couched in rounded, oxidized tones.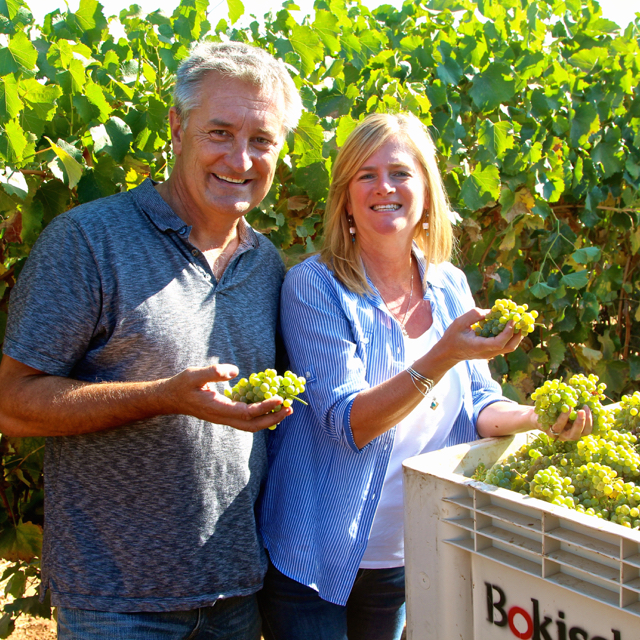 But in lining up the past nine vintages (from 2008 to 2016) of their regular Albariño – all produced in the crystal-clear, sprightly, bone-dry fashion similar to the classic styles of Albariño grown in its native Spanish region of Rías Baixas – the Bokischs were able to glean two more things:
1. How well Albariño can age, especially when produced in a higher acid, lower alcohol style as a direct result of picking grapes early enough in the season (usually within the first two weeks of August).
2. The success of the Bokisch family's own steady viticultural and enological evolution over the years.
Bokisch Vineyards has experienced a hugely positive reception for their Albariño ever since their first commercial vintage, a 2001. Early vintages had the honeyed, citrusy and palate slaking wet-stone dryness of Spanish Albariño; but they were also very "Californian" in terms of two qualities: an ultra-ripe, almost pineappley tropical fruitiness, and high alcohol levels typically in the 14% range, which made the wines almost Viogner-like (although California grown Viognier, like Albariño, has since been lightened up across the board).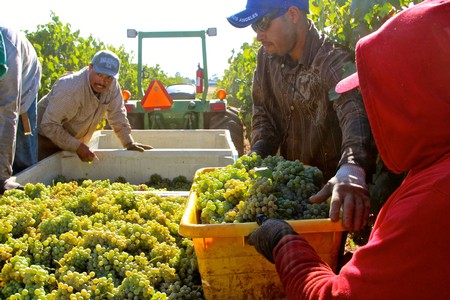 Back in 2010 Markus Bokisch told us: "Starting in 2009, we decided to address that by picking our Albariño by Brix (i.e. sugar reading) rather than by waiting for optimal flavor. It was a leap of faith, but we felt that picking at lower sugars would be the key to making a wine with lower alcohol, more acidity, and brighter, crisper, more varietally correct Albariño character.
With an alcohol level of 13.5%, the Bokischs' 2009 took a positive turn. Liz Bokisch, however, points out that they really weren't able to capture what they were truly looking for until the 2010 vintage, when the alcohol finished at 12%. In their own evaluation of the past nine vintages, she tells us, "The 2010 is really the vintage that started us on our current trend. In the vertical tasting, we both preferred the lower alcohol wines (2010 through 2016) because they show what Albariño can do best in our area when picked at lower sugar to retain its natural acidity."
Still, as a matter of personal taste, she tells us, "Markus actually enjoyed the oldest (2008 and 2009) wines because they are developing some nutty, dry Sherry style components, whereas the middle vintages (2012 and 2013) are not yet aged enough to get into that realm, while no longer quite fresh enough to express the desired fruity Albariño style we all seek. It will be interesting to see if the 12% alcohol wines will age into that Sherry-like quality into the future. We shall see."
In any case, says Ms. Bokisch,. "The tasting was like a new discovery for us to learn about how Albariño can age gracefully. Reaching back historically showed us the journey we've taken to explore how to create world class Albariño in California."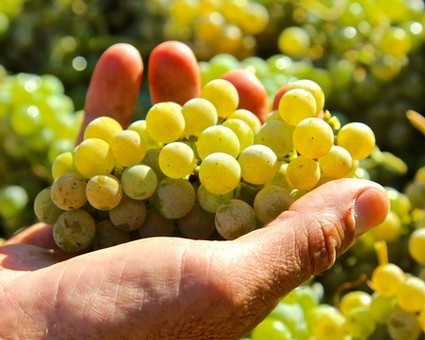 Our own notes on the vintages tasted in April 2017, with alcohol levels notated in parenthesis:
2008 Bokisch, Terra Alta Vineyard Clements Hills-Lodi Albariño (14%) – Honeycomb and sweet tropical fruit and flowery notes in the nose, along with a creaminess that expands into a texturing over a crisp, medium-full body. The lazy, pliant notes of slight oxidation rounding out the palate sensations; finishing firmly dry.
2009 Bokisch, Terra Alta Vineyard Clements Hills-Lodi Albariño (13.5%) – With the stylistic turn towards slightly lower alcohol and higher natural acidity, this vintage retains more of the fresh citrus (tangerine/lemon/lime) quality in the nose, along with notable flinty minerality and touch of honey. On the palate, the wine is tart and minerally, but flattens out a little; finishing lean, slightly empty and rough.
2010 Bokisch, Terra Alta Vineyard Clements Hills-Lodi Albariño (12%) – While steely in its crispness and dryness, this vintage is actually slightly more oxidized (or as Liz Bokisch puts it, "Sherry-like") than the 2009. The citrus/floral fruit qualities, alas, have vanished; lending credence to conventional thinking – that white wines like Albariño really aren't meant to "age."
2011 Bokisch, Terra Alta Vineyard Clements Hills-Lodi Albariño (12.5%) – In contrast to the 2010, the nose in the 2011 still comes up fresh as a daisy – or more like sweet candied lemon peel and mandarin orange slices. On the palate, the wine is keenly balanced, with a feathery lightness and refreshingly mild tartness. Maybe Lodi grown Albariño can age – in certain vintages like 2011, during which Lodi experienced a more coastal cool climate during most of the growing season.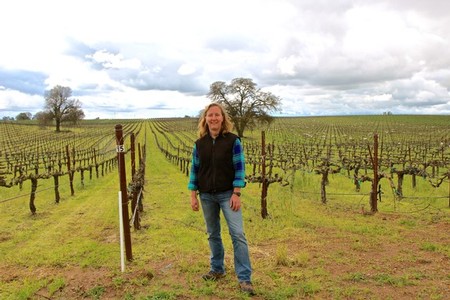 2012 Bokisch, Terra Alta Vineyard Clements Hills-Lodi Albariño (12.5%) – With this vintage, the Bokischs seem to have hit its stride (as Liz Bokisch puts it, "All part of the learning process"). The fruit is still lush, with almost tropical/floral citrus qualities – like little morsels of high-season tangerine. The acidity seems to be more razor-sharp – lemony tart, giving the flavors a zingy margarita-like lime freshness. If anything, it goes to show how importance of fresh natural acidity and balance of moderate alcohol when it comes to longevity of wines.
2013 Bokisch, Terra Alta Vineyard Clements Hills-Lodi Albariño (13%) – Fresh citrus qualities (lemon/lime/orange) in the nose are echoed in lively, pure, upbeat, crisply defined and airy sensations on the palate. I'm not sure if you would ever want a wine like this to develop oxidized/aged characteristics; but its balance of citrusy acidity bodes well for a smooth transition, whatever it may be over the next four, five years.
2014 Bokisch, Terra Alta Vineyard Clements Hills-Lodi Albariño (12.5%) – This vintage tastes like it was bottled last month – still retaining pinpoint delineations of flinty/minerality, white flower, and lemon/mandarin citrus fruit in the nose, although the lemony crispness is veiled in a sheer layer of silkiness on the palate. Very complete and finesseful: along with the 2016, perhaps the most impressive wine in this entire nine-vintage vertical.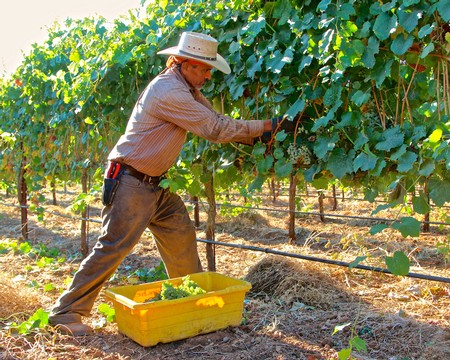 2015 Bokisch, Terra Alta Vineyard Clements Hills-Lodi Albariño (12.5%) – While sandwiched between a masterful 2014 and exuberant 2016, this vintage is no slouch: very fresh, pristine, pure and airy flowery perfumes with lemon/mandarin highlights; exhilaratingly tart, edgy and refreshing on the palate, with its moderate alcohol lending a sense of full flavor within the scope of a seamless, feathery feel.
2016 Bokisch, Terra Alta Vineyard Clements Hills-Lodi Albariño (12.5%) – A "wow" white. The flowery/citrusy perfumes are laser-like in their focus and brilliance; and the sensations on the palate are, well, sensationally bright, luscious, mouth-watering, exhilarating. Should Albariño be consumed as young as possible? Going by the results of this vertical tasting, it would seem to be the wisest thing to do!
Final note: Those interested in attending Bokisch Vineyards' April 23 Vi de Panses Release event should can sign up through this bokischvineyards.com page. Along with cheeses specially selected by the Bokisches in collaboration with Lodi's celebrated cheesemonger, Cindy Della Monica of Cheese Central, you will be able to taste four vintages (2008, 2009, 2012 and 2015) of the iconic Bokisch Albariño. $50/person. That is all.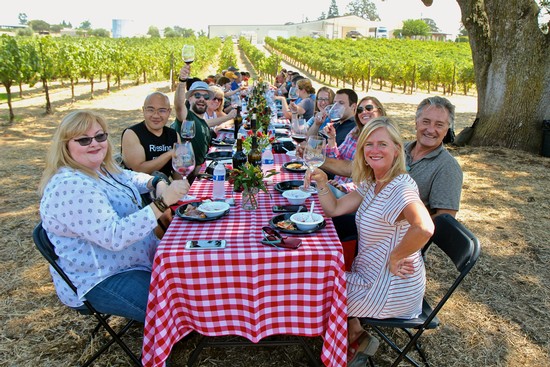 Comments