Letters from Lodi
An insightful and objective look at viticulture and winemaking from the Lodi
Appellation and the growers and vintners behind these crafts. Told from the
perspective of multi-award winning wine journalist, Randy Caparoso.

October 6, 2015 | Randy Caparoso
Colorful lug labels tell the history of Lodi's grape packing industry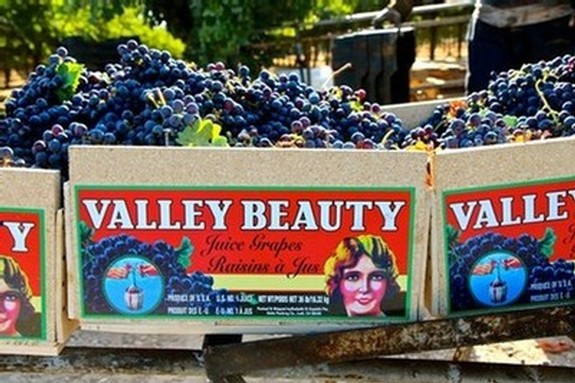 Robert Mondavi's family found their earliest fortunes as Lodi grape packers, not as winemakers. Mondavi's father, Cesare Mondavi, emigrated from Central Italy's Marche region (between Umbria and the Adriatic Sea) to Minnesota, and then brought his family to the Lodi area in 1922, at a time when Prohibition was dramatically boosting sales of fresh-packed grapes to markets across the nation.
Like other fruit packing companies, Cesare Mondavi's C. Mondavi & Sons was successful particularly because of one provision in the Volstead Act (outlawing the sale and transportation of "intoxicating liquors") allowing the head of every household to produce up to 200 gallons of fermented beverages per year for personal consumption.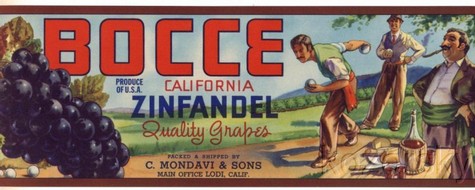 Overnight, countless Americans from the Atlantic to the Pacific became home winemakers, causing fresh grape sales to soar. Numerous California wineries closed down during Prohibition (ending in 1933), but Lodi growers scrambled to plant more vines to keep up with the demand.
Cesare Mondavi's two sons, Peter and Robert, would eventually move to Napa Valley in 1943 after the opportunity for the family to purchase the historic Charles Krug Winery came around. Cesare and his wife Rosa would remain in Lodi for the rest of their lives, but count the Mondavis as one of many Lodi families who utilized the fruit packing business to transition into grape growing and winemaking.

In fact, during most of the last century the primary product steering Lodi's viticultural fortunes was a variety of Vitis vinifera consumed primarily as a table grape: the Tokay (or Flame Tokay), which originated in Algeria, and found its way to the West Coast via East Coast nurseries some time during the 1850s.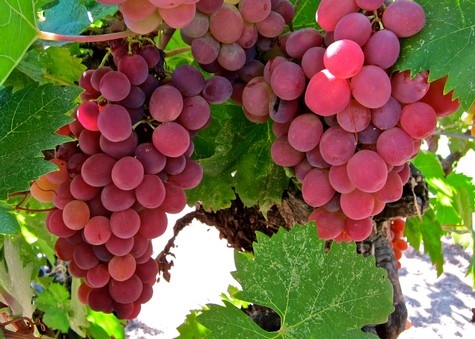 According to Lucy Reller and Ralph Lea in Lodi Historical Society's newsletter, called Lodi Historian, plantings of Tokay were reported southeast of Sacramento in 1857, and shortly after in areas near Folsom, Vacaville and Fresno. But in those growing regions, "The lack of cool dewy nights prevented the grapes from turning red."
In Lodi, however, Tokay grew to a flaming, pinkish red perfection. According to Reller and Lea: "In 1864 George J. Leffler planted 6 acres of Tokay, 2 acres of Black Prince, and 2 acres containing 15 other varieties. The plump berried Tokay and Black Prince varieties did the best, and these eating grapes were successfully sent to the San Francisco market by boat."
Reller and Lea say that when Ezekial Lawrence, a pioneering Lodi farmer, arrived in Lodi in 1857, "there was less than 10 acres of grapes in San Joaquin County." But by 1879, Lawrence and a few other small growers were shipping Lodi grown grapes "by railroad cattle car to New York City in 16 days travel." Wheat, and later watermelons, dominated the Lodi landscape up until the 1890s, but Tokay and wine grapes such as Zinfandel soon proved more profitable.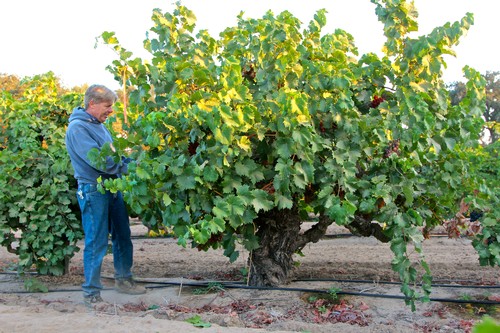 One of the first major forays into viticulture in Lodi was undertaken in 1888 by Allen T. Covell. According to Reller and Lea: "Covell purchased 160 acres north of Turner and west of Lower Sacramento for $125 per acre. He started planting grapes and in 1890 set out a large block of Tokay grapes, the first commercial planting."
A couple of years earlier (1886), Joseph Spenker planted his first 25 acres of wine grapes; including Black Malvoisier (later identified as Cinsaut) on his square-mile block north of Turner Rd. between DeVries and Davis, followed by plantings of Zinfandel, Carignan, Tokay, Black Prince (a.k.a. Rose of Peru), Mission, and assorted other grapes in 1889 and thereafter. Fruit from Spenker's original Cinsaut vines was fresh-packed and shipped to home winemakers during most of the past 129 years, and is still productive today (now going to specialty winemakers).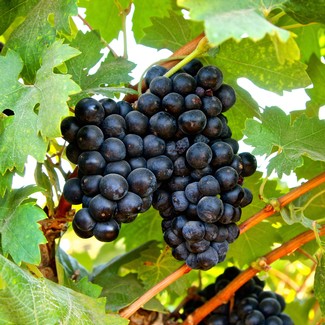 Throughout the 1890s numerous other Lodi families began planting substantial acreage of Tokay, which were packed in sheds and sent out on railroad box cars to markets near and far. By 1905 growers like Elbert A. Covell were reportedly selling Tokay for as much as $160 an acre, which was two to three times more than what wine grapes like Zinfandel, with its constantly fluctuating returns (anywhere from $2.50 to $25 a ton), were bringing in.
Also in 1905, according to Ralph Lea and Christi Kennedy in a Lodi News-Sentinel historical piece (August 1, 2008), an enterprising fruit packer named James A. Anderson shipped the Tokay grapes and a variety of tree fruits to New York for the first time by refrigerated railroad car.

Writes Lea and Kennedy: "The car was equipped with a refrigeration machine at one end with compressors driven by the axle of the car while it moved on the rails. Before that, rail cars used ice to keep fruit cool and fresh, and this required stops along the way across country to load more ice. Not stopping for ice would save at least one day in the journey to the fresh markets."
In a January 1908 issue of Out West ("A Magazine of the Old Pacific and the New"), A.J. Weinert wrote glowingly of Lodi, as a virtual agricultural Shangri-La, especially for Tokay.

In Out West, Weinert proclaimed:
This place (Lodi) is often spoken of as "The Heart of California" on the account of its location which gives it many advantages. The climate is mild and delightful, the days during summer are warm, and the nights cool and refreshing on account of the daily breezes which are due to its geographical position, directly east of Suisun and San Pablo Bays.
The soil is of the richest alluvial sediment, noted for its high tonnage of production. The surrounding country is perfectly level. Purest water in abundance is obtained from an underground flow, which is inexhaustible...
But the most convincing argument ever presented are the returns from... shipments of table grapes. The season of 1907 amounted to 1,141 carloads, valued at $1,141,000... Grapes means money; Tokay means more money...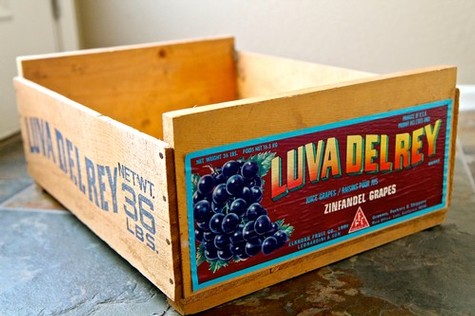 When you consider the fact that a $1.5 million industry in 1908 would be equal to a $39 million industry today, you can understand why, by the early 1900s, the future of Lodi's Tokay driven agricultural industry seemed very bright indeed.
In November 1908, Pacific Rural Press reported "A New Way of Packing Grapes." This "revolutionary" method, devised by K.U. Williams, entailed smaller "half-lug boxes," sold for $5.20 a box, whereas regularly packed crates at that time brought in 80 cents to $1.35. According to this periodical, also known as the California Fruit Bulletin: "This demonstrates the success of the experiment to a remarkable degree, and forms one of the most important events in the history of Lodi grape producing for the market. The grapes were packed in half-lug boxes in the vineyard, picked from the vines and laid into boxes with no pressure on the lids."
Needless to say, grape growing has never been all fun and games. Lodi Historian cites vintages severely plagued by mildew and rot (1912 and 1914), and crop killing spring frosts (1915 and 1917). When Prohibition went into effect in 1920, Lodi growers and packers were prepared.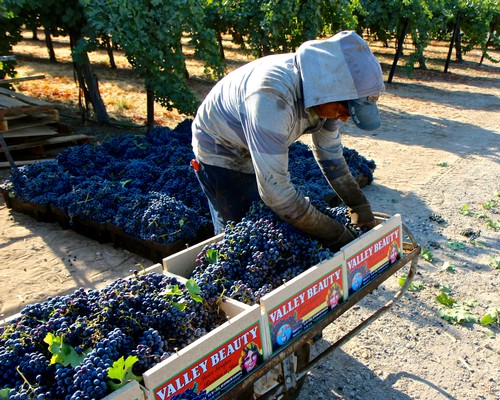 According to Reller and Lea:
Shippers began to advertise Tokays nationwide... growers continued to make money with illicit winemaking, plus the government allowing each family to make 200 gallons of wine...
In 1921 Alicante (Bouschet) grapes set a record price of $182.50 a ton... a 1,050-crate railroad car of Tokay grapes sold for $3.80 per crate. Even the Tokay strippings (those grapes left on the vine after picking) sold out for $85 a ton when shipped as they were also made into wine.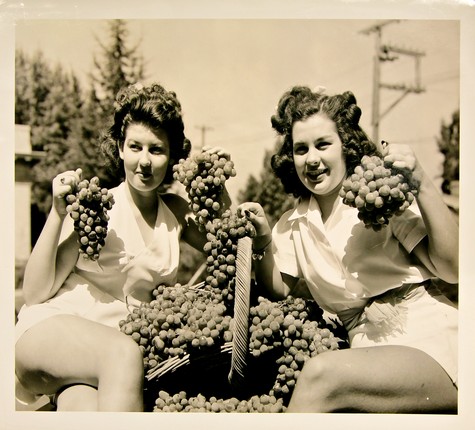 At the same time, however, constant shortages of an adequate number of refrigerated railroad cars were became a serious yearly issue, starting in 1919 and persisting throughout the Prohibition years. Still, by 1924 Zinfandel was reportedly selling for $80 per ton, and Tokay for $40; and by 1932, shipments of Zinfandel regularly exceeded the amount of Tokay going out by railway.
Yet Tokay continued to dominate grape plantings in the Lodi Viticultural Area up until the 1980s, when hybridized seedless grapes like Flame Seedless (grown further south in California's Central Valley) took over the fresh markets, and Lodi growers began extensive replantings to meet the needs of the modern day wine market for premium varieties like Chardonnay, Cabernet Sauvignon and Merlot.
Today, companies like Delta Packing Co. of Lodi – started by Carl Elkins and Lee Mettler in 1976, and run by the Costamagna family (who own and farm over 10,000 acres of multiple crops) since 2001 – still pack a variety of fresh grapes in traditional 36-lb. lug boxes, which are stacked on pallets and sent out in refrigerated trucks.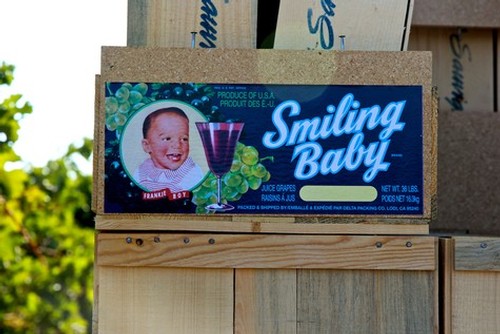 According to Delta Packing's FAQ page:
People of all ages and ethnicity buy our grapes... those who have the specialized equipment or just want the full experience of making there wine... The Lodi Gold label is used to denote our hometown grapes as well as some of the traditional varieties (i.e. Alicante, Moscato) grown nearby. Nearly all of our famous Lodi Zinfandels are shipped in the Valley Beauty label...
A truck with a 53-ft. reefer van can usually take 25 pallets of grapes or 21 pallets of juice... There are 42 boxes on each pallet of 36-lb. grapes. For 42-lb. grape lugs, there are 36 on each pallet. Under the right conditions, grapes can stay fresh for 3-4 weeks. We treat our cold rooms at regular intervals with sulfur dioxide gas to prevent mold growth and maintain constant 32˚ F. temperatures. Of course, due to their popularity, most of our grapes are shipped much sooner than that.
A few more classic fresh-pack labels, which brought the fruits of Lodi's labor to grape and wine lovers across the nation over the past 100 years: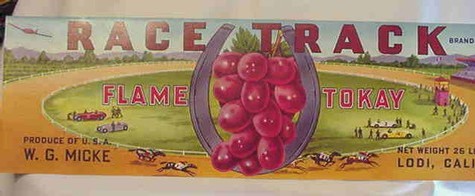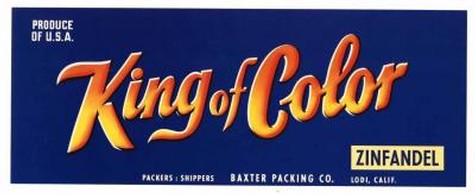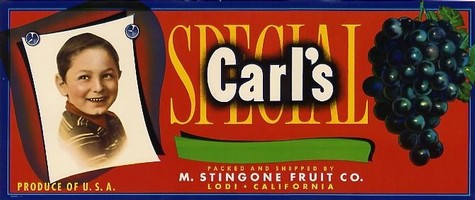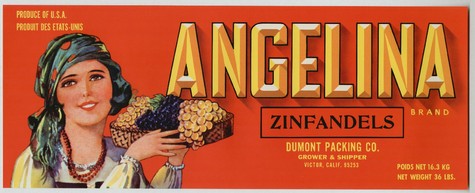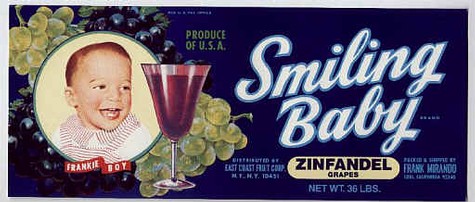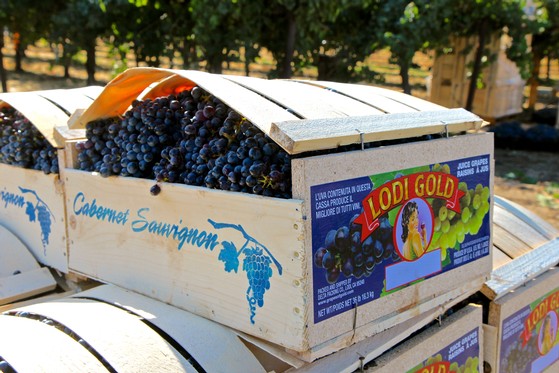 Comments
Daniel R
@ Oct 11, 2015 at 10:22 PM
Interesting information. I read about the Mondavi Family and their first venture in agriculture before embarking into the wine producing business. The fruit box labels are very interesting and enjoyable to see as part of Lodi's history. Thanks DR
James W Lerza
@ Dec 25, 2015 at 7:18 AM
do not think Dumont should be using the Angelina label. My Grand father, James Lerza got a patent for that label in the 20's from the San Francisco patent office (I have the patent letter)