Letters from Lodi
An insightful and objective look at viticulture and winemaking from the Lodi
Appellation and the growers and vintners behind these crafts. Told from the
perspective of multi-award winning wine journalist, Randy Caparoso.

December 27, 2022 | Randy Caparoso
Celebrate the New Year with authentic, champagne style sparklers grown in Lodi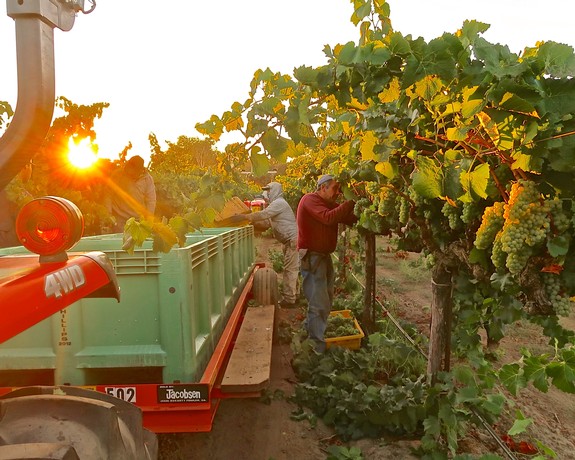 There is nothing like a bottle of champagne style sparkler to mark the arrival of every New Year.
I don't know what it is. Maybe it's the sound of the pop or the fizz of the bubbling wine that makes us think we are getting rid of the old year, and starting all over with a new one bringing even more luck or good fortune. Hope springs eternal!
Champagne style sparklers are grown and produced in Lodi, despite the fact that the original Champagne wine region in France is associated with cold climate winegrowing, whereas Lodi is definitely warm—much more like the wine regions of Provence or alongside the Mediterranean Sea as opposed to northerly river regions near Paris.
How does a Lodi-grown sparkler get the tart acidity associated with traditional Champagne? Simple enough: Grapes for sparkling wines in Lodi are the first to be picked each harvest season, usually during the last two weeks of July, when the classic sparkling wine grapes—namely, Chardonnay and Pinot noir—are still high in acidity and lower in sugar.
Here's an open "secret" not often talked about: Lodi grows tons and tons of grapes for numerous California sparkling wine brands—some owned by French Champagne houses—based in Napa Valley and Sonoma County. If these grapes are good enough for them, they're certainly good enough for local wineries.
But because this is Lodi, perfectly good sparkling wines are also made from "other" grapes, such as Grenache blanc, Albariño, Verdelho, and even (for some producers) Barbera and Zinfandel. Why not? This is Lodi, where the reason why grapes associated with the Mediterranean are grown is because these grapes are known to ripen with lots of fresh, natural acidity, and it's acidity that you need to make a good, crisp sparkling wine.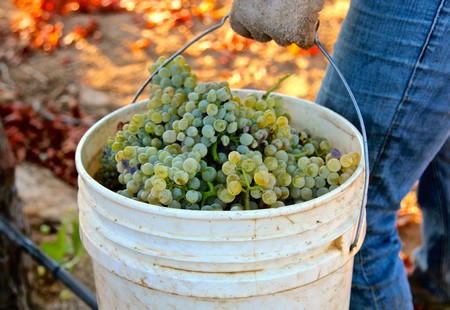 Then there is the matter of the famous "champagne method" of producing sparkling wines, which can be done anywhere in the world, not just in the original Champagne region of France. The French used to call it méthode Champenoise, but nowadays it's called méthode traditionnelle or méthode classique (i.e., "classic method"). Simply put, this is the process of producing tiny bubbles—the result of trapped carbon dioxide—through a second fermentation taking place in the exact same bottle in which the bubbling wine is eventually sold.
For a little bit of non-geeky Champagne 101, the following is the gist of how Champagne-inspired sparklers are made:
• Taking wine that has already been fermented completely to dryness (i.e. no residual sugar left to be turned into alcohol), and then
• Putting the wine into sturdy bottles, where a little more sugar is added along with yeast to start the "secondary fermentation," which produces the bubbly character (the result of carbon dioxide trapped in the bottle) everyone loves in sparkling wine (re the illustration below, courtesy of respected blogger Elaine Brown's Hawk Wakawaka Wine Reviews):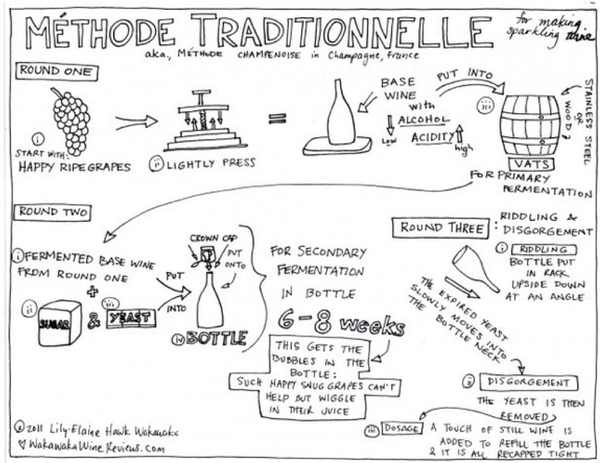 The tricky part of the Champagne method is that fermentations taking place in the individual bottles (sealed by crown caps during the process) eventually expend dead yeast cells (called lees), which cloud up sparkling wines if left in the bottle. So as far back as the sixteenth century, clever winemakers have devised systems of coaxing the floating lees into the neck of the bottle while the secondary fermentation is doing its thing.
Then when the second fermentation in the bottle is done, the lees are "disgorged" along with a tiny bit of the cloudy wine. Immediately after, a small amount of wine, usually with a tiny dose of sugar (i.e., dosage), is added back into each bottle; and the final product is corked with the usual wiring and capsules to prevent errant popping.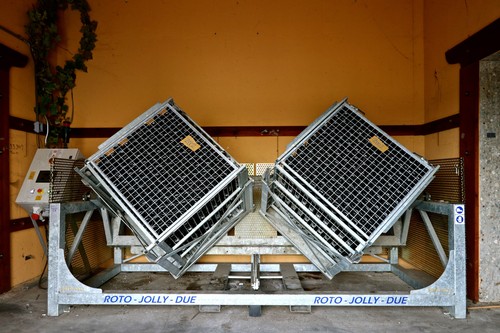 For centuries a process called remuage ("riddling" of the lees) was painstakingly done by hand, one bottle at a time. Since the late 1960s it has been commercially done with the use of gyropalettes—large, machine operated cages holding over 500 bottles at a time, gently shaking the fermenting bottles over a period of a week (or several weeks) until the bottles come to rest completely upside down.
And voilà, you have authentic style champagne! Here is a list of some of the finer champagne style sparklers currently grown in Lodi:
2018 Acquiesce Winery, Mokelumne River-Lodi Sparkling Grenache Blanc ($55)—This brand, justifiably acclaimed for its bevy of white wines made from estate grown Southern French grapes, is not the only winery in California producing sparkling wine from the classic Mediterranean cultivar, Grenache blanc. But you could make the argument that it is the finest, and certainly the dryest. The wine's sensations—minerals, a defining steeliness, a touch of green apple and faint scents of rising bread dough and Hawaiian fruit—are intricate, subtle, and compellingly delicious, despite the tart edge that makes this wine, well, so Champagne-like. What's not to love?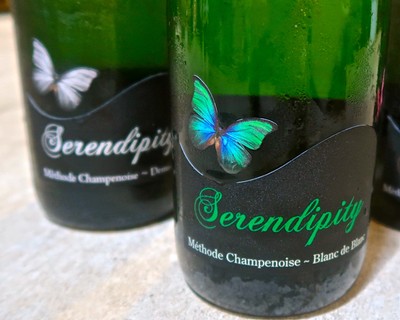 2018 Nostra Vita Family Winery, Serendipity Lodi Blanc de Blanc ($32)—This wine come across as dry despite a smidgen residual sugar (1.2 grams per liter) added to its dosage. The touch of sugar adds to a creamy smooth, delicate, silky quality, and the lemony fresh scent of Chardonnay—100% grown in this family owned winery's estate in Lodi's Clements Hills AVA—is enhanced by the fresh rising bread scent resulting from over 36 months (considerably longer than the vast majority of California sparklers) of aging en tirage, or "on the yeast." An exquisite champagne style sparkler by any standards in the world.
NV Bokisch Vineyards, Clements Hills-Lodi Sparkling Albariño ($36)—You're missing something from your life if you haven't yet tried the Bokisch family's champagne style Albariño, crafted in the champagne style from a grape that is tailor made for Lodi's terroir. The natural, palate-bracing tartness and edgy, almost briny minerality of the variety sings in this wine, laced with suggestions of citrus peel, apple and rising brioche dough, pushing through the lively, foamy, tiny bubbles. Very "Lodi," yet very, very fine!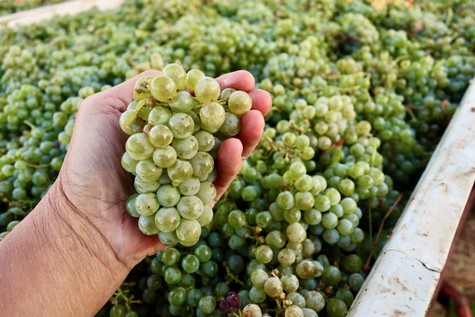 2017 LVVR Sparkling Cellars, Lodi Grand Cuvée ($34)—This is the top-of-the-line bottling from Lodi's largest champagne style producer, which has just recently relocated to a new facility on N. Locust Tree Rd., just south of Victor Rd. (CA Hwy. 12). Almost bone-dry and aged en tirage for a full two years, this light and silk textured blend of Chardonnay (75%) and Verdelho exudes fresh lemon, flower and dairy cream-like qualities, enriched by a toasted biscuit-like yeast complexity, suggesting dabs of butter and honey. A bottling that captures the brightness intrinsic in Lodi grown fruit, yet appealing to any connoisseur of dry, champagne style wine.
NV LVVR Sparkling Cellars, Lodi Brut ($26)—This nonvintaged bottling (i.e., blended from several vintages) is crafted from essentially the same base cuvée (75% Chardonnay/25% Verdelho) as this winery's Grand Cuvée, but aged a shorter time on the lees (three to six months); coming across as dry with a green apple/grapefruit crispness and just enough yeastiness to capture the "champagne" profile.
NV LVVR Sparkling Cellars, Lodi Blanc de Blanc ($26)—Still another variation of this brand's Lodi grown Chardonnay/Verdelho base, only with a brighter fruit tone mobilized by heightened residual sugar (1.5%), packaged in a creamy smooth and balanced palate feel.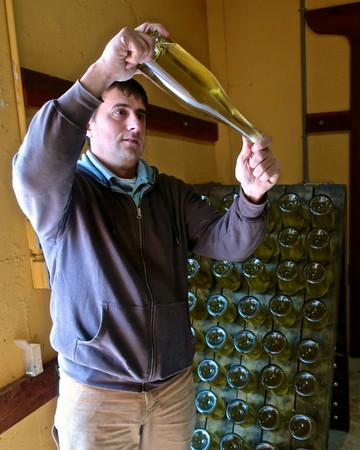 Comments