Letters from Lodi
An insightful and objective look at viticulture and winemaking from the Lodi
Appellation and the growers and vintners behind these crafts. Told from the
perspective of multi-award winning wine journalist, Randy Caparoso.

September 22, 2016 | Randy Caparoso
Brothers at Drava Wines bring worldly flair to the Lodi wine scene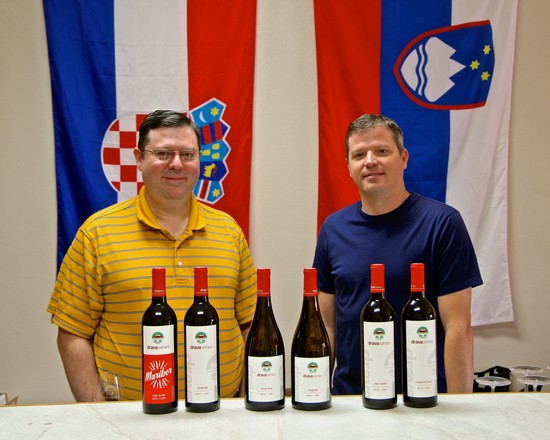 The brothers at Drava Wines, one of Lodi's latest wineries, are not only making deftly crafted small lot wines, well worth checking out. They also bring a worldly flair to the Lodi wine scene
This coming Saturday (September 24, 2016) William Carson – who co-owns Drava Wines with his older brother Steve Carson – will be boarding a plane for a long flight to Maribor, the second largest city in Slovenia. His mission: to do the honors of being the person to cut off the first 2016 cluster from the single oldest grape vine in the world (also documented in The Guinness Book of Records), located right alongside the River Drava, at the center of this ancient city.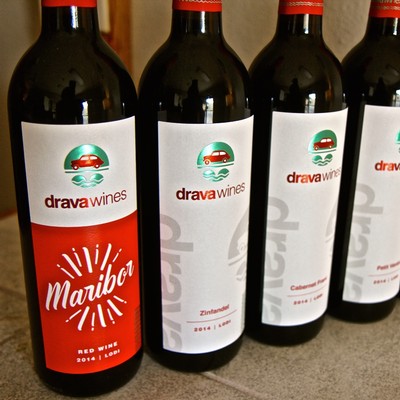 Why Mr. Carson, and not a winemaker or dignitary already living in Slovenia? Because despite the fact that Drava Wines belongs to Lodi wine country, the brothers Carson are already big – make that, downright huge – in Slovenia. Not that much more than a handful of people in Slovenia have even tasted their Lodi grown wines. It's mostly because of a Slovenian newspaper article published this past June 2016, publicizing the fact that the Carsons had established a winery named after the country's beloved riverway, the Drava.
Plus the fact that the Carson brothers are bottling wines with a logo depicting an old fashioned Serbian car called the Zastava, which remains a sentimental symbol of old Yugoslavia – the former country broken up into smaller independent countries (Bosnia and Herzegovina, Croatia, Kosovo, Macedonia, Montenegro, Serbia and Slovenia) in the early 1990s.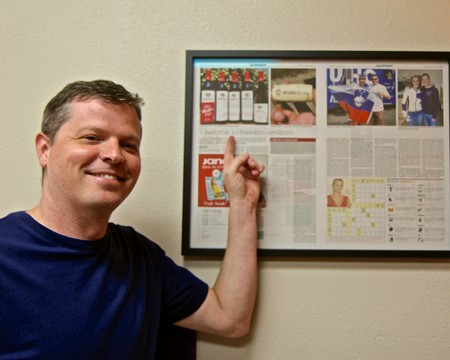 If you visit Drava Wines' newly opened tasting room and winemaking facility at 1378 Turner Rd. (located between the McCay Cellars and Twisted Oak tasting rooms), you can view a framed copy of this Slovenian newspaper article yourself; with its headline proclaiming (in Slovenian, of course), "From California with Stajerska (i.e. Slovenian) Inspiration."
The picking of the world's oldest vine takes place next week Monday. "It is just one vine," says Mr. Carson, "producing just enough grapes to make a few liters of a red wine. The wine that is made is strictly ceremonial, handed out to just a few important people, like heads of states. The grape variety is Zametna Crnina. It is by no means one of Slovenia's more important varieties, but the Slovenians are proud of the fact that it is the oldest vine in the world – planted about 450 years ago... a national treasure."
The Carsons, for the record, are not of Slovenian descent. They are Colorado Front Range born and raised. The international connection comes from the fact that William Carson, who serves as Business Manager of Drava Wines, was teaching English in Slovenia when his brother Steve, the Drava Wines Winemaker, called two years ago to ask if he could join him in his new wine producing venture in Lodi.
The Lodi connection comes through Steve Carson, who was a former winemaker at Lodi's now-defunct Vino Con Brio (a vineyard estate sold to Mettler Family Vineyards five years ago), and who had also established winemaking creds in a number of other wineries in California as well as Oregon, after attaining his degree in Viticulture & Enology at U.C. Davis (in 1996).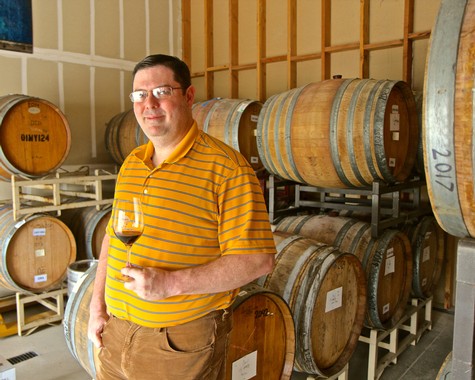 "I bought a house and settled into Lodi," Steve tells us, "but after my time at Vino Con Brio was up, I got out of the wine business, and took a good job in the biotech industry, working for Johnson & Johnson."
But after 13 years away from grapes and fermentors, the hankering to crush grapes took over again. "I saw all the changes going on in Lodi," says the elder Carson, "and so I pitched William about coming back to the states to start the business with me. Right now, our goal is to work with individual growers and vineyards and do different things each year to take advantage of the incredible diversity of what Lodi has to offer."
The Carsons' first vintage, in 2014, was custom-made in Downtown Lodi's Estate Crush, and they produced their 2015s in another Lodi winery, before moving into their own facility on Turner Rd. this past spring.
The quality of Drava Wines? So far, so good! The current releases are mostly the result of hand-picked, hand-crafted 2-ton lots. Growth for Drava Wines is slowly-but-surely. The overall style is oak-influenced without going overboard with the woody aromas and flavors; with an emphasis on roundness, texture and perfume.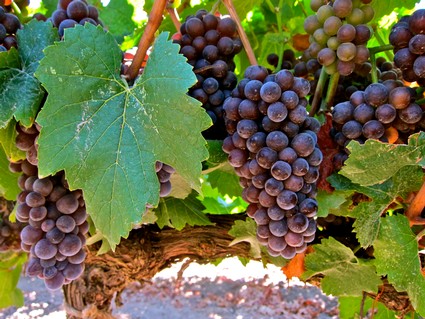 Our notes on what you can currently find in the Drava Wines tasting room:
2014 Drava, Lodi Pinot Gris ($19) – From a vineyard owned and farmed by Gregg Lewis (of Dancing Fox Winery) near Acampo Rd. in Lodi's Mokelumne River AVA; a whole cluster pressed, neutral barrel fermented, sur lie (i.e. contact with dead yeast cells) style of the grape, lending a subtle, creamy, toasty complexity to a brightly floral nose tinged with apricot-like fruit; silky yet mouth-filling, with round, medium-full bodied, creamy-apricot sensations.
2015 Drava, Lodi Viognier ($19) – Another white wine that should appeal to lovers of smoothly oak-influenced styles (as opposed to sharper stainless steel fermented styles of dry whites); yet still retaining fresh, flowery, honeysuckle-like varietal perfumes; on the full bodied side (alcohol in the mid-15% range), yet balanced and slightly fleshy in texture. From fruit grown by Richard "Rip" Ripken in his Guard Rd. ranch (in the Delta, west of I-5).
2014 Drava, Lodi Cabernet Franc ($26) – Cabernet Franc has been catching on with more and more wine lovers because of its rich, deep yet lighter weight qualities, recently described in another publication as the ideal "summer-into-fall" red. The Carsons hit the nail on the head with this Clements Hills-Lodi grown bottling; fashioning fragrant, almost violet-like fruit with sweet hard-spice notes (mace, allspice, and suggestions of cinnamon). On the palate, the medium-weight body (a lithe 15% alcohol) comes across as silky and fine, with mild tannin and oak qualities tucked underneath the flowery fruit. Blended with about 15% Petit Verdot.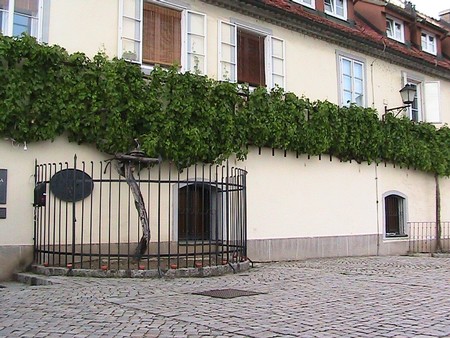 2014 Drava, Lodi Petit Verdot ($26) – While lightened by a judicious dose of Cabernet Franc (about 15%), this Clements Hills-Lodi grown bottling is dominated by the varietal's penchant for dark colored, dense and brawny texturing, with violet/blueberry-like notes peeking out from under a muscular, yet smoothly rounded, layer of tannin, with good, jangly acidity to boot.
2014 Drava, Lodi Maribor Reserve Red (45% Petit Verdot, 30% Merlot, 25% Cabernet Franc; $34) – Named for Slovenia's historic city along the River Drava, this imaginative, red Bordeaux-inspired blend combines the sinewy muscle of Petit Verdot with the softer, sweeter-toned fruit qualities of Merlot and Cabernet Franc. "It is always interesting," says Steve Carson, "when you put Bordeaux varieties together, the chemistry of phenolics (i.e. tannins and other compounds derived mostly from grape skins) tends to polymerize – Merlot and Cabernet Franc become sturdier, and Petit Verdot a little less so." The result is a tightly wound yet zesty, meaty textured red wine with a vanillin, caraway-like, chocolaty richness, finishing with slightly drying tannin.
2014 Drava, Lodi Zinfandel ($26) – While many Lodi Zinfandel specialists have recently been veering towards more restrained iterations of this grape, Drava's inaugural entry was made big (16.5% alcohol) and jammy out of necessity. "The grapes came in this way," explains Steve Carson, "and we rolled with it." The sensations are intense, ultra-ripe, and a little sweet with a modicum of residual sugar – your old fashioned whopper of a Zinfandel. "Not quite 'late harvest,'" adds Carson, "but if you're not afraid of that, you're gonna like this wine."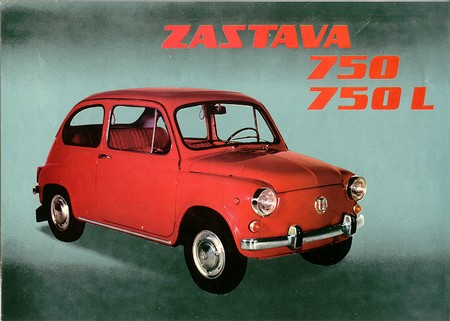 Comments