Letters from Lodi
An insightful and objective look at viticulture and winemaking from the Lodi
Appellation and the growers and vintners behind these crafts. Told from the
perspective of multi-award winning wine journalist, Randy Caparoso.

June 21, 2018 | Randy Caparoso
Bokisch's Lodi grown wines making a huge splash in Hawaii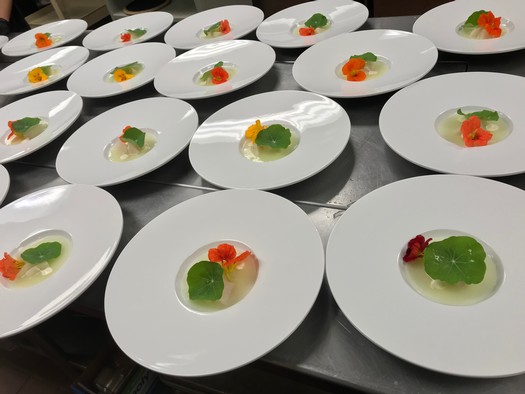 The Lodi grown wines of Bokisch Vineyards – predominantly made from grapes that originated in Spain – have been sold in the Hawaiian Islands for over ten years. But in a way, it is mostly within the past two years that they have really begun to make a huge splash.
Why? We suspect for the same reasons why Bokisch Vineyards wines have been selling out faster and faster right here in Lodi: Because more and more consumers are gravitating to lighter, crisper, fresh fruit (and less oak) focused styles of white wines and dry rosés; and are also going more for red wines that are unabashedly fragrant and spice scented, with less emphasis on tannin, excess alcohol and (as in whites and rosés) oak.
In that sense, wine lovers in Hawaii are pretty much the same as wine lovers in California, New York, Florida, the Midwest, or any other place. Consumer tastes are changing, and Bokisch is fitting right in. Need proof? Just last month, Bokisch released its 2017 Garnacha Blanca – the follow-up to their 2016 Garnacha Blanca which recently won a rare Gold Medal at the Grenaches du Monde (International Grenache Competition) held in Terra Alta, Spain – and the wine sold out in just one day. A "best kept secret" no more!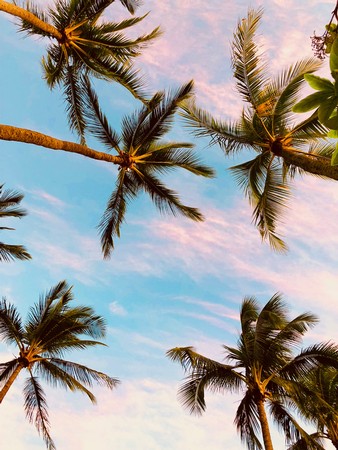 But after proprietor Liz Bokisch's most recent tour (in early June 2018) of the Islands, another reason has become increasingly clear as to why Bokisch wines are such a big hit in the land of crystal blue waters more soothing than a bathtub's, with its soaring palms waving in gentle breezes, the scent of flowers and ripening fruit in the air everywhere you go, and sandy beaches as soft as pillows, constantly brushed by hissing, white ocean foam. And that is, that there are also a special culinary and cultural affinities shared by the Lodi grown Spanish varietals of Bokisch and the tropical, globally influenced cuisine of the Hawaiian Islands.
How do we know this? Because we asked some of Hawaii's wine professionals and restaurateurs exactly why they are digging Bokisch wines more than ever.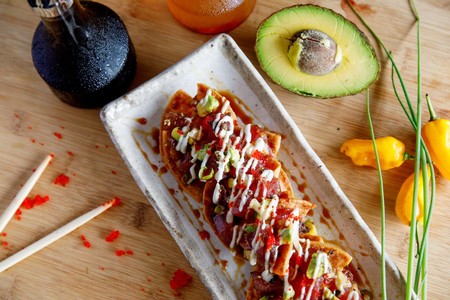 For instance, we recently spoke to Randy Nunokawa, the owner of a wine store called Grapes, located in Hilo on the Island of Hawaii (which is nicknamed the "Big Island," since it is the state's largest island – and, evidently, growing larger every day, as seen in the deluge of recent news reports showing volcanic lava spewing into the Pacific).
Says Nunokawa, "Most of our wines are not usually found in chain stores – we specialize in wines made from 'other' grapes, like Bokisch's Albariño, the Bokisch Rosado (crafted from Garnacha and Tempranillo), and their red Garnacha. The Rosado, for instance, is a perfect match for Hilo's weather and local food – it is refreshing in its bright citrus, raspberry and strawberry flavors, yet dry finish, and ideal with our warm summer days and grilled ahi (i.e. fresh Hawaiian tuna) steaks with tomato mint salsa.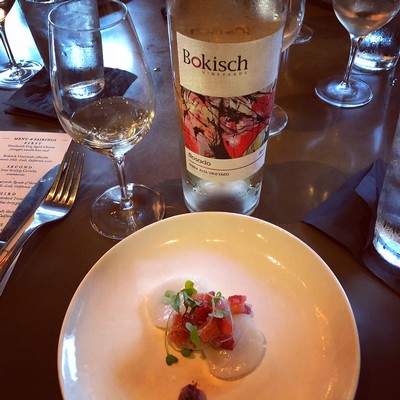 "I also love Markus and Liz Bokisch's Albariño because its citrus, grapefruit, lemon and savory-like finish could cut a dance floor when served as an apéritif, or when paired with chilled spicy shrimp served in a papaya 'boat.' These wines are a refreshing departure from the over-the-top wines more common in the U.S. market; showcasing a lighter mouth-feel, delightful flavors in the mid-palate, and enough acidity just begging for food."
Krissi Miller – the General Manager of Hukilau Lanai in Kapaa, located on the eastern shores of Kauai – tells us: "We first met Liz and Markus at a trade tasting on Kauai – they are super-cool, down to earth, just downright nice people. Their enthusiasm is infectious, and their wines live up to that."
Miller singles out Bokisch's varietal white made from the rare (in California) Verdejo grape for "its versatility... It has enough fruit to pair easily with the vast array of flavors found in Hawaii's kitchens, yet retains a dry, refreshing quality. At Hukilau Lanai, for instance, we offer a vegetarian version of our early evening Tasting Menu, where we pair the Verdejo with our Sweet Potato & Feta Cheese Ravioli in Lemon Grass Coconut Sauce. The wine is almost round and creamy, but finishes light, with some tropical notes. We love the way it dances with the sweet and tangy notes of the dish."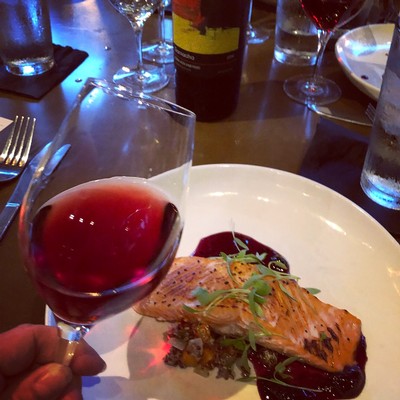 Adds Miller, "We love to drink Bokisch at home too. We especially enjoy their Tempranillo, Garnacha, Albariño and, of course, the Verdejo. These are all incredibly balanced and approachable wines, which make them perfect wines for food; yet have a deliciousness that makes them just as great standing on their own."
At Livestock Tavern in Honolulu, Liz Bokisch recently presided over a 5-course winemaker dinner with restaurant manager Justin Lipsky-Sugita. The Livestock Tavern menu: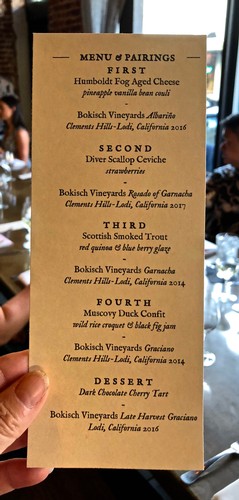 Says Lipsky-Sugita: "I'm a huge fan of the Bokisch whites – they have great acidity and structure, yet are extremely affordable, over-delivering on their prices. To me, that is the epitome of 'great.'
"On our winemaker dinner menu, I have to say that the first two courses – Baked Humboldt Fog with Pineapple Vanilla Bean Chutney matched with the Bokisch Albariño, and the Diver Scallop Ceviche with Strawberry Coulis served with the Bokisch Rosado – were the all-stars. On our regular menu, the Bokisch whites as well as their Rosado go great with our Hen of the Wood Salad, consisting of Maitake mushrooms, frisée (i.e. curly endive) and a poached egg."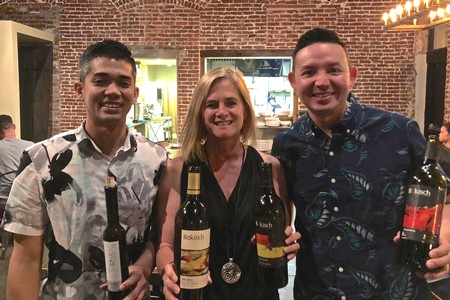 In the clubhouse of Kukui'ula – a luxury resort ensconced on the perpetually sunny south shore of Kauai – Chef Samson Arzamendi recently prepared a "Chef's Table" dinner hosted by Liz Bokisch. Arzamendi shared his own unique story with us: "I grew up in Lodi! My family was very big into the wines, especially Lodi Zinfandels. Before moving to Kauai, I wanted to do one more wine tour of Lodi wineries that I had not been to before, and our third and last stop of the day happened to be at Bokisch Vineyards.
"As you often find in small towns, the woman who gave us our tasting at Bokisch was an old family friend that I used to see at cioppino cookouts and renaissance fairs. I also discovered that the Bokischs shared a common ancestry with my own family's, in the Basque regions of Spain. To see wines from Spanish grapes growing where I grew up, and to discover such a great level of quality, was a mind-opening experience."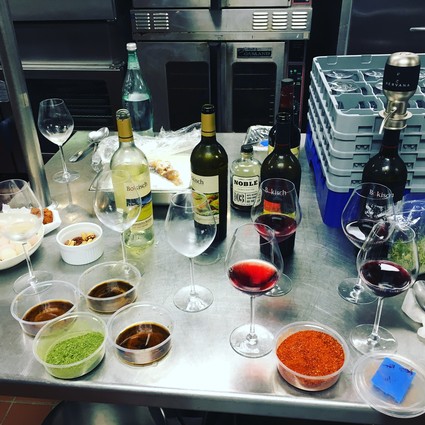 This is the regional Hawaiian cuisine inspired menu prepared for Bokisch wines by Kukui'ula's Chef Arzamendi:
Fermented Honeydew -
Poached Radish, Jamon Crema, Nasturtium
Bokisch, Garnacha Blanca 2015
Local Octopus -
Roasted Pepper Consomme, Sherry, White Romesco, Allium
Bokisch, Albarino 2015
Pork + Duck Crepinette -
Gigante Bean Stew, Piment d'espelette, Salsa Verde
Bokisch, Garnacha 2014
Roasted Duck -
Kiawe, Pine, Young Greens, Preserved Carrots, Farro Tea
Bokisch, Tempranillo 2014
Says Chef Arzamendi: "We had an incredible time tasting and pairing the wines with food. To say one wine and food pairing went better than another would have been like arguing the best pizza toppings. Our goal for the Chef's Table was to pull California, Spain and Kauai together in one night.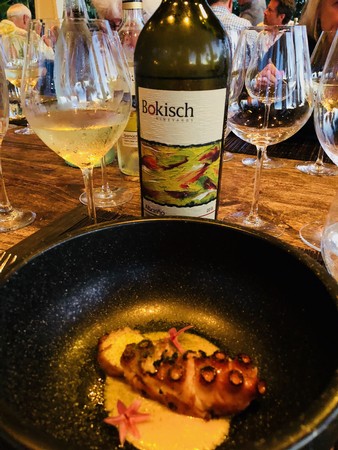 "The Bokisch Garnacha Blanca allowed the dish of fermented honeydew to become all the more intensely ripe, sweet and complex; and we enhanced the dish with a spicy pistou (i.e. pesto) of nasturtium, butter poached radishes from our farm, and chilled reduced cream infused with the scraps and bones of Jamón Ibérico (imported Iberian cured ham).
"The local octopus paired with Bokisch's Albariño was slow cooked until tender, then brushed with the smoky liquid of fired roasted bell peppers and charred over fire, and served with white romesco (Catalonian red pepper) sauce of toasted almonds, sherry vinegar, roasted garlic and olive oil, with a dusting of dried alliums from our garden.
"For the Garnacha, we went with a stew of white beans, garlic, roasted peppers, spicy/smoky piment d'Espellete (i.e. Espelette pepper), and a Basque salsa verde of farm herbs, with a crépinette (wrapped in caul fat) of Kurobuta (Japanese heritage) pork and duck leg sausage.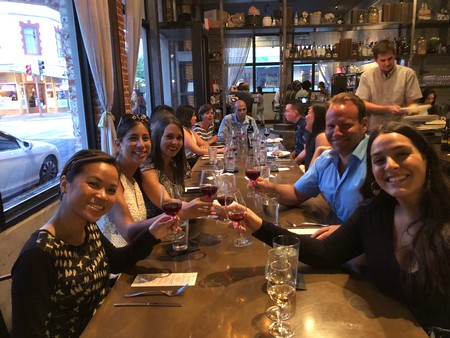 "For the Tempranillo, we brought several elements together in two dishes – crispy skin duck breast smoked with kiawe wood (i.e. Hawaiian mesquite) and pine, with carrots from the farm preserved in duck fat and hung for two months, and young broccoli tossed with toasted farro. Served just before the duck was a tea made from the cooking of farro with shiso (Japanese mint), calamansi (mandarin/kumquat cross), basil and duck fat.
"Bokisch's white wines pair easily with Hawaii's delicate or expressive pokes (raw tuna salads) and other raw fish preparations, while the reds stand up to the open fire grilling seen throughout Kauai. I think there is a place for Bokisch wines in just about all of Kauai's restaurants, especially because they pull in so many things together, all at once."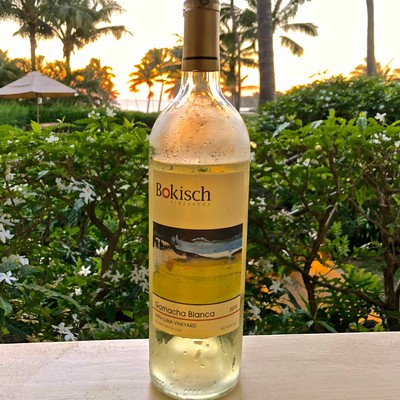 Because he has a personal familiarity with Lodi grown wines, we asked Chef Arzamendi what he thinks of the wines of Lodi today. He ended up doing some shout-outs; telling us: "I'm biased, but I've also traveled around. I think Lodi wines are still underrated and grouped into too much of one category. Most people still associate Lodi with Zinfandel, as I had for so long, but Lodi has so much more to offer.
"Besides Bokisch's wonderful Spanish varietals, Acquiesce Winery is doing only whites in stainless steel – which are all incredible, and far from the 'standard California Chardonnay.' LVVR Sparkling Cellars is changing how we perceive Lodi by doing only sparkling wines in the méthode Champenoise style; utilizing only Lodi appellation grapes.
"The region is already gaining some recognition. I hope that this continues, and the wineries continue pushing the envelope and doing the great work they do – to change people's mind, yet keeping Lodi the great, unspoiled gem that it is!"
Comments