Letters from Lodi
An insightful and objective look at viticulture and winemaking from the Lodi
Appellation and the growers and vintners behind these crafts. Told from the
perspective of multi-award winning wine journalist, Randy Caparoso.

August 27, 2018 | Randy Caparoso
Bokisch Vineyards demonstrates impact of terroir on grapes (plus new Bokisch label wines)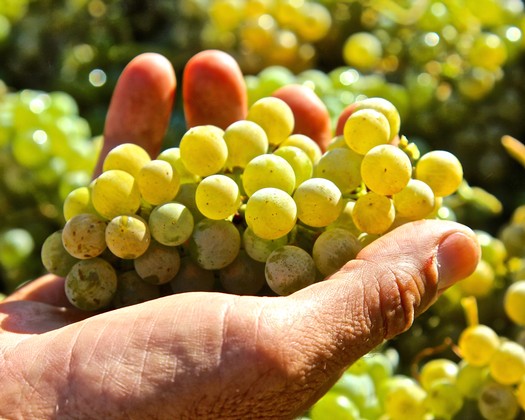 Continuing our study of the impact of vineyard conditions – or terroir (i.e. "sense of place") – on wine grape clusters and finished wines, we asked Bokisch Vineyards to gather 2018 grape samples from their multiple vineyards for us to compare, side-by-side.
The well over 2,000 acres farmed by Bokisch Ranches make a fascinating study. First, because their vineyards are located in five of Lodi's official sub-AVAs (Mokelumne River, Clements Hills, Borden Ranch, Jahant, and Sloughhouse), plus in the south-east corner of the broader Lodi AVA near Linden (which is not part of any sub-AVA), as well as on Andrus Island just outside the western edge of the Lodi AVA (in the Delta area near Isleton, sandwiched between the Sacramento River and Georgiana Slough).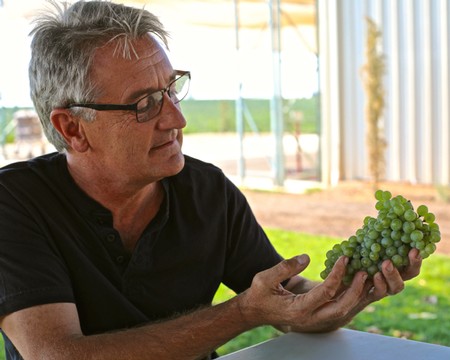 Most of the Bokisch vineyards consist of the standard commercial wine grapes (Cabernet Sauvignon, Merlot, Chardonnay, Sauvignon blanc, Pinot gris, etc.), but they also specialize in the Iberian (i.e. Spanish/Portuguese) varietals bottled under their own Bokisch Vineyards label: Notably, Albariño, Garnacha blanca (a.k.a. Grenache blanc), Verdejo, Verdelho, Tempranillo, Graciano, Garnacha (a.k.a. Grenache), and Monastrell (a.k.a. Mourvèdre).
The Bokischs have also recently planted Piquepoul (a.k.a. Picpoul blanc) – the white wine grape of South-West France's Picpoul de Pinet region, but also planted on the Spanish side of the Pyrenees where it is known as Picapoll or Avello.
With commentary supplied by Bokisch Ranches owner/grower Markus Bokisch and his Bokisch Vineyards winemaker Elyse Egan Perry, the grape clusters collected for our edification...
Albariño – Terra Alta Vineyard, Las Cerezas Vineyard, and Andrus Vineyard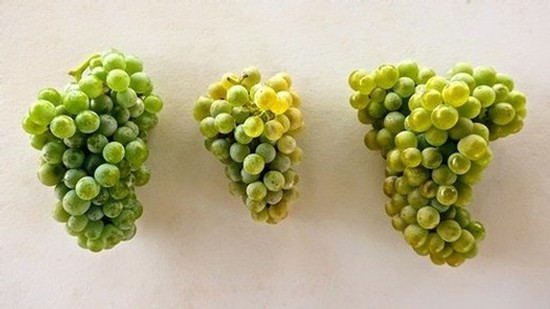 "First of all," says Mr. Bokisch, "the size, or cluster architecture, of the Albariño grape no matter where it's grown – whether in California or Spain – tends to be very small, similar to a Pinot gris. It looks like a little hand grenade, and there is usually no wing (i.e. secondary arm growing from the top part of the main cluster) associated with it. If there is a wing, it is typically very small.
"Albariño clusters tend to be medium-tight, with a visibly thick cuticle. The cuticle is the grayish, waxy film visible on the skin, or epidermal cells, of each berry. Grapes with visible layers of cuticle usually have the highest degree of tolerance for mildew, compared to other varieties. Which makes sense, because if you see where Albariño originated, in Spain's Galicia region (particularly the Rías Baixas), 50 inches of rain is not atypical. Therefore, a fair amount of mildew tolerance in a variety grown in that area makes sense. Any mildew-prone variety typically does not do well there.
"The other thing you see is that berries in the cluster tend to be on the smaller side. This allows for even a compact cluster to have more gaps or spaces between each berry, allowing for more airflow and, as a result, adds to the mildew-resistance.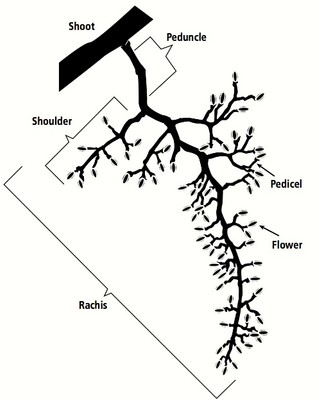 "The major distinction between the Albariño clusters coming from Las Cerezas on the left, Terra Alta in the middle, and Andrus Island on the right is a size differential based on location. The Terra Alta cluster is the smallest because it is grown in the most nutrient-depleted soils (a Redding Series gravelly clay loam), here at our winery and tasting room location in Clements Hills. Therefore the total capacity or vigor of the vine is diminished. The clusters are smaller, and you also have a yellower color in the berries, which is related to sun exposure. In an area where the soils are more depleted, not only are the berries and clusters smaller, but the canopies (i.e. shoot and leaf growth) are also smaller, allowing for more light infiltration.
"What you see in Las Cerezas Albariño on the left is a reflection of the silty or sandy (Tokay Series) loams found in the Mokelumne River AVA. Here the soils have a low to moderate nutrient regime, thus a little more vigor; plus better water-holding capacity than in Clements Hills. It is still a typically compact size as Albariño clusters go; only, slightly larger, on average, than what we get in Terra Alta Vineyard.
"When you get to the Andrus Vineyard in Sacramento County, located on Andrus Island, now you're talking about a vineyard site that needs no irrigation all season long. It's dry farmed – doesn't need a drop of water – because the area has a high water table, giving the plants all the water they need. These are also peat loamy soils (primarily in the Ryde Series), notably richer in natural nutrients. As a result, Andrus Vineyard is one of our most challenging sites in terms of slowing down plant vigor.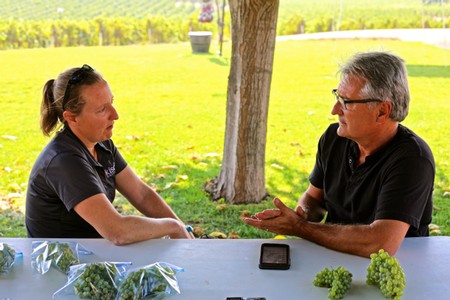 "Consequently, some of that vigor gets taken out in the cluster, creating what would be a larger than average Albariño cluster. It actually has the emergence of a small wing, which is really odd for the variety. The berries are on average bigger that what you see in Terra Alta or Las Cerezas, and the color also tends to have a little more green."
In regards to the sensory ramifications of these variable clusters of Albariño, winemaker Elyse Egan Perry tells us:
"In Las Cerezas, we tend to get a little more floral aromatics, as opposed to the little more citrus qualities we get in both the Terra Alta and the Andrus Albarinos. In the Terra Alta, you're getting more citrus notes on the palate – more tangerine, lemon zest, and a little more of that saline quality on the palate. While not super-strong, this brininess is there, perhaps a little more on the finish of the wine than anywhere else.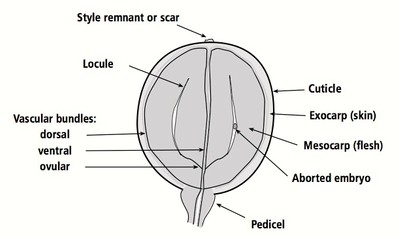 "Of all our Albariños, the Andrus fruit tends to be a little bit more on the tropical side, with pronounced melon, although it also holds its acid really well. As the sugars rise, the acids don't drop out as much as they do in the other two. Which is why I usually pick Andrus Vineyard at around 22° Brix (i.e. sugar reading), whereas Terra Alta and Las Cerezas are picked at lower sugars, closer to 21°, 21.5°.
"The vineyards also ripen differently. The Terra Alta is the first to come into the winery; the soils in Clements Hills being the oldest and most nutrient-depleted out of the three. When vines struggle, fruit ripens sooner. When you go west to Las Cerezas, in the silty-sandy soils of the Mokelumne River, these are the second Albariños to come in; and then Andrus, growing in the youngest, peaty soils, is usually a couple weeks behind those two."
Vista Luna Vineyard Verdelho and Terra Alta Vineyard Piquepoul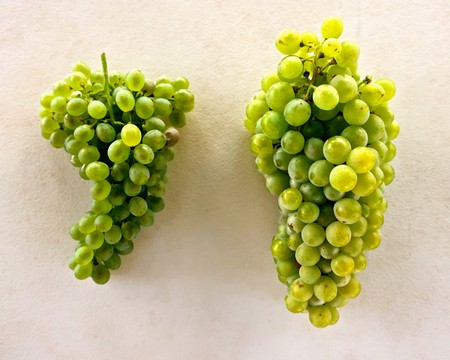 In this comparison, Mr. Bokisch and Ms. Perry endeavored to demonstrate the stark difference between the Verdelho grape – a Portuguese grape originally sourced by Lodi's Ron Silva (of Silvaspoons Vineyards) from Ilha do Pico, the "Island of Pico," located in the Portuguese Azores off the coast of Portugal – and Piquepoul, the white wine grape of the region called Picpoul de Pinet, located on the Mediterranean coast in France's Languedoc region, not far from Spain.
According to Mr. Bokisch: "Verdelho is interesting. The first time I saw the grape, it was growing in San Joaquin Series clay loam, and the berries were nearly twice the size you see here, coming from our Vista Luna Vineyard in the Borden Ranch AVA. So while Verdelho is a smaller sized cluster when grown in the gravelly clay slopes of Borden Ranch, what is typical of the grape no matter where it is grown is how absolutely loose the cluster is.
"Berry sizes in Verdelho clusters to to be relatively small – these are oval shaped berries with long pedicels (i.e. berry stems), which make these berries hang very loosely. The long pedicels gives Verdelho a really airy, open cluster architecture – so the berries can move quite freely, almost like flamenco dancers.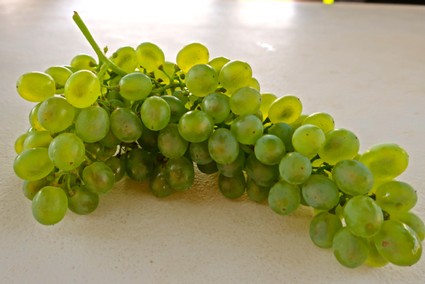 "Verdelho grapes also have some pretty thick skins. It can really take some heat – it doesn't tend towards sunburn like Garnacha Blanca often does – and so it does really well here in Lodi, with our abundance of sun. Yet the cool thing is that the berries have a certain transluscence – you can actually see the seeds right through the skin – and at the time of harvest, the berries separate very easily from the stems.
"Verdelho is always our first grape to come in each year. Piquepoul, on the other hand, can be a late ripener, depending on crop size and ratio of canopy to fruit. Our vines are still young – grafted over only two years ago – and so I think it will take another year or two for the vines to really come into balance. 2018 will be only our second year of picking Piquepoul.
"We already know Piquepoul to be a big cluster grape – similar in size to Grenache blanc, without as pronounced a wing as Grenache blanc. It is a relatively tight cluster with round berries – again, similar to Grenache blanc in that respect – and it is known, of course, for its relatively high acid. It reminds me of Roussane, which is another Rhône Valley grape that makes very structured white wines, although Piquepoul is definitely a higher acid grape. "
Garnacha blanca - Vista Luna Vineyard and Clay Station Vineyard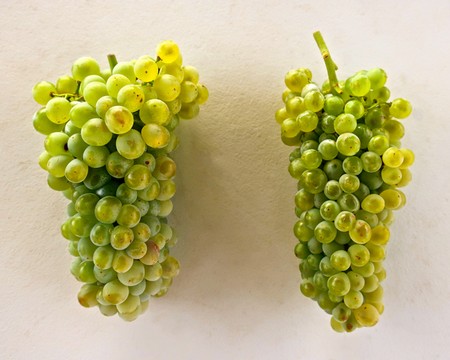 Bokisch Ranches Garnacha blanca from 1) Vista Luna Vineyard (Borden Ranch-Lodi AVA; and 2) Clay Station Vineyard (also from Borden Ranch-Lodi AVA)
In his assessment of the two samples of white Garnacha grapes taken from Vista Luna Vineyard and Clay Station Vineyard – both grown in the Redding Series gravelly clay loam slopes of Lodi's Borden Ranch AVA – Mr. Bokisch shared these observations:
"Both of these Garnacha blanca clusters are smaller than what we usually see in these vineyards. What happened is that our crew has gone in and thinned out the wings, reducing the cluster sizes significantly. So you have to imagine that these clusters would normally be a little larger.
"Theoretically, the Garnacha blanca from both Vista Luna and Clay Station should be similar because they grow in the same soil types, same AVA. These are typically tight clusters, with nice, big berries. When you bite into the skins you notice how thick the skins are. You can feel the phenolic content that is natural to the Garnacha blanca, or Grenache blanc. This probably comes from the fact that grapes in the Garnacha family have evolved in high elevation regions. The thick skin is part of the grape's morphology – designed to protect itself from austere environments.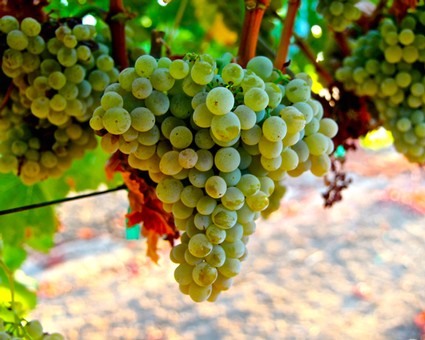 "By way of explanation, the Garnacha grape originated in Campo de Borja, which is in Spain's southern Aragon region. The highest peaks of the Pyrenees are found in Aragon. The Garnacha grape probably dates back to what was once the Kingdom of Aragon (established in 1035, and lasting until 1707), which was a region culturally and linguistically independent from the rest of Spain. It is not a Catalan region, although at one point it became part of Catalunya (a.k.a. Catalonia).
"The Garnacha blanca grape was first 'discovered' in Campo de Borja many centuries ago. What we know, as with human populations, is where you see the most genetic diversity you usually find a grape's origin, and you find the most genetic diversity of Garnacha in Aragon and Catalunya.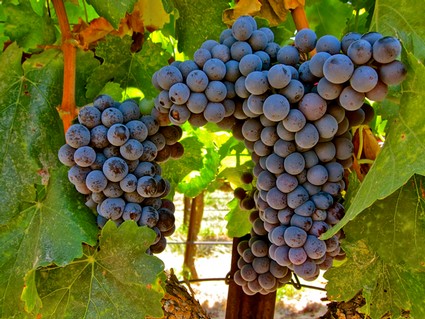 "In Catalunya's Terra Alta region, for instance, they are cultivating five separate varieties of Garnacha – the Garnacha blanca, the Garnacha gris, the Garnacha tinta, then something called the Garnacha Tintorera – which has dark pulp, like an Alicante Bouschet – and finally, something called Garnacha Peluda, or "hairy Grenache," which has the highest acidity. We have the tinta and blanca, but someday we hope to have all five Garnacha planted in our own vineyards!"
Comments Perry: "Although we don't use the Clay Station Garnacha blanca in our own Bokisch Vineyards program – the grapes from this vineyard are grown for other winery clients – my sense is that if we did, the sensory qualities would be very similar to what we get from Terra Alta Vineyard, since the grapes are grown in the same soil series."
Bokisch adds: "You see similarities in these two Garnacha blanca clusters because both vineyards are in Borden Ranch. The reason why the Albariños, by contrast, differ so much in cluster morphology is because we have them planted in distinctly different soil types."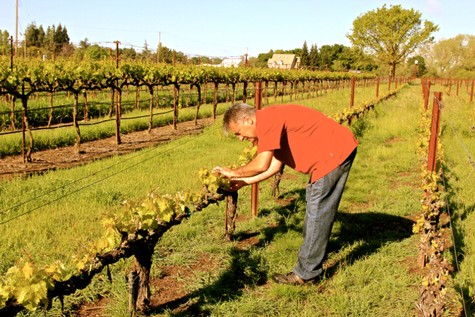 New Bokisch Las Cerezas Vineyard labels
To mark the "coming of age" of their Las Cerezas Vineyard – 3 acres of closely spaced, "small vine" Tempranillo, Graciano and Albariño planted on the east side of Lodi in 2000 – Bokisch Vineyards has recently released a 4-wine line-up of wines under a brand new label, all with a Las Cerezas Vineyard designation.
Las Cerezas is located at the end of Cherry Rd. (hence the name, "the cherries" in Spanish); in an oxbow-bend of the Mokelumne River where the silty/sandy loam is particularly deep and rich. The vineyard is certified both CCOF organic and "green" according to LODI RULES for Sustainable Winegrowing. These are the only Spanish grapes farmed by the Bokischs in Lodi's Mokelumne River AVA (most of the vineyards managed by Bokisch Ranches are in other Lodi sub-appellations).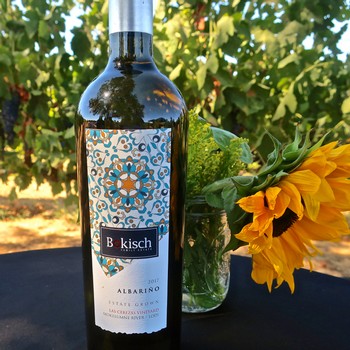 Liz Bokisch tells us: "We decided to bottle these wines under a completely different label to make a statement. These wines are very special, and very limited – we have only 1 acre of each grape planted in Las Cerezas. The artwork on the new labels are inspired by old Spanish ceramic tiles found in the homes of Catalunya in Spain, where Markus' family came from."
Adds Ms. Bokisch: "Markus and I think that, after 18 years, the vines in Las Cerezas are really hitting their stride. This is also our original 'motherblock' of Spanish varietals – representing the original selection massale (i.e. mix of clonal material) Markus brought over from Spain, from which U.C. Davis later made their selections to produce the (Foundation Plant Services) 'Bokisch clones' of Tempranillo and Albariño now available to other growers throughout the state. We're very proud of that."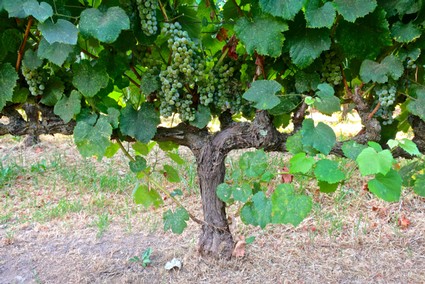 The wines:
2017 Bokisch Vineyards, Las Cerezas Vineyard Mokelumne River-Lodi Albariño ($23) – Ebullient array of peach, citrus (tangerine/mandarin), and tropical white flower fragrances followed by a crisply balanced, bone dry, light-medium body (13.5% alcohol), with palate sensations suggesting minerals, a trace of creaminess, and a refreshing apple/pear-skin tartness.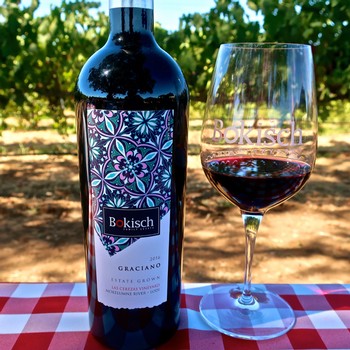 2016 Bokisch Vineyards, Las Cerezas Vineyard Mokelumne River-Lodi Graciano ($28) – Multiple, sweet toned perfumes of juicy plum, blueberry and blackberry tinged with licorice/anise. Firm, medium-full body (14.8% alcohol) with a layered, curvaceous texture notwithstanding a firm core of tannin; the black and blue fruit qualities rounding up plummy, pipe tobacco/roasted coffee-like spice sensations towards the finish.
2016 Bokisch Vineyards, Las Cerezas Vineyard Mokelumne River-Lodi Tempranillo ($28) – Pungent black cherry aroma with leather and earthy/loam tones in the nose; the earthy/cherry qualities becoming more tangible in a firm, meaty textured, moderately full, rounded palate-feel, with good zippiness in the middle and toasted/smoky oak flourishes towards the finish.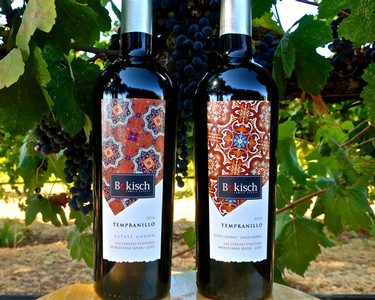 2014 Bokisch Vineyards, Single Barrel Las Cerezas Vineyard Mokelumne River-Lodi Tempranillo ($30) – Intensely aromatic nose of red berries (strawberry/cherry) with floral/rose petal notes and plummy, cedar/cigarbox complexities. As a result of an extra 2 years aging in neutral French oak (a total of 44 months, or over 3.5 years), this wine seems to have picked up an even fleshier, denser, juicier feel without adding any excessive tannin or toasty/vanillin qualities from the barrel itself – a testament to the inherent ability of the Tempranillo grape to respond positively to oak aging (which is why, in Spain's Rioja region, Tempranillo based "Gran Reservas" are aged a minimum of 2 years in oak). Finally, an amazing price for a wine of which only 25 cases (the most that can come from a "single barrel") were produced.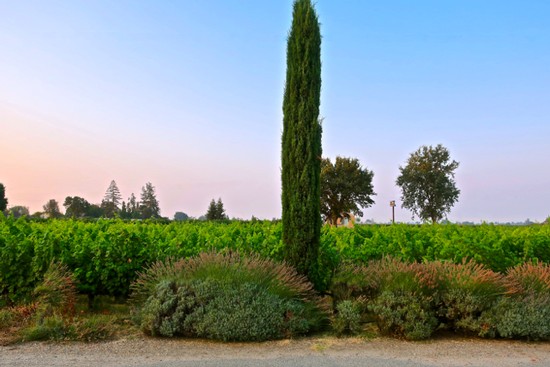 Comments