Letters from Lodi
An insightful and objective look at viticulture and winemaking from the Lodi
Appellation and the growers and vintners behind these crafts. Told from the
perspective of multi-award winning wine journalist, Randy Caparoso.

July 16, 2019 | Randy Caparoso
Anaya Vineyards rises from the ashes of Viñedos Aurora with an iconoclastic Nebbiolo and Pinot gris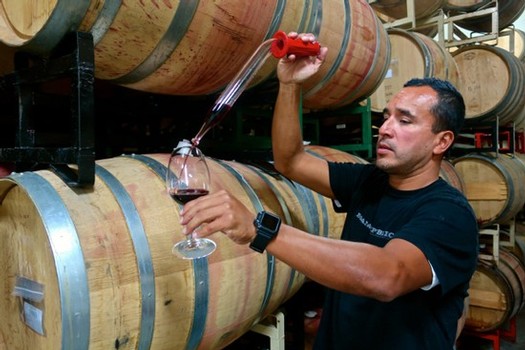 Lean and iconoclastically tart and edgy skin-contact Pinot gris. A rarely seen Nebbiolo showing the intricacies of a grape that tends to get lost on California wine lovers, accustomed to more obvious, wham-bam, instant gratification. And grown in Lodi. This is what this post is all about. But first, a little background...
Lodi wine lovers in-the-know have no doubt noticed the recent disappearance of wines bottled under the Viñedos Aurora label. These were deep, dark, powerful wines made from Cabernet Sauvignon and Petite Sirah grown by the Anaya family – second generation Mexican-American farmers – from their home vineyard (called Viñedos Aurora Vineyard) in the red clay colored slopes of Lodi's Clements Hills AVA, just east of the little communities of Victor and Lockeford.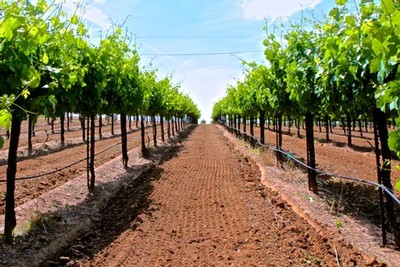 Well, guess what: The wines of this vineyard, as well as the Anaya family's neighboring Portrero Vineyard (the two properties totaling 98 acres) are back, this time under the Anaya Vineyards label.
While four brothers – Victor Jr., Ramon, Armando and Gerardo Anaya – still own and farm the vineyards, the Anaya Vineyards brand is wholly owned by their nephew, Gerardo Espinosa (son of Leticia Anaya). It was Mr. Espinosa who started up the original Viñedos Aurora brand, which he operated while working as an architect in Stockton (Lodi's PRIE Winery is an example of one of Espinosa's finished designs).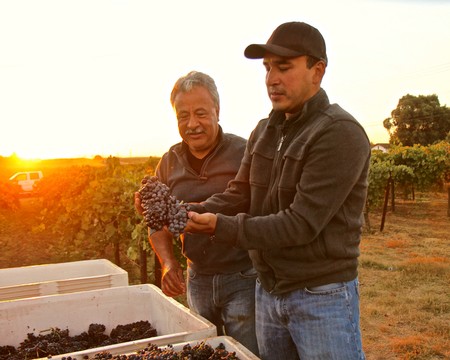 In 2015 Espinosa left the architectural firm to start his own custom crush facility and services with a partner (Lodi grower Mark Nureddine), called Lodi Crush, located on the east side of the City of Lodi on E. Pine St. Espinosa currently crafts wines for five other brands, on top of his own Anaya Vineyards label.
Explaining why he has taken the family grown wines down a slightly different path, Mr. Espinosa told us: "Viñedos Aurora gave us a traditional winery image – more like a concept. The idea behind Anaya Vineyards is to fully embrace the family. By renaming it Anaya Vineyards, we are showcasing the fruit we grow, our family roots (read all about the Anayas' history in our 2014 post, A tribute to a family patriarch), and the unique soils of our vineyards in Clements Hills.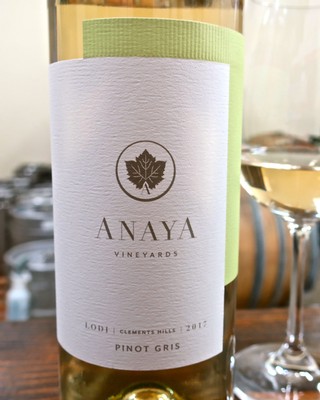 "At the same time, the redesign of our labels gives us a more modern, contemporary image. There is a new generation of wine lovers who want more color and texture. The Anaya labels will showcase that, but with a classic, refined, minimalist feel that reflects the style from my former career as an architect. Each varietal will be identified with different colors expressing the full range of wines that we grow, from full bodied Cabernet Sauvignon to light and airy Pinot gris."
Espinosa's plan is to march out the new Anaya Vineyards wines in stages, starting with 100% family estate grown Nebbiolo (from Protrero Vineyard, planted in 2013) and Pinot gris (also from Protrero Vineyard). Over the course of the rest of the year, there will also be an Anaya Vineyards grown Albariño, Tempranillo, Petite Sirah, and Cabernet Sauvignon – the latter two varietals bringing back the impenetrably dark, muscle-bound Clements Hills style once associated with the Viñedos Aurora brand, with the refinements of a more matured winemaker.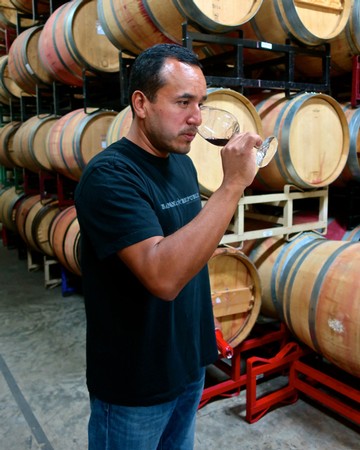 Pinot gris (a.k.a. Pinot grigio) as a varietal is nothing new to wine consumers. However, the Pinot gris grape in the hands of Espinosa is a different matter altogether: The 2017 Anaya Vineyards, Potrero Vineyards Estate Clements Hills-Lodi Pinot Gris ($32) was destemmed and held on its skins for 48 hours prior to pressing off the juice and starting fermentation in stainless steel tank. By extracting both the faintest pink color lemon lemon/lime/green apple skin scents and crackling, palate scrubbing flavors from the skins, Espinosa feels that he is tapping into the intensity intrinsic to Clements Hills' gravelly red clay. To round out the skin contact edginess and coax out the aromatic nuances, the wine was aged a year in neutral French oak.
In a recent article, The Sacramento Bee's Mike Dunne described Anaya Vineyards' inaugural Pinot Grigio as such: Not your customary one-dimensional and light-hearted Pinot gris, but one of richness and build, with sweet melon fruit dusted with pie spices. It is dry and medium bodied, with enough acidity to pair comfortably with lightly sauced gnocchi. The skin contact and neutral French oak aging was applied sensitively, giving the wine breezy complexity without upstaging its fruit.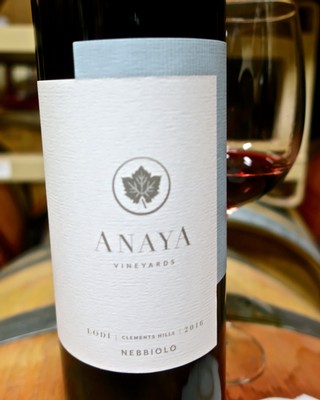 But if Espinosa wanted to introduce his newly monkered brand with splash, he couldn't have done it more dramatically than with the 2016 Anaya Vineyards, Potrero Vineyard Clements Hills-Lodi Nebbiolo ($48). It is, to say the least, almost presumptuous of any California winegrower to make a wine from this grape native to Italy's Piedmont region. Successful bottlings have been extremely rare, although lord knows many vintners have tried. Is it because of the grape's staunch refusal to adapt to California terroirs, or is it because up until now many California wine lovers have had misguided expectations?
The answer may be both. Nebbiolo grown anywhere, Italy or otherwise, doesn't come out beefy and brawny like Cabernet Sauvignon, nor delicate or sumptuously perfumed like Pinot noir. It's Nebbiolo, not Cabernet Sauvignon or Pinot noir, and so we should probably expect a California grown iteration to be more like Anaya Vineyards' first commercial bottling: Bright black cherry fruit tingling the nostrils with the lightest of feathery touches, subtle enough for scents of rose petal, blackcurrant, chestnut and tiny sprigs of mint to wave in and out of the sensory threshold.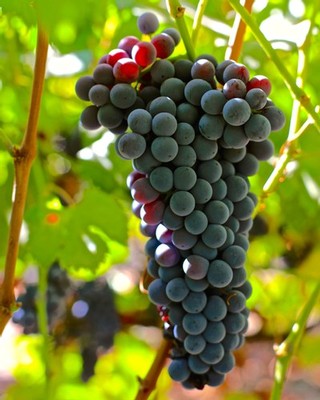 On the palate, the wine is zesty with notable acidity and structured with steel girded tannin, finishing with a touch of herbiness and smoky espresso-like notes reflecting time in French oak and a swath of Cabernet Sauvignon (15%) in the blend (Espinosa notes that future vintages will be 100% Nebbiolo, but he felt that the wine from 3-year old vines need a slight boost of Viñedos Aurora Vineyard Cabernet Sauvignon).
Here is what the authoritative Mike Dunne recently had to say about the 2016 Anaya Vineyards Nebbiolo: A model that California winemakers will want to emulate if they hope to sell Nebbiolo – light in color, plenty of spice, relaxed tannins and subtle layering in its red-fruit aroma and flavor. There's some stemminess in there, but it adds interest rather than distracts from the fruit.
For now, Anaya Vineyards wines will be available to mailing list members only. However, anyone can join by visiting anayavineyards.com, and there are no minimum purchase requirements of the usual winery club memberships. All you need do is to join in with the Anaya family in this exciting, new venture!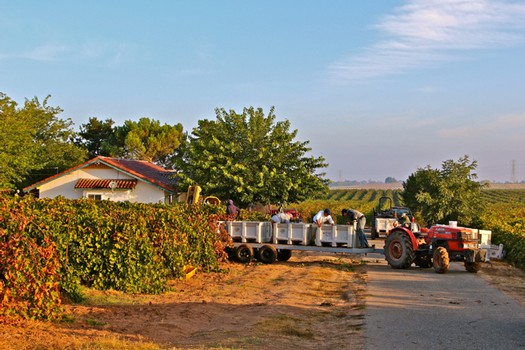 Comments