Letters from Lodi
An insightful and objective look at viticulture and winemaking from the Lodi
Appellation and the growers and vintners behind these crafts. Told from the
perspective of multi-award winning wine journalist, Randy Caparoso.

September 15, 2023 | Randy Caparoso
All the reasons why you should celebrate International Grenache Day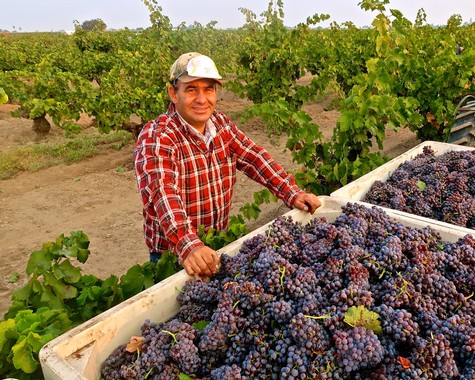 Today (September 15, 2023) is International Grenache Day. This morning, Lodi's Bokisch Vineyards, which specializes in Spanish grapes, has been sending out glad tidings: "Happy International Garnacha Day"—Garnacha being the Spanish word for Grenache.
Most likely, in fact, the Grenache grape originated in Spain—a working theory ampelographers (i.e., grapevine scientists) base upon the fact that there are more clonal variations of Grenache in Spain than anywhere else in Europe. Cultivars typically originate in the parts of the world where you find the most plant diversity.
Bokisch Vineyards owner/grower Markus Bokisch, who travels back and forth between Lodi and Spain's Catalonia region (his family's place of origin) on a regular basis, recently shared this history lesson:
The Garnacha grape originated in Campo de Borja, which is Spain's southern Aragon region. The highest peaks of the Pyrenees are found in Aragon. The Garnacha grape probably dates back to what was once the Kingdom of Aragon [1035-1707], which was a region culturally and linguistivcally independent from the rest of Spain. It is not a Catalan region, although at one point it became part of Catalunya.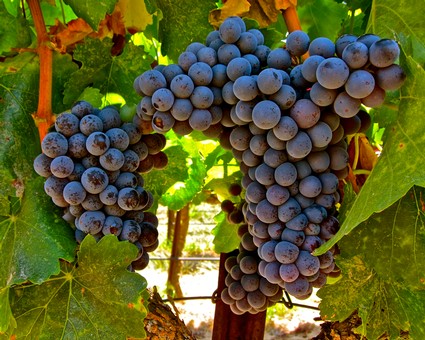 It is the black skinned Grenache noir grape that most Americans are most familiar with; particularly because it is one of the major components of Southern French-inspired red wine blends widely known as "GSM"—consisting of Grenache blended with Syrah and Mourvèdre (the latter, also long known in California by its Portuguese moniker, Mataró).
Over the past ten, fifiteen years, however, varietal bottlings of Grenache—blended or unblended—have definitely been on the upswing in California, especially as American consumers have developed (slowly yet surely) a taste for red wines with rounded, smooth tannin (not unlike, say, that of Pinot Noir) and the grape's distinctive varietal aromas of red berries tinged by peppery spice.
In Lodi, however, you can say that the Grenache variant that has become the most popular is the white wine iteration of the grape, known as Grenache blanc (or as Bokisch Vineyards calls it, Garnacha blanca). There are currently more producers of Grenache blanc in Lodi than Grenache noir; including a bottling by Klinker Brick Winery which in 2020 was listed among of Wine Spectator magazine's "Top 100" (in the world!) of that year.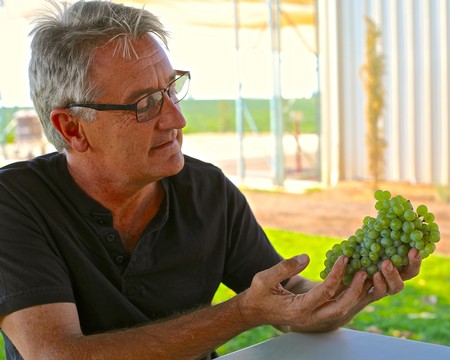 Mr. Bokisch goes on to explain the clonal diversity found in Spain:
In Cartalunya's Terra Alta region, five separate varieties of Garnacha are cultivated—the Garnacha tinta [equivalent to France's Grenache noir], Garnacha blanca, Garnacha roja [a.k.a., Grenache gris], Garnacha Tintorera [a Grenache x Petite Bouschet crossing], and something called Garnacha Peluda, the "hairy" Garnacha.
Tintorera has dark pulp, like Alicante Bouschet. Peluda is called "hairy" because, unlike the other Garnacha grapes, the undersides of its leaves have a fine, fuzzy pubescence. There is an reason why Peluda has adapted with that particular biological characteristic. The "hair" helps to slow down air speed when wind touches the leaves. This decreases evapotranspiration [i.e., transpiration, release of water/vapors from leaves], an advantage to the grape in hotter climate regions. The other advantage is Garnacha Peluda can extend photosynthesis a little longer during the day, giving the plant an extra hour or so to accumulate sugars. Overall, Peluda is able to ripen faster while retaining more acidity.
While currently, Mr. Bokisch only cultivates the red and white wine variations of Garnacha, he tells us, "Next year, at long last, we will be planting some Garnacha Peluda!"
The Bokisch family's bottlings of both Garnacha and Garnacha Blanca, incidentally, have been past gold medal winners at the Grenaches du Monde International Grenache Competition, held each year and involving hundreds of other Grenache-based wines from around the world. A remarkable achievement that reflects, if anything, the utter ease in which this grape has adapted to Lodi's squarely Mediterranean climate conditions.
Last year (2022) Acquiesce Winery & Vineyards—which already grows both white and red wine variants of the Grenache grape—planted its first Grenache gris. Owner/grower Sue Tipton expects a first crop next year (in 2024), which she and winemaker Christina Lopez plan to utilize to enhance their dry rosé program.
Acquiesce currently grows two selections of Grenache noir—known as the Alban and Tablas Creek clones—for both rosé (also blended with small proportions of Cinsaut) and a tiny amount of red wine labeled "Christina's Outlier," in reference to the fact that this winery originally built its acclaimed reputation on white rather than red wines.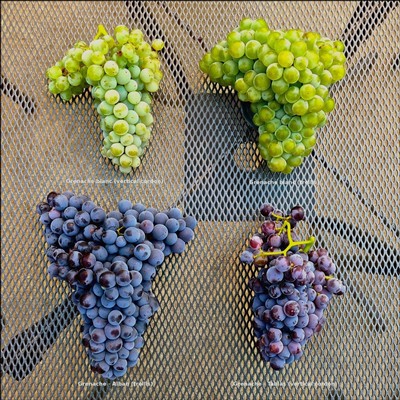 It is also worth noting that besides a Grenache Blanc, a Grenache Rosé and the red Christina's Outlier, Acquiesce utilizes the Grenache blanc to produce a bone-dry champagne method sparkling wine as well as three different white wine blends, each one distinct and amazing. Acquiesce's three Grenache blanc-based blends include: Jolie (Grenache blanc/Viognier), Ingénue (Grenache blanc/Clairette blanche/Bourboulenc/Piquepoul), and the winery's longtime classic called Belle Blanc (mostly Roussanne with smaller proportions of Grenache blanc and Bourboulenc).
Is there any other winery or estate in California—or possibly, in the entire world—that makes more extensive (as well as outstanding) use of the Grenache grape than Acquiesce? I don't think so!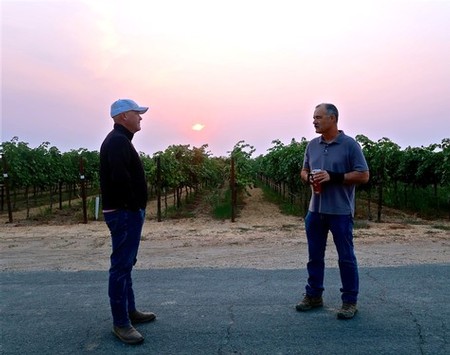 Why Grenache is ideal for Lodi
Mike McCay, the owner/winemaker of Lodi's McCay Cellars, has long said that Grenache is "the perfect grape for Lodi." McCay has gone on to elaborate, making a persuasive argument for why Grenache grown in Lodi may have a leg up on even classic European wines made from the grape:
Lodi's Mediterranean climate is similar to what you find in Southern France, the Rhône Valley, and north-east Spain, where the grape came from. Over there, almost all the red wines made from Grenache are blended with other grapes because, left on its own, Grenache lacks a little bit in color and tannin.
Grenache blanc in Spain and France has a reputation for producing fat, flabby wines that are low in acidity, but not so in Lodi. Our style of Grenache blanc, believe it or not, is higher in acidity, and has lots of floral, citrus, and tropical fruit. The reason for that is because we get the cool Delta nights—cooler than what you might find in Southern France—on top of the nice, warm days that the Grenache loves."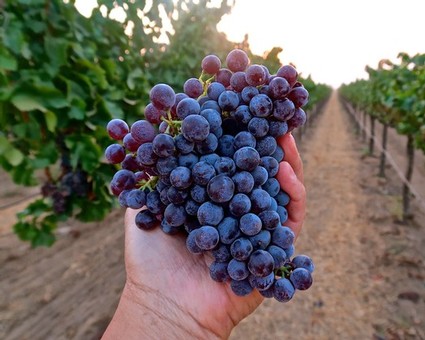 Whether you agree with Mr. McCay or not, anyone who has tasted his crisp, steely-dry Grenache Blanc or his fragrant red Grenache—each year, among the spiciest (in terms of blackpepper nuances) in California, while embellished with loamy earth tones common to many red wines grown in Lodi's sandy soils—would have to agree that the acidity is absolutely no problem for Lodi-grown Grenache. The reason why, in fact, Grenache is the ideal grape for regions in the Mediterranean Basin is because it ripens under maximum sunlight (Southern French growers gleefully describe their terroir as "hot climate") while retaining fruit freshness and natural acid balance.
McCay even goes so far as to say that Grenache may very well be "Lodi's Pinot noir"—referring to the fact that as friendly as Lodi is to a huge range of grape varieties, it will probably never produce a Pinot as intricately scented and finely delineated as cooler climate coastal regions.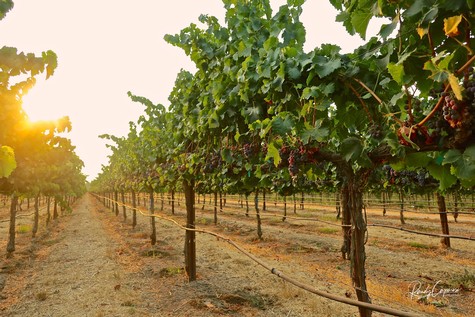 Interestingly, Grenache was among the large mix of Vitis vinifera (i.e., among the classic European family of wine grapes) cultivars imported from East Coast nurseries and circulated throughout California during the second half of the 1800s. But it never caught on to the extent of varieties such as Zinfandel, Carignan, or even Cabernet Sauvignon, despite its workhorse reputation in France and Spain. Post-World War II, Grenache was primarily utilized by the California wine industry to produce either generic Vin Rosé or varietal Grenache Rosé, sold primarily as jug wines.

The oldest existing plantings in Lodi date back to the late 1930s; but most of the Grenache/Garnacha in Lodi vineyards today were planted in the late 1990s or after, in slightly slower response to the 1980s "Rhône Rangers" movement than what was done with grapes like Syrah and Viognier.
All the same, as a stand-alone varietal Grenache can make a beautifully perfumed red; particularly in Lodi, where for some reason the grape produces emphatically spicy wines, redolent with black pepper (now often identified as rotundone), and sometimes clove or mace (characteristics shared in bottlings by McCay Cellars, Bokisch Vineyards as well as, most revently Acquiesce Winery).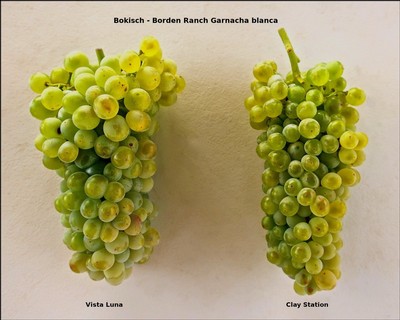 Here in Lodi, we have also accumulated a small yet persuasive body of evidence in support of the idea that Grenache blanc is not only an ideal grape for Lodi, but can also be exceptional when bottled as a 100% varietal—notwithstanding Acquiesce's magical trio of Grenache blanc-based blends.
Case in point, the recent bottlings of Klinker Brick Grenache Blanc, sourced from the parts of Lodi that fall on the westernmost edge of the appellation, grown in the Delta region's rich peat-based soils, below sea level. These white wines have been light, lacy, refreshingly delicate, and perfectly dry, while also brimming with fragrances and flavors suggesting fresh citrus and mouth-watering, high-season white peach. All a product of the hands-off, 100% varietal/stainless steel treatment administered by Klinker Brick winemaker Joseph Smith, who has told us:
It's a little surreal that the Lodi whites that have been getting the most national and international accolades have been Grenache Blancs. What's even stranger is the fact that it's a white wine, not a red, because just a few years ago everyone thought of Lodi as a red wine region. They never thought it was possible for a warm climate region to produce such a fine white wine, and a very delicate one at that!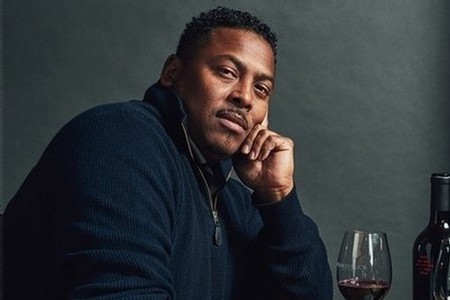 Mr. Bokisch speaks to the cultivar in more specifics:
Grenache blanc ripens so well in Lodi, we get physiological ripeness when picking at 22° or, at the most, 22.5° Brix [in reference to grape sugar readings that result in approximately 13% alcohol], which is very "light" by the standards of today's commercial wines.
At that point, all the flavor components are there—delicious citrus and lemon qualities, some white flower, a little anise, and a touch of malic acid that gives you a McIntosh apple-like quality—while the grapes retain a wonderful acidity. We also know from experience, that if we wait an extra week and sugars get higher, all that beauty can be masked by higher alcohol, and the [resulting] wine can get 'hot.'"
Remarking on the grape's natural adaptation to Lodi's dry, ceaselessly bright, peak summer days, Bokisch adds:
Grenache blanc can be a sugar-making machine, with its big, shiny leaves. We also always remember to leave one vine unpicked, because when you let a little bit of the fruit get up to about 26° Brix, it's like delicious "candy on the vine," if left to turned into a table grape!
Acquiesce owner/grower Sue Tipton chimes in:
Grenache blanc was the first grape that we planted in 2008. When we planted it, I think there were only about 300 acres of Grenache blanc in the entire state. Today, the acreage has just about doubled, which says something exciting about this varietal.
The Acquiesce style of varietal Grenache Blanc—fashioned exclusively in stainless steel tanks, eschewing any type of barrel—tautly balances the grape's fragrant fruit profile with crisp acidity and a refreshing sense of lightness. Adds Tipton:
We get a floral, violet fragrance in our Grenache Blanc, and it also exudes green apple and pear with a white pepper spice. It always has a great mid-palate and crisp acidic finish. It's an awesome food wine that pairs beautifully with seafood, salads, sushi, chicken, cream sauces, and spicy Asian and Mexican foods. I call this wine the 'red wine lover's conversion white' [especially handy during Acquiesce's first ten years, when they produced no red wine to offer visitors] since they tend to gravitate toward this wine, potentially because it is a variant of Grenache noir and has a long mid-palate and tannic structure on the finish as red wine does.
"There may be some credence," opines Mr. Bokisch, "to the belief that all the Grenache varieties may be the most suitable grapes for Lodi."
All the more reason to celebrate International Grenache Day!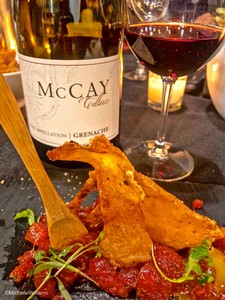 Comments