Letters from Lodi
An insightful and objective look at viticulture and winemaking from the Lodi
Appellation and the growers and vintners behind these crafts. Told from the
perspective of multi-award winning wine journalist, Randy Caparoso.

September 6, 2017 | Randy Caparoso
Acquiesce harvests first crop of Clairette Blanche and Bourboulenc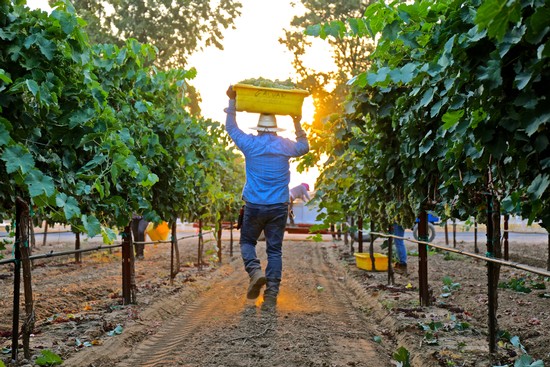 Hate to say it, but Acquiesce Winery has had big problems since the day they first opened their doors in 2011: They sell out of every one of their bottlings within months, if not weeks – such is the overwhelming response to their pure, airy, 100% unoaked style of white wines (plus one rosé). This, of course, has been forcing them to close their doors for a few months each year.
The only solution? Make more wine. But for Acquiesce's Sue Tipton – who will only produce wines grown 100% on her own property, located at the northern edge of Lodi's Mokelumne River appellation, at E. Peltier and Tretheway Roads – this means planting more grapes.
Which she finally did in 2015: Tearing up a good chunk of her Zinfandel (Tipton does not produce Zinfandel), and adding 6.5 more acres of the Rhône-type grapes that have made Acquiesce such a big hit – particularly for wine lovers who prefer light, lean, bone dry and palate freshening style whites (i.e. decidedly unfruity, yet complex and minerally), completely unblemished by oak (there are no barrels to be found on the Acquiesce estate).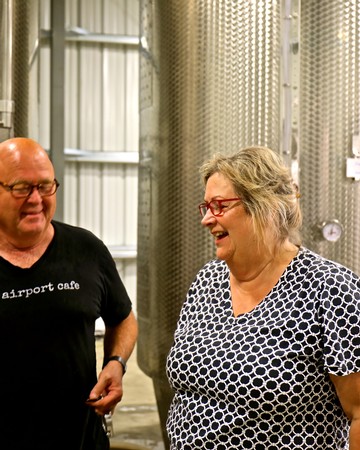 In a recent conversation, Ms. Tipton told us: "For our new plantings, we planted 1.5 acres of Grenache Blanc, and 1 acre each of Picpoul Blanc (a.k.a. Piquepoul), Roussanne, plus an Alban clone Grenache Noir to increase our rosé production. But we also added an acre each of two more varieties that are rarely seen in the U.S., which are also classic white wine grapes associated with France's Châteauneuf-du-Pape (Tipton's original inspiration for starting Acquiesce was a memorable bottle of Châteauneuf-du-Pape blanc that she tasted some 20 years ago).
"Those two new grapes are Clairette Blanche and Bourboulenc."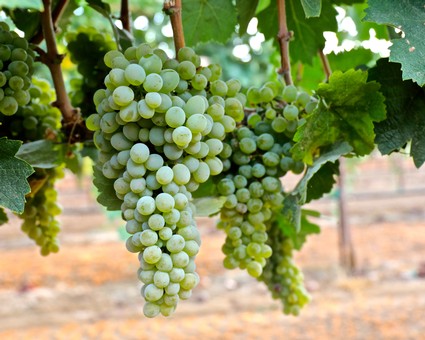 Acquiesce grown Clairette Blanche; rarely seen white wine grape of the Rhône's Châteauneuf-du-Pape
This past Labor Day Monday, Tipton picked her first harvest of Clairette Blanche and Bourboulenc from her young vines; pressing the green skinned grapes in a brand new, roomy extension of her estate winery, completed barely 5 days earlier (another phase of Acquiesce's necessary expansion.)
Tipton was very pleased with the quality of her two new grapes; the Clairette Blanche picked at 23° Brix, and the Bourboulenc at 21° Brix – sugar levels that will produce the type of light, crisp whites (between 12% and 13.5% alcohol) that fits into the Acquiesce style.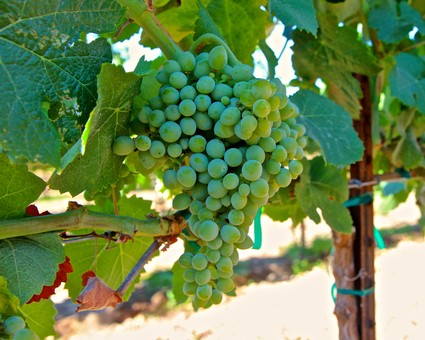 Asked what she plans to do with her Clairette Blanche and Bourboulenc, Tipton told us: "I definitely want to bottle them separately as single varietals, although I'm anxious to find out how well they blend with our Grenache Blanc, Roussanne and Picpoul Blanc (Acquiesce's top-of-the-line bottling is a Châteauneuf-du-Pape blanc inspired blend of grapes called Belle Blanc).
"We shall see. Our first harvest gave us 4.5 tons of Clairette Blanche, but only 1 ton of Bourboulence."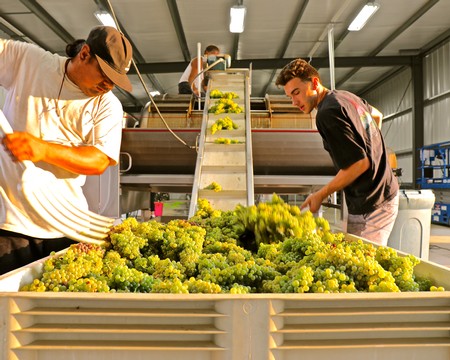 Pressed to surmise what type of white wines these new grapes will produce, Tipton told us: "Already in the Clairette Blanche I am tasting caramelized apples, key lime and lemon curd. The Bourboulenc grapes taste a little more like honeydew melon, citrus and green apple."
When asked what possessed her to venture into these adventurous – as in "largely unknown" – grapes in the first place, Tipton told us with her usual aplomb: "I just love the Southern Rhône bottlings of these grapes. I find them unique, refreshing and so food friendly. If they do as well in Lodi –and all indications point to extremely well! – as the other Châteauneuf-du-Pape whites we have planted, we'll make some great wines from them.
"Stand-alone Bourboulence is supposedly super with bouillabaisse, and the Clairette Blanche with mussels and scallops."
We can't wait!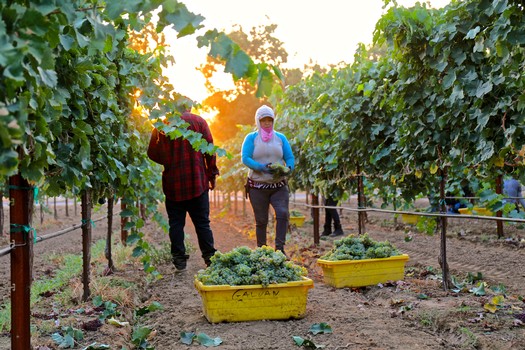 Comments
Commenting has been turned off.