Letters from Lodi
An insightful and objective look at viticulture and winemaking from the Lodi
Appellation and the growers and vintners behind these crafts. Told from the
perspective of multi-award winning wine journalist, Randy Caparoso.

March 16, 2023 | Randy Caparoso
Acclaimed wine scribe Alder Yarrow tells the story of California's geekiest vineyard—Lodi's Mokelumne Glen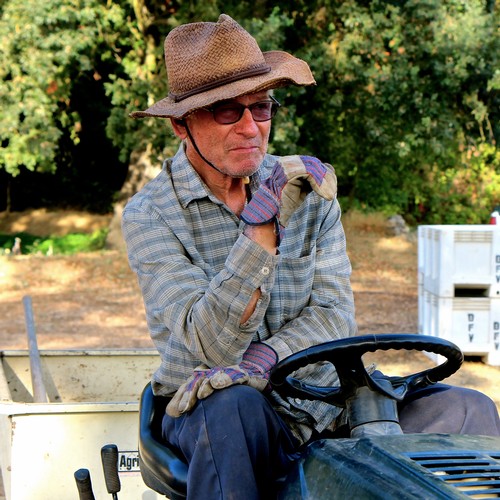 Alder Yarrow, the author of Vinography, has just published the longest profile of a single Lodi grape grower ever written. At least as far as we know.
The story is on Mokelumne Glen Vineyards, established on the east side of Lodi's Mokelumne River appellation by the late Bob and Mary Lou Koth. Over the past two years the vineyard has been managed by their children, Brett and Ann-Marie Koth.
It's a heroic tale because the vineyard is planted to over 55 grape varieties of German and Austrian origin. Some would call that lunacy, given that Lodi's Mediterranean climate is not supposed to be conducive to more northerly European grapes. All the same, the vineyard has a track record of producing delicious wines that have impressed even internationally traveled, and acclaimed, wine journalists such as Mr. Yarrow. Clearly, in the great, big world of grapes and wines, there is such a thing as suspension of disbelief; that is to say, just "shut up and enjoy."
When Yarrow talks, people tend to listen. San Francisco Magazine has called him "The Wine World's Brightest Cyberstar." Wine bloggers, a free-to-all club that numbers in the gazillions, look up to him as one of the medium's pioneers. Since 2011, Yarrow has also been one of the feature writers for Jancis Robinson—undoubtedly the most widely read (and certainly the most prolifically published) wine writer in the world—via Robinson's page, jancisrobinson.com.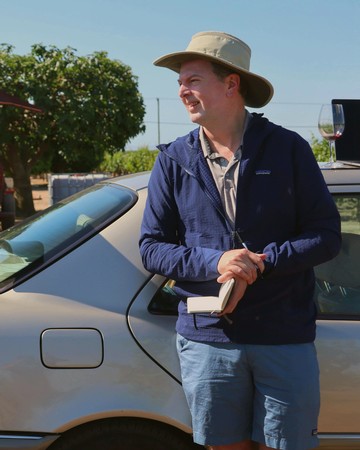 Yarrow's article on Mokelumne Glen Vineyards was posted on the Jancis Robinson page this past month (March 2023). It is entitled "Tasting California's geekiest vineyard." This gives us pause for thought because Robinson's following is legion and global. That means there may be wine aficionados living in, say, Thailand, Tianjin, Tennessee, Turkey, or Timbuktu who know next to nothing about Lodi as a winegrowing region, let alone appreciate Lodi-grown wines. But they now know, thanks to Yarrow, that Lodi is the home of "geeky" vineyards.
That's okay. When I first moved to Lodi in 2010 I did not think of Mokelumne Glen Vineyards so much as "geeky" as downright insane. Although I like "insane." Shows gumption and originality. Especially if good wines come out of it—then who cares if it makes sense or not?
To read Mr. Yarrow's vinous yarn in its original and complete form, I'd encourage you to visit, and subscribe to, the Jancis Robinson page. It's only £8.50 a month or £85 per year ($11/month or $111/year, U.S.)—especially if you are, indeed, a geeky wine lover. The subscription also entitles you to free, searchable access to two of the world's ultimate wine books, both not coincidentally edited by Robinson: the Oxford Companion to Wine ($65), and the maps found in the World Atlas of Wine ($50).
Excerpts from the story of Mokelumne Glen Vineyards as told by Alder Yarrow: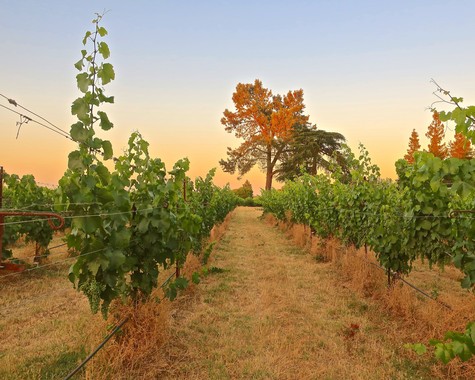 A little corner of Germany and Austria in Lodi (photo of Mokelumne Glen's Zweigelt and Blaufränkisch block posted in jancisrobinson.com, contributed by Randy Caparoso).
Psychologists analyzing paratroopers divide them into three different categories: "courageous," "fearless" and "over-confident." It's not clear which of these would have applied to ex-paratrooper Bob Koth, but almost certainly one of those qualities was required to plant what is the most eclectic collection of wine grapes in a single vineyard anywhere in the state of California.
Bob Koth grew up in Lodi and joined the army right after high school. Later he would attend the College of the Pacific, where he met his wife Mary Lou, a half-Norwegian pianist and long-distance skier. Their son Brett, whom I met recently, claims to have inherited "a bit of Viking" from her.
Bob and Mary Lou moved back to Lodi in 1962 and bought a parcel of land on the east side of town that slopes down to a bend in the Mokelumne River and was planted with a small pear orchard and a few acres of Flame Tokay and Zinfandel grapes. While teaching middle school, Koth built a house and the two settled down to have a family.
Bob Koth was already a wine lover by the time his kids came along. "My dad was drinking all the normal stuff that people would drink in the eighties," says Brett Koth, ticking off the usual suspects: Thunderbird, Mateus, and especially Blue Nun.
But then in 1990 everything changed. 'My sister went over to Germany on a Fulbright scholarship, and my dad used that as an excuse to take some time off," says Brett. "He went over there and they went out to dinner and he ordered a Riesling, thinking it would be a little sweet. But instead, he ended up with something dry and it was a lightbulb moment."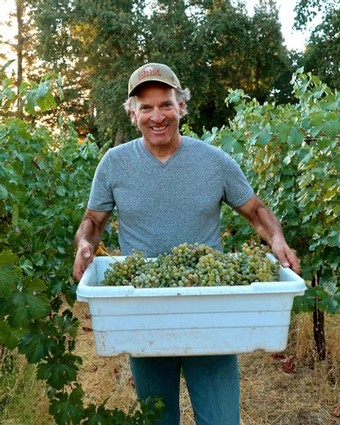 Much of the rest of Bob Koth's life was devoted to an odyssey of research into German and Austrian grapes. He retired from his teaching job two years later, and by 1997 he had grafted over the Flame Tokay and Zinfandel on his property to Riesling, Kerner, and Blaufränkisch. He then ripped out the pear orchard and planted the rest of what is now called the Mokelumne Glen Vineyard, a 15-acre (6-ha) site, with a dizzying array of more than 50 Teutonic grape varieties:
Abalonga, Affenthaler, Arnsberger, Bacchus, Blauer Portugieser, Blaufränkisch, Cabernet Dorsa, Domina, Dornfelder, Dunkfelder, Ehrenfelser, Faber, Forta, Frühburgunder, Gelber Muskateller, Gewürztraminer, Grüner Veltliner, Gutedel, Huxelrebe, Kanzler, Kerner, Morio Muscat, Müller-Thurgau, Noblessa, Optima, Oraniensteiner, Ortega, Perle, Phoenix, Prinzipal, Räuschling, Regent, Rieslaner, eight distinct clones of Riesling, Rondo, Rotberger, Roter Veltliner, Rotgipfler, Ruländer, Scheurebe, Schonberger, Schwarzriesling, Siegerrebe, Sirius, Spätburgunder, St Laurent, Silvaner, Traminer, Trollinger, Weisser Burgunder, Würzer, and Zweigelt.
The Mokelumne Glen Vineyard is the only one in California where all these grapes are grown commercially...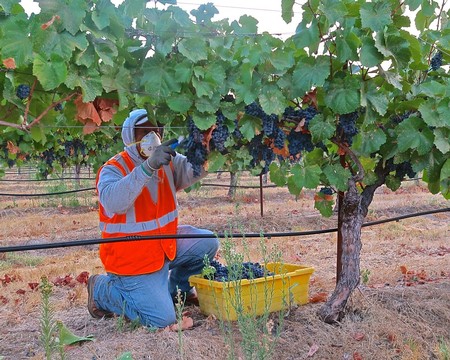 Zweigelt harvest, Mokelumne Glen Vineyard.
There is doubtless a fine line between lunacy and simple fearlessness. "It was my dad's hobby and his obsession," says Brett. "It was a challenge along with everything else.
"People would say, 'You can't get that grape here,' and my dad would think 'I'll show you, I'll get it.' Sometimes he did, and sometimes he didn't. He was always looking for more varieties to add to the collection."
Brett's father sourced many of his vines through UC Davis' Foundation Plant Services, the state's officially sanctioned source for vine material. Others he found in British Columbia, Cornell University in New York, or from less obvious sources such as Middle Tennessee State University...
Of course, the challenge of sourcing vines is always followed by the challenge of growing them... Anyone familiar with Lodi wine knows that it can produce considerably better than fair-quality table wine, but there can be no doubt that its climate and geology are very different from those of Germany and Austria.
"When someone told my dad a grape wouldn't work here, he would say, 'OK, I'm going to make it work.' He was the type of guy who if you told him something wasn't possible, then he'd be sure it was possible and would work hard to prove you wrong"...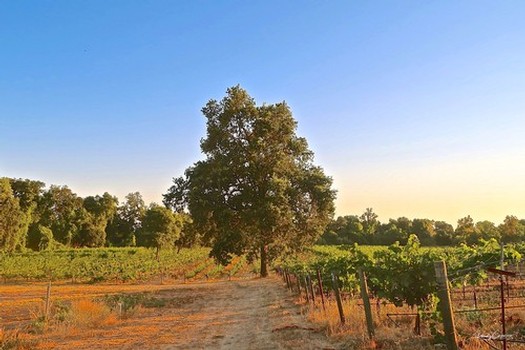 The setting
The parcel of land that Bob Koth and his wife ended up purchasing sits tucked into a shady, tree-lined bend of the river and, thanks to the river's ability to channel cooler air from the Sacramento Delta, is slightly colder than some surrounding areas of Lodi. Many speculate, however, that the vineyard's ability to host grape varieties thought unsuitable for this climate has as much to do with the soil as the local mesoclimate.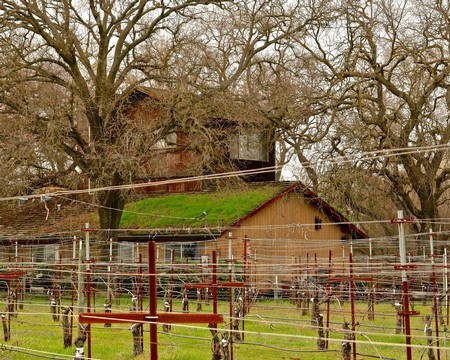 Mokelumne Glen Vineyard in winter against the backdrop of the Koth residence.
The winding path of the Mokelumne River, which historically served as a drainage course for alluvium from the Sierra Nevada mountains, has given rise to an area that local winemakers refer to as the Victor Triangle, which takes its name from the small unincorporated community of Victor to the east of the city of Lodi. While the entire Lodi AVA features unusually sandy loams, a characteristic which has contributed to its unusually high concentration of ancient, own-rooted vines, the Victor Triangle is known for having the deepest, sandiest soils in the region, and Mokelumne River has its own AVA.
And of all the vineyards in the Victor Triangle, Mokelumne Glen Vineyard has the deepest, sandiest soils of all. Set so close to the river, the lower parts of the vineyard are also regularly flooded as the river rises during winter rainstorms.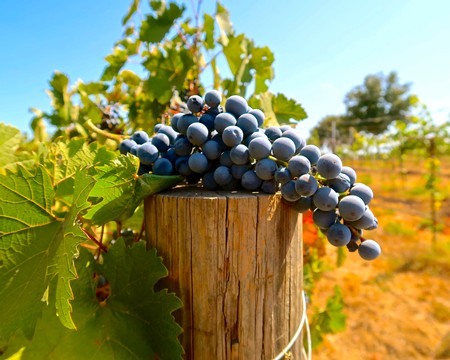 With persistence, care, and more than a little experimentation on these deeply sandy, well-drained soils, Bob Koth managed not only to grow but usually to ripen a collection of grapes that most people have never even heard of, let alone tasted.
Bob Koth passed away in late 2020, followed within three months by Mary Lou, leaving Brett Koth and his sister Ann-Marie to make something of the vineyard their father so lovingly created, a task that the siblings seem to have embraced with enthusiasm.
"We now have about 10 different customers buying [the grapes] every year," says Brett, "Someone drops off occasionally, but then there's another person waiting."
With only 15 acres, the vineyard hosts only single-digit rows, or even individual vines, of most grape varieties. Kerner makes up between three and four of the planted acres, whereas Grüner Veltliner has only 270 vines across a couple of vineyard rows, yielding 0.5 to 1.5 tons each year.
Consequently, those who do purchase a given variety and turn it into wine do so in remarkably small quantities. Those economics, however, seem to work perfectly well for many boutique winegrowers, such as Swiss-born Markus Niggli (pictured below sampling Kerner during the harvest), Koth's most avid and consistent customer for the past nine years.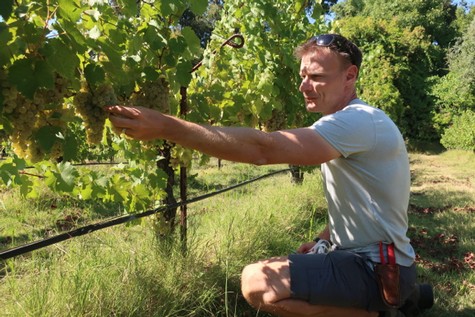 Markus Wine Co. owner/winemaker Markus Niggli sampling Mokelumne Glen Vineyards Kerner.
"As a European, I was aware of some of these grape varieties, and Kerner interested me the most," says Niggli. "But they couldn't find anyone to buy it. At first, it was just a question of using the grapes so they wouldn't pull out the vineyard. But quickly the exercise became 'How do we make something great out of an unknown grape?' With so many wineries in California, and even in Lodi, to get on the radar you have to do something different, and that's what was done in this vineyard."
Despite Bob Koth's passion and evangelism, a torch now borne by his children, the many varieties of Mokelumne Glen Vineyard remain something between a curiosity and a secret weapon for those in the know.
"It would be great if someone else could discover some of these varieties and do something with them," says Ann-Marie Koth. "My dad would have loved to spread more German varieties around California."
Quickly, Brett adds, "I don't mind having the monopoly on them for now though."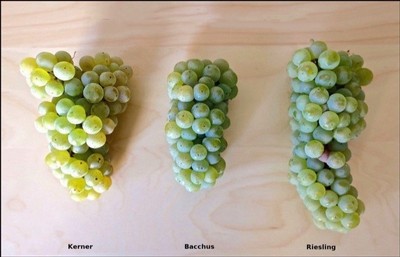 The Mokelumne Glen Vineyards-grown wines tasted in the vineyard and reviewed by Mr. Yarrow (for detailed notes, visit the Jancis Robinson website):
2020 Trail Marker Wine Co, Kid Sister Pet-Nat Blaufränkisch, Lodi
2021 Klinker Brick, Vorgänger 2021 Mokelumne River (39% Weissburgunder, 33% Rieslaner, 28% Gewürztraminer)
2021 Phantômé, Skin Contact Grüner Veltliner, Lodi
2021 Vai E Vem, Psychosphere, Lodi (100% skin-fermented Kerner)
2020 Localism Kerner, Mokelumne River
2018 Markus Wine Co., Nativo, Lodi (83% Kerner, 9% Bacchus, 8% Riesling)
2018 Markus Wine Co., Nimmo, Lodi (79% Kerner, 4% Bacchus and 3% Riesling, 14% Gewürztraminer)
2016 Markus Wine Co., Nimmo, Lodi (64% Kerner, 16% Riesling, 5% Bacchus,15% of Gewürztraminer)
2014 Markus Wine Co., Nativo, Lodi (75% Kerner, 19% Riesling, 6% Bacchus)
2012 Borra Vineyards, Artist Series Kerner, Lodi (85% Kerner, 15% Riesling)
2021 MFG Wine Co., Blaufränkisch, Lodi
2021 Trail Marker Wine Co., Mokelumne Glen Vineyard Blaufränkisch, Lodi
2021 Phantômém Zweigelt, Lodi
2021 Vai E Vem, The End is Infinite, Lodi (100% Dornfelder)
NV Nevada Sunset, Dornfelder, California (carries California appellation because the wine was bottled in Nevada)
2020 Sabelli-Frisch, Milk Fed 4 Zweigelt, Mokelumne River
2020 Tontos del Vino, Dornfelder, Lodi
2019 Trail Marker Wine Co, Mokelumne Glen Zweigelt, Lodi
2012 Borra Vineyards, Artist Series Semi-Dry Riesling, Lodi
2012 Tontos del Vino, Kerner, Lodi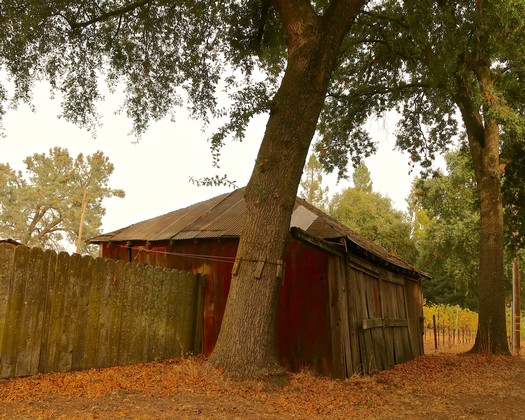 Comments