Letters from Lodi
An insightful and objective look at viticulture and winemaking from the Lodi
Appellation and the growers and vintners behind these crafts. Told from the
perspective of multi-award winning wine journalist, Randy Caparoso.

August 10, 2022 | Randy Caparoso
A picture postcard history of Lodi, past and present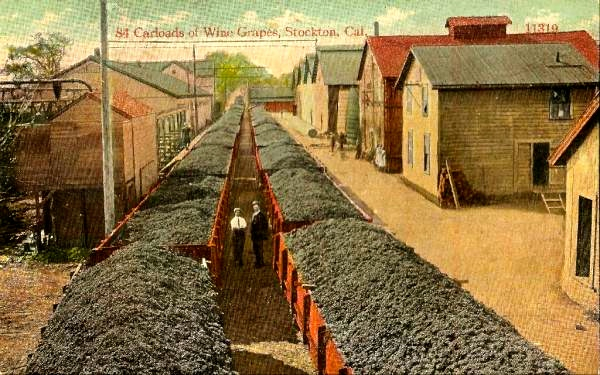 Postcards, according to historians, have been utilized as a form of communication since 1848. The first private commercial postcards, printed without any images, were printed in Philadelphia in 1861. Usage of postcards quickly spread around the world; it was in France, in 1870 when the first picture postcards appeared.
Some of the most compelling historical records of the history of Lodi winegrowing are images captured in postcards. Although many of us, to this day, still enjoy the tradition of purchasing and mailing out postcards to family and friends wherever in the world we may travel—including the irony of getting back home to see the recipients of our colorful greetings even before the cards arrive in the mail—the "Golden Age of Postcards" is said to have been between 1890 and 1915.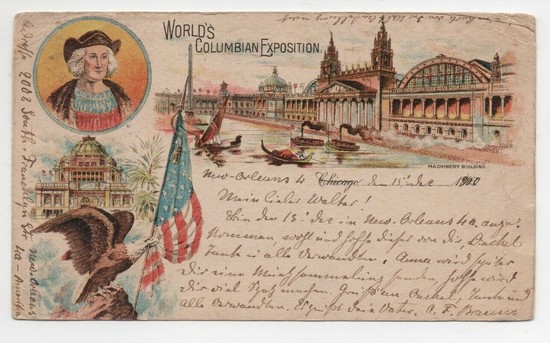 The 1893 Chicago World's Fair was undoubtedly a huge impetus. For many Americans, the souvenir images sent from Chicago were their first experience with picture postcards. Technical advances in photography, printing, and mass printing helped explode the popularity of the medium. Think of this as a way of sharing experiences that were as fun and exciting as any advances in communication—books, radio, moving pictures, picture magazines, television, and even the social media of today.
In 1905 alone, an estimated 7 billion postcards were mailed from state to state and all around the world, on every continent. As it was, the turn of the last century was also a pivotal time for the Lodi appellation. This was when this burgeoning community ensconced in the Mokelumne River watershed between the Delta and Sierras was just emerging from its "Wild West" stage.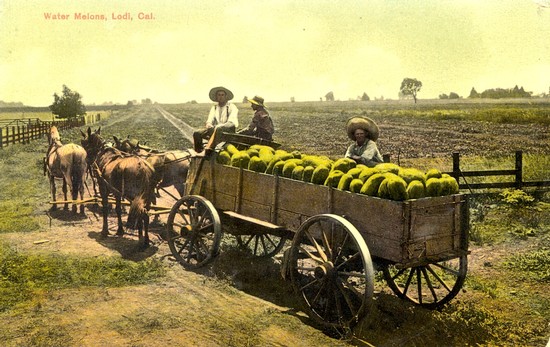 In the early 1900s, a huge influx of more pious settlers, many of German descent, were of like mind to clamp down on gambling and drinking establishments, and unregulated liberties such as allowing animals to roam freely through the dusty or (during the wet winters) muddy streets. Men's and women's civic organizations got together to discuss paving streets and building sidewalks, improving funding for local sheriff, fire, water, and sanitation departments, establishing an irrigation company, a public library, an opera hall, and any and all means of improving the local economy (led by farming) and quality of life.
Lodi citizens knew that the best way to accomplish all of this was to incorporate Lodi as a city, which they did in 1906 (see our post, 1906, when Lodi became a City and quit its lowdown ways).
The following is a visual record, starting with depictions of Lodi and Lodi wine country during this "Golden" era picture postcards, and ending with some of my own photographs converted into imaginary postcards, as a way of illustrating the appellation—easily the most productive winegrowing region in the U.S.—as we know it today. Enjoy!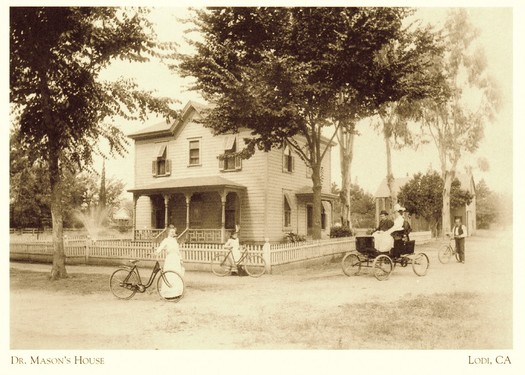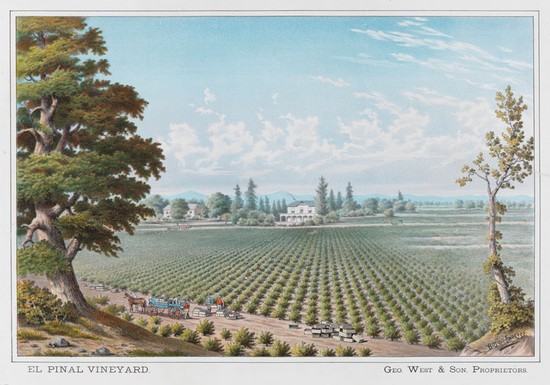 1890s postcard printed for Stockton's El Pinal Vineyard winery and estate. Dr. Dean L. Mawdsley collection, California State Library.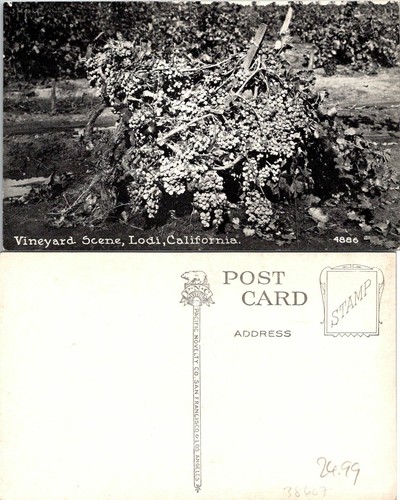 The early 1900s "Vineyard Scene" in Lodi wine country.
Comments