Letters from Lodi
An insightful and objective look at viticulture and winemaking from the Lodi
Appellation and the growers and vintners behind these crafts. Told from the
perspective of multi-award winning wine journalist, Randy Caparoso.

May 25, 2022 | Randy Caparoso
A Lodi-grown Ribolla Gialla rewards a Master Sommelier/winemaker's perseverance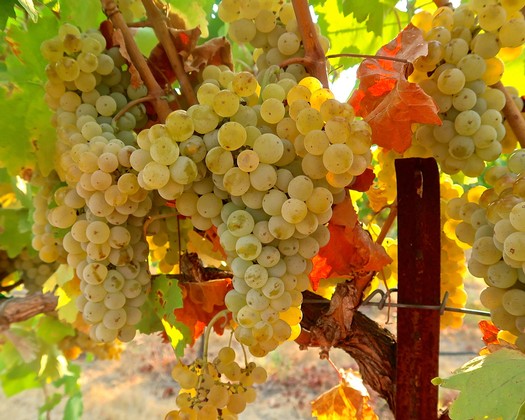 Christopher Miller, a Master Sommelier and owner/winemaker of the Monterey and Petaluma-based Bold Wine Company, has produced a wine made from a rare white wine grape called Ribolla Gialla, bottled under his Adroît brand.
This Ribolla Gialla is sourced from a vineyard called Mio Vigneto, located in Lodi's Clements Hills AVA, and owned and farmed by Dwight Busalacchi. Mr. Busalacchi planted the 2 acres of his Ribolla Gialla in 2015. Since then, the grapes have gone only to small specialty vintners outside the Lodi region.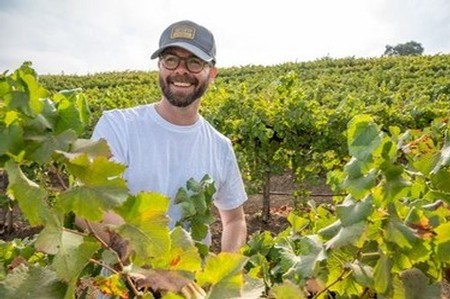 Busalacchi, himself, has recently bottled a sparkling style wine from his Ribolla Gialla, the 2019 Mio Vigneto Clements Hills Brut (price to be determined), crafted locally in the traditional champagne method. While not yet for sale, this sparkling wine is extremely fine, light and silky, with a perky lemon effervescence and rising-bread-dough-like yeastiness, while showing a svelte textural richness that seems to be the hallmark of the Ribolla Gialla grape.
In similar fashion, Miller's pale golden colored 2021 Adroît Busalacchi Clements Hills Ribolla Gialla ($28) is all about silken fine texturing — fluid layers of lemon/citrusy fruit punctuated by zesty acidity, drifting like a cloud across the palate and finishing with a refreshing, orange peel-like pucker. Aromatically, the wine makes subtlety an attribute, its citrus skin notes mingling with fresh cream, suggestions of golden pear, and whispers of pineapple and mineral. It's a light and buoyant contemporary style white, very much for contemporary tastes.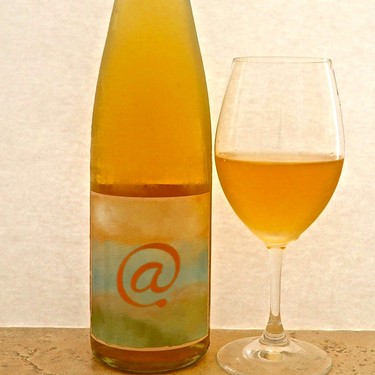 What, you may ask, is Ribolla Gialla, and why should you care? First, there isn't very much of it grown in California. The state's total acreage, probably in the neighborhood of 15 to 20, is not significant enough to be listed in the USDA's annual California Grape Acreage Report.
But the handful of California vintners who produce a Ribolla Gialla are generally well acclaimed, at least among "cool kid" circles — wine lovers with a yen for off-beat wines. Sort of like "cult-within-a-cult" wine geeks.
Ribolla Gialla grown in the grape's native regions of Slovenia and Friuli in Italy, however, are not really considered off-beat. While there are far more popular wines in these parts of the world, Ribolla Gialla whites have been grown and appreciated at least since the 13th century, according to existing documents in Friuli.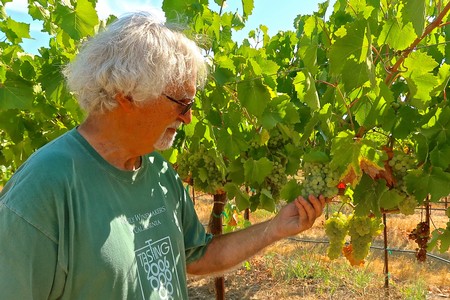 It is said that the the 14th century Italian poet Giovanni Boccaccio listed wines made from Ribolla Gialla as one of the sins of gluttony, which wasn't meant as a compliment (people were tortured and killed for lesser offenses in those days).
These days, Ribolla Gialla bottlings from both Italy and California generally retail for anywhere from $30 to $60, although prestigious brands (such as Gravner from Venezia Giulia) go for as much as $100.
What is unique about the best bottlings of Ribolla Gialla is that they tend to be skin-fermented, in the style of what is often called orange wine. That is, fermented the same way in which red wines are made (hence the deep color and elevated tannin of red wines, both of which are extracted from grape skins). Most white wines are fermented after skins are separated from their juice, to avoid bitterness and excess color. Ribolla Gialla, however, is unique in that skins seem to accentuate the grape's citrus, nut-like and mineral qualities, which are otherwise muted when fermented in a conventional (i.e., sans skins) style.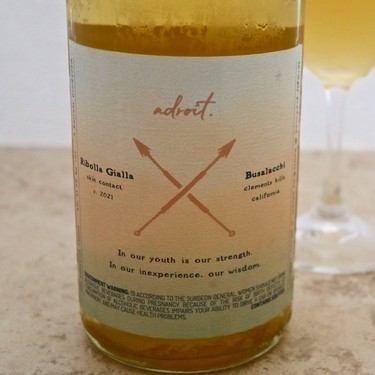 According to Mr. Miller, the Adroît Ribolla Gialla was native yeast fermented and spent 45 days on the skins in 1-ton bins, before being racked into neutral oak barrels. Miller explains, with unabashed transparency:
"When the Ribolla came in it had a pleasant subtlety about it, the citrus and stone fruit character you expect. I decided to do some extended skin contact to bring out the flavors and match the glycerol in the body.
"In the beginning the wine tasted truly terrible. I was almost ready to throw it out, it was so bad. But suddenly, like a miracle, it came around. The yucky flavors became more like a delicious orange marmalade. It was actually quite surprising how well the tannins resolved, and added to the body without being tannic by the time it got into the bottle. Now, it's exceptionally smooth and silky, especially when compared to other skin-contact whites."
Ah, the rewards of perseverance, and of the grape called Ribolla!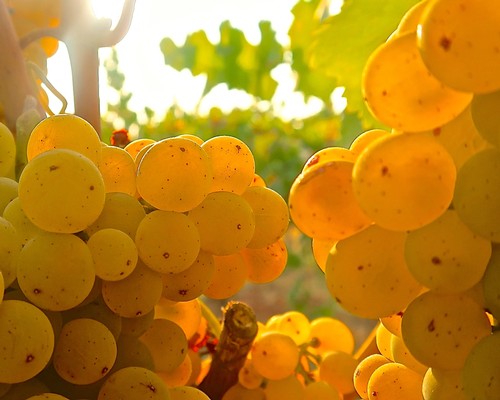 Comments