Letters from Lodi
An insightful and objective look at viticulture and winemaking from the Lodi
Appellation and the growers and vintners behind these crafts. Told from the
perspective of multi-award winning wine journalist, Randy Caparoso.

August 2, 2018 | Randy Caparoso
10 of Lodi wine country's most Instagram-worthy destinations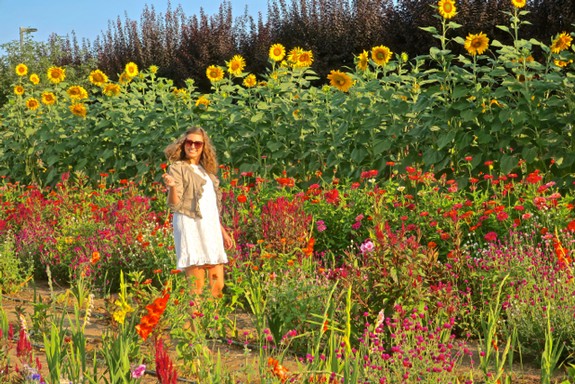 Lodi wine country is all about the wines and vineyards, the laid-back Lodi natives and small-town vibes; and evidently, for some 40% of visitors under age 33 (at least according to recent surveys taken by vacation planners), the "Instagramability" of the sights and sites.
Most everyone wants to be like someone else in their social media circle; which is a perfectly human thing to feel. 100 years ago it was about living the life of heroes in books; 50 years ago, characters on the silver screen; and today, in places where we can create our own do-it-yourself scenarios for an audience of friends and family.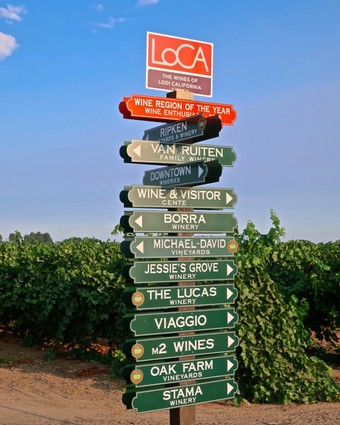 Calling all wine lovin' peeps: Here are 10 of the most Instagram-worthy spots to make your followers' social media fantasies come true. We can think of many more, of course, and we'll be sure to share more ideas in future lodiwine.com posts.
But for now, 10 of Lodi wine country's best Instagram-ready locations: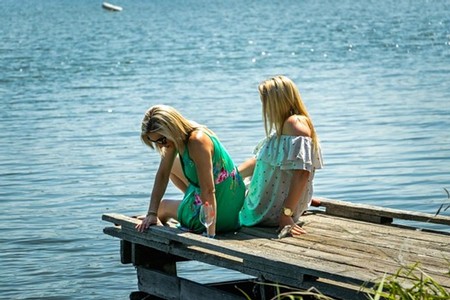 Phillips Farms U-Pick Flower Garden
4580 W. Highway 12, Lodi: For a well known, wildly successful operation, Michael David Winery (now nearing 1 million yearly case production) sure knows how to low-key it. Makes sense, since the owners – the Phillips family – have been farming in the Lodi region since the 1860s. They are an essence of "laid-back Lodi."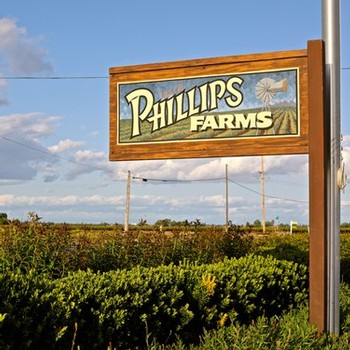 Therefore, this spot along W. Hwy. 12/W. Kettleman Rd. is discreetly marked by a country-quaint "Phillips Farms" sign. Their low-slung building is dominated by a "farm café" – where you find mostly locals enjoying breakfast or lunch (a sure sign of quality for any destination) – and the fresh vegetable and fruit stand that served as the location's original purpose. Oh, and of course, there is a bustling wine tasting counter.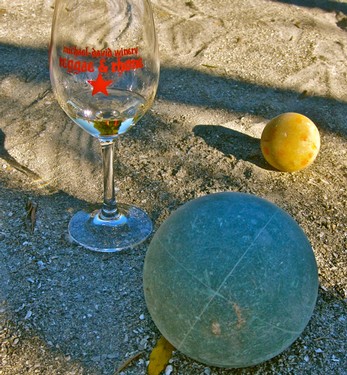 Outside the Phillips Farms café, fruit stand and tasting room, you find shaded outdoor wine tasting areas, an elaborate kids' play area alongside luxury chicken coops, two bocce courts, and an extensive garden for picking your own bouquets (a discreet fee collected in the tasting room) - all adding up to an Instagramming hotspot.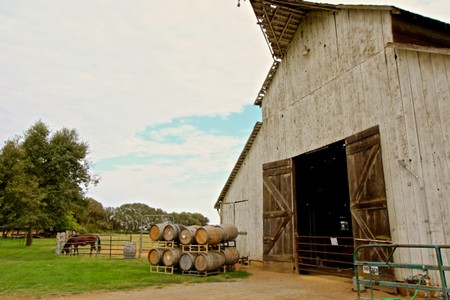 Jessie's Grove Winery
1973 W. Turner Rd., Lodi: There is a reason why the Jessie's Grove Winery estate is the most photographed in Lodi. Old wood. Lots of it: In the white-washed barn originally raised in 1870; in the equally old timber-frame (i.e. nail-less) building that houses the winery tasting room; and in the 32 acres of indigenous valley oaks preserved by Jessie Spenker, the daughter of founder Joseph Spenker who established the original 1500-acre Spenker Ranch (most of it still owned and farmed by his descendants) in the 1870s.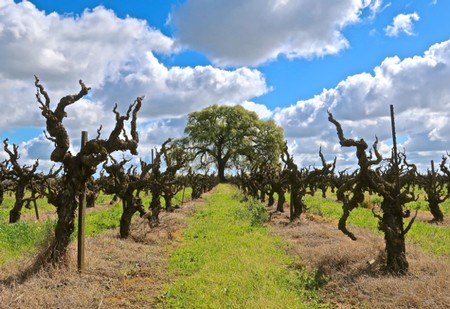 Speaking of old wood, visitors adventurous enough to take the 5-minute stroll down the dirt road between the horse pasture and trellised vines will come upon a site that is wondrous even by Lodi standards: the Royal Tee Vineyard, consisting of majestic, nearly tree-like Zinfandel, Carignan, Mission, Flame Tokay and Black Prince vines originally planted in 1889.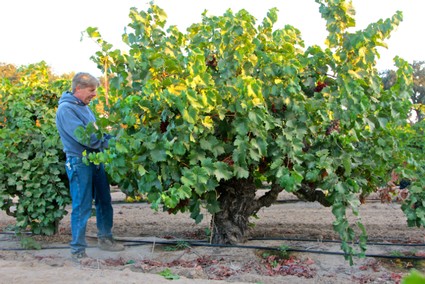 This is Lodi's second oldest continuously farmed vineyard (the oldest – the historic Bechthold Vineyard, planted by Spenker in 1886 – is located just a quarter-mile away across a canal, but is usually inaccessible to the public). The kind of vineyard that legendary winemaker Greg La Follette is fond as describing as "one that you approach with hat off and bended knee."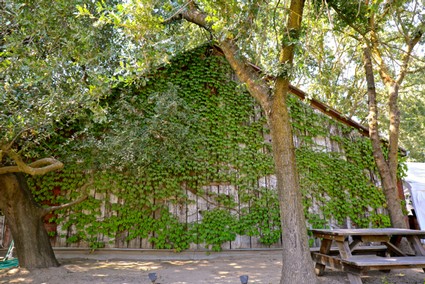 Then on the far west side of the property – along DeVries Rd. just south of the canal, between W. Woodbridge Rd. and W. Turner Rd. – is an oft-photographed stand of magnificent Carignan vines dating back to 1900, flanked by a dramatic ancient oak. Still another classic Instagram moment.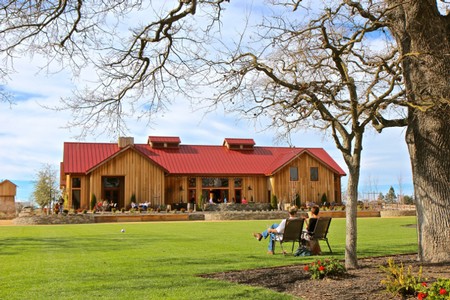 Oak Farm Vineyards
23627 DeVries Rd., Lodi: Oak Farm Vineyards is a visual feast of a vineyard estate built upon a site that was once the plantation-home of Lodi farming pioneer William DeVries.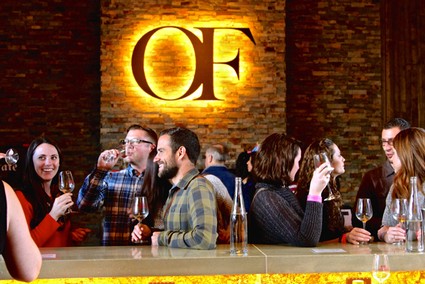 It has all the bells and whistles: A tasting room and winery with perfect golden lighting, an 1876 colonial style home straight out of Gone With the Wind, stately oak trees hundreds of years old, and to top it all off, first class wines ranging from Albariño and Sauvignon Blanc to Barbera and Zinfandel. And just behind the giant oaks and historic DeVries home is a dreamy lake, complete with overhanging, Delta-sized weeping willows.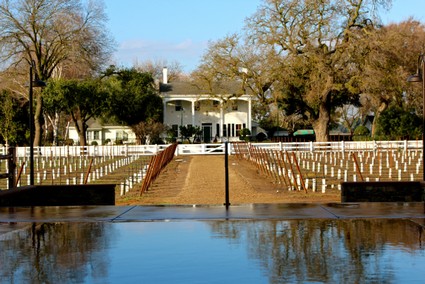 There is a certain slant of light, and just the right amount of shading, lending almost a "studio" quality to all the photos taken at Oak Farm Vineyards. An Instagrammer's Shangri-La.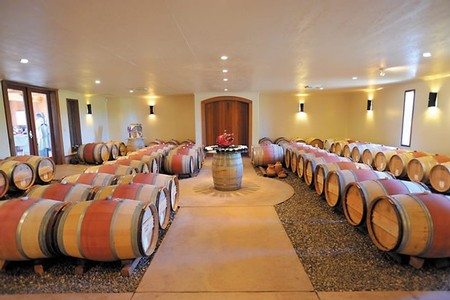 The Lucas Winery
18196 Davis Rd., Lodi: The Lucas Winery is a boutique sized artisan winery/vineyard/estate with a distinct, and fancy, touch of "Bordeaux château" to it. Its golden lighted barrel room, for instance, is trés petite, yet has the quiet elegance of a French chai (pronounced "shay"); giving the impression of wines happily at rest in their single-tiered rows of French oak barrels.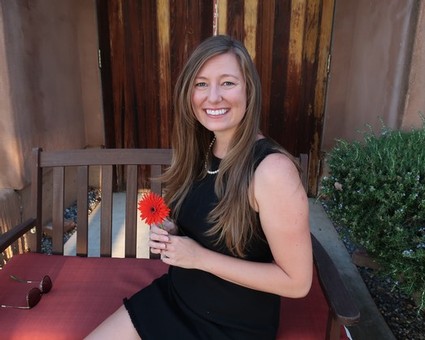 But rather than red wines produced from Cabernet Sauvignon or Merlot (the major grapes of Bordeaux), these barrels are filled with Lodi's pièce de résistance: the Lucas Winery's estate grown Zinfandel – perhaps the most elegantly crafted in Lodi.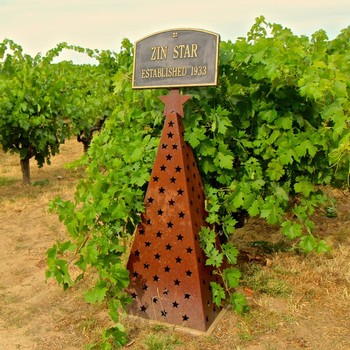 The 85-year-old vines in The Lucas Winery's ZinStar Vineyard are located just behind the winery, along a lush lawn lined with deep, rich rusted/veneered garden sculptures.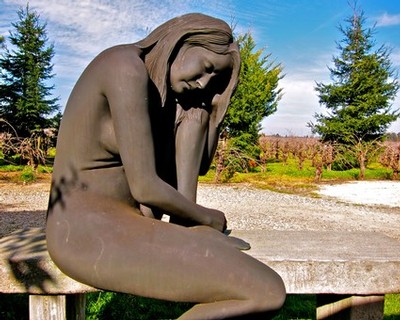 None of this is by accident. Owner/grower David Lucas has always endeavored to produce wines with a sense of balance and longevity reminiscent of the great wines of France; and his winemaker/spouse, Heather Pyle, was a former director of winemaking for Napa Valley's Robert Mondavi Winery as well as Opus One. All of which make for very Instagram-worthy images.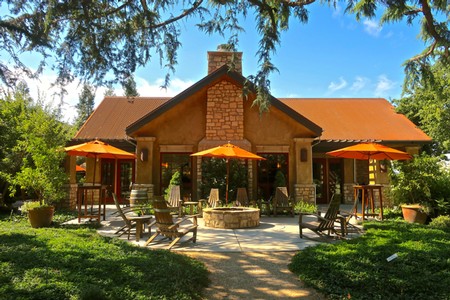 Harney Lane Winery
9010 E. Harney Ln., Lodi: No doubt about it, Harney Lane Winery has been a magnet for both wine lovers and photo hounds since opening its doors 11 years ago, after farming wine grapes the previous 100 years.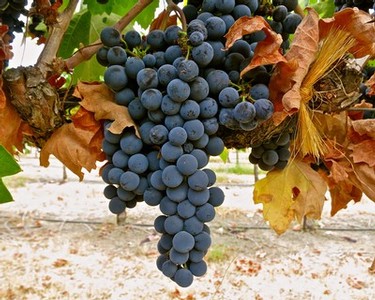 When any one of Lodi's branches of the Mettler family commit to a project, they execute it with the patience and thoroughness of a family that thinks long term. The only thing "instant" about this stunningly landscaped (towering evergreens, cork trees and pillowy green underbrush) showcase winery/tasting room/estate is the winningly Instagram-able images it inspires.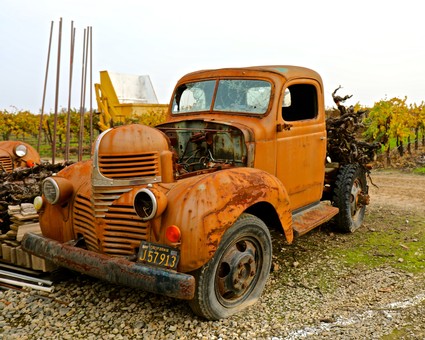 If you're looking for spectacular vineyard shots, purple sunsets, or even a classic old truck parked along the rows, just step outside the tasting room and walk a few feet from the oasis that has served as the family haven for well over a century. The Harney Lane wines, as it were, are equally deep and captivating – no exaggeration. Welcome to Lodi. Enjoy your stay.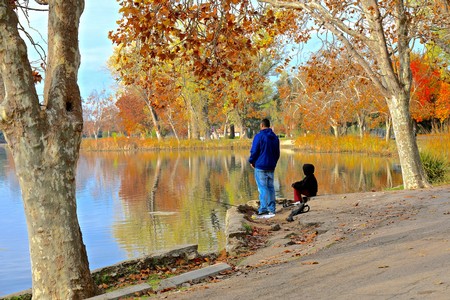 Lodi Lake Park
1101 W. Turner Rd., Lodi: Whether you visit this sprawling, 114-acre City of Lodi landmark for casual strolls or Nature Trail hikes, kayaking or boating, birding or riparian sight-seeing...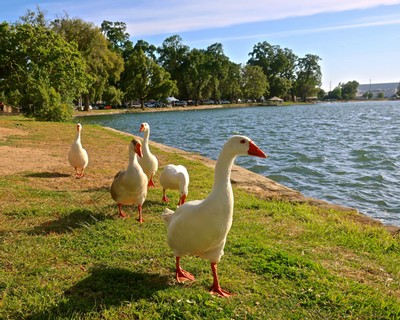 ... picnicking or bag-lunching, napping or jogging, or to wet your feet on a sandy beach with kids, families and passing caravans of ducks, it is one Instagram moment after another at Lodi Lake Park.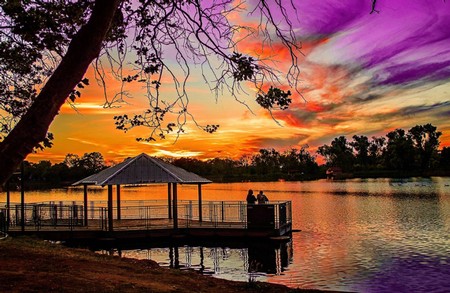 Acquiesce Winery & Vineyards
22353 N. Tretheway Rd., Acampo: The Acquiese Winery estate has become an Instagram hot spot because of the new, cool styles of wines it grows and produces: strictly white wines (plus one ultra-dry rosé), picked very early enough to be crisp and light, and aged in zero oak to retain their pervasive sense of purity and freshness. Right up a typical Instagrammer's alley!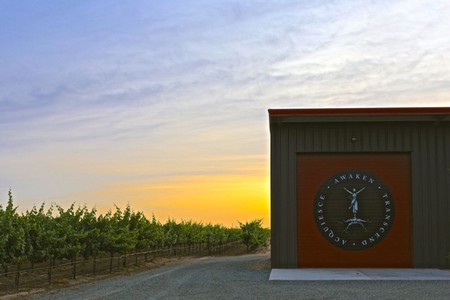 The Acquiesce tasting room, built out of a century-old barn, screams both a gentle, contemporary feel and the heritage of this historic wine region.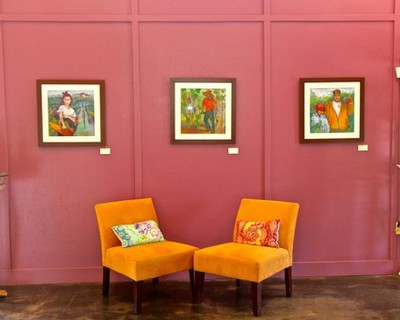 A walk through the surrounding vineyards brings close encounters with marked rows of vines rarely seen in the rest of California; including grapes like Piquepoul, Bourboulenc, Clairette Blanche, Grenache blanc, Grenache noir, Viognier and Roussanne. Acquiesce doesn't do the mainstream commercial varieties.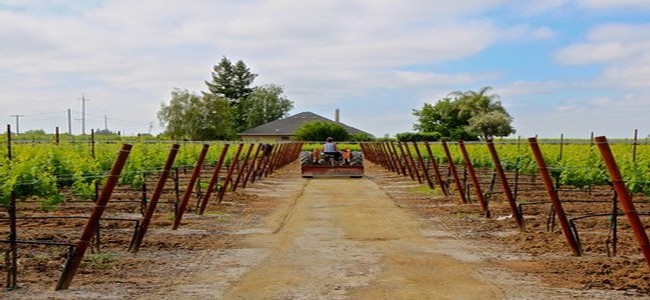 Besides, how many wineries not only sample you on their wines, but also insist on giving you little tastes of complimenting finger-foods? This is a place where you are encouraged to "acquiesce" to the terroir, the grapes, and what, simply, comes natural to the entire experience. Instagram-worthy, indeed.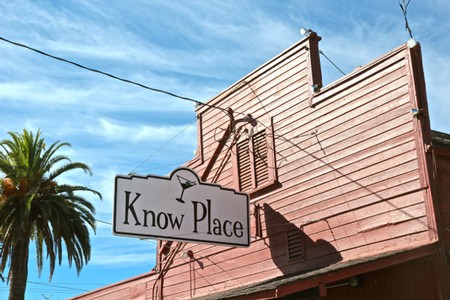 Know Place
17271 N. Bruella Rd., Victor: Yeah, Know Place is a bar, complete with tapped beers, shuffleboards and pool tables. But it's much more than that. It is a Victor institution; Victor being the little town – population 293 – located barely a minute east of the Lodi city limits. This is where you are always more than likely to rub shoulders with east-side Lodians; and yes, almost all of them are farmers or vintners.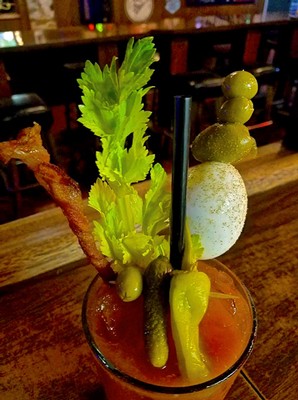 Accordingly, the owners whip up drinks utilizing wines by their Lodi neighbor/producers, such as Bokisch, McCay, Mettler Family or Klinker Brick. Their "Sunday Bloody" – a classic Mary garnished with bacon and egg (on top of green chiles, celery and olives) – is beyond outlandish. No Lodi visit is complete without this experience.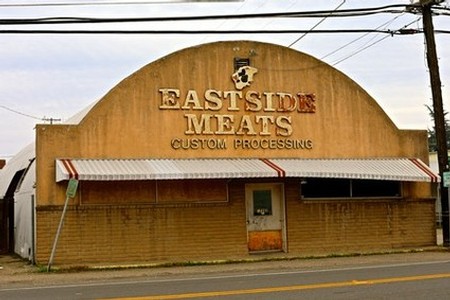 When you step outside the front door onto Know Place's Old West style wooden walkway, you are looking directly at the long abandoned Eastside Meats building; a Quonset hut now slated to be the future home of Sandlands Wines, owned by vaunted winemaker/grower Tegan Passalacqua (who owns a home and old vine vineyard in the neighborhood). Know Place is the place for Instagram-able Lodi wine country moments.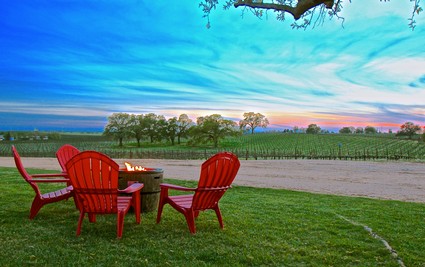 Bokisch Vineyards' Terra Alta Vineyard
18921 Atkins Rd., Lodi: Winter, spring, summer or fall, Bokisch Vineyards' Terra Alta Vineyard is the spot for possibly the most dramatic Instagram images. It is also the location of the Bokisch family's tasting room, where you can sample the widest and most adventurous range of Spanish varietals grown in California.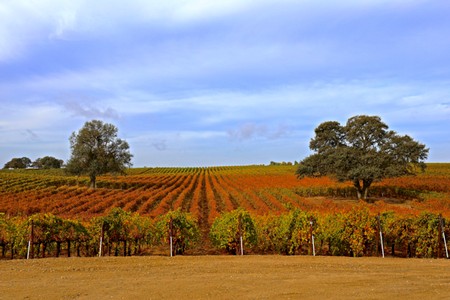 If you prefer your vinous draughts pure, fresh, light and perky, you'll love the Bokisch wines. If you're into classic vineyard scenes of rolling hills, towering trees, and grape vines that seem to stretch on forever, this is a must-stop Instagram destination.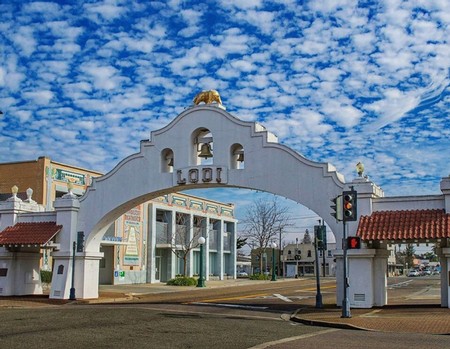 The landmark Lodi Arch (image courtesy of Dena Marquez Dreamscape Photography)
Lodi Arch
1-49 E. Pine St., Lodi: Last but not least, no visit to Lodi is complete without a pilgrimage to the Lodi Arch; located at the intersection of the very first streets – Pine and Sacramento – established by the city's first settlers, in 1846. The adjoining Lodi Transit Station, which boosted the city's population and importance, came in 1869. And in 1907 the Mission Revival style Lodi Arch was built on the occasion of the 1907 Tokay Carnival – a highly publicized 3-day festival attended by over 30,000 people coming from Stockton, Sacramento, and as far as the Bay Area, meant (according the Lodi Historical Society) to "advertise to the world the beauty and value of the Tokay grape."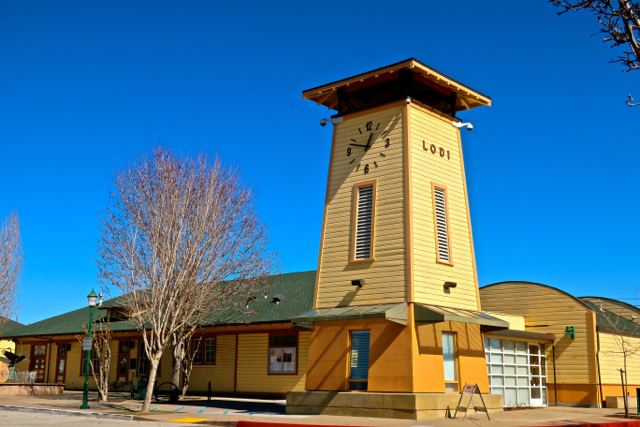 Comments