Letters from Lodi
An insightful and objective look at viticulture and winemaking from the Lodi
Appellation and the growers and vintners behind these crafts. Told from the
perspective of multi-award winning wine journalist, Randy Caparoso.

August 18, 2015 | Randy Caparoso
Lodi's foreign legion (part 1)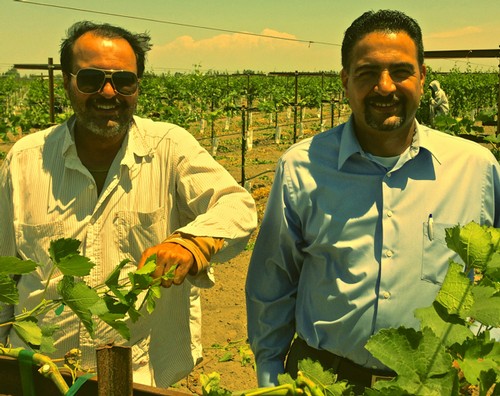 Harinder and Bobby Dhaliwal, who came to Lodi with their family from Punjab, India in 1983
They are, of course, no longer "foreigners," but more correctly, foreign-born winemakers and growers who are now fully immersed in the Lodi winegrowing industry, contributing immensely to the community.
Immigrants, of course, have played huge roles in the history of the Lodi Viticultural Area since the mid-nineteenth century. For example, the Lange family, who own LangeTwins Family Winery & Vineyards, trace their ancestry back to Johann and Maria Lange, who arrived from Germany during the 1870s. Joseph Spenker – whose descendants own Jessie's Grove Winery and still farm Spenker Ranch on Lodi's west side – first arrived via wagon train and feet from Germany in 1868.
The multiple branches of the Mettler family settled on Lodi's east side, after emigrating from Germany (via South Dakota), right around 1900. Families of Italian descent – with names such as Borra (of today's Borra Vineyards), Manassero, Mencarini (Abundance Vineyards), Peirano (Peirano Estate Vineyards), and Maggio (a major partner in Oak Ridge Winery) – first began farming in San Joaquin Valley between the 1870s and early 1900s.
The late John Van Ruiten Sr. (founder of Van Ruiten Family Winery) arrived from Holland and established the first of his expansive Lodi vineyard properties in the 1950s. Japanese families – such as the Nomas and Mikamis (Mikami Vineyards) – trickled in as early as the 1890s. The Portuguese first began to farm or ranch (especially the dairy industry) in the region during the 1890s; and today, families like the Vierras (St. Jorge Winery) and Silvas (the renowned Silvaspoons Vineyards) play a major part in the Lodi wine industry.
And so it goes: talented, resourceful, colorful people of many backgrounds continuously adding to the rich fabric and prestige of the Lodi Viticultural Area. Three inspiring examples of more recent arrivals...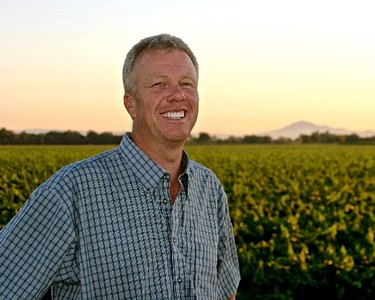 Pieter den Hartog
Pieter den Hartog – Owner/Grower, Den Hartog International Farms
Den Hartog International Farms' Pieter den Hartog was born in Amsterdam, Holland, and schooled in Ag Management in the Netherlands, Mr. den Hartog arrived in the Lodi area in the mid-1980s, after lending his skills to farming companies in Colorado, New Mexico, Texas, and elsewhere in California.
Just outside of Thornton (on the western edge of the Lodi AVA), Mr. den Hartog found what he has described as a "disheveled farm," which he purchased with his father to start up what is now called Den Hartog International Farms, Inc. He began to transition this 720-acre property from pears to wine grapes in 1991, and grew it to over 880 acres of planted grapes by 2002.
Since then, Den Hartog International Farms has become one of Lodi's most influential growers; leading the way by adapting Lodi Rules for Sustainable Winegrowing when this landmark program was first initiated ten years ago by the Lodi Winegrape Commission.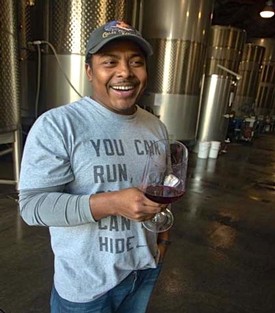 Joseph Smith
Joseph Smith – Winemaker, Klinker Brick Winery
Belize is a tiny coastal country in Central America, and we mean tiny – it has a population of less than 350,000 (the population of San Joaquin Valley alone is more than 10 times that size).
Still, everybody knows everyone in the Lodi wine community, which may be why Klinker Brick Winery's Belize born winemaker Joseph Smith feels right at home. Mr. Smith was born in the little town of San Ignacio, and is the middle child in a family of 14 kids. He migrated to Los Angeles at the age of 18 to work for an uncle in the construction business. His first project was the renovation of a small winery in Collegeville (near Stockton); and upon completion of the job, the owner/winemaker – the industry-wide respected consulting winemaker, Barry Gnekow – offered Mr. Smith a part-time position as a cellar rat.
From there, Smith's career blasted off. Gnekow went on to consult with an amazing string of wildly successful wineries – including Hahn Family Wines, Michael David Winery and Jessie's Grove Winery, among others – and Mr. Smith was with him every step of the way. "Keep in mind," says Smith, " I had never been exposed to wine up to that point, but I was always eager to learn something new."
Smith, however, began to demonstrate formidable winemaking chops of his own – to heck with formal training! – and landed his first gig as official "winemaker" with the Global Wine Group (wines sold under the defunct Jewel label) in 2004. In 2007, when Lodi's Klinker Brick Winery was in need of a full-time winemaker, Mr. Smith ably took the reins; and today, he remains one of the key reasons why the multi-award winning Klinker Brick Winery is successfully sold in nearly every state of the union.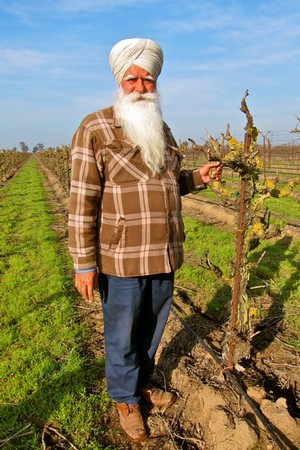 Amrik Dhaliwal
Amrik Dhaliwal – Owner/Grower, Dahliwal Vineyards
One of the common sights on the west side of Lodi's Mokelumne River AVA is Amrik Dhaliwal, cruising slowly in his big truck between the vineyard properties he now owns, leases or manages (over 1,000 acres of premium wine grapes) wearing his distinctly wrapped turban, beard and the uncut hair signifying devoted followers of Sikhism – the philosophical, monotheistic religion originated by Guru Nanak Dev Ji in fifteenth century Punjab, India.
Mr. Dhaliwal first came to Lodi in 1983, starting out as a grape picker earning as little as $11 a day. In his native India, however, he had been the head of the agricultural department in Punjab; Punjab itself, long being India's #1 state in agricultural production, the dairy and cattle industries, as well as medical and engineering universities. "Sikhs make up only 2% of the population in India," Dhaliwal tells us, "but we play an important part."
For those unfamiliar with Sikh contributions to the economy of San Joaquin County, Dhaliwal tells us that Sikhs originally began arriving in California in 1890 to work on railroad lines. Subsequent generations coming to California have established themselves in agricultural and dairy businesses, and many in medical professions. Dhaliwal estimates that today there are about 10,000 Sikh-Americans living in San Joaquin County, and the Deshmesh Darber Sikh Temple is located right alongside some of Lodi's most distinguished vineyards (Mohr-Fry Ranches) and cherry orchards.
Mr. Dhaliwal's own two sons are U.C. Davis graduates: Harinder Dhaliwal is the Vineyard Manager of Treasury Wine Estate's Yountville and Carneros ranches (in Napa Valley); and Ravinder "Bobby" Dhaliwal is an educator – although both also put in time helping to manage the family's Lodi vineyards.
Today, over 90% of Dhaliwal Vineyards' 1,000 acres is certified by the exacting standards of Lodi Rules for Sustainable Winegrowing. Says Bobby Dhaliwal, "You can't be an absentee grower." And in fact, the Dhaliwal family's steady, hands-on commitment to the Lodi winegrape industry is exactly why they have been so successful.
Upcoming blogpost: Lodi's foreign legion (part 2)
Comments