Letters from Lodi
An insightful and objective look at viticulture and winemaking from the Lodi
Appellation and the growers and vintners behind these crafts. Told from the
perspective of multi-award winning wine journalist, Randy Caparoso.

April 18, 2016 | Randy Caparoso
The old Mondavi home in Lodi is still an artistic hub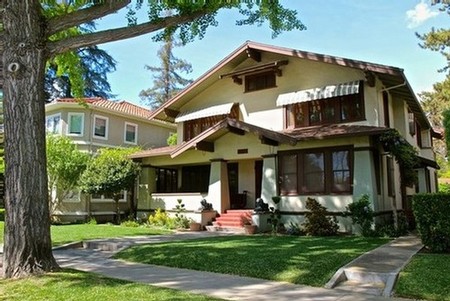 Lodi artist and businessman Tony Segale – who has also been profiled by Lodi News-Sentinel as "Lodi's best-known sign painter" – lives in the original, longtime home of the Mondavi family, just two block west of Downtown Lodi's main drag (School Street).
Yes, that Mondavi family: Cesare and Rosa Mondavi, who moved to Lodi from Hibbings, Minnesota in 1922 with their four children Mary, Helen, Robert and Peter.
There is no bronze plaque or sign commemorating the old Mondavi homestead. That would be the preference of its current owner, Mr. Segale, who not only lives there, but also utilizes the property as a home office for his two businesses – Segale Fine Art and Gold Leaf Company, and Double Dip Gallery ("Fine Art & Ice Cream").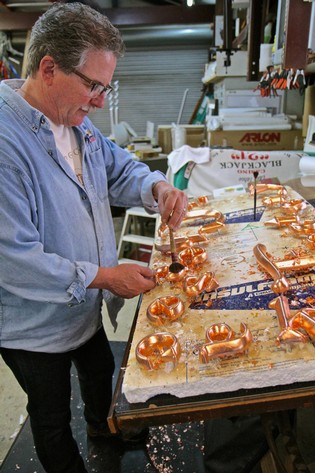 "From what I understand of the history of this house," says Segale, "it was originally built in 1917 by the Welch family, who were related to the owners of the grocery and hardware store located on Sacramento St. (in Lodi) during the early 1900s. I believe the Mondavis first lived on the east side when they came to Lodi, and moved into this home on the west side in 1923.
"In the front of the house was Cesare's office. By the time I moved in, there had been one or two previous owners after the Mondavis. The only real artifacts left were a couple of old vinegar barrels, a role of black-and-white film that we identified as belonging to Robert's sister Helen, and a couple pieces of wood from an old shipping crate.
"Robert's daughter, Peter's niece, stopped by a few years ago just to relive some memories. She told me she remembered the sunroom well, where all the grandkids slept when they came to visit the grandparents, and that everything looks the same. In the backyard, where they had a rose garden, is now my workshop. Otherwise, I've kept things intact – the original garage and windows, the same radiator, still working. I've even left the wallpaper going up from the entryway to the second floor landing, which I'm told Mrs. Mondavi ordered in the 1930s. It's an interesting design, with pretty birds and leaves. It's historical, still attractive... no reason to take it down."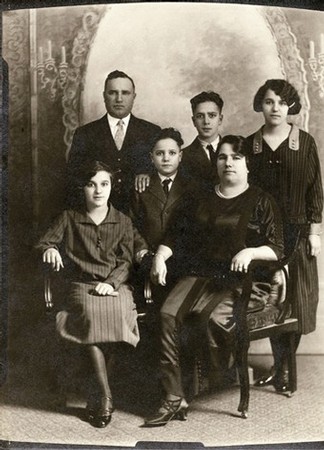 The eldest Mondavi son, Robert (1913-2008), is famous for starting Robert Mondavi Winery in 1966 – the first post-Prohibition winery built in Napa Valley, and one that would do more to initiate American consumers' transition from generic "jug" wines to premium varietal wines than perhaps any other winery in the U.S. Here in the Lodi appellation, Robert Mondavi's legacy lives on in the Acampo-based Woodbridge by Robert Mondavi Winery (like Robert Mondavi Winery, now owned by Constellation Brands).
Peter Mondavi Sr. (born 1914) just recently passed away, this past February 20, in his home in St. Helena (Napa Valley), at the age of 101. Like his older brother Robert, he is still fondly remembered by Lodi residents and farmers. Annalisa Sharp Babich, whose family farms wine grapes on the west side of town, tells us: "Peter Mondavi (which she pronounces as Mon-DAY-vee – the correct way, according to other folks in Lodi) was always like family to us... we've been selling all our grapes to Charles Krug for decades, and we still do!"
The oft-told tale of the Mondavi brothers, both graduates of Lodi High and Stanford University, is that in 1943 they convinced their parents to purchase the somewhat derelict (at the time) Napa Valley winery called Charles Krug Winery (originally founded in 1861). The two brothers successfully ran it together until 1965, when managerial and personality clashes deepened into a serious rift, finally ending in fisticuffs. Subsequently, Robert went on to found his landmark eponymous winery (in 1966), and Peter continued to run Charles Krug Winery with his two sons, Mark and Peter Jr.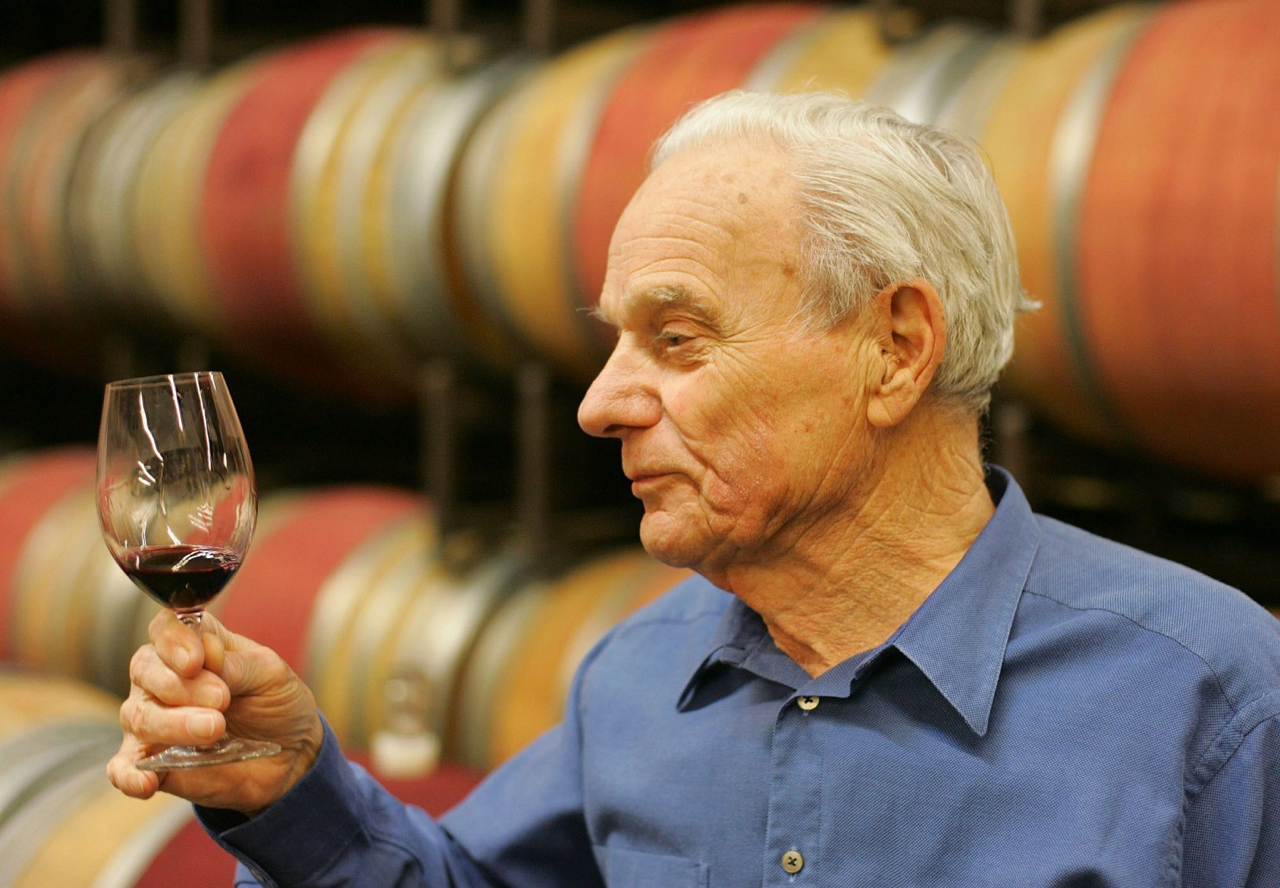 But even while all these events were happening in Napa Valley, Cesare and Rosa Mondavi continued to live a quiet life in Downtown Lodi. Cesare passed away in 1959, leaving Rosa as President of Charles Krug Winery until her death in 1976, after which Peter officially assumed the reins.
In a previous blogpost on Colorful lug labels tell the history of Lodi's grape packing industry, we told the story of how Cesare and Rosa Mondavi, emigrants from Central Italy's Marche region, originally came to Lodi to take advantage of the sudden demand for fresh-packed wine grapes, as a result of Prohibition. To be precise, that one provision in the Volstead Act (enacted in 1919) allowing the head of every household to produce up to 200 gallons of "fermented beverages" each year for personal (presumably) consumption.
Overnight, countless Americans from the Atlantic to the Pacific became their own private winemakers. Lodi growers scrambled to plant more wine grapes to keep up with the demand. The local grape packing industry, once dominated primarily by Tokay table grapes, saw dramatic expansion; and Lodi families such as the Mondavis did well.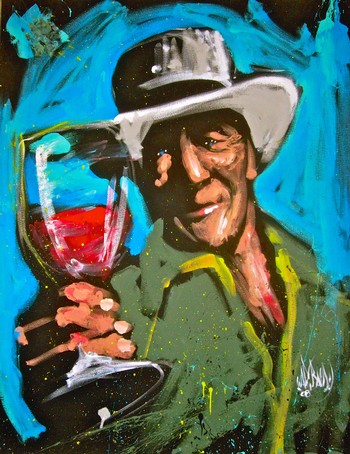 During our visit to the Mondavis' original Lodi home, we found Mr. Segale behind the house in his workshop. Segale is one of the country's most highly regarded sign artists specializing in gold leaf lettering; involving the meticulous application of layers upon layers (often in the hundreds) of 18 or 24-carat gold on either flat surfaces or three-dimensional signs. When we visited him, Segale was working on large cut-out letters destined for one of the numerous Cheesecake Factory restaurants, one of his major clients.
Like the Mondavi influence on the way Americans look at fine wine, in Lodi you cannot escape the Segale touch. Everywhere you go you find his signature gold leaf craftsmanship: on the golden bear at the top of the landmark Lodi Arch; the logo lettering with giant crossed corkscrews on all the Michael David Winery signs; throughout Wine & Roses Hotel & Spa; and on the glass doors and windows of Lodi Beer Company, Sheri's Sunshine Nutrition Center or Segale's own dual-faceted shop, Double Dip Gallery on W. Pine Street (where he serves 16 flavors of Gunther's Ice Cream with displays of homegrown art).
Segale is also a painter of note – creating original works with both watercolors and "wine" paints. During our visit we saw, on a table next to his gold leaf projects, paintings done with purplish ruby colors derived, according to Segale, from bottles of Michael David Petite Petit. In a similar vein to ice cream and art, still another way to combine things you love!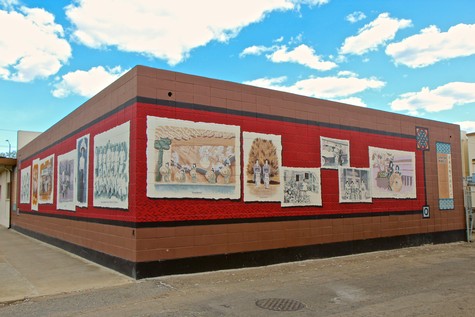 As if that's not enough, Segale's artistry is also visible all over Lodi in a number of elaborate murals: such as his tribute to C.O. Ivory on Sacramento Street (Lodi's historic first dry goods store) in Downtown Lodi east of the U.S. Post Office; the multi-paneled "Japanese Memories" on the north and west facing walls of the Buddhist Church of Lodi Annex Building on Elm Street (between Stockton and Main); the familiar, gigantic Oak Ridge Winery mural on E. Victor Road; and the towering, classical "grape goddesses" on both sides of the main entrance to the Lodi Grape & Wine Pavilion on the Lodi Grape Festival grounds.
It is not, after all, that much of a coincidence that one of Robert Mondavi's most famous quotes from the '60s is that "wine is a perfect combination of art and science." Ever since, the entire American wine industry has been living that; and Mr. Segale has been fulfilling the spirit of it in his own way – immersing his talents in a region long known for its wine, grapes, and culture of hardscrabble work and artistry.
A photo-tour of some of Mr. Segale's artwork throughout the Lodi area: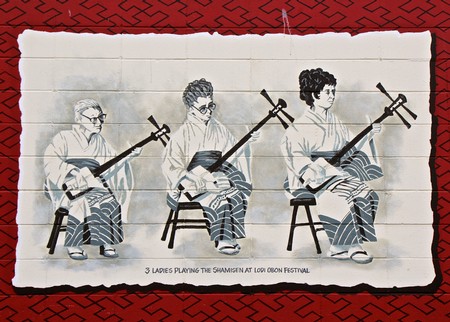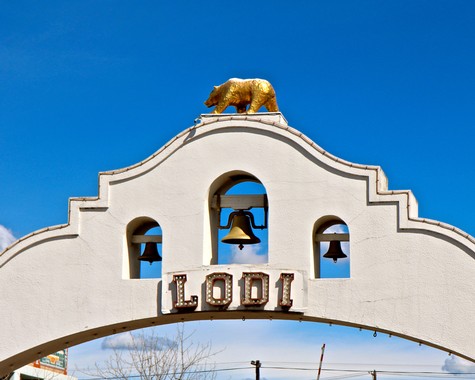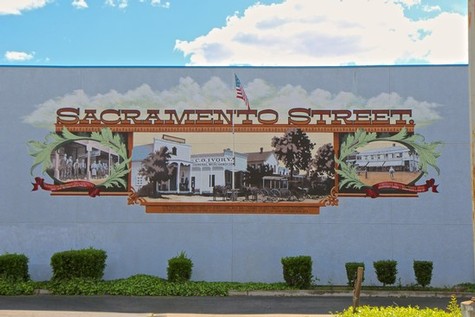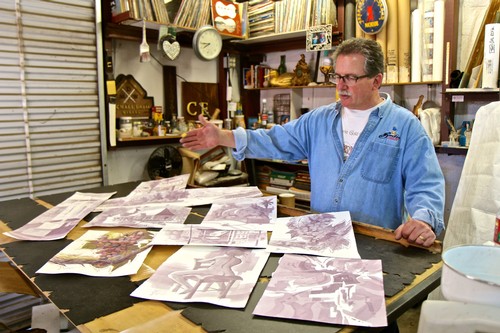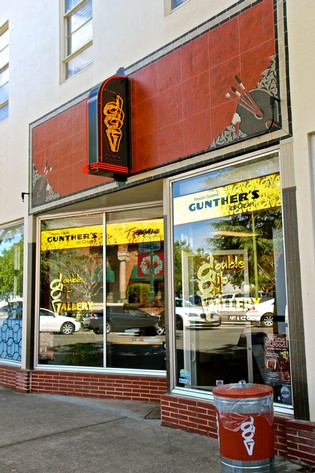 Segale's work: giant corkscrews and gold leaf lettering throughout Michael David Winery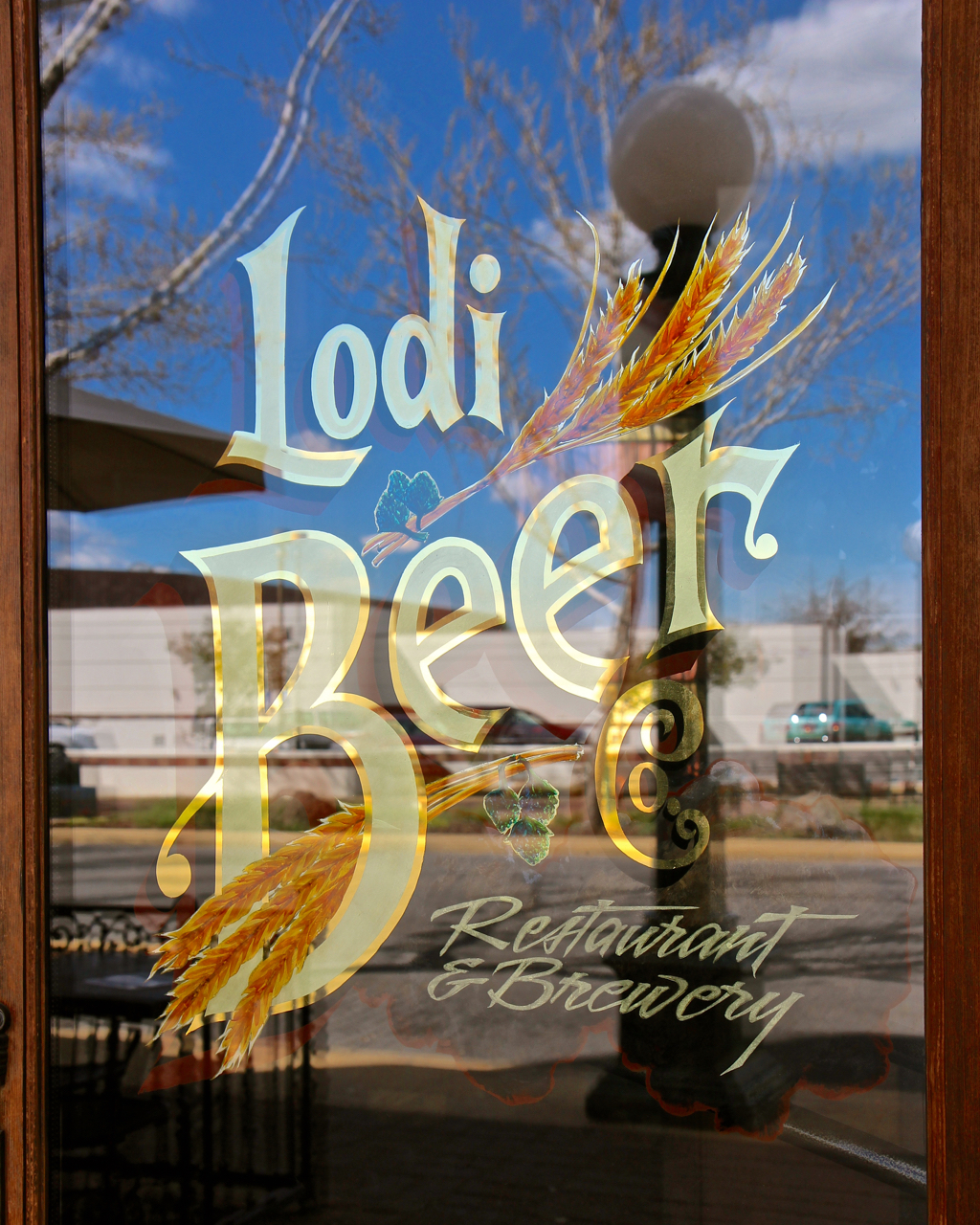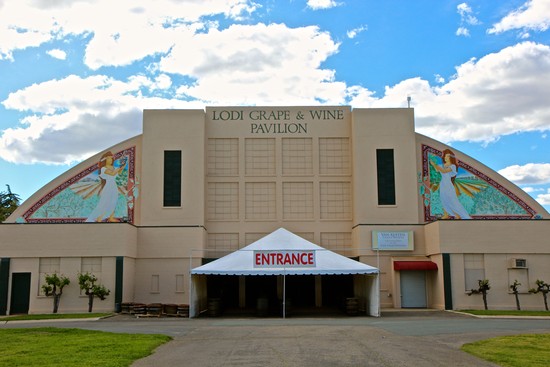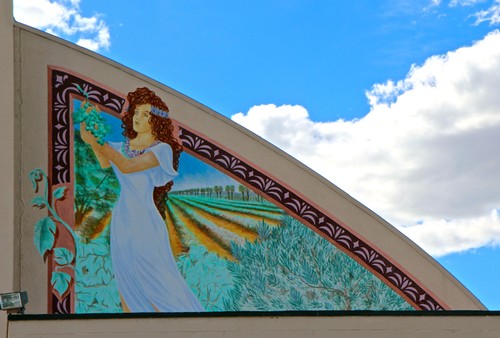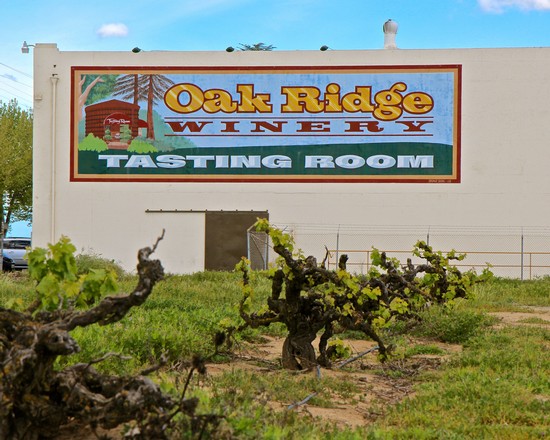 Comments