Letters from Lodi
An insightful and objective look at viticulture and winemaking from the Lodi
Appellation and the growers and vintners behind these crafts. Told from the
perspective of multi-award winning wine journalist, Randy Caparoso.

July 25, 2016 | Randy Caparoso
In Lodi, to thine own terroir be true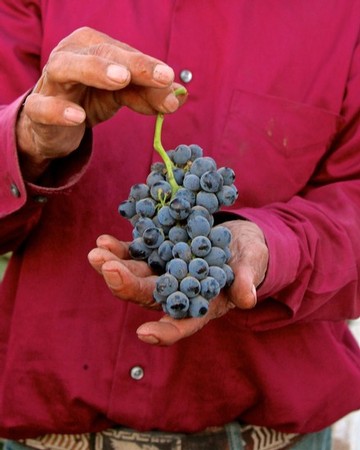 What is terroir, and why is everyone talking about it?
When writing about why Lodi was chosen as their 2015 Wine Region of the Year, Wine Enthusiast Magazine's Jim Gordon cited a number of achievements; including how the region has recently achieved "parity with better-known coastal regions," yet how "grapes and wine were already in Lodi's DNA before the current era... (when) the first major vineyard was planted in 1852."
One of the things Mr. Gordon also noted was the "naked style Zinfandels" produced by the Lodi Native project. The good thing about the Lodi Native Zinfandels, San Francisco Chronicle's Jill Robinson recently wrote, is that they "highlight terroir, along with Lodi's heritage Zinfandel plantings and growers." The Lodi Native winemakers have been putting together a series of "single-vineyard Zinfandels," added Christopher Null in his DRINKHACKER blog, "with the intent of showcasing Lodi's terroir."
The Frugal Wine Snob's Carolyn Blakesleet writes, "The idea (of the Lodi Native project) was to allow the terroir-driven fruit to speak for itself, with different voices depending on its vineyard of origin, similar to other great wine regions of the world."
The term "terroir," or so it seems, is increasingly being used in the same sentence as "Lodi."
Yet it is still true that when the vast majority of Americans are buying wine, terroir-related priorities rarely come to mind. We are more concerned about the brand or producer, the grape or "varietal" make-up, and maybe a little about where a wine comes from (Napa Valley, Lodi, Walla Walla Valley, Finger Lakes, etc.).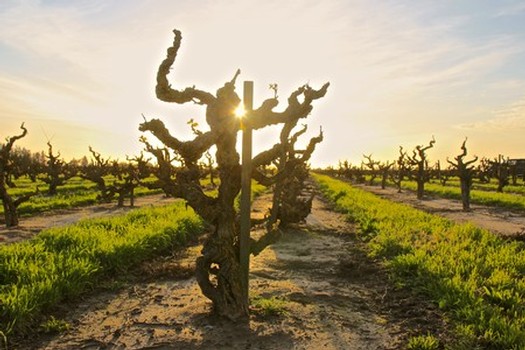 That's because this is exactly how American wines are packaged and sold – by brand, varietal, and appellation or "place." Plus the fact that about 69% of wines sold in the U.S. are grown and produced domestically – and so most of us are accustomed to appreciating wine in the American way.
Premium quality wines from Europe, on the other hand, are primarily sold by place, or "origin," first; and secondly, by producer or brand. There are varietal identifications on the labels of a few types of European wines – such as Albariño from Spain, Barbera from Italy, Riesling from Germany, etc. – but those are a distinct minority of the imports we see on our shelves.
When you buy a Mâcon-Villages or Vosne-Romanée from France, for instance, there is nothing on the label that says these wines are made from Chardonnay or Pinot Noir. It is not because the French are snobs about the fact that "you're supposed to know" this stuff. It is because there are laws on the books in France – enforced by a bureau of Appellation d'Origine Contrôlée (AOC) – that say you cannot bottle a wine as Mâcon-Villages unless it is made purely from Chardonnay; and the same for a Vosne-Romanée which is always made from Pinot Noir.
France's AOC laws – similar to wine laws in countries like Germany, Italy, and Spain – are, in fact, based primarily on the premise of terroir: the idea that that the single most important factor defining the character and quality of a wine is the place where it is grown. In European countries, appellations are defined by designated regions, sub-regions, villages, and for the highest quality wines, by individual vineyards.
"Terroir is a concept widely used by the French," writes U.C. Davis Professor Emeritus Deborah L. Elliott-Fisk, "to express what American viticulturists see as ecosystem, both concepts incorporating geographic site, topography, soil and subsoil as factors interacting with climate on vine growth.... For vineyards, 'climate' in a general sense has been shown to be an important factor influencing fruit composition and wine 'quality'..."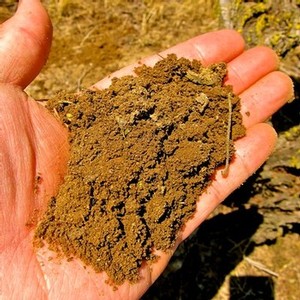 Terroir, by this definition, is the sum of a specific ecosystem's natural, physical factors – including slope, aspect, elevation, latitude, rainfall, temperature, wind, etc. – that have an impact on how vines and grapes grow, and ultimately on the sensory attributes of wines made from those vines and grapes. Which is why terroir, if "captured" in a bottle, is often simply summarized as "sense of place."
Not that Europeans don't recognize the fact that the labors of growers and decisions of winemakers also have a huge impact on subsequent wines. They know that fine wines don't produce themselves. Like Americans, Europeans are aware that they can take grapes from widely known appellations and, through manipulations in the vineyard and winery, turn them into wines barely recognizable in terms of terroir. Many mass-market French, Italian, Spanish and German wines are produced like this.
But generally speaking, as noted in The Oxford Companion to Wine (Oxford University Press), fidelity to terroir reflects "philosophical and commercial differences between Old World and New World approaches to wine." In European countries there is more of a conscious effort to handle wines sourced from the best vineyards with the objective of minimizing winemaker "signatures," and maximizing qualities associated with terroirs, coming through in subsequent wines. The opposite, as it were, of most wines produced outside of Europe.
What the "taste" of terroir is not, despite the word's inference, is aromas and flavors derived directly from soil types. Chardonnay based white wines from the Chablis region in France, for instance, often have lean, minerally flavors; but that doesn't mean the flavors come directly from minerals in the chalky soils of Chablis. It is not possible to uptake flavors of rocks through vine roots and into ripening grapes.
The same for Sonoma County grown Chardonnays, which often taste lush, like pineapples and tropical citrus fruits. This does not mean there are tropical fruits or pineapple growing in the ground beneath Sonoma vines that somehow end up in wines. If anything, it is the cold climatic growing conditions of Chablis that make Chardonnays from that region predisposed towards minerally flavors; and the warmer, sun soaked conditions of Sonoma that produce such lush, fruit driven Chardonnays.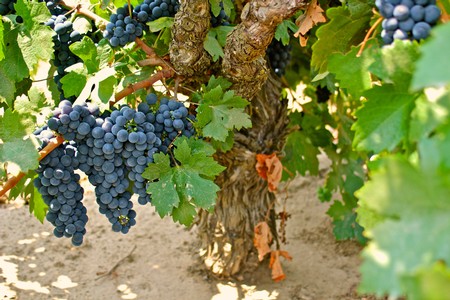 The vast majority of California wines, however, are not crafted to achieve a sensory sense of place. Most American consumers, critics and wine professionals in the restaurant or retail trade tend to value qualities like "varietal" intensity, while wineries strive to achieve markers capturing consistent brand or "house" styles. Generally speaking, we expect our Rombauer Chardonnays to taste as much like "Rombauer Chardonnay" as possible, vintage after vintage. If not, Rombauer Chardonnay lovers might riot, which could get ugly.
And whether a Pinot Noir comes from Santa Barbara's Santa Maria Valley, Sonoma's Russian River Valley, or Oregon's Willamette Valley, most of us want our finest Pinot Noirs to capture our ideal conceptions of "Pinot Noir," not the taste of vineyards in Santa Maria Valley, Russian River Valley or Willamette Valley. Because of that, it can be difficult for even "experts" to tell the difference between many top-rated Santa Maria Valley, Russian River Valley and Willamette Valley Pinot Noirs in blind tastings. The commercial reality in the wine market is that Pinot Noirs are designed to capture varietal and brand styles first, regardless of wide ranging appellations or terroirs.
This is in stark contrast to, say, the French, who want their Chardonnay based whites from Chablis to taste tart and minerally like a good Chablis should; their Chardonnays from Meursault to taste fuller and meatier like classic Meursault, and Chardonnays from Puligny-Montrachet to taste sharp yet extravagantly high fruit toned in the way that has made Puligny-Montrachets famous. French wine lovers do not seek varietal sameness or intensity. Neither do they "rate" wines from Chablis higher than Meursault, or vice-versa. More than anything, the idea of French AOC wines is to capture typicité. The more a Chablis tastes like a Chablis and a Meursault like Meursault, the higher the perceived quality.
Of course, Lodi is not France. Why should we care about terroir related distinctions here? For the same reasons why it means something in places like France, Germany, Italy or Spain: because the more a region's unique, natural attributes are known and appreciated, the higher the value placed on that region's vineyards and grapes. Here in California, Napa Valley has already attained something of a cachet, especially for its long track record of excellent Cabernet Sauvignons, not unlike many of Europe's more prestigious regions. But there are many prestigious wine regions in Europe, and there can be many more regions of prestige here in California. It is a matter of cultivating identities, particularly based upon histories of terroir-driven wines that speak to tangible qualities of regions or vineyards, not so much winemaking.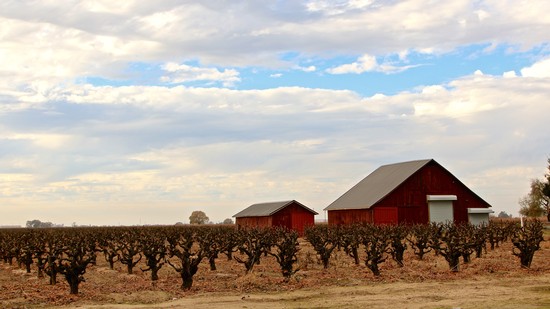 For Lodi, an elevated cachet will come once growers and winemakers begin to consistently demonstrate what makes Lodi special – unique, distinctive vineyards manifested in unique, distinctive wines. Not, mind you, vineyards and wines that are "better" than Napa Valley's. Rather, more along the lines of reaching a point when it is widely known that: the best Napa Valley wines are grown in Napa Valley, and the best Lodi wines are grown in Lodi.
Lodi, for instance, is already known as a Zinfandel "capitol." But why stop at that? Why be satisfied with producing Zinfandels that are just as good or comparable to Zinfandels from Napa Valley, Sonoma or Amador County? To increase the value and prestige of Lodi grown Zinfandel, it is more effective to produce Zinfandels with terroir-associated tastes expressing what can be grown only in Lodi, and nowhere else. Hence, projects like Lodi Native; where the objective is to produce Zinfandels that taste as much as possible like Zinfandel grown in some of Lodi's individual heritage vineyards, as opposed to Zinfandels that taste like "Zinfandel," which could come from anywhere.
One caveat: There are some New World viticulturists who are convinced that the entire notion of terroir is overrated; very possibly mythical; or that natural attributes of regions or vineyards are of far less consequence to subsequent wines than winegrower decisions, especially those entailing sound science and technical innovation. in his recently published Terroir and other Myths of Winegrowing, for instance, Mark A. Matthews argues that terroir is, at its root, a marketing ploy, contrived to perpetuate the superiority of established vineyards over newer plantings with just as much potential. Fair enough. But you need not swallow that entire pill.
Here is what we know: In Lodi, our wine grape growers take a back seat to few others when it comes to science, innovation and sustainable values. It is not for nothing, for instance, that the California Association of Winegrape Growers (CAWG) recently named Jerry and Bruce Fry's Mohr-Fry Ranches their 2016 Grower of the Year. At the same time, the Frys would count themselves among many other Lodi growers who, for nearly or over 100 years, have always known that vines like Zinfandel and Tokay grow far more productively in Tokay series sandy loam soils close to the winding Mokelumne River than in pockets of gravelly or sandy clay loam (such as the San Joaquin soil series dominating Lodi's Jahant AVA). In many places in Lodi these soil variations are found on properties located within just a few feet of each other. Walk a few feet to see a beautifully growing Zinfandel plant, and walk a few feet further to see a Zinfandel struggling to produce quality fruit. The reason, simply, is differences in terroir – not anything the most skilled growers, like the Frys, could ever do anything about.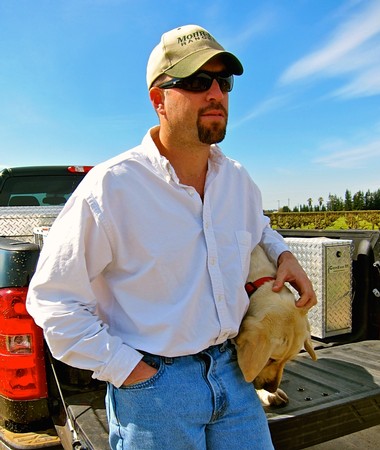 Since 2012 Lodi Native winemakers have been conclusively demonstrating that, through the prism of minimalist winemaking, there are consistent, and predictable, aromatic, structural and flavor related distinctions between Zinfandels growing in vineyards such as Soucie, Wegat, TruLux/Pescador, Marian's, Lot 13 and others – despite threads of similar sandy loam soil, and the sharing of the exact same Mediterranean climate and vintage conditions. Terroir may be old school; but it is a real and prevalent factor in how wines end up tasting, no matter what anybody says.
Lodi, in fact, is now quickly becoming known for the quality of white wines possible in the region's sandy soils and Mediterranean climate. Vintners are already producing extremely appealing, critically acclaimed white wines from Mediterranean varieties such as Albariño, Viognier, Verdelho, Vermentino and Grenache Blanc. For similar terroir-related reasons, someday other white wine varieties of Mediterranean origin may (or should!) be successfully planted in Lodi: top quality green skinned grapes such as Inzolia (a.k.a. Ansonica), Cortese, Greco, Falanghina, Grechetto, Friulano (a.k.a. Sauvignon Vert), Arneis, Garganega, Fiano, Biancolella, or Glera (a.k.a. Prosecco) from Italy; Parellada or Macabeu from Spain; Assyrtiko or Moschofilero from Greece; Loureira or Treixadura from Portugal, or any number of others that could thrive in our dry-summer temperate terroirs...
Grapes known to produce delicious white wines that could also become incomparably Lodi. Or as Bonny Doon's Randall Graham once put it, "to thine own terroir be true" (re How I Survived My U.C. Davis Education in Been Doon So Long, University California Press).
Which is why the work of Lodi based wineries is so important. While the giant producers buying most of Lodi's grapes to churn out much of the country's value priced wines will continue to play an essential role in our wine grape economy, it is our own, smaller scaled, homegrown winemakers who will hold much of Lodi's future in their hands: by continuing to define what makes Lodi unique among all other wine regions of the world, through their innovative, hand crafted wines...
And by doing so, continuing to define the taste of Lodi's terroir.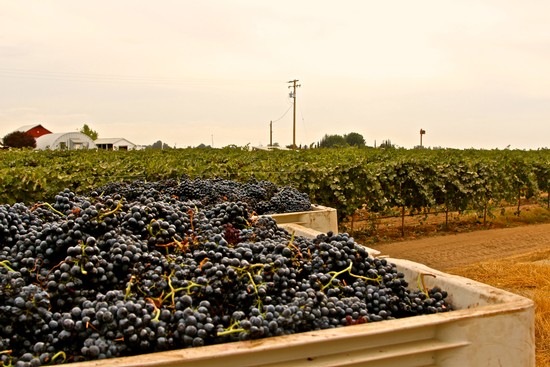 Comments