Letters from Lodi
An insightful and objective look at viticulture and winemaking from the Lodi
Appellation and the growers and vintners behind these crafts. Told from the
perspective of multi-award winning wine journalist, Randy Caparoso.

October 18, 2016 | Randy Caparoso
Ah, the smell of spice (that is, rotundone) in autumn wines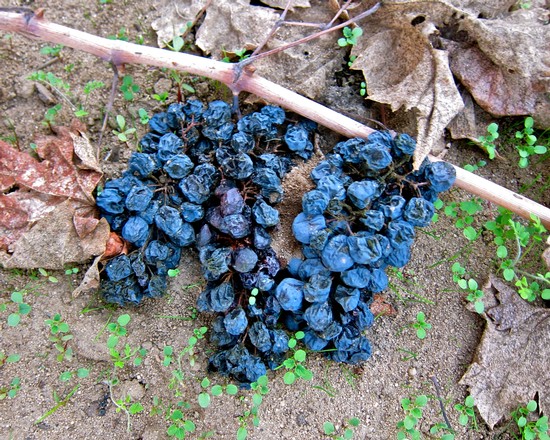 Syrah/Shiraz... Zinfandel... Petite Sirah... Grenache... what do these varietal reds have in common? Answer: they are all commonly described as "spicy," and they all taste like autumn in a glass.
When the air begins to turn a shade cooler – daytime skies darken, humidity rankles the bones, while leaves transition from brilliant reds, oranges and yellow to dead, brittle browns – it is not uncommon for a wine lover to almost physically feel the compulsion to consume deeper flavored red wines, often with varying degrees of spice qualities suggesting cracked peppercorns.
That provocative scent of spice in many red wines, first identified by Australian chemists in 2008, is essentially the smell of an aromatic compound called rotundone, present in miniscule proportions in the skins of certain varieties of Vitis vinifera (i.e. wine grapes). According to the Journal of Agricultural and Food Chemistry (June 2008): "An obscure sesquiterpene, rotundone, has been identified as a hitherto unrecognized important aroma impact compound with a strong spicy, peppercorn aroma."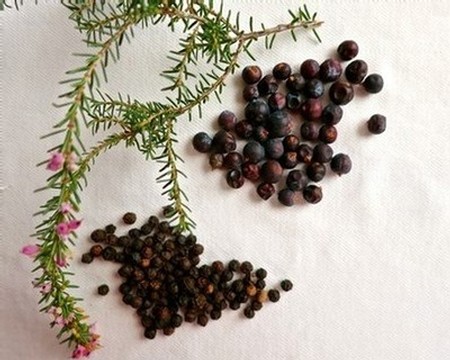 Sesquiterpenes, as it were, are a larger class of aromatic terpenes – volatile compounds found in oils of plants such as wild sagebrush (another smell often used to describe certain wines), pungent geraniums, and common kitchen herbs such as thyme and rosemary. Rotundone, according to the Journal of Agricultural and Food Chemistry, "was found in much higher amounts in other common herbs and spices, especially black and white peppercorns, where it was present at approximately 10,000 times the level found in very 'peppery' wine.
"Rotundone is the first compound found in black or white peppercorns that has a distinctive peppery aroma. Rotundone has an odor activity value in pepper on the order of 50,000-250,000 and is, on this criterion, by far the most powerful aroma compound yet found in that most important spice."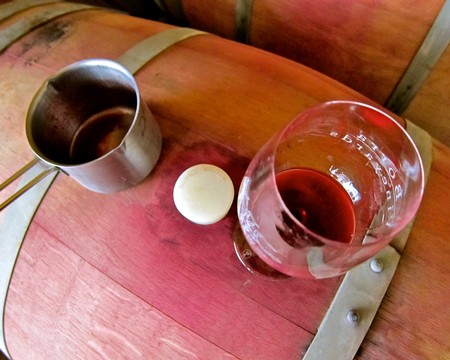 The rotundone found in the skins of certain wine grapes is far, far lower than in peppercorns. It is not detectable in the taste of fresh grapes, but becomes present in a wine during the fermentation process.
While rotundone is far more concentrated in peppercorns than in wine, the nose of an average wine lover – at least someone who takes the time to swirl wine in a glass and appreciate nuances and aromas – can be extremely sensitive. Aromas suggesting pepper, according to a page in the Tenzing Web site, "can be detected with as little as 8 nano grams per liter in water and 16 ng/L in red wine... however not every taster is going to pick up this spice aroma. Approximately only 20% of tasters can detect this compound even at the highest concentration level (4000 ng/l)."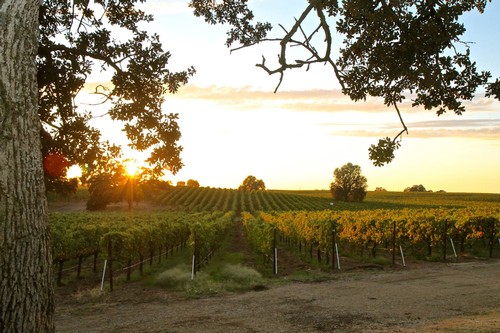 Rotundone in Syrah
While not everyone is predisposed to the scent of rotundone, neither are peppery aromas immediately apparent in every wine commonly associated with spiciness. Syrahs from South Australia (where the wine is often bottled as Shiraz), for instance, are more likely to be aggressive in peppery spice aromas than Syrahs grown and bottled in California, Washington, or even France's Northern Rhône Valley. More than likely, this is due to clonal variations of the grape; particularly in Australia, where Syrah has had over 150 years to develop its own genetic markers.
The first thing you usually notice in Syrah based reds from the Rhône Valley, on the other hand, is their pervasive floral perfume, often suggesting violets. The peppery spice may be there; but often buried under the sweet fruit aromas, not to mention aggressively vanillin, smoky or charred aromas derived from French oak barrels.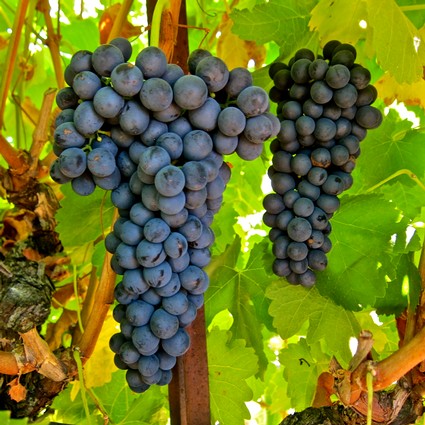 Nonetheless, two Lodi Viticultural Area grown reds that nail the rotundone spice quality of the Syrah grape right between the eyes:
• 2013 Fields Family, Postage Stamp Vineyard Lodi Shiraz ($42) - Crafted from an Australian clonal selection of Syrah; dense yet lush, ripe and meaty with juicy blackberry and smidgens of earthy, sweet eucalyptus intertwined with sweet peppercorn spice.
• 2013 Klinker Brick, Farrah Lodi Syrah ($20) – Flowery yet toothsome, virile style of the varietal, bristling with plummy black fruit, slightly smoky oak and earthy notes tinged with spice qualities mixing sweet black pepper and anise.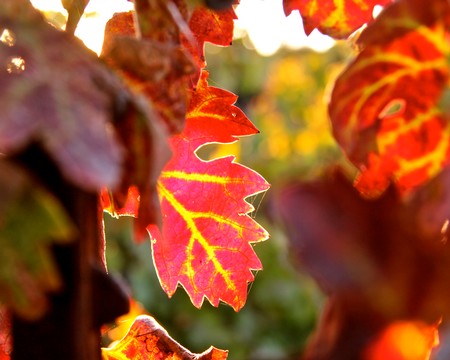 Rotundone in Zinfandel
Many California Zinfandels are quite pungent in their rotundone/spice, but most of them are not. Why? Typical California Zinfandels tend to overload the senses with "jammy"-sweet fruit aromas; and are often aged in American oak barrels, giving strong, dillweed-like aromas which can obscure subtle notes of spice in the nose.
This is why recent developments like the Lodi Native Zinfandel project have made an impact in some quarters: picked earlier in the season in order to be fermented with native yeasts and with zero amendments (like enzymes, oak dust or added acids), and then aged strictly in "neutral" wood (i.e. previously used oak barrels), there is a greater chance of perceiving terroir-related aromas and flavors on top of intrinsic varietal qualities such as peppery spice in a Lodi Native fashioned Zinfandel (re Alder Yarrow's The Lodi Native Revolution Continues, along with other recent press extolling the nuanced qualities of these wines).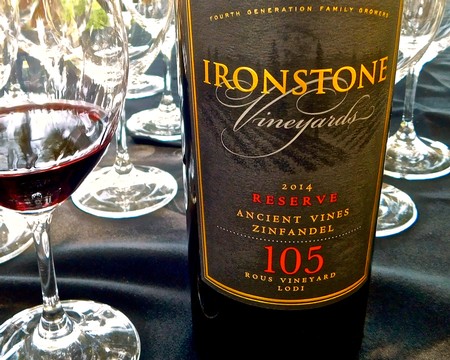 Withal, three Lodi grown old vine Zinfandels that consistently capture the rotundone laced nature of the varietal, largely because of the restrained style of their respective winemakers:
• 2012 Stellina, Salto Lodi Zinfandel ($32) - Produced and bottled by Estate Crush owners Bob and Alison Colarossi; a sleek, slim, feminine style of Zinfandel fashioning flowery fragrances suggesting blueberry, violet and distinctive cracked black peppercorn.
• 2014 Ironstone, Rous Vineyard Lodi Zinfandel ($35) – A 117-year-old growth that cobbles the intrinsic pepperiness with fluid, even keeled yet mouth-filling sensations of clove and fleshy, flowery, blackberryish fruit.
• 2013 Lucas, ZinStar® Vineyard Lodi Zinfandel ($50) – An 83-year-old estate known for its silky, limber yet sturdy medium body, bright natural acidity, and seamless knitting of crusty blueberry pie sensations punctuated by subtle peppercorn/clove spice notes.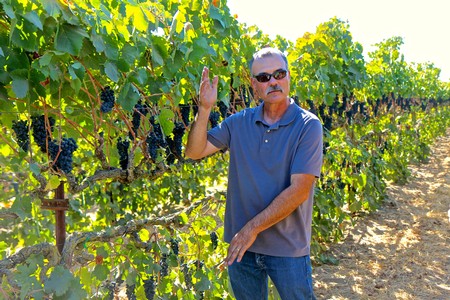 Rotundone in Grenache
In our own recent blind tastings, we have found that peppercorn notes tend to be more pronounced in Lodi grown red wines made from the Grenache grape; counter-intuitively, even more so than Grenache based reds from cooler coastal regions, such as Santa Barbara and Sonoma. Two cases in point: the 2013 McCay Cellars Lodi Grenache ($35) and 2013 Bokisch Vineyards Terra Alta Vineyard Clements Hills-Lodi Garnacha ($20) – both wines that lead off with billowing fragrances of sweet peppercorn spice mingling with wild scrub aromas, on top of the strawberry/cherry fruit qualities typical of the varietal.
This finding goes against the common assumption that rotundone levels tend to be increased in cool or cold climate wine regions. Unlike the increased incidence of rotundone derived spice in South Australian Syrahs, which are likely due to clonal factors, the McCay and Bokisch bottlings are made from different clones of Grenache: the McCay Grenache, sourced from Lodi's Abba Vineyard, planted to French clones; and the Bokisch Garnacha, planted to Spanish clones.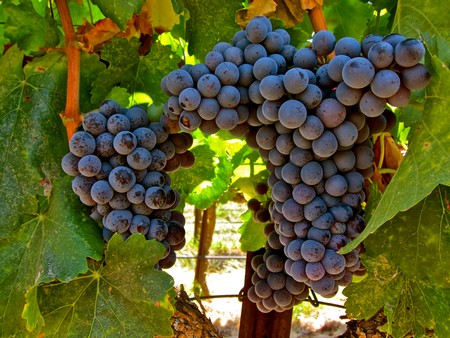 Can the accentuated spice of Lodi grown Grenache reds be attributed to soil types? Abba Vineyard is located in the lower elevation flats of Lodi's Mokelumne River Viticultural Area, consisting of consistently deep (over 50-ft.), fine sandy loam in the Tokay series; whereas Bokisch's Terra Alta Vineyard sits on slightly higher elevation (around 400-ft.), gravelly Redding clay hillsides typifying Lodi's Clements Hills AVA.
A more logical conclusion would be that it is Lodi's specifically Delta influenced variation of Mediterranean climate that is a little more conducive to the formation of rotundone in the skins of Grenache grapes (see How warm, or cool, is Lodi?). At the same time, much of the phenomenon could very well be attributed to just sound vineyard management (for which both Abba Vineyard and Bokisch Ranches are widely known): particularly the aggressive leaf thinning and fruit exposure practiced in both plantings, as well as factors such as crop load and canopy vigor (both the Abba and Terra Alta plantings are cropped for moderately sized canopies and yields, largely through craftily timed deficit irrigation).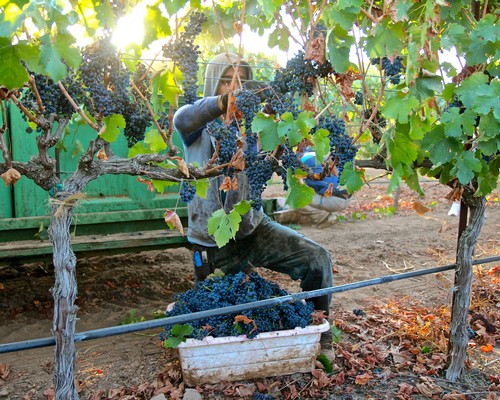 Rotundone in Petite Sirah
Finally, Petite Sirah, perhaps even more so than its parent grape Syrah (Petite Sirah, a.k.a. Durif, being a crossing of Peloursin and Syrah), is often associated with peppery spice qualities. Yet, not all California Petite Sirahs come across as "spicy." Many, in fact, smell and taste more strongly of ultra-ripe fruit, often suggesting blueberries. The fact that most commercial Petite Sirahs (like Zinfandels) tend to be aggressively oaked probably also explains why not all bottlings of the varietal are obvious in their peppery spice character.
Nonetheless, the rotundone spice is definitely a hallmark of Petite Sirah. Two Lodi grown examples: the peppery core of deep, dark flavors found in the 2010 Viñedos Aurora Lodi Petite Sirah ($21); and the highly concentrated, pedal-to-the-metal 2015 Earthquake (by Michael David Winery) Lodi Petite Sirah ($26).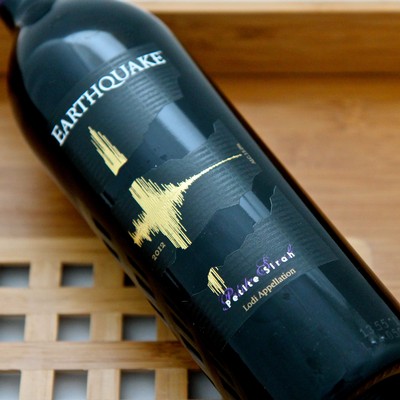 The appropriate foods for spice laden reds? 'Tis autumn, so it's appropriate to think "autumn." Braises or pot roasts of beef or lamb with pungent rubs of peppercorn, or seeds of mustard, fennel, or juniper. Grilled cracked peppered salmon, tuna, or red meats pre-soaked in peppery or even chile spiced marinades. Cowboy inspired cast iron pots of ground bison chilies. Roasted beet salads doused in peppercorn and balancing vinaigrettes. Lamb or beef stews studded with earthy root vegetables. Even classic coq au vin; with extra heapings of wild mushrooms and lardons added to this stew of chicken and red wine.
That's the way to enjoy your vinous doses of rotundone!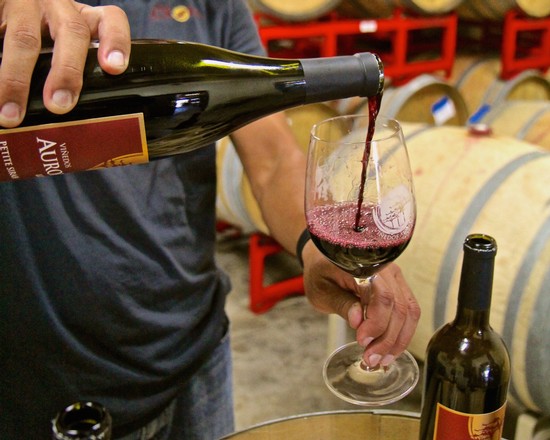 Comments