Letters from Lodi
An insightful and objective look at viticulture and winemaking from the Lodi
Appellation and the growers and vintners behind these crafts. Told from the
perspective of multi-award winning wine journalist, Randy Caparoso.
May 15, 2018 |
The story of Lodi vineyard manager Luis Reyes and his red-hooded sweatshirt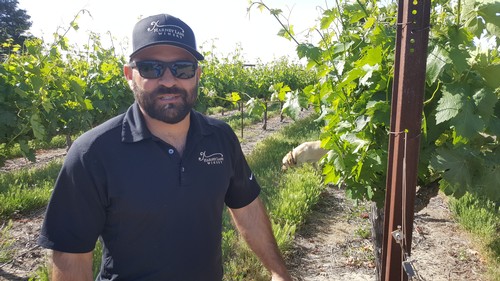 They laugh about it now.
But if Kyle Lerner's first encounter with Luis Reyes was made into a motion picture, the title might be "The Man in the Red Hoodie."
The opening scene would find Lerner watching a lone figure wearing a red, hooded sweatshirt, leaning up against a stake in a newly planted Primitivo vineyard. There was much work to do and this guy Lerner had hired as part of a crew to pull leaves and drive stakes into the ground wasn't doing anything.
"So, I call my foreman at the time and said, 'David, who's the guy in the red hoodie?'" said Lerner, who owns Mettler & Son, the farming side of Harney Lane Winery in Lodi. "'What the heck's going on? This guy's lazy.'"
Turns out Reyes was waiting for more stakes to arrive. The crew had run out.
"After a couple hours waiting, I said, 'I'm done. I'm not going to keep waiting,'" Reyes said. "We didn't have any (cell phone) communication back then, so I hopped on the forklift."
The forklift was a converted tractor. Lerner said you had to be a mastermind to run it. And there was the guy in the red hoodie operating the monster like a pro. Lerner's outlook about the lazy guy he was about to fire moments earlier changed immediately.
"One thing led to another and I got him driving a tractor with us," Lerner said. "Eighteen years, now he's our general manager."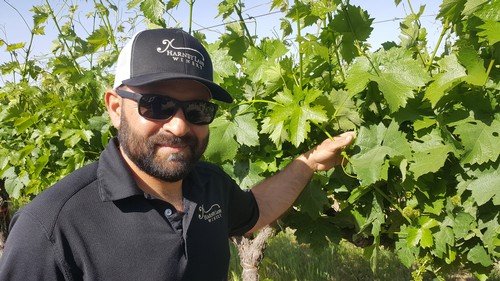 Reyes was in his early 20s when our story began but already had a wealth of farming experience. Reyes grew up in a migrant farming family. His parents are from Michoacán, Mexico. Reyes and his five siblings were born in the United States. Their mother was a U.S. citizen when they were born. The family worked part of the year out of a migrant camp in French Camp and the other portion at the family's farm in Michoacán.
When Reyes was 9 years old, his family went to Mexico to tend to his ailing grandmother. They returned to French Camp late and lost their spot at the migrant camp. They found space at a migrant camp in Lodi and re-located. Reyes grew up in Lodi and went to Nichols Elementary School, Morada Middle School and Tokay High. He has worked almost every day of his life since the age of 10.
"I'm proud of what I do," Reyes said. "Farming, it's tough, but every day is something different. That's what I like about it."
The year before he was hired by Lerner, Reyes said he tried working construction. He also worked in restaurants. But those jobs weren't for him.
"I've been farming even when we went back to Mexico," he said. "We had cows and farmed alfalfa. I've farmed every day of my life."
Reyes' humble yet fulfilling upbringing shapes his empathy as a boss. He's not above getting his hands dirty. Reyes said he still plants, pounds stakes, shovels, drives tractors, sprays, discs, mows, digs ditches, irrigates and whatever else needs to be done. He's also no stranger to working winery events, such as Harney Lane's wine club release parties.
"I still do it," he said. "Everyone asks me, 'What do you do there?' And I say, 'I'm an employee.' I don't present myself as a general manager with my people out there. It's just me."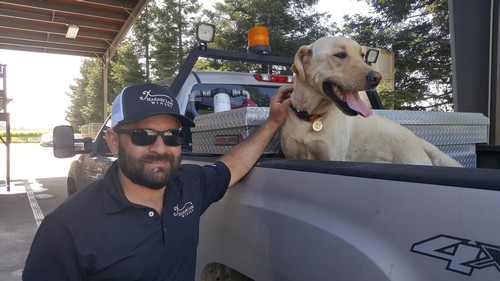 Reyes said he particularly enjoys farming the iconic Lizzy James Vineyard, originally planted more than 100 years ago with head-trained Zinfandel in Lodi's powdery, sandy loam soil. The fruit goes into Harney Lane's premium, vineyard-designated, Lizzy James Old Vine Zinfandel.
"It's interesting to work," he said. "If you go into a new vineyard, you know every vine is the same. But you walk into the Lizzy James, you know it's going to be something different. You have new re-plants to hundred-year-old vines. So, every vine, you have to treat it different and it's more of a challenge."
Reyes' parents still live in a migrant farm camp in Lodi. His siblings live in the Lodi area. Reyes and his wife, Rocio, have three boys: Angel, who's 16 years old, Diego, 9, and Sebastian, 7. Their 3-year-old daughter, Victoria, might follow in her dad's footsteps.
"If it was up to her, she would be out here every day," Reyes said with a gleaming smile.
That lazy guy in the red hoodie has brought a lot of joy to the Lerner/Metter family and fans of Harney Lane Winery.
"He's a definite success story," Lerner said. "He's doing great with us."
Comments