Letters from Lodi
An insightful and objective look at viticulture and winemaking from the Lodi
Appellation and the growers and vintners behind these crafts. Told from the
perspective of multi-award winning wine journalist, Randy Caparoso.

January 21, 2011 | Randy Caparoso
The zin master's long, dark night
p class="blog-caption-image" style="width:420px;">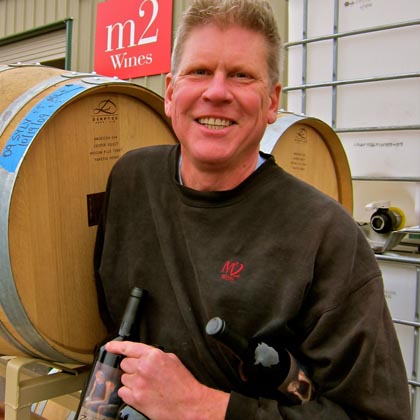 m2's Layne Montgomery knows the agony of ecstasy…
Winemakers, we are sure you've been told, are half scientists/half artists. Not true. At least a quarter of every winemaker also needs to be a philosopher: as much as the profession requires a belief system of some degree of mental, or spiritual, stability. How else do you survive the stress of each vintage, when your fate is put into the hands of something completely out of your control: the forces of nature, the weather gods, Lance Randolph's red shorts, or… whatever.
Then, presuming most of your grapes come into the winery reasonably intact, comes another reality: the fact that wines do not evolve with 100% predictability while they are fermenting and aging in the barrel. At least not small batch, ultra-premium quality wines made with traditionally minimalist methodology.
Like that of Layne Montgomery, winemaker/proprietor of Lodi's m2 Wines: each year Montgomery's best wine come from Soucie Vineyard; on a classic Mokelumne River AVA site north of Turner Rd. and at its far western edges along the Delta, which channels a cool flow of air leading to some of the region's most intense Zinfandel grapes.
Soucie may yield killer Zinfandel, but working with it, according to Montgomery, has never been a b-word. "Every year for the first nine months," he says, "Soucie goes from weird, with funky, earthy, loamy tastes, to just plain nasty – green, vegetal, stinky. The '07 was exactly like that." What wines like this require, says, Montgomery, is "a lot of faith – just knowing that it's eventually going to turn into something special.
Søren Kierkegaard, a famous nineteenth century existentialist, always use to talk about how a well reasoned religious faith requires "long, dark nights," "leaps of faith," and not a little "fear and trembling." With about 75% of his yearly production riding on a wine that's usually tasting either weird or nasty in the winery, you would have to say Montgomery traffics in a similar brand of radical trust.
But look at where the 2007 m2 Soucie Vineyard Old Vine Lodi Zinfandel ($28) is today: a dense, lush, full and perfectly rounded Zinfandel with gloriously soaring raspberry/blackberry/smoky spiced aromas and flavors. The earth tones are still there, of course, lurking in the background; and this, according to Montgomery, "is the distinct flavor of Soucie – its terroir. The aroma is always a little earthy or mushroomy, and the spices are take on those mineral qualities, which are always sweet, like onions cooked in a stew of roast beef. You always find a little of this in Michael~David's Lust Zinfandel as well, because most of that usually comes from Soucie."
Montgomery was able to double production (from 300 to about 600 cases) of the following vintage, currently in release: the 2008 m2 Soucie Vineyard Old Vine Lodi Zinfandel ($28), which is shooting out penetrating perfumes of dark chocolate coated blackberry and raspberry fruit. Its feel is round, cushiony, medium-full, and jammy with rich berry flavors, in dramatic contrast with muscular tannin and oak underpinnings. But again, lurking in the background, are those herbal, mushroomy, earthy aromas: the distinctive taste of Soucie, what makes it different than most other Zinfandels grown in Lodi.
The story of m2's Soucie bottlings also involves its grower: Kevin Soucie, whom Montgomery met "pretty much by accident" eight years ago, when m2 (founded in 2000) was just getting started. Montgomery's fruit comes from the original 6 acre block planted by Kevin's grandfather, Edward Soucie Sr., in 1916. It's taken a few years, but in 2010, m2's eighth vintage working with these thick trunked, gnarly head trained vines, Montgomery's relationship with Soucie evolved to a point where both grower and winemaker also learned to put more of a radical trust in each other. Enough, that is, to perform an experiment: Soucie took two of the best rows and aggressively thinned clusters and shoots to reduce yield to about 2 tons/acre, which is approximately half of what the vines have been historically accustomed to producing.
"The problem with pushing a vineyard like this by dropping too much fruit," says Mr. Soucie, "is that it's likely to ripen three, four weeks earlier than it usually does – we wouldn't get the hang time needed to get fully ripened grapes." Or would you? As it were, Lodi's 2010 vintage was marked by the coolest weather in memory – extending ripening and generally fostering picking at lower sugars and making hang time not so much an issue – and from the moment that grapes from Soucie's experimental rows hit m2's little macrobin fermentors, Montgomery has been as giddy as a little boy with brand new choo-choo toys.
In a tasting of the lower yielding Soucie Zinfandel batch this past December, the wine was showing, in Montgomery's words, "sweet, gaudy fruit, like that velvet painting of Elvis that you can't help gazing at." To our taste, the wine was dark – more deeply pigmented than any of Montgomery's other batches of Zinfandel – and the flavors luscious with brambly Zinfandel berryishness, draping across the palate like swaths of, yes, velvet. And again, lurking beneath that unbridled intensity: loamy, earthy characteristics; but instead of the "nasty green" notes of previous vintages while in their unevolved states, elements of terroir coming across more like an organic, dark brown, forest floor leafiness.
"It's a raw, angry wine right now, as strange as a Soucie has ever been," says Montgomery, "but I learned long ago not to worry about any of that. I'm pretty sure it's going to be the best wine we've ever made. That's why I've been pretty hands-off with it from the beginning, and it's going to spend most of its time in new, double sized, American hogshead barrels – so it will get the richness of new wood, but in much more subtle degrees than it would in normal 60 gallon barrels.
"For now, I'm calling this special cuvée of 2010 our Select Zinfandel," says Montgomery; adding with a mischievous grin, "it will be our answer to Lust, more outrageous than Outrageous… not Serious, but Seriously!" Longtime followers of m2's universally acclaimed wines, of course, will need to wait at least another year and a half before the Select graces our tables. Oh, those long, dark nights!
Comments