Letters from Lodi
An insightful and objective look at viticulture and winemaking from the Lodi
Appellation and the growers and vintners behind these crafts. Told from the
perspective of multi-award winning wine journalist, Randy Caparoso.

July 3, 2015 | Randy Caparoso
Sensible wines for summer barbecues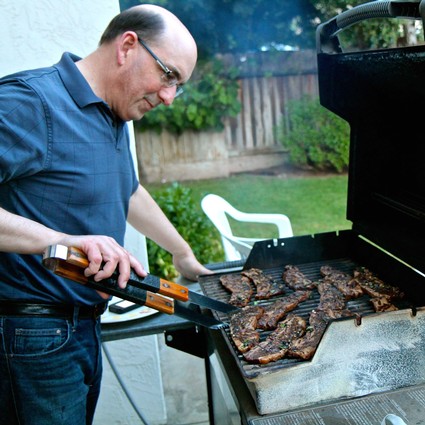 Lodi's Jon Bjork grilling up some Korean style short ribs
Who doesn't associate summer with barbecue? It's an American thing, but you might also consider it a return to primal instincts. "Ugh, me Tarzan, you Jane, we smoke ribs and drink Zinfandel tonight."
Over the years we have gathered perfectly intellectual thoughts on the art of enjoying barbecues with wine. Not. It's really more of a sensory thing – you feel what are the best wines for different barbecues, you don't think it.
And heat has a lot to do with it – heat from spices in the dry rubs, marinades or sauces, or heat from the summer sun beating down on our necks and causing us to think, "Ugh, must hydrate... preferably with good wine."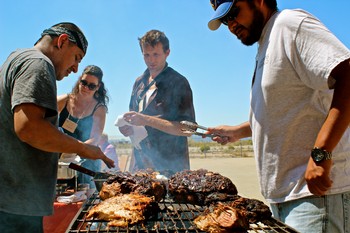 So here are some logical thoughts based upon many summer moons of experience:
Smoky pulled pork or baby back ribs in barbecue sauces
Grilled, smoky pork with classic tomato based barbecue sauces – laced in combinations of vinegar, brown sugar, honey, onions, mustard, and often, chili spices, liquid smoke, Tabasco, Worcestershire and, of course, good ol' ketchup – are not exactly the ideal ingredients for refined, delicate wines like Pinot Noir, or powerful yet elegant, pinky-pointed wines like Cabernet Sauvignon.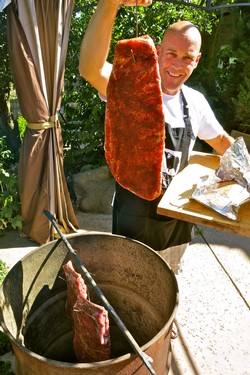 When it comes to fatty, aggressively seasoned pork, the simplest solutions are usually the best. We douse our fatty, smoky, baby back ribs or pulled pork with strongly sweet, sour, spicy tastes simply because we like it that way. Hoity toity wine lovers might consider this vulgar, but you know where they should go.
So read our sticky lips: The best wines to drink with pulled or barbecued pork are those that have just enough tannin to digest the fatty meat, yet easily absorb, wash down and smooth over all those wet, sweet, piquant sensations. Like a good, soft, easy drinking Zinfandel – especially Zinfandels grown in the Lodi Viticultural Area.
You may now be thinking: Of course we say Lodi Zinfandel, because this is a lodiwine.com post. But think again. Where are the softest, fruitiest, most easy drinking Zinfandels grown in California? That's right – Lodi. Our moderate Delta climate and sandy soils are more conducive to those styles. No, they're not as big and thick in tannin and alcohol, or as concentrated in jammy varietal fruit, as many Zinfandels from, say, the coastal regions of Sonoma and Napa. Nor do they have the delicate, perfumed spice of Zinfandels grown on the volcanic slopes of the Sierra Foothills.
Lodi's Zinfandels are more naturally gentle, lush, and more often than not, a little earthy (in a loamy, organic sense), whether you prefer this style or not. Which is why they are ideal in the context of barbecued baby back ribs or pulled pork in all those iterations of zesty, sweet, smoky, spicy sauces. Softer, fruitier styles of Zinfandels are simply easier to drink with sweet, smoky summer barbecues.
And here's the thing: It doesn't have to be the most expensive Zinfandel. Zinfandels in the higher price points (say, $32 and up) are usually oakier (since winemakers have the compulsion to age their "best" wines in brand new oak barrels, thinking that that's what big spenders want), and also invariably fuller in alcohol, tannin and fruit concentration. Yet the best Zinfandels for saucy pork barbecues are invariably the softer, lighter, easy-to-drink Zinfandels – and those are the ones that usually cost less than $18!
But what happens when the weather gets especially hot, and red wines are suddenly not-so-palatable? You cannot be afraid of resorting to one of two things:
1. Chill your Zinfandel down a little bit (which is why they softest, least expensive, fruit focused Zinfandels are the best, since red wines with less tannin can take more of a chill, or even an ice cube or two in the glass).
2. Go to super-chilled, dryer styles of White Zinfandel, such as McCay Cellars or Turley Wine Cellars' White Zinfandel ($18), or else Stama's Dry Rosé of Zinfandel ($14).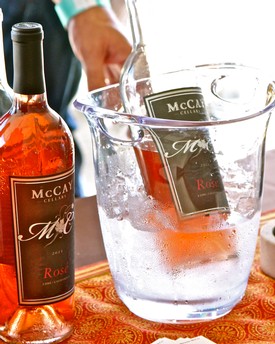 In fact, it doesn't have to be a pink wine made from Zinfandel. There is now a bevy of dry rosés made from numerous grapes (especially Grenache, Barbera or Sangiovese) now being made in Lodi that are ideal with barbecue sauced ribs or pulled pork on a hot day – hard to go wrong with the first class dry pink wines made by Bokisch Vineyards, Klinker Brick, Estate Crush, Borra Vineyards, LangeTwins, Harney Lane, or Onesta.
Slabs of dry rubbed ribs
As we all know, the most finicky of barbecue lovers are the devotees of the fine art of dry rubs: Ribs lovingly caressed in variations of paprika, onion powder and cayenne, and taking it from there), and then slow roasted, smoked or grilled to achieve further complexities of char, smokiness and caramelization.
Again, this is a job for Zinfandel; although here, the idea of a pricier Zinfandel that has spent a little more time in new oak – thus, attaining a slightly smokier, pungent quality – is not such a bad idea. It's a matter of smokiness – smoky foods like a good, smoky wine – plus the fact that more concentrated Zinfandels have an affinity with sweet, caramelized, complex tastes.
So now we're talking about, say, trading up from a Michael David Winery 7 Deadly Zins ($16) to a Michael David Winery Earthquake Zinfandel ($28); from a Jessie's Grove Earth, Zin & Fire ($12) to a Jessie's Grove Royal Tee Vineyard Zinfandel ($32); or from a Harney Lane Lodi Zinfandel ($22) to a Harney Lane Lizzy James Vineyard Zinfandel ($35).
Thick, meaty, dry rubbed slabs of ribs are also a natural for wines with slightly more tannin to absorb the fat and soften the slightly bitter sting in dry rub spices. If you're thinking of Petite Sirah (especially those of Mettler Family or Michael David's Earthquake), you are entirely correct; although Syrah (Fields Family, Klinker Brick and Michael David's 6th Sense are among Lodi's best Syrahs), which tends to be more perfumed and spicy in the nose, might be an even better idea.
Wait, there's more: Lodi also specializes in a few "alternative" style varietal reds that, similar to Zinfandel, are moderate in tannin and high in various fruit expressions: red wines made from grapes like Graciano, Tempranillo, Carignan and Grenache are ideal. Even Lodi style Barbera (such as St. Amant and Oak Farm Vineyards) tends to be softer, with a little bit more sexy curvaceousness, than Barberas grown in other regions; thus, ideal for dry rubbed barbecue ribs.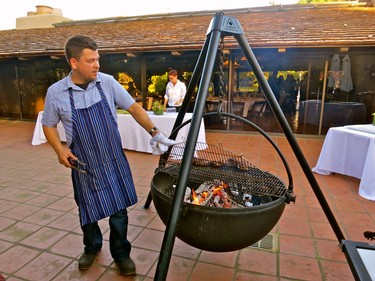 Bodacious barbecued chickens
Southerners like to throw their whole or half chickens on the grill or into smokers or Big Green Eggs after rubbing them with salt, pepper, paprika, cayenne, white or brown sugar, dry mustard, garlic and onion powder. The slower the roast, the more inundating the nostril tingling taste of smoke and spices, especially when served with bodaciously sweet, sour, spicy, savory barbecue sauces.
The Hawaiian or Asian styles of chicken calls for charcoal grilled or smoker cooked chicken marinated in mixtures of soy sauce, lime, ginger, brown sugar or honey, and a touch of cayenne or sambal, then generously rubbed with rock salt .
Whatever which way, these aggressively flavorful styles of chicken are an easy match with softer styles of red wine teeming with perky, zesty fruit, with or without subtle notes of sweet/toasty oak: Zinfandel again, although red berry/cherry scented Primitivo (a clonal variant of Zinfandel), Grenache or Sangiovese also fit the bill.
But when it comes to smoky, saucy styles of chicken, do not underestimate the usefulness of traditional Chardonnay – especially those highlighted by subtle oak qualities, such as those of Lodi's Harney Lane, Oak Farm, Watts' Upstream, Borra, Stama or Van Ruiten Family. Although vinified with less oak, Lodi grown whites made from Vermentino (look for Uvaggio's or Borra's) have the fleshy qualities that easily absorb smoky styles of chicken, with a natural varietal minerality that adds another dimension to the taste.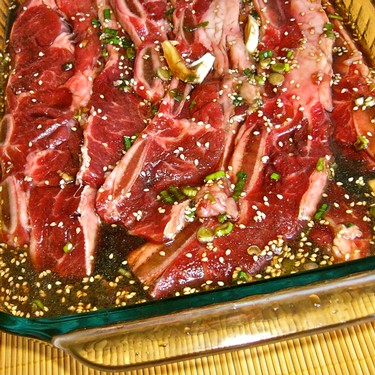 Marinating Korean style shortribs (kalbi)
Soy based Asian style marinades
Japanese teriyaki, Mongolian and Korean style barbecues usually involve either thinly sliced beef flank or sirloin, or (in the case of Korean kalbi jim; see recipe below) slimly cut short ribs of beef.
But the magic is in the marinades of soy sauce, garlic, ginger and generous doses of sugar (you need the sweetness to balance out the saltiness of soy sauce). After that, the variations are endless – additions of beer, chili spices, sesame seeds, Worcestershire, hoisin, pineapple, saké, rice or white wine vinegars, mustards or wasabi, ponzu or yuzu, star anise, green onions or mint… you name it, it's been done.
Since soy sauce is basically a salty/umami sensation, you find the best balance in a naturally crisp, light or medium bodied white wine that either hints at or contains tiny bits of residual sugar in its fruitiness. Borra Vineyards winemaker Markus Niggli now makes a variety of such off-dry white wines from German and Austrian grapes under his markus label; although the dryer, perfumed, pure fruit focused whites of Bokisch Vineyards (made from grapes like Verdelho, Verdejo, Garnacha Blanca and Albariño) or Acquiesce Winery (Grenache Blanc and Viognier) are also surprisingly good with Asian influenced marinated grills.
Soft styles of reds with unabashed fruitiness, of course, are also an easy match with Asians style grills. The use of ginger and mustards seem to bring out the intrinsic peppery spice of varietals like Zinfandel, Grenache and Petite Sirah; while the tannins are easy enough to smooth over sweet/salty sensations in the marinades. Ultimately, it never really is a matter of what is the "best" wine for certain types of barbecue. The reality is, you inevitably find that one wine goes great for one reason, while a completely different wine goes great for other reasons. It's all good.
But if summer is indeed the time to barbecue, that's when Lodi style wines really start to shine!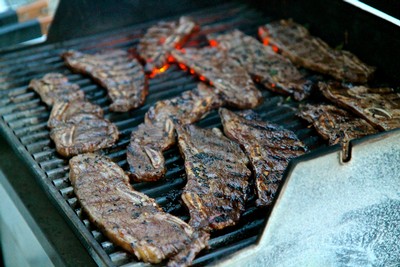 Kalbi (Korean style shortribs) on the grill
Korean kalbi jim (short ribs of beef)
The thinly butterflied (or "flanken") short ribs preferred by Koreans are usually found in any Asian supermarket. These ribs sear instantly on a grill. The Hawaiian version calls for slightly thicker cuts of beef short ribs (quarter to ½ inch) that can be charcoal or wood grilled, leaving some juicy rareness at the center with caramelized (but not burnt) char on the outside. Also note: Koreans do not usually include ginger, but we have it here because we like its fragrant touch.
5 lbs. beef short ribs
2 cups soy sauce (for a milder, less salty marinade, use Hawai`i's Aloha brand)
1 cup white sugar ¼ cup sesame oil
4-6 garlic cloves (pressed or rough chopped)
¼ teaspoon black pepper
1 teaspoon ginger (grated or julienned)
3 tbsp. green onions (finely sliced)
1 tbsp. toasted sesame seeds
Place ribs in Pyrex or Tupperware deep enough to marinate (zip-top plastic bag also works). Mix all ingredients in a pan and warm until the sugar melts, then cool. Pour marinade over ribs, reserving ½ cup on side, cover container and place in refrigerator for at least 4 hours (or overnight), turning occasionally to make sure all ribs entirely marinated. Grill the ribs, moderating the flames and turning a couple of times to avoid sugar burning; brushing with reserved marinade. Open bottles of Zinfandel, and enjoy! Serves 6-8.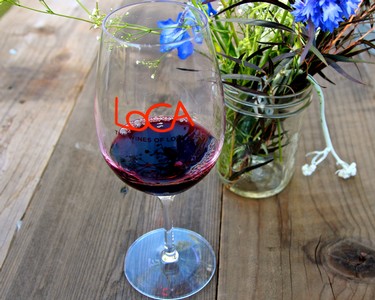 Comments