Letters from Lodi
An insightful and objective look at viticulture and winemaking from the Lodi
Appellation and the growers and vintners behind these crafts. Told from the
perspective of multi-award winning wine journalist, Randy Caparoso.

December 4, 2012 | Randy Caparoso
Lodi's winemakers analyze 12 of their top 2010 Zinfandels
What happens when you take 11 of Lodi's best winemaker/growers, and sit them down at one table to blind-taste their own Zinfandels?
In early November we did exactly that, in the Cellar Room of Lodi's posh Wine & Roses Hotel & Spa. Our focus was on Zinfandels from the 2010 vintage: a year that has been characterized by more than a few winegrowers as very "North Coast" – meaning, a year of significantly cooler than normal weather throughout the growing season (only one day hitting 100° F. – fewer than what Napa Valley experienced in 2010).
As a result, Lodi's 2010 Zinfandel crop was able to mature with optimal balance of sugars, acid, pH and the phenolics contributing to flavor. Unperturbed by rain, heat, or any of the other curves usually thrown by Mother Nature, growers were able to harvest pretty much at their leisure, anywhere from mid-September to early October.
Another thing to be said about Lodi's 2010 Zinfandels: while products of a cooler climate year, these are not exactly gentle, lightweight, "finesse" style wines. In fact, many of the top bottlings have been ferociously big and intense – some scaling 16%+ alcohol, and others falling in the upper ranges of 14% – albeit with a natural balance of zesty acidity and firming tannins.
We tasted a total of 12 Zinfandels from the 2010 vintage. One of the vintners – Tom Hoffman, owner/winegrower of Heritage Oak Winery – was not able to make the tasting; but our tasting panel was filled out by Camron King (Executive Director of the Lodi Winegrape Commission), Didier Gerbi (Executive Chef of Wine & Roses' Towne House Restaurant), and Jon Bjork (longtime Lodi wine industry insider, formerly known as The Lodi Wine Guy).
The wine producers sitting at the table included
One caveat, before diving into details: don't be fooled by the 1, 2, 3 ratings. 8 of the 12 wines received at least one "first place" vote because, in fact, each and every one of the Zinfandels in this tasting was of absolutely outstanding quality – any Zinfandel lover would die to be able to enjoy any one of them, on any given night.
Hence, our notes on the wines, listed in the order in which they were ranked by the winegrowers themselves. Although it obviously came down to personal preference, it gives you an interesting snapshot of the way the producers themselves are looking at Lodi grown Zinfandel, at least at this particular point in time: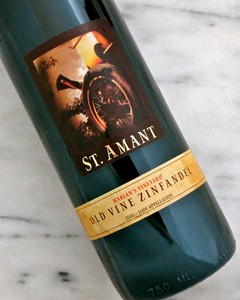 1. 2010 St. Amant, Marian's Vineyard-Mohr-Fry Ranches, Lodi Zinfandel ($24) – The 8.3 acre heart of the Fry family's vineyard – planted in 1901, just south of the town of Lodi – has long been affectionately known as a "mother of all vines" within the region, and so it was no surprise that collectively it still gets a lot of love among winemakers, even in blind tastings. This was an black-purplish, intensely concentrated wine; big, thick, yet perfectly scaled – its lush, exuberant blackberry jam flavors revved up by zesty acidity, welling up from a bed of tannin. Chad Joseph, Tim Holdener as well as Todd Maley noted the "sweetness" of the Marian's "ripe flavors." Mr. Colarossi thought it could be "too jammy" for some people; but judging from its high rating, all the vintners generally agreed with Mike McCay, who described it as being like "the pretty girl at the party, always surrounded by the most men… falling on the sweet side, but very well rounded… nicely done."
2. 2010 Harney Lane, Lizzy James Vineyard, Lodi Zinfandel ($33) – This is a classic, east-side Mokelumne River AVA planting, with mixed-aged vines (at least half the vineyard consisting of plants dating back to 1904) sitting on soil so deep and sandy, it looks like a tropical beach even on the rainiest days, when you can see the water quickly sink between the grains (by way of contrast, this past week it was impossible to walk through Soucie Vineyard, located on the west-side – you would have immediately sunk to your knees in the rain soaked loamy sand). The nose is purely of the varietal – sweet toned (black cherry, veering blackberry), touched up with exotic spice (sweet cardamom, cinnamon and cracked pepper notes) – and on the palate, its medium-full body avoids a ponderous feel, couching the varietal berryishness in taut, concentrated, zippy qualities, even while wrapped in youthful tannin and sweetly vanillin French oak nuances. Steve Felten lauded the Lizzy's "balanced, full structure and tannin, with just the right amount of oak," while Chad Joseph (Lizzy's winemaker of note) described it has having the "fullest mouth-feel, out of all the other wines" – despite the wine's middling size (alcohol in the upper 15% range).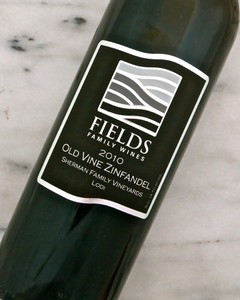 3. 2010 Fields Family, Sherman Family Vineyard, Lodi Zinfandel ($24) – This wine was unique in this tasting in that it is sourced from co-owner Ryan Sherman's vineyard, located north of the town of Lodi on Woodbridge Rd. (that is, falling between the east and west sides); and also because it was blended with smidgens of Carignane and Petite Sirah (all the other Zinfandels in this tasting were 100% varietals, more typical of Lodi). It was also the oakiest – its smoky/charred, roasting coffee aromas suffusing ripe, black cherry/raspberry fruit in the nose, extending through a medium to medium-full body, tightly wound around a wiry core of tannin. Said Mr. Montgomery, "I liked the texture and feel – it's pretty solid, with a lot of fruit, despite the oakiness." Mr. Joseph found the "toasty" oak to be "a little dominant," yet noted that the oakiness was not so prevalent in the palate, where he found the wine to be "nice, savory, well balanced."
4. 2010 m2, Select Block-Soucie Vineyard, Lodi Zinfandel ($59) – m2's production is small enough (less than 5,000 cases yearly), but only 98 cases of the "Select Block" were produced from this classic, own-rooted, far west-side Lodi vineyard, originally planted (and still farmed) by the Soucie family in 1916. Soucie fruit has also always been the dominant component in Michael David Winery's most prestigious bottling (their Lust Zinfandel, also selling for $59). The color of m2's stains the glass with dark red and black-purplish hues, and the nose and flavors are equally concentrated: lush, nostril tingling, wild raspberryish fruit tinged by smoky spices (cracked pepper and incense notes, underlain by organic, loamy-earth tones); generously oaked (completely soaked in by the powerful fruit), and densely packed into a teemingly full body (over 16% alcohol) – this cuvée would have been more descriptively called "relentless," if a famous Napa Valley winery hadn't already taken that name. Chad Joseph heaped praise, citing its "real Zinfandel ripeness, without being raisiny," while Todd Maley noted the "sweetness in the nose" as well as whispers of "residual sugars" on the palate.
5. 2010 Macchia, Serious Lodi Zinfandel ($50) – No one specializes in single-vineyard Lodi Zinfandel bottlings as extensively as Macchia's Tim Holdener; and his yearly assemblage of Serious is actually composed of the 10 best barrels in his entire cellar, regardless of site. As you would expect, it ends up being a winemaker's wine: an essence of Mr. Holdener's personal style, which is distinctly textural – in this case, extremely, unmitigatingly velvety – and multi-layered, with big, sumptuous, almost decadently rich varietal fruit qualities doled out in dramatic dribs and drabs, popping up between waves of sweet oak, tightening tannin, and bracing acidity. Layne Montgomery, who prefers a more gripping style of Zinfandel, found the "oily glycerol" qualities of Serious "a little too much" for his own taste. Chad Joseph praised the "synergy between oak and fruit," while David Akiyoshi lauded the wine's "intensity," remarking on how it "packs a wallop of vinous, perfumey, smoky fruit."
6. 2010 Klinker Brick, Marisa Vineyard, Lodi Zinfandel ($30) – Marisa is an unusual east-side Mokelumne River vineyard – located along the same stretch of Victor Rd. plantings where the soils are the deepest and sandiest – in that half of its 85 year old vines are made up of Zinfandel planted on its own roots, and the other half is Zinfandel grafted by the Feltens onto ancient Flame Tokay rootstocks some 25 years ago. Out of all the Zinfandels in this tasting, it may have also been the most feminine, but in a curvy and voluptuous rather than waif-like sense: sweet cassis (i.e. blackcurrant liqueur-like), raspberry and vanillin perfumes, with almost flowery, fragrant qualities, and a lithe medium-full body filled out by vivid varietal flavors, riding on a pert edge of acidity and moderated tannin. Derek Devries also commented on Marisa's "soft, balancing tannins," coupled with "nice, cedary oak notes, matching the fruit," whereas both Stuart Spencer and Chad Joseph found its oak qualities to have more of a "piña colada-like" or "coconut" character, respectively. Chef Didier, perhaps, gave a more telling description – saying that if most of the wines in this tasting came on strong like the "Rolling Stones," the Marisa was more "like the Beatles."
7. 2010 McCay, Contention Lodi Zinfandel ($64) – This is the first of McCay's vintages vinified from scraggly 64 year-old west-side Mokelumne River vines, located just east of the railroad tracks crossing through Kettleman Lane. This growth typically produces a luscious, fruit forward styles of Zinfandel; its deep, yet rounded, faintly loamy, dried herb, twiggy characteristics restrained by Mr. McCay's instinct to avoid over-the-top jamminess or excess alcohol (he is usually among the first to pick his Zinfandel each year in Lodi). Nevertheless, the 2010 Contention soars with almost decadently rich, full court, effusive fruit — almost, un-McCay-like. Stuart Spencer liked its "minty-eucalyptus notes," and while Ryan Sherman thought it "structurally linear," this was another one of the food conscious Chef Didier's "favorites." Although its French oak qualities seemed subtle enough (definitely not charred or toasty), both Chad Joseph and Layne Montgomery found the oak be a little on the "sweet side" – undoubtedly, manifestations of the wine's youth, rather than an intrinsic excess.
8. 2010 Michael David, Earthquake Lodi Zinfandel ($26) – In recent years this winery's Earthquake bottlings have come to personify the big, dark, chunky, ultra-ripe and smoky oaked style of Lodi Zinfandel. There is good news, however, for those who are finding this style to be a little dated: the 2010 signals a Bonaparte's Retreat from this now-contentious approach. Oh, the hunky body (scraping up against 16% alcohol) is still there, but the oak is no longer predominant. Instead, the 2010 shows a profusion of black fruits (blackberry, plum, chocolate coated cherry) with more nuanced notes of spice and toast, adding a sense of luxury rather than portliness (as winemaker Adam Mettler puts it, "we're not using more oak these days, we're using higher quality oak"). The feel in the mouth is round, fleshy, and filling without being harsh or lumbering. Says Jon Bjork, "this is really good, clean, focused, balanced style of Zinfandel," and Steve Felten concurred, finding "just the right amount of oak and balance in the structure and tannin." Chad Joseph noted that "out of all the wines, this seemed to have the fullest mouth-feel." Even so, says Joseph, "it is fleshy and supple," echoing Mr. Akiyoshi's observation of it being "thoroughly enjoyable, even for an extracted, big alcohol style."
9. 2010 Maley Brothers, Lodi Zinfandel ($18) – Located only about a mile from Soucie Vineyard on Lodi's west-side, this vineyard – planted by the Maley family on St. George rootstocks in 1958 – yields wines sharing many of the same qualities associated with Soucie: lusciously rounded, floral scented fruit (what Tim Holdener describes as "voluptuous"), underlined by distinctively earthy, mushroomy, organic qualities. In the 2010, the fruit is flush with raspberry jam, plush and easy on the palate, finishing soft yet long and fluid. Ryan Sherman found the earthy notes to be "a little funky, in a James Brown sort of way." Chad Joseph (who crafted this wine for grower Todd Maley) described it as "fleshy at first, then a little fat towards the finish."
10. 2010 LangeTwins Family, Lodi Zinfandel ($15) – This well priced wine represents LangeTwins' "regular" bottling (they also make a $60 Centennial Zinfandel sourced from a single-vineyard, but their 2010 was unavailable for this tasting). Nonetheless, for what you get, this wine is an incredible value: exuding a boatload of plump, blackberry/black cherry fruit tinged with the peppery varietal spice and subtle oak; plush in the mouth yet sturdy with tannin, intertwining with the generous fruit to finish with a fine, coffee ground complexity. Chad Joseph described it as "elegantly balanced," while Ryan Sherman commented on its "smoky, spicy, minty complexity."
11. 2010 Stellina, Chiara Lodi Zinfandel ($24) – From Bob and Alison Colarossi's vineyard located on Lucas Rd. (on Lodi's west-side), and vinified at their Estate Crush in Downtown Lodi: an extremely feminine, silky, slinky style for the appellation, effusive with sweet blueberry/red berry fruit with violet/floral qualities; its lush, velvety qualities anchored by firm yet low key tannin. Both Steve Felten and Stuart Spencer noted its "lighter" weight, supported by an appropriate amount of "lower oak" qualities. Todd Maley found it to be "a little light" – but in comparison to the big, muscular styles of Zinfandel dominating this tasting, it's that very lightness that made it so refreshing.
12. 2010 Heritage Oak, Block 5, Lodi Zinfandel ($24) – In blind tastings – especially involving Zinfandels, which are commonly measured by size rather than finesse – it is the subtle wines that tend to go under-appreciated. But Zinfandel lovers who are unfazed by brute strength would find just as much satisfaction in the sweetly focused raspberry jam qualities of this wine, nuanced by fragrant licorice/black pepper spices, while bouncing across the palate with sinewy yet bright, zesty, upbeat qualities. For Chef Didier, "this was one of my favorites," alluding to the "food-friendly" potential of this moderated style.
Comments