Letters from Lodi
An insightful and objective look at viticulture and winemaking from the Lodi
Appellation and the growers and vintners behind these crafts. Told from the
perspective of multi-award winning wine journalist, Randy Caparoso.
May 1, 2018 |
In the Name of Zin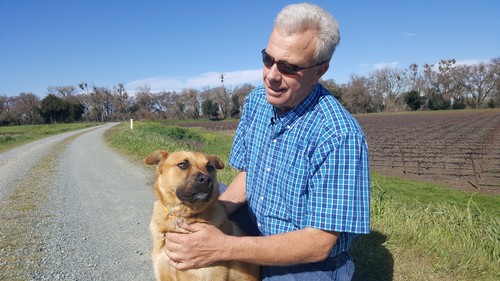 Lodi proudly proclaims to be the Zinfandel capital of the world.
And rightly so.
The Lodi American Viticultural Area is responsible for producing roughly 40 percent of California's premium Zinfandel.
People in Lodi show their Zinfandel pride in several ways.
Pets, license plates, the city's largest annual wine festival and even a local restaurant are named in honor of a winegrape that has been part of the fabric of Lodi for more than 100 years.
On a magnificent estate along the Mokelumne River, a frisky dog runs around, thanks to Lodi growers with big hearts, Barbara and Pieter den Hartog.
Not far from their home, a stray female dog lived inside a culvert pipe in a ditch beside the den Hartog's Zinfandel vineyard. A local woman often saw the dog while on her daily bike ride. The dog acted mean, like she was protecting something. The woman left food and water behind, suspecting there were puppies also living inside the pipe.
She was right.
In time, nine puppies came out of the culvert. The woman found homes for all the puppies and their mother. The den Hartog's adopted one of the pups and named him Zin.
"We went through all kinds of names: Slough, Culvert," Barbara said. "But he ended up being Zin."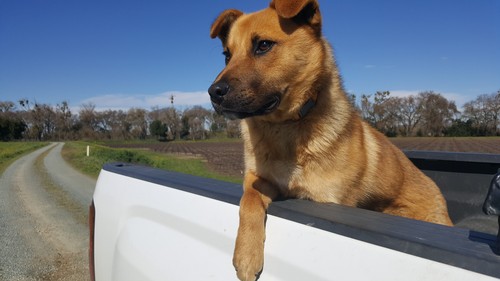 Zin was a mess when he was rescued.
"He was full of ticks and worms," Barbara said. "We got him at six weeks when he was little. We put him in a bucket and started washing him. The whole thing was red and black with fleas."
Several months have passed and Zin couldn't be happier. He hangs out with Pieter on his treks into the vineyards. Den Hartog farms about 1,000 immaculate acres planted to Zinfandel, Cabernet Sauvignon, Merlot, Syrah, Chardonnay, Sauvignon blanc, Viognier and Pinot noir.
"He's very friendly," Pieter said. "I don't take him into town all the time. He doesn't bite but you need to be careful these days."
Zin is a mix. His mother was "kind of a border collie," Barbara said. Barbara and Pieter believe Zin has a little German Shepard, Rottweiler and Labrador Retriever in him, too. Zin has been a nice companion.
"I always used to have Chocolate Labs," Pieter said. "We've had like four or five. The last one passed away a year and a half ago. He was born on the place and I wanted to get another Lab, but (Zin) was right there and he worked out good."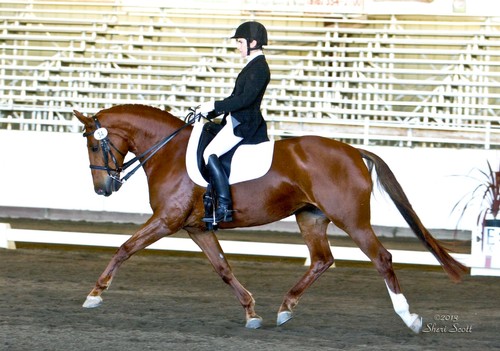 Pieter den Hartog's father played a role in another animal with Lodi ties named for Zinfandel. Pieter's father, a premier breeder of Dutch Warmblood horses in Holland, bred a horse for Charlene Lange of LangeTwins Family Winery and Vineyards.
"She was conceived in Holland and born in Lodi," Lange said. "Pieter's dad came over from Holland to make sure she was good. It was a big deal."
In Holland, Dutch Warmbloods must have a name beginning with the designated letter of the foal's birth year. This helps identify when the horse was born. Lange's foal was born on the family ranch in Acampo during the "Z" year. Lange named her "Zinzanni" for a few reasons: not only did the name meet the Dutch registry requirement, it was a nod to Teatro Zinzanni, a circus dinner theater in Seattle, and because LangeTwins grows and crafts Zinfandel in its diverse lineup of wines.
Zinzanni was long ridden dressage by Alexandra Duarte and is now owned and ridden by Jessica Naten in Wilton.
Horses aren't the only mode of transportation in Lodi named after Zinfandel. Several pick-up trucks and passenger cars cruise the streets and back roads of Lodi with personalized license plates that play on Zinfandel.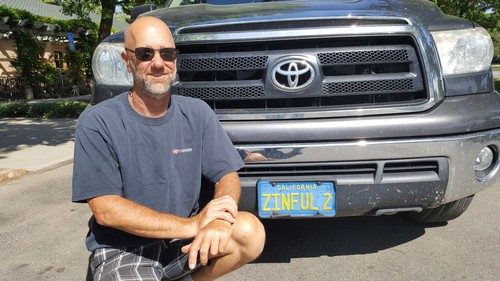 Todd Maley's ZINFUL 2 license plate on his Toyota pick-up once belonged to his father, Joe Maley.
"Two people zinning is better than one, it's more fun to zin with more people," said Todd Maley, explaining what the license plate purchased about 25 years ago could mean. "Lodi and Zinfandel go hand in hand."
Todd Maley is a fifth-generation winegrape grower with family history in Lodi dating to 1864. He farms 250 acres, about half to Zinfandel. Maley's cousins, the Phillips family, have sourced Maley's fruit for Michael David Winery's Lust Zinfandel, a limited production premium wine.
Maley also farms Chardonnay, Merlot, Petite Sirah and Teroldego.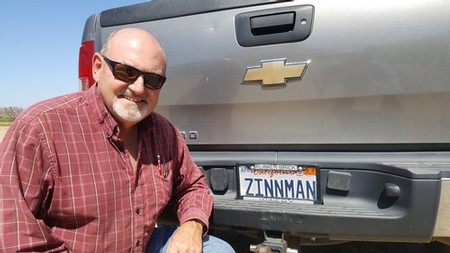 Steve Felten's Chevy pick-up truck has plates that read ZINNMAN.
The plates were a birthday gift from Steve's wife, Lori, and their daughter, Farrah (Jolley).
The plates prompted short-lived controversy.
Steve received a phone call from a stranger shortly after a newspaper article referred to the fifth-generation Lodi winegrower and founder of Klinker Brick Winery as the "Zin Man." The article was accompanied by a picture of Steve's license plate. The caller said he had trademarked "Zin Man."
"No problem," Felten said.
But as far as the license plate?
"I said, 'I'm not getting rid of it,'" Felten said. "I kept the plates."
Lori and Farrah gave the plates to Steve about 18 years ago, just as the family began making wine under their Klinker Brick label. The brand is distributed throughout the United States and several other countries. Recently, Klinker Brick shipped 10,000 bottles of its Old Vine Zinfandel and Old Ghost wines to China for the first time.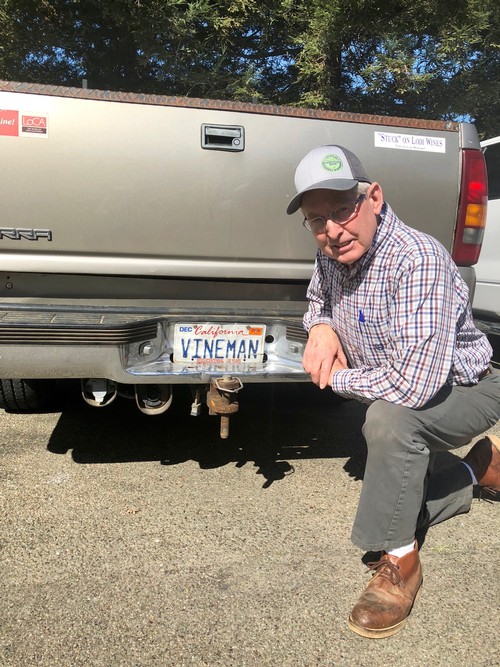 No one yet has objected to grower Stanton Lange having the license plate VINEMAN.
At least no one he's aware of.
There isn't much of a story behind the plate, Lange said.
"It was something that we just wanted to do," said Lange, who owns SC Lange Vineyard Management. "I thought it would be fun to have a personalized plate."
Lange has had the plate for about two decades. He searched DMV records to see which grape-themed plates were available.
"We tried 'zin' and we tried 'grapes' and we tried 'wine grapes,'" Lange said. "Vineman was available and so that's what I did."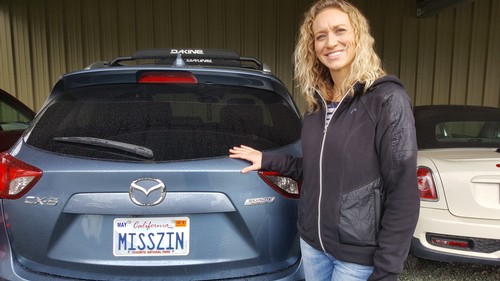 When the McMahan family isn't in the Sierra Nevada hiking or rock climbing, its attention is centered on Macchia, its winery in Acampo. General manager Tanya McMahan and her brother, Tyler McMahan, have license plates with Zinfandel themes.
"We are a Zin house," Tanya said. "We make 10 to 12 Zinfandels. That's our thing, Zinfandel, so when we were looking for license plates, my mom checked for what was available."
Tanya and Tyler's mother, Lani, who owns Macchia Winery, bought MSZIN and MISSZIN. Tanya drives a Mazda CX-5 with the MISSZIN plate, and Tyler has a Nissan Infiniti that his mother used to drive with the MSZIN plate.
Both plates have a silhouette of Yosemite in the background.
"We are all very outdoorsy people, so we have Yosemite in the background," Tanya said. "We were raised going camping or rock climbing. We are a very outdoorsy family."
Tyler said he's looking forward to passing on his plate to his 16-year-old niece, Sierra, so "she can rep the 'Ms' part of the license plate."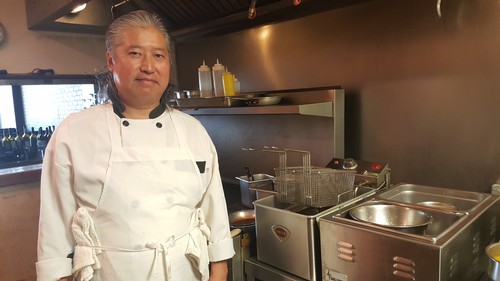 When Melissa and Walter Ng decided to open their own restaurant after managing the food service at the Elks Lodge in Woodbridge for 10 years, they wanted the name to reflect Lodi.
"We named it 'Zin Bistro' because Lodi is the 'Zin Capital of the World,'" Ng said. "And that's why we chose it."
Melissa and Walter offer a bistro-inspired menu and a wine list that includes several selections from Lodi. Walter said local wineries send business his way and vice versa.
"We realized when we moved here that the local wineries were very important," Walter said. "We wanted to keep everything pretty much local."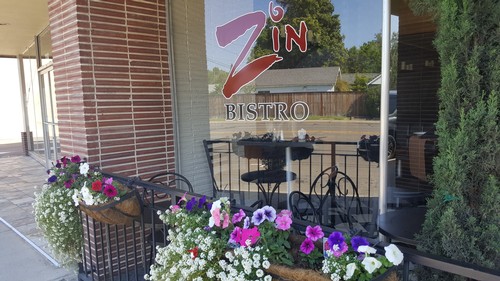 Melissa and Walter built a loyal following working at the Elks Lodge.
"That's how we know a lot of the winemakers; a lot of them go to the lodge," Walter said. "We met the community around there. When we came here, they kind of followed us."
Each year, thousands follow their desire for delicious wine and food to the Lodi ZinFest Wine Festival at Lodi Lake. No other name would fit Lodi's largest annual wine festival. More than 40 Lodi wineries pour a selection of 150 hand-crafted wines, showcasing the area's delicious Zinfandel and dozens of other winegrape varieties from one of the world's most diverse regions.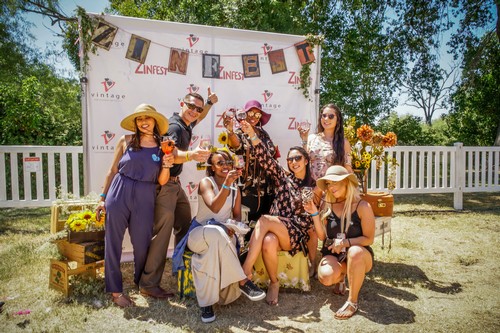 Cooking and Wine classes are a big part of the festival, as well as food from local purveyors and merchandise from local artisans. This year, ZinFest is on Saturday, May 19. For more information, visit zinfest.com.
Zinfandel has a special place in Lodi's history and its growers, winemakers and citizens are proud to show it off.
Comments