Letters from Lodi
An insightful and objective look at viticulture and winemaking from the Lodi
Appellation and the growers and vintners behind these crafts. Told from the
perspective of multi-award winning wine journalist, Randy Caparoso.

March 31, 2016 | Randy Caparoso
Women of Lodi's wine industry: LangeTwins Family's Kendra Altnow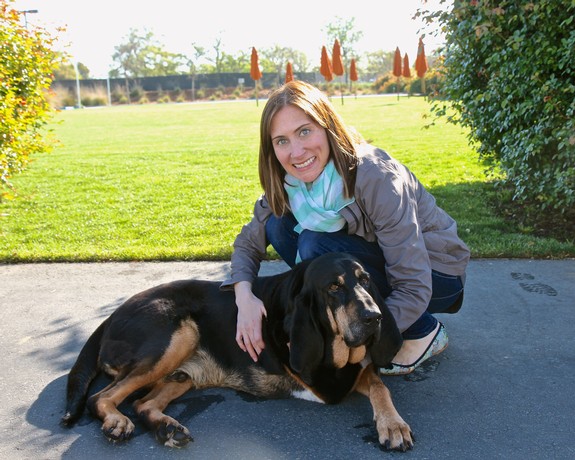 Continuing our series of profiles on the Lodi wine industry's most powerful women, we present to you Kendra Altnow, the Marketing Manager of LangeTwins Family Winery & Vineyards as well as LCF Wines (the latter, a multi-brand product line established by the Lange family in partnership with two other families).
Most Lodi wine lovers are very familiar with the LangeTwins Family brand; headed up by Randall and Brad Lange, who trace their origins in the Lodi Viticultural Region to the 1870s, when their great-grandparents Johann and Maria Lange first established their farm (specializing in watermelons!) with their son Albert. The Lange family began farming grapes in 1916, and since then they have grown into one of the region's largest and most important suppliers of fine wine grapes.
Many Lodi wine lovers, however, may not have caught up to the fact that LangeTwins Family has also expanded to three additional brands – Caricature, Ivory & Burt, and most recently, Sand Point – adding up to some 70,000 cases, all produced in the family's meticulously planned winery located in Lodi's sub-appellation of Jahant, just north of the City of Lodi.
The marketing of LCF Wines, for which Ms. Altnow is also responsible, entails an even larger portfolio. LCF Wines includes another 5 brands – Goosecross, Año Verde, Previous, Downton Abbey, and Assembly – which, like the LangeTwins Family produced brands, are distributed throughout most of the U.S. and in numerous exports markets.
We recently sat down with Ms. Altnow to get the lowdown on the rapid expansion of her myriad projects, and the role she has played in it:
LoCA: Talk a little about your family ties in Lodi.
K.A.: My parents are Brad and Susan Lange, who founded LangeTwins Family Vineyards and Winery with my uncle and aunt. Most of our family has always lived in Lodi – my parents and brother, aunts and uncles, and lots of cousins. My husband and I have a 1-year-old daughter; plus another handful, a 9-year-old black and tan Coonhound.
LoCA: In this day and age where many families are spread wide apart, what is it that keeps most of the Langes in Lodi?
K.A.: Everyone in my family is hardworking and enjoys spending as much time as possible outdoors. We look for new experiences, and we are all dog lovers! Wine and food, of course, are a family passion – from cooking at home to trying out new restaurants, visiting new wineries and wine regions around the world.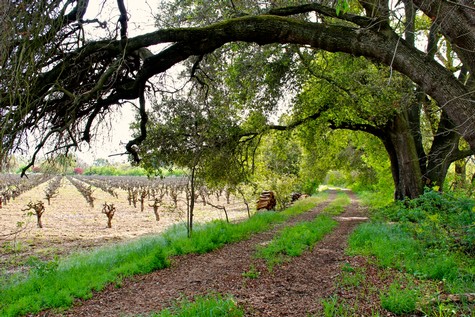 LoCA: Tell us about your own background, and how you came to your position.
K.A.: I graduated from Lodi High; then started out at University of California in Santa Cruz before finishing at Berkeley, majoring in sociology. Afterwards, in 2004, I began work as a marketing intern at Beringer Blass Wine Estates, which is now Treasury Wine Estates. After the intern position, I was offered a position as Assistant Brand Manager on Australian and New Zealand Brands, and then furthered my experience and became Associate Brand Manager on the Beringer Brand. In 2006 I returned home to start with LangeTwins.
LoCA: So somehow you successfully applied your degree in sociology to wine marketing?
K.A.: As you well know, it is always better to be passionate about your job. If not, it's not going to be fun. As a Lange, it's always been easy for me to be passionate about wine. Not only that, here in LangeTwins we always have that family structure. We do things in teams – which is what I also experienced at Beringer. I'm comfortable in close-knit cultures like that. Being a Lange was good training.
LoCA: What's it been like to be part of the building process of the LangeTwins Family brands?
K.A.: Well, it's now been 10 years. Sometimes I stop and think – isn't that crazy? Especially considering the growth – going from a few hundred cases to over 70,000 cases; expansion of a winery with a capacity to produce over 4 million cases; the opening of our hospitality room in 2013.
LoCA: Yet production of wines under the actual LangeTwins Family label has actually remained relatively small. Why is that?
K.A.: Maybe not that small. We started out with about a 1,000-case production; but by 2008 we were already producing about 3,500 cases under the LangeTwins label. The reason why we've been adding bigger production brands is that we want LangeTwins wines to remain our highest quality line – our flagship wines, targeted for on-premise (i.e. restaurant and hotels) markets. Our other brands, like Sand Point, give us the opportunity to focus more on specific price points, like $10.99 to $12.99, sold exclusively in retail and chain outlets – markets that we would never be able to adequately supply under our LangeTwins Family label.
LoCA: What is the significance of the name, "Sand Point?"
K.A.: Sand Point is an actual place – the river basin on the Mokelumne River, just below our River Ranch where I was raised. The label design features a quail on a swing, representing the fun times we had there as kids, as well as the ongoing restoration of the riparian environment our family has been working on. All of the vineyards that were once planted along the river, for instance, have been pulled out, and the land has been restored to its natural habitat, entirely with native plants – a place where native wildlife can come back to live. Sand Point means a lot to us as a family because it holds such great memories, and is still where we also come to play, relax, and enjoy nature.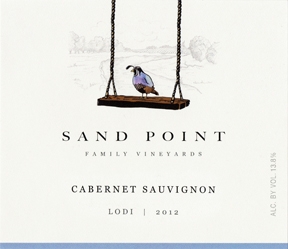 LoCA: How do your differentiate between, say, your Sand Point and Caricature lines?
K.A.: Caricature comes in at a slightly higher price point. Our other brand, Ivory & Burt, is also targeted for retail. Ivory & Burt refers to the names of the owners of Lodi's original general store – it is a celebration of Lodi's history, fittingly produced from Lodi grown grapes. Each brand has its own story, its own unique place, with its own "home" in the marketplace.
LoCA: What are the things that keep the original LangeTwins Family label wines a "cut above?"
K.A.: The LangeTwins Family wines are stylistically different – consisting of more varietals, premium blends, and single-vineyard bottlings, which generally spend more time in oak, except for the Sauvignon Blanc and rosé. These are, really, more from David's world (LangeTwins Family winemaker David Akyoshi). More of a winemaker's wines – he determines the quality and direction based upon the best grapes grown by the family. Production is kept small because, outside of Lodi, this is an on-premise brand, which is is more of a slow-build. It will take time, but we plan to get there.

LoCA: Talk to me about what you actually do as the Marketing Manager of such a wide variety of brands.
K.A.: As the Marketing Manager, my focus is on brand and corporate marketing, advertising, competitions and submissions, and coordination of wholesale compliance in each state. For advertising, for instance, I create the media plan, which is executed in trade and regional publications. I don't travel often – my position does not include actual sales. For market feedback – what is working, and what is not – I rely on the eyes and ears of Randy and Char (her uncle Randall, and his wife Charlene Lange), who head up the sales team. For social media communication, we rely on Joe and Amanda (Ms. Altnow's cousin Joseph Lange, and his wife). I concentrate on the traditional side of marketing.
LoCA: How widely are the LangeTwins Family produced brands distributed today?
K.A.: While we technically sell our brands in 28 states, domestically we are focused primarily on California, Colorado, Texas, and Illinois. We also dabble in many export markets, while focusing primarily on Canada, Hong Kong, China, Japan, Korea, and Guam.
LoCA: So far, what are you loving most about your job?
K.A.: I love knowing that what I am doing is building upon the base that my parents and aunt and uncle started as LangeTwins Family Vineyard Management. Furthermore, knowing that we are providing the same opportunity for the next generation has been equally rewarding. On a day to day level, I love creating the look and feel of our brands, and executing projects that help educate wine drinkers on LangeTwins and Lodi – and of course, tasting wines with our winemakers.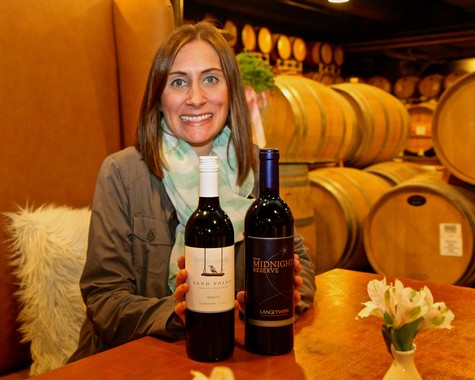 LoCA: Is there one accomplishment you are particularly proud of?
K.A.: Apart from just being able to work with my family, I have to say that I'm especially proud of the Sand Point project. From its launch, we have heard nothing but positive feedback from the story, label design, and wine quality. It was the first new brand development project that I took the lead in bringing a place that our family appreciates to life as a wine brand.
LoCA: Do you have an ultimate goal?
K.A.: I share my family's goal, which is to successfully transition from being a grape supplier and custom crush winery, and ultimately turn every grape that we grow into wines sold under one of our own brands – which is well within the winery's current capacity.
LoCA: The LangeTwins have planned well, but that would be a lot of wine.
K.A.: Yes! But it could be our children, or our children's children, who finally see that. At the end of the day, the goal is to showcase the fruit and vineyards farmed by LangeTwins Vineyard Management. The story of LangeTwins is that we are multi-generational, we are all actively involved, and that it all starts in the vineyard.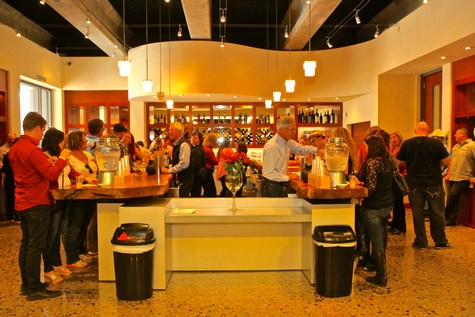 LoCA: Through your work, what are you hearing people out in the market saying about Lodi grown wines?
K.A.: Just a couple of weeks ago I was listening to a podcast mentioning there are people who aren't hip to Lodi, but also people who personally don't understand why Lodi has the negative reputation it generally has. This is only one example of what we are hearing. Increasingly, people are questioning Lodi's stereotype and trying wines from the region, and seeing that Lodi is crafting wines of quality that can stand up to other appellations. The simple fact that the Lodi appellation was recently awarded the Wine Region of the Year by Wine Enthusiast illustrates how minds are finally changing.
LoCA: Where do you envision yourself 10 to 20 years from now? K.A.: I will be living in Lodi and working with the family. I'm sure that I'll be looking back at the progress we have made, and looking forward to continuing it. I will be raising a family, enjoying every moment of time I have with them; trying my best at setting an example of work/life balance – working hard and having fun along the way, just as my parents did for me.
LoCA: Where do you envision Lodi as a wine region and community 10 to 20 years from now?
K.A.: In 10, 20 years Lodi will unquestionably achieve the solid reputation it deserves, and will be recognized by wine drinkers and industry colleagues as an appellation with innovative winegrowers and vintners with the highest quality vineyards and wines. The community will have grown to host the growth of tasting room visitors who are looking for the finest wine region experience; yet still with that down-to-earth atmosphere that visitors find today.
LoCA: What kind of advice would you give to younger women who might be interested in working in the wine industry?
K.A.: Simply, that if you are truly passionate about wine, you will enjoy working in the wine industry – and will undoubtedly succeed.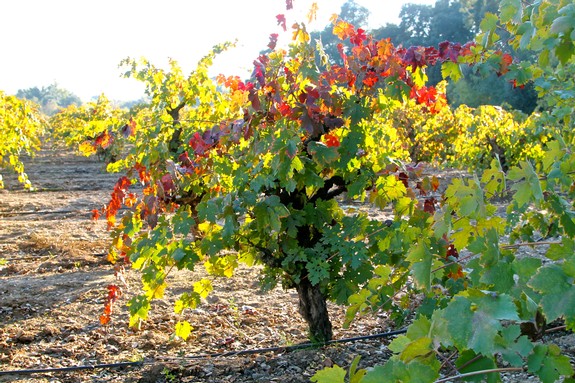 Comments