Letters from Lodi
An insightful and objective look at viticulture and winemaking from the Lodi
Appellation and the growers and vintners behind these crafts. Told from the
perspective of multi-award winning wine journalist, Randy Caparoso.

March 22, 2016 | Randy Caparoso
Women of Lodi's wine industry: Janis Barsetti Gray of Barsetti Vineyards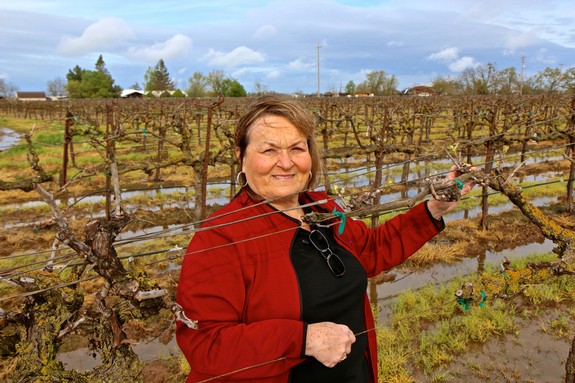 In the second of our profiles of the Lodi wine industry's most powerful women, we are proud to hold up Janis Barsetti Gray as one of our more admired figures – a story about one woman's lifelong devotion to her family's farming heritage. A story about Lodi.
Ms. Barsetti Gray is the owner and CEO of Barsetti Vineyards, as well as a third generation Lodi farmer. Her family's local history can be traced back to her grandfather Gottardo Barsetti, who first came from Switzerland in the early 1900s to establish a farm in nearby Herald (Sacramento County). In 1912 he settled in the Galt area, just north of the City of Lodi. In 1941 he joined forces with his son Henry Barsetti to purchase a 340-acre Barsetti homestead, where for many decades the family raised beef and dairy cattle, and grew crops like alfalfa and corn. The property, which stands at 120 acres today (including 117 acres of planted wine grapes), now falls within the Lodi sub-appellation known as Jahant.
After graduating from Galt High in 1968, Barsetti Gray embarked on a long, successful career (over 35 years) with Hertz Corporation. In 1980 she married a United Airlines man, Richard Gray, who worked for 34 years in SeaTac (Washington), even while Janis stayed on in California, working for Hertz while helping with the family business. Mr. Gray passed away in April 2015.
The Barsetti Vineyards Lodi Zinfandel, it should be mentioned, has always been one of Lodi's brightest, sleekest, most fragrant expressions of the grape – absolutely first class, especially considering its amazing price ($13). A zin lover's zin. Among several other wines, Barsetti also produces one of the region's few Lodi appellaton Pinot Noirs; plus a lusciously sweet Barsetti Dolce Maria dessert wine, which has been a consistent award winner (garnering a silver at the 2015 California State Fair). The wines are custom crafted for Barsetti Gray by Steven Ehlers Sr. of Lodi's E2 Family Winery.
But like many of Lodi's growers, Barsetti Gray's vineyard exists primarily to supply one of California's big volume producers. However, the Barsetti Vineyards tasting room, located in Old Town Galt, goes a long way towards helping Ms. Barsetti Gray keep her pulse on the local community in which she grew up and has lived her entire life.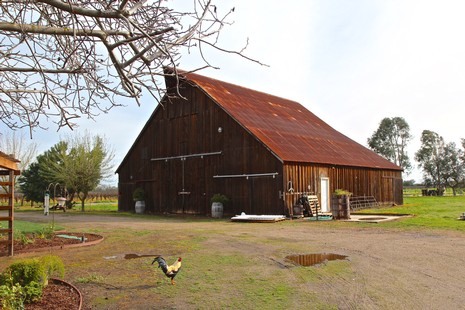 Our conversation:
LoCA: Why have you always kept your roots so firmly in Galt?
J.B.G.: Galt is my hometown. The people who patronize our tasting room are "my crowd" – people I went to school with, or people who have become close friends after discovering our wines and tasting room. We always have live music, played by local musicians, every Friday and Saturday night. We sell our Barsetti wines wholesale to numerous grocery stores, and directly to a few restaurants. But I love the idea of sharing our wines with friends right here in Galt. Here I can also maintain my involvement in our vineyard operation, on the same property purchased by my father and grandfather in 1941.
LoCA: Please talk more about what inspired you to enter the wine business as a grower and producer.
J.B.G.: My late husband Richard really was the one who had the vision of us going into wine grapes and starting a winery many years ago. I didn't actually retire from Hertz until 2008. I spent most of my time there as a Senior Manager at Sacramento International Airport. Richard worked hard to help put Barsetti Vineyards together; and once I retired, it was an easy fit for me. I owe a lot to Richard, who believed in me and my abilities to run a business.
LoCA: What about your own family?
J.B.G.: Richard and I did not have children, but we have family here. My niece, Allison Barsetti is my tasting room manager; and my nephew, Matt Barsetti, is a probation officer in Napa. My brothers live close by on their own ranch.
LoCA: What is it that your enjoy most about life in Lodi wine country?
J.B.G.: Being a farm girl since birth, I love being surrounded by agriculture. I love the fact that my tasting room is in Old Town Galt where my family has had roots going all the way back to 1912.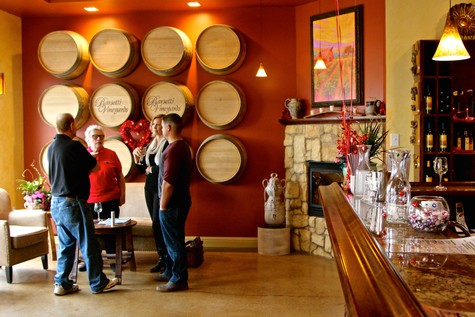 Barsetti Vineyards tasting room in Old Town Galt
LoCA: Besides your family heritage, what are you most proud of?
J.B.G.: I'm probably proudest of our tasting room. Since opening in 2014, it has become a place where regulars, mostly local residents, come and enjoy themselves. It reminds me of the old Cheers show, where "everybody knows your name." Galt was where I wanted Barsetti Vineyards to be identified with from the beginning. The tasting room has historical pictures of Galt, and old photographs of my family. I'm proud of the fact that we were able to bring something to the community that was non-existent before Barsetti Vineyards came along, and that it has been so well accepted by the locals as well as visitors. These ties with the Galt community are important to me. I am also very involved as President of the Galt Area Historical Society, while serving on the Galt Shop Local committee.
LoCA: Looking back on your career, has being a woman ever been an issue, or maybe even an advantage?
J.B.G.: All the years I spent at Hertz, I never felt that being a woman was either an issue or advantage. I just don't think that way. I was a manager for many years, managed hundreds of employees, and worked with many other managers. I always felt that if you know your job and can do it well, if someone acts indifferent out of jealousy, that's their problem. I never let that define me, just strengthen me. I have not experienced any indifference as a woman working in the wine world either.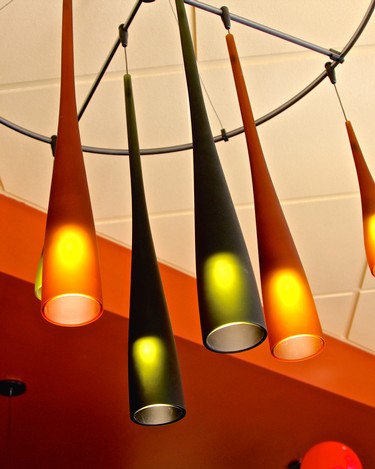 LoCA: Through the grapevine, what are you hearing people say about Lodi grown wines?
J.B.G.: People who come into the tasting room always want to know where the grapes going into my wines are grown, and we're proud to say that they're all from Lodi. People often comment on how much they appreciate our Lodi wines, even versus Napa Valley wines.
LoCA: Where do you envision yourself 10 to 20 years from now?
J.B.G.: I may be a little older than other women, but I still envision being heavily involved in my own business and vineyard. I already have plans to expand the tasting room into space next to us – we have outgrown the room we are in! I will always be a strong advocate of the Lodi wine region.
LoCA: Where do you envision Lodi as a wine region, maybe 10 to 20 years from now?
J.B.G.: The Lodi region is already exploding – imagine what it will be like in 10 or 20 years. The more we celebrate our region and local wineries, the more attention we will get. There is no reason we cannot be accepted as the region to be reckoned with. Napa look out! But in order to do that, we cannot just talk about wineries in or near (the City of) Lodi. The Lodi appellation extends beyond Lodi, in areas like Galt. We are all part of Lodi, and Barsetti Vineyards will continue to play an important part of its growth.
LoCA: As a career business woman, especially in management, what kind of advice would you give to younger women who might be interested in entering the wine industry?
J.B.G.: If I could do it all over again, I would have studied viticulture and learned the business inside and out. Try to work at a winery and learn every job, even the tough and dirty jobs. When you know how to do everything, you become more valuable. You can "carry your weight," and no one can say you do not know what you are doing. You have to believe in yourself first; then everything else falls in place.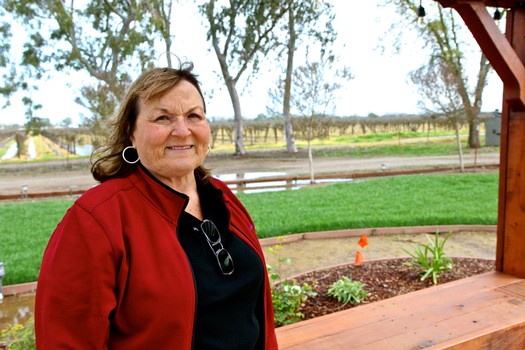 Comments
Patrick Boyle
@ Mar 22, 2016 at 1:44 PM
Great family history & herstory! Thanks for sharing