Letters from Lodi
An insightful and objective look at viticulture and winemaking from the Lodi
Appellation and the growers and vintners behind these crafts. Told from the
perspective of multi-award winning wine journalist, Randy Caparoso.

October 10, 2016 | Randy Caparoso
Winemaker John Giannini brings bold new direction to Van Ruiten Family Vineyards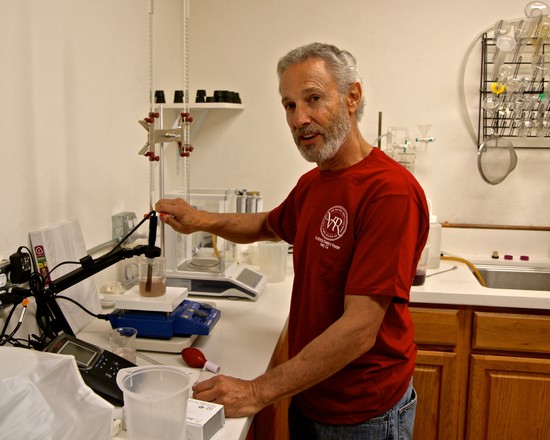 In November of last year (2015), Van Ruiten Family Vineyards – significant as one of the Lodi Viticultural Area's largest, most established multi-generational and family-owned grower/wineries – took the bold step of bringing in John Giannini as their winemaker. This was a real coup for Lodi, as Mr. Giannini had previously distinguished himself as the oenology instructor at California State University Fresno (a post he held for over 10 years), as well as winemaker for the Fresno State Winery.
These past two months Mr. Giannini has been experiencing his first-ever harvest in Lodi. We caught up with him in his lab last week Tuesday (October 4, 2017), as he was measuring the titratable acidity of fermenting wines.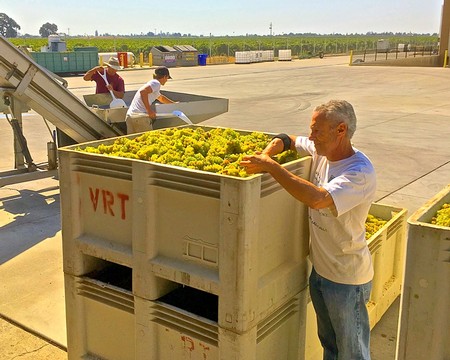 Our conversation:
LoCA: So what are some of the new things going on here at Van Ruiten?
JG: You're standing in one of them. Up until now, believe it or not, Van Ruiten did not have its own lab. All the wines used to be sent out for analysis. Now we can get our results immediately – check on acids, sugars, etc. as the wines are fermenting, and afterwards. We can make the proper adjustments, or know exactly when to do things or not do things at all, all through the process.
LoCA: It's good to take the guess-work out of winemaking – as a scientist, does this put you more into your comfort zone?
JG: Very much so. It's been very rewarding, having the family (the Van Ruitens) completely onboard, willing to make the changes necessary. Such a nice family, too. Bill (Rogan, Van Ruiten Family Vineyards President/GM) has been completely receptive to my recommendations on how to make us more efficient and improve quality. We now have a crossflow filter, for instance. There is a new sorting table, and a few other important tools.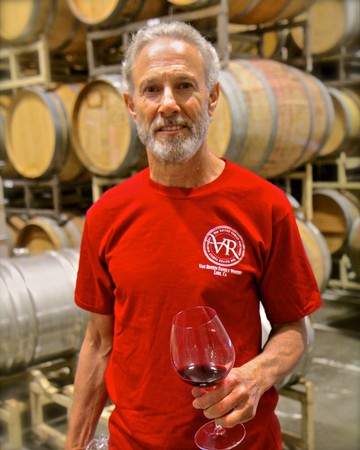 LoCA: It's still surprising that Van Ruiten has been making do all these years without those things. In what ways does this make an impact?
JG: Two weeks ago we had a heat spike, and experienced some raisining in the fruit – in the Malbec, the Cabernet Sauvignon, especially Zinfandel. Fortunately, we were able to eliminate most of raisined fruit coming into the winery, thanks to the new sorting table. This means reduced sugars, lower alcohols, and better balanced wines.
LoCA: What have been some of your general impressions of the region so far, going through your first Lodi harvest?
JG: It's funny, before I got here I had no inkling of just how vast the Lodi wine region really is. You have to be here to get a sense of it. There are much larger regions geographically, but here it's wall-to-wall vineyards. Then there's the sheer number of different grape varieties to work with; that's possible to grow, and grow well. I am already thinking, maybe this December/January, of sitting down and discussing with the family about moving more towards varieties like Barbera and Tempranillo.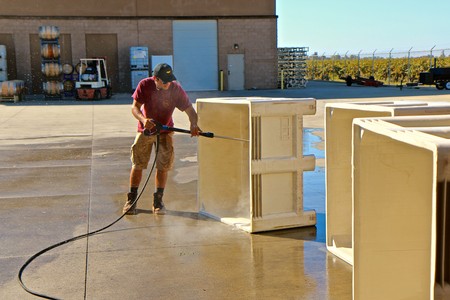 LoCA: What do you like about Barbera and Tempranillo in particular?
JG: In Lodi, Barbera holds on to its acid, and you can make an intense wine without a lot of alcohol or excess tannin – a balance that makes it especially good as a food-wine. I like Tempranillo because you can get deep color and good flavors from that grape here. I recently enjoyed a Bokisch Tempranillo in a local restaurant, and it was very, very nice. Tempranillo is definitely on my to-do list.
LoCA: How soon can you get started?
JG: We actually bought a little extra fruit from outside sources this year – including about 5 tons each of Barbera and Tempranillo, to make a few small lots. Next year I'd like to see if we can begin budding over some of the Van Ruiten properties with a few other grapes. In two years we can be working with our own fruit, and eventually expand the range of wines offered in our tasting room, especially for our club members.
We also have a new Marketing Manager – a fellow named Dave Moore – who is bringing lots of great ideas to table on how to make the brand even more exciting. We don't want to be just a well-noted winery – the goal is to become a sought-after brand.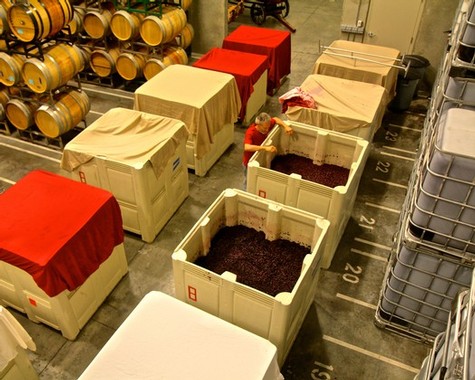 LoCA: Towards that end, does the 2016 harvest look like it might put you in a better position to reach that goal?
JG: Quality of the 2016 grapes has generally been good, and yields are also good. I'm very pleased. Things started off at a nice, even pace in August and September, but the last two weeks have been crazy, everything pouring in at once. We're close to the end – probably by next week (through October 15) we'll have all the grapes in.
It helps to have a great team here at the winery. We've established great rapport, which will bode well as in the future as we begin to get everyone cross-trained. I want everybody here to be able to do everything, including lab work. The crew is really onboard, feeling good about things; especially as I point things out explaining not just what needs to be done, but also why. I think that makes a big difference in the long run.
LoCA: Have you begun to be more involved with the viticulture?
JG: This year, not so much as I'd like to in the future. But like I said, the family has already been very receptive. For instance, we went out to one of our Cabernet Sauvignon vineyards where, in last year's wine, I found a little green character – pyrazines – in the wine, mostly due to canopy management. I suggested that they open up the canopy on the east side of the vineyard rows, which runs in a north/south direction, and in 2016 the fruit has already come in with significantly fewer pyrazine compounds. Less of that "green-ness" in the taste, and richer fruit expression. It's little things like this that will make a difference, the more work I can do with the family in the vineyard.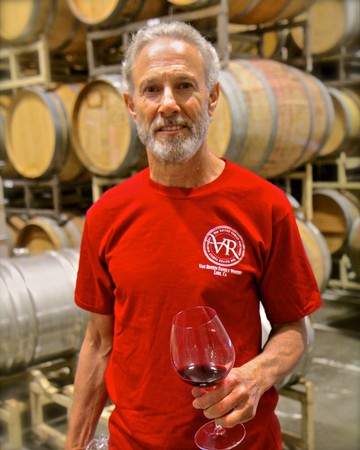 LoCA: What are some of stylistic changes that you may be shooting for in the wines?
JG: Ideally we'll want to get grapes to achieve optimal flavors and a little better balance earlier in the season to avoid waiting until grapes reach excess sugars before attaining that. The idea is not to shoot for 16%, 17% alcohol wines. I don't even think that's good for Zinfandel.
An important grape for us is Cabernet Sauvignon. We brought in 43 tons of it this year because we bottle this varietal in three tiers. But as I've said before, our goal is to produce Lodi styles of Cabernet Sauvignon – we're not trying to make "Napa" here. So we won't be blending in grapes like Petite Sirah to achieve the color and tannin they get in Napa Valley. If the Lodi style of Cabernet Sauvignon – and also Zinfandel, for that matter – is a little more restrained than what you find in other regions, then that's what we want. I guess you can describe the style I envision as one of "constraint," with little or no manipulation, and a little more of a reserved elegance – something you can especially enjoy with food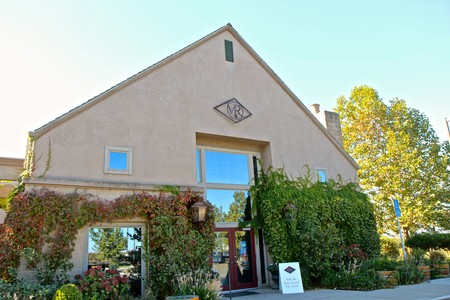 LoCA: I take it that you are moving away from the standard California practive of blending Petite Sirah in Zinfandel to beef it up?
JG: Why should we? Hey, I'm all for blending to make a wine better, but we won't do it if that's not the style we're looking for. We might, however, blend in a little Zinfandel to tone down a varietal Petite Sirah; to bring it into better balance, without changing the essential character of Petite Sirah. What I don't want to do is change a restrained, elegant style of Zinfandel by introducing Petite Sirah into it. To me, that's not enhancing Zinfandel – it's changing the true character of the wine, and taking away from the qualities expressing where it's grown.
LoCA: So what you are looking for is very much a statements about the region, not just varietal character?
JG: Precisely. When I came to Lodi I tried not to have any preconceptions about the region. I was surprised and very pleased with what I found. The last thing you want is to have preconceptions determine what you do with the wines. All I know is that I can already see that there is a certain purity, a unique beauty, in wines like Zinfandel and Cabernet Sauvignon here in Lodi. I think the future of Van Ruiten is being better known for wines that preserve that purity, on top of taking advantage of the great variety of wines that can do very well here.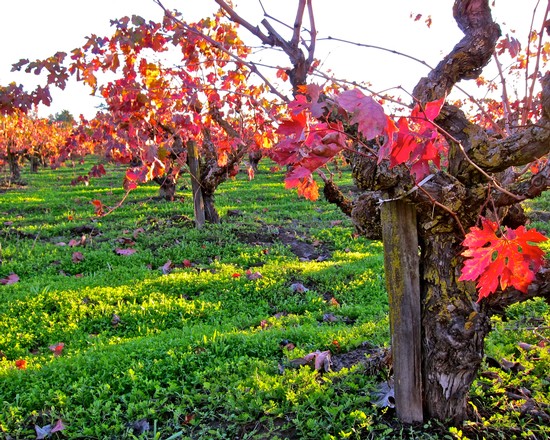 Comments