Letters from Lodi
An insightful and objective look at viticulture and winemaking from the Lodi
Appellation and the growers and vintners behind these crafts. Told from the
perspective of multi-award winning wine journalist, Randy Caparoso.

November 10, 2015 | Randy Caparoso
Why is Lodi the Wine Region of the Year?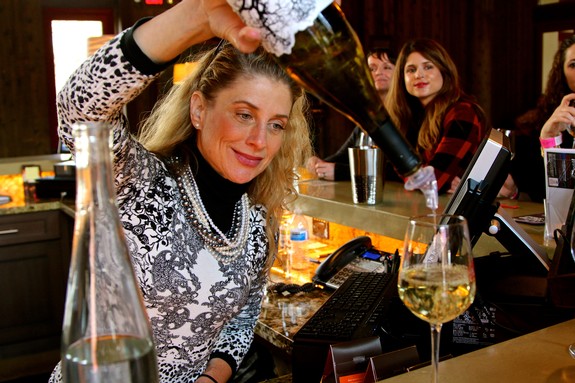 Pouring on the wine and charm at Lodi's Oak Farm Vineyards
Wow. The nationally distributed Wine Enthusiast Magazine has conferred one of its 2015 Wine Star Awards on Lodi, as its Region of the Year.
But why? In their own press release, Wine Enthusiast listed a number of the region's achievements over the past 25 years, and then distilled it all down to one "prime" reason: "It's these young people (i.e. 'twenty-somethings from Lodi grape-growing families that often return to work in the family vineyards and cellars') and the youthful attitude of their elders that drive the innovation pushing Lodi forward" (our italics).
While declaring, "Don't write Lodi off," the San Francisco Chronicle somewhat skeptically suggests that it may seem "like a stretch to call Lodi the wine region of 2015 – that's out of all the wine regions of the world." Which, even if backhandedly, makes the honor all the more impressive.
The Chronicle, however, may have missed the Wine Enthusiast's point. Truth is, the Enthusiast's criteria for picking Wine Star Award winners varies from year to year, depending upon the recipients. Their 2014 Wine Region of the Year, for instance, was New York, which produces about 3.5% of the wines grown in the U.S. (California produces 89%); most of it rarely seen outside the Northeast. Nonetheless, New York has a laudable history of inventive winegrowing; especially considering such marginal climatic conditions which engender markedly leaner styles of wine than that of the West Coast or even most of Europe; although New York Rieslings are probably second to none. Point being, even regions like New York, of rather provincial popularity and distribution, deserve some love.
So kudos to Wine Enthusiast for maintaining a catholic criteria when making its yearly selections. Other previous Wine Region of the Year honorees have included Paso Robles (2013), Spain's Ribera del Duero (2012), and Italy's Prosecco (2011). 2015's nominees, along with Lodi which drew the winning hand, included Marlborough in New Zealand, Sonoma's Russian River Valley, Sicily in Italy, and Washington/Oregon's Walla Walla Valley – all outstanding wine regions deserving Wine Star Awards.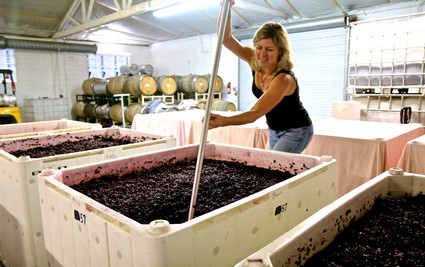 Estate Crush's Alison Colarossi punching down her Stellina Lodi Zinfandel
No one, not even in Lodi, takes a Wine Star Award to mean that the best wines in the world are now being made in Lodi. That's silly. The best Paso Robles style wines in the world are still made Paso Robles, just like the fact that absolutely the finest Prosecco still comes from Prosecco and no region beats Russian River Valley when it comes to Russian River Valley Pinot Noir and Chardonnay.
Lodi is special, but for its own reasons. If you ask us to count the ways, we would admit pride in the fact that this is the year that factors such as the following finally seem to matter:
1. Lodi's long overlooked history of viticulture, dating back to the 1860s; living on in thousands of acres of ancient vine plantings as old as 129 years, still being lovingly cultivated and often bottled as vineyard designated wines today.
2. Lodi's recent history of growers (some 750 of them) and wineries (up to about 75) working hand in hand with each other through the Lodi Winegrape Commission, founded in 1991; in a close-knit, cooperative spirit that is virtually unheard of in other American wine regions.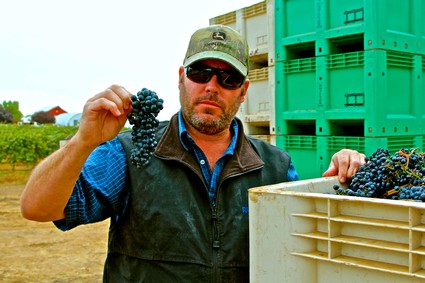 Michael David's 6th generation grower Kevin Phillips epitomizes Lodi's 150-year-old winegrowing history
3. Lodi Rules for Sustainable Winegrowing – a rigorous, thoroughly comprehensive third party (Protected Harvest) certification program of sustainable viticulture, first implemented in 2005, and which has since become the blueprint for all other sustainable wine grape programs in the U.S., surpassing USDA National Organic Programs (such as CCOF) and all other accreditations in terms of industry-wide usage.
4. Credence finally being accorded to the reasons why over 16% of California's wine grape acreage (easily the most in the state) is in the Lodi Viticultural Area; which is, simply because Lodi's Mediterranean climate (neither "hot" nor "cold," but moderate like mid-Napa Valley and easterly Sonoma County) and well drained soils are highly conducive to cultivation of premium quality Vitis vinifera (i.e. classic European grape varieties).
5. Very recent developments such as the Lodi Native Zinfandel project, which has been attracting a ton of press because of the way that native yeast fermented, non-interventionist style of heritage vineyard winemaking is showing off a delicate, balanced, fragrant side of the grape completely natural to the region – a profile to which more and more consumers and connoisseurs of the varietal also happen to be leaning.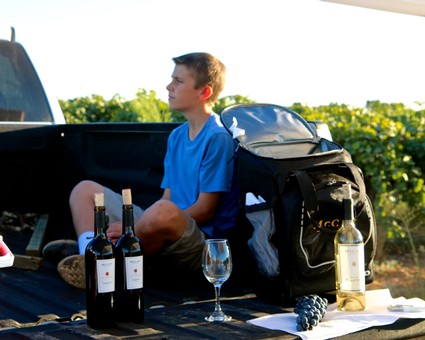 McCay Cellars' Matt McCay represents perhaps an even better Lodi generation to come
6. Lodi's steady movement towards "alternative" style grapes that grow comfortably in the region's mild climate and vine-friendly soils, to which consumers are enthusiastically responding – from white wine varieties such as Albariño, Bacchus, Grenache Blanc, Kerner, Piquepoul, Riesling, Verdejo, Verdelho and Vermentino, to black skinned varieties such as Aglianico, Alvarelhão, Carignan, Cinsaut, Dolcetto, Garnacha, Graciano, Montepulciano, Pinotage, Sagrantino, Souzão, Tannat, Tempranillo, Teroldego, Touriga Franca, Touriga Nacional and Zweigelt... all told, over 100 different cultivars, more than in any other American wine region.
7. The steadily growing number of artisanal style winemakers from outside the region investing in Lodi grown fruit – starting with highly respected figures like Tierra Divina's Patrick Campbell and Uvaggio's Jim Moore in the 1990s, and in recent years, high-profile winemakers such as Onesta's Jillian Johnson, Turley and Sandlands' Tegan Passalacqua, Forlorn Hope's Matthew Rorick and Bedrock's Morgan Twain-Peterson – who are all sending out signals to the rest of the industry that Lodi is indeed a "cool" place to source unique, premium quality wines.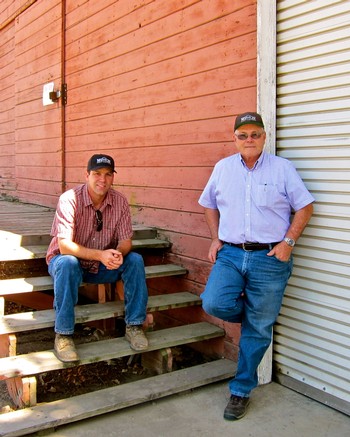 Lodi icons: Mettler Family Vineyard's Larry Mettler (right) with Jason Eels
8. The proven success of homegrown Lodi producers in markets across the country and beyond (in Europe as well as Asia) – notably, Michael David Winery, Mettler Family Vineyards, Klinker Brick Winery, and LangeTwins Family Winery & Vineyards – who are paving the way for a growing number of boutique-sized producers, reinforcing the region's growing reputation for handcraft wines.
Make no mistake, though: Lodi still plays the same role that it has over most the past century – as a supplier of giant production, value priced wines. Thank goodness for that, because consumers deserve access to consistently good quality, reasonably priced wines, too!
But when you look at the history of regions such as Napa Valley and Sonoma County, you clearly see that as recently as 30, 35 years ago the bigger producers like E. & J. Gallo and Sebastiani were still taking over 50% of the wine grapes grown in those places, too. The big guys got big because they're no dummies – they know a darned good wine region when they see one.
And right now Lodi is looking pretty good, now that more people are appreciating the special things coming out of this slowly awakening giant of a wine region.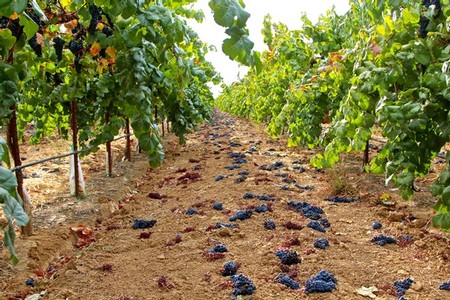 Dropped Tannat grapes in Lodi's Silvaspoons Vineyards
Comments