Letters from Lodi
An insightful and objective look at viticulture and winemaking from the Lodi
Appellation and the growers and vintners behind these crafts. Told from the
perspective of multi-award winning wine journalist, Randy Caparoso.

October 26, 2017 | Randy Caparoso
Why Zinfandel tastes great with peppery foods like chili spaghetti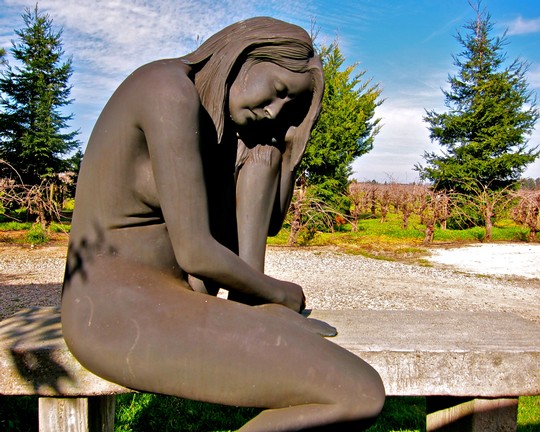 Contemplation in Lodi's The Lucas Winery's classic ZinStar Vineyard
Why are we fond of saying that Zinfandel is like "autumn in a glass?" Sure, it's part of the "romance" of wine language; but there is also a scientific reason – one that has repercussions on the aromas and flavors we perceive in typical Zinfandels, and one that has an impact on the foods that always seem to taste best with Zinfandels.
The reason is called rotundone: a physical compound found in wine varieties such as Zinfandel, Syrah, Petite Sirah and Grenache that contributes noticeable spice qualities similar to the experience of cracked peppercorns. We devote quite a bit of thought to this subject in a previous post, called Ah, the smell of spice (that is, rotundone) in autumn wines.
A Reader's Digest-like summation: Rotundone belongs to a larger class of aromatic terpenes called sesquiterpenes, and is the first compound found in black or white peppercorns. There is far less rotundone found in the skins of certain wine grapes than in peppercorns; and while it is not detectable in the taste of fresh grapes, it is often perceived in the taste of wines following the fermentation process. According to research, many wine lovers – but not all (your nose may not be as receptive as other people's noses) – can detect the peppery note of rotundone in proportions as little as 8 nano grams per liter in water, and 16 ng/L in red wine.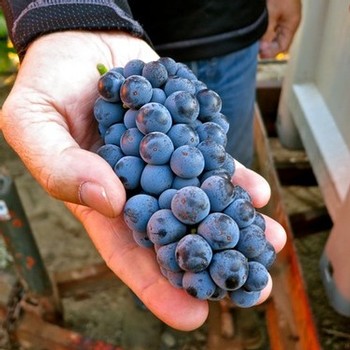 While the smell of peppercorn can have a faint resemblance to the smell of bell peppers commonly found in varietal wines such as Cabernet Sauvignon and Sauvignon Blanc, rotundone is not to be confused with methoxypyrazines – commonly occurring compounds that contribute vegetal or herby aromas and flavors, such as bell peppers, asparagus or mint.
Methoxypyrazines – or, simply, pyrazines – are found in numerous wines (including Zinfandels) when picked slightly underripe or "green," or fermented with grape stems, which are high in methoxypyrazines. Thus, it is not uncommon to find lighter, earlier picked or partially stem fermented styles of Zinfandel that are also slightly herbaceous due to pyrazines. Aging in American oak barrels, which are often strong in dill-like aromas (as opposed to French oak barrels, which give more vanilla-like sensations), can also accentuate the smell and taste of green herbs or vegetables in a Zinfandel. But these are not exactly the same sensations as rotundone.
Put it another way: A bell pepper is not a black pepper; although, while the nose of an average wine lover might perceive peppery spice aromas found in many California Zinfandels, we are also often synthesizing multiple aromas and flavors at the same time – particularly, the "berry jam" fruit typical of the grape, plus toasted wood notes of oak barrels, various types of vegetal-herbiness, and often the spices associated with peppercorn, such as cinnamon, clove, allspice and/or mace (the "autumn" or "pumpkin" spices).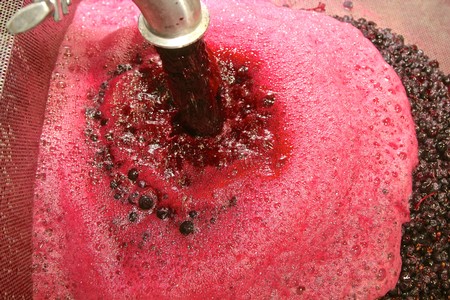 In fact, that part of the wine experience in which we are smelling brown spices commonly associated with autumn falls more within the phenomenon called synthesia – a common human condition in which one sensation evokes another sensation, even when that other sensation is not present.
That is to say: Because many Zinfandels may have peppery spice and toasted (or "burnt") vanillin aromas due to the presence of rotundone in grape skins and the use of oak barrels during the aging process, we are often smelling sensations of cinnamon and clove even though the aromatic compounds of cinnamon and clove are not actually present in the wine. That's just the way the nose, and mind, works. We often involuntarily smell and taste sensations that may not be there, but are suggested by combinations of smells and flavors associated with them.
All of this, however, is very much a part of the reality of the wine experience – thus, having an impact on how we react to wines consumed in combinations of foods. It is another common phenomenon, for instance, to not notice the aroma of peppery spice in a Zinfandel when we are tasting it. But when we are drinking the same Zinfandel with, say, a grilled salmon or steak coated with cracked peppercorn, all of the sudden the smell of peppery spice in the wine becomes pervasive. Simply put, black pepper in food can bring out black peppery nuances in wines.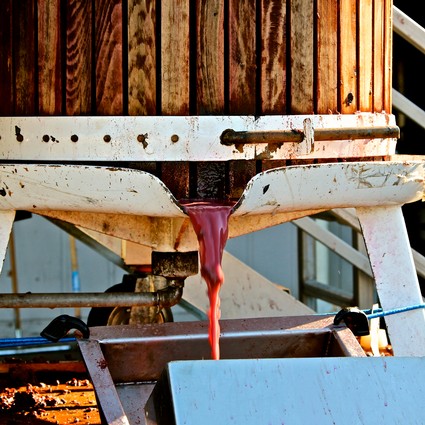 The use of peppercorns in cooking, as it were, also exerts changes in our physical perception of wines. Because peppercorns have a bitter and astringent taste, a young vintage of Zinfandel with aggressive amounts of tannin may taste hard or dry when sipped by itself, but will usually begin to taste softer and smoother when consumed with a peppercorn laced dish. The taste buds that make note of these changes are found, of course, on the tongue. Because there is a direct passage between the back of the mouth and the nose, the perceived softening of bitter sensations can also amplify the sensation of peppery spice in the aroma and flavor of a wine (flavor being an aroma-related sensation, rather than something perceived on the tongue). Taste buds influence your sense of smell, and vice-versa.
Bottom line: Peppery sensations in foods can bring out the peppery quality of a red wine like Zinfandel – thereby enhancing our perception of complexity and (ultimately) pleasure in that wine.
What are some of Lodi's spicier bottlings of Zinfandel? No coincidentally, these tend to be Zinfandels that are crafted with some degrees of restraint – picked, for instance, slightly earlier to avoid excessive "jammy" fruitiness (which can obliterate spice-related subtleties in Zinfandel) and alcoholic weight, and aged in barrels with less tannin or flavor of oak.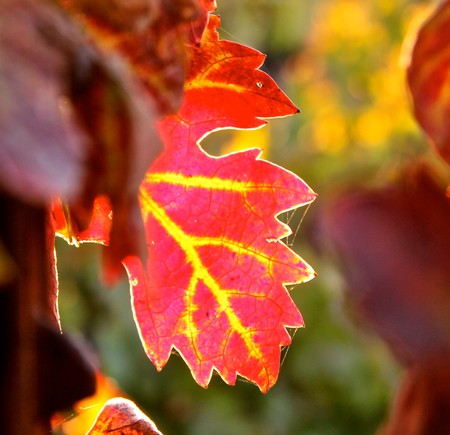 At the premium level, Estate Crush's Stellina Lodi Zinfandel is a consistently fine example of a floral style of Zinfandel with distinct peppery spice notes; while in the more reasonably priced category, the ubiquitous Michael David Lodi 7 Deadly Zins is invariably laced with both fruit and oak-derived spices.
In similar fashion, the McCay Lot 13 Lodi Zinfandel, Bokisch's Tizona Kirschenmann Vineyard Lodi Zinfandel, Klinker Brick's Marisa Vineyard Lodi Zinfandel, and Maley Brothers' Lodi Native Wegat Vineyard Lodi Zinfandel all fall in the more delicate varietal spectrum (i.e. restrained alcohol and tannin), while portraying varying mixes of red berry/cherry and "pumpkin" spice qualities in the nose and flavor.
While a little fuller and fleshier, the Ironstone Rous Vineyard Lodi Zinfandel typically combines plush, floral fruit with peppery/clove-like spices. For all-time classics, look for either the French oak aged Lucas ZinStar® Vineyard Lodi Zinfandel, which always suggests crusty blueberry pie and autumn spices, or the vaunted Harney Lane Lizzy James Vineyard Lodi Zinfandel.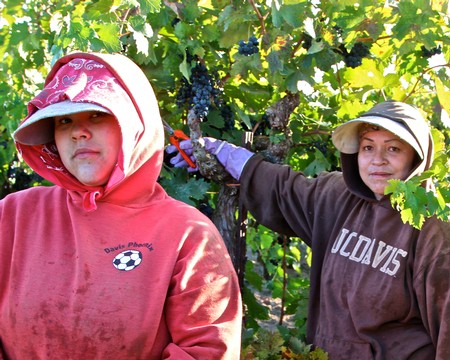 While we are talking about spice related complexities often found in Zinfandels, by no means are we losing sight of the fact that the varietal ultimately produces more of a straightforward, or fruit-forward, style of red wine; meant for unpretentious, resuscitative consumption rather than sipping in formal dinner settings with pointed pinkies. This was why Zinfandel, historically, was the favorite grape of California wine pioneers of Italian descent – it always produced generous quantities of good, sturdy red wine, with enough acid and zesty, spicy fruit to enjoy with favorite foods, such spaghetti in tomato and meat sauces.
That said, the following is a version of spaghetti that, due to the use of peppery linguisa (i.e. Portuguese sausage) and chili spices, also brings out the peppery spice qualities of a good Zinfandel. We have a lot of experience with this recipe, engineered to duplicate the "chili spaghetti" made popular by Zippy's, a chain of restaurants found in the Hawaiian Islands. Like Zinfandel, it is fairly simple, spicy, and deeply satisfying. Enjoy!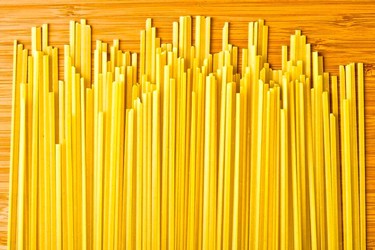 Island Style Chili Spaghetti
1 lb. ground beef (or ground turkey)
1 Portuguese sausage, finely chopped
1 large sweet onion, very finely chopped
3-4 stalks celery, very finely chopped
1 green bell pepper, very finely chopped
1 large can (15 oz.) kidney beans (with liquid)
1 large can (15 oz.) pinto beans (with liquid)
1 large can (8 oz.) tomato sauce
4 oz. tomato paste
2 squirts ketchup
2 teaspoons red wine vinegar
2 bay leaves
2 teaspoons chili powder
1 cup chicken broth
1 teaspoon brown (or raw) sugar
½ teaspoon oregano
½ teaspoon paprika
½ teaspoon cumin
1 teaspoon garlic salt
Dash Worcestershire sauce
½ cup mayonnaise
4 teaspoons vegetable oil
In a Dutch oven or large, heavy-bottomed pot, heat 2 teaspoons vegetable oil and brown beef or turkey, breaking meat into tiny morsels. Drain and pour into bowl, and reserve. Heat remaining vegetable oil and fry onions over medium heat, until limp and golden. Add meat back into pot along with all the other ingredients and spices except for mayonnaise. Bring to a boil, then turn heat down to medium or medium-low and simmer for about 30 minutes. Just before serving, stir in mayonnaise to enrich texturing. Adjust for seasonings (adding more Worcestershire or chicken broth to taste), and serve with spaghetti noodles, grated Parmesan, garlic bread, and of course, a good bottle of Lodi Zinfandel!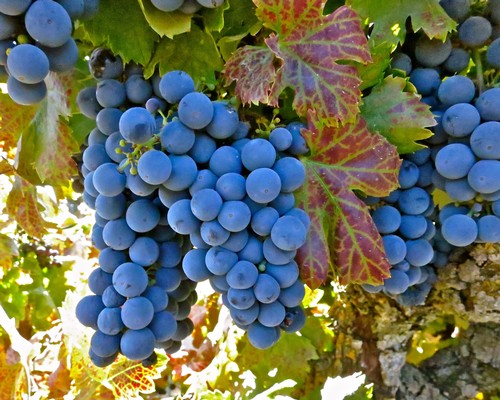 Old vine Zinfandel in Lodi's Schulenburg Vineyard, sourced by Michael David Winery
Comments