Letters from Lodi
An insightful and objective look at viticulture and winemaking from the Lodi
Appellation and the growers and vintners behind these crafts. Told from the
perspective of multi-award winning wine journalist, Randy Caparoso.

February 22, 2020 | Randy Caparoso
Why Lodi, and Albariño in particular, produces the most gastronomic of wines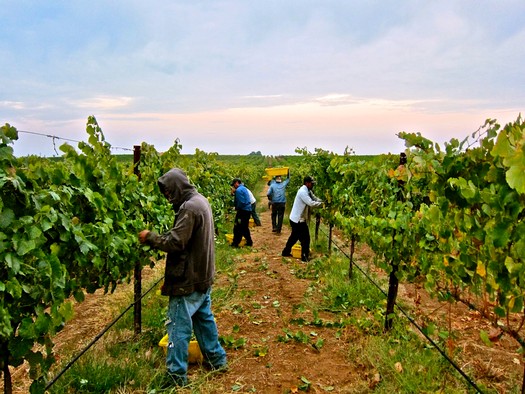 Culinary advantages
This time of year, when winter begins to transition towards early spring, and there is a kiss of warmth in the afternoon sun, we suddenly start thinking about lighter foods and lighter wines. Particularly dry whites and rosés, as well as lighter-style reds.
In the Lodi Viticultural Area, where a warm, dry Mediterranean climate is the rule, we have a plethora of these styles of wines, perhaps more than in any other wine region on the West Coast. Why? This is ideal terroir for grapes of Spanish origin, and Lodi growers and vintners have been doing the logical thing by growing and producing lots of them — notwithstanding the current industry mania for varietals like Chardonnay, Cabernet Sauvignon, Pinot noir, and Sauvignon blanc.
Aside from the pricier, fuller-bodied Spanish imports that are obviously built for the show (i.e. 100-point scores), there are still few wines in the world that can shock you by the way they drastically alter sensations in the context of food as much as those made from black-skinned grapes like Tempranillo and Garnacha, as well as Carignan and Mourvèdre (the latter, known as Monastrell in Spain, and Mataró to the Portuguese).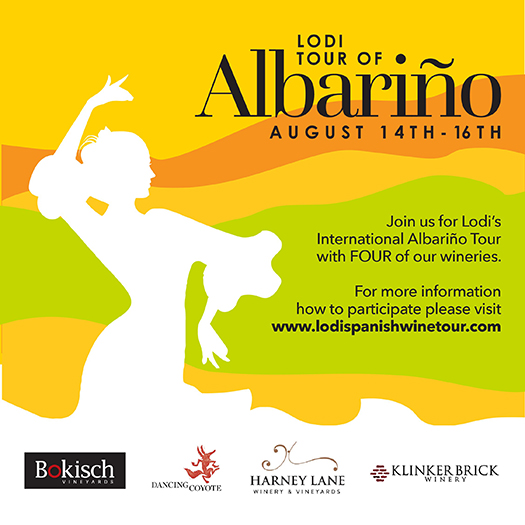 Among other wines falling under this Iberian umbrella, grapes like Verdejo and Mencía have recently been turned into varietal bottlings in Lodi. But as it stands today, the grape that may have been making the most dramatic statement thus far, in terms of both quality and sheer spring/summer culinary usefulness, is Albariño. Just 20 years ago Albariño was still a relative obscurity in the minds of most American consumers, but today this grape is approaching the familiarity of Pinot Gris/grigio — at least to consumers predisposed towards Lodi-grown wines.
What makes Albariño so useful in culinary contexts? Easy answer: it is an ideal wine for fish, which almost everyone loves. Why do you think, in nearly every average American town today, there are now more sushi restaurants than Italian or Chinese restaurants? It's by popular demand.
It's also no coincidence that the state where Lodi's original specialist in Spanish grapes, Bokisch Vineyards, has found the most positive reception (outside Lodi itself) is Hawaii. Albariño is tailor-made for Hawaiian cuisine, where the wine's combination of tropical perfume, dryness, and acid-mobilized citrus and mineral/saline sensations has proven to be a perfect match for dishes incorporating the briny tastes of Island fish (especially moi, onaga, and opakapaka), fresh sea vegetables (i.e. limu or ogo), and virtually any combination of shellfish (think saffron laced bouillabaisse or clams in leafy herbed broths). Albariño responds particularly well to tart ingredients (particularly in seviches and adobo style seafood), and the use of vinegar and citrus juices is certainly common enough in the Southeast Asian as well as Japanese (re ponzu) cuisines contributing to the Islands' cross-cultural culinary heritage.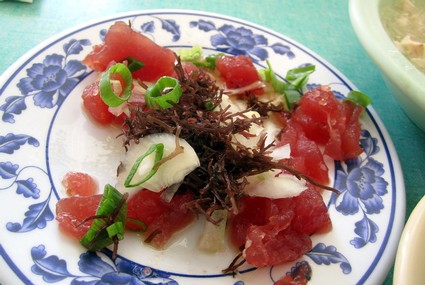 Where does Albariño stand in comparison to other varietal whites? First, this varietal is rarely as heavy or soft as typical Chardonnay, and it has a lightness and crispness similar to a good Pinot Grigio or Sauvignon Blanc. But there are sensory differences distinctly advantageous to Albariño. First, it is usually markedly crisper than Pinot grigio, with more expansive, readily appealing citrus and stone fruit (i.e. peach, apricot, nectarine-like) qualities. The acidity of a good Albariño is on par with a Sauvignon blanc, but you won't find any weedy, bell peppery, or even sweet pea-like notes typical of Sauvignon blanc in any Albariño (not that Sauvignon blanc's typically "green" qualities are, in themselves, a major negative – but it is a differentiation).
Natural acidity is a plus for Albariño, but it is rarely so sharp that it bites. White wines made from the Austrian grape Grüner Veltliner, for instance, can be just as perfumed and minerally as an Albariño, but its acidity is typically more austere in its tartness. Both Riesling and Albariño are flowery and citrus scented; and in fact, in some quarters Albariño is still said to be a clone of Riesling supposedly transplanted by twelfth-century German monks (a good story, but a mythical one). Be as it may, even the zestiest Albariño is rarely as sharp, or fuel oil-like, as a dry style Riesling; and in fact, an Albariño is typically more viscous, sometimes even creamy in texture, in a way Riesling never is.
Finally, in recent years Albariño has also been likened to a "light-weight Viognier," which is absurdly inaccurate. Although the flowery fruitiness of a good Albariño may be somewhat Viognier-like in suggestion, the mineral notes typical of Albariño are almost never found in Viognier. Classic Albariño tends to be lighter in weight than most Viogniers, and it is also decidedly zestier in acidity – two qualities giving it a distinct advantage over Viognier in terms of seafood versatility (which is not to say Viognier is not as food-worthy — it's just a different animal, begging for more aggressive, meatier "white meat" matches in a fashion closer to Chardonnay than Albariño).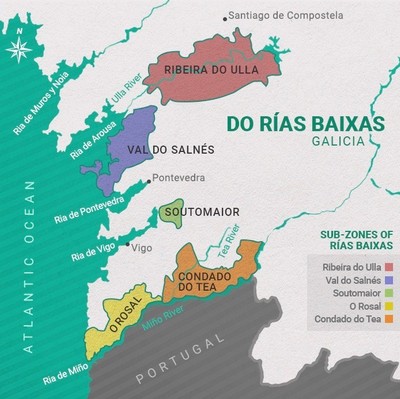 Sub-zones of Spain's Rías Baixas, Albariño's original home along the Atlantic Ocean
To deepen your understanding of Albariño, it probably helps to get a feel for its native region of Rías Baixas in Galicia, occupying the northwest corner of Spain directly north of Portugal along the Atlantic. Unlike the rest of Spain, which is associated with hot, parched landscapes, Rías Baixas is green and verdant; which also means heavy rainfall (50 inches is not atypical), elevated humidity, and temperatures rarely above 86° F. but almost never below 50°. Like living on a Southern California beach, where homes need neither central heating nor air conditioning. Albariño makes up close to 95% of Rías Baixas plantings (about 7,500 acres total), largely because it is the only grape suited to this particular terroir.
In terms of grape morphology: Albariño clusters tend to be medium-tight, shaped like little hand grenades, and small in berry size, allowing for more air circulation than in other grape varieties. The berries themselves are visibly coated with a thick cuticle — the grayish, waxy film on the skins, or epidermal cells, coating each grape. Cuticle-coated grapes have higher degrees of tolerance for mildew compared to other varieties, which makes sense for the elevated humidity of Rías Baixas. Although Albariño in Rías Baixas was traditionally trained on high pergolas for increased air circulation and reduced rot and mildew, modern-day trellising and opened canopy management also serve that purpose wherever Albariño is grown today.
Like all the great wine regions of Europe, Rías Baixas is a convergence of climate, soil, and grape adaptation. Of its five recognized sub-zones, the finest is said to be Val do Salnés, a gently rolling, alluvial basin situated at the northern end of this DO (i.e. Denominación de Origen). This is also the coolest, wettest section of Rías Baixas, although Val do Salnés is also marked by well-drained, rocky, pervasively granitic soils (even trellis posts are made out of granite rather than wood). In Rías Baixas, Albariño's lime/peach fruitiness, flinty minerality, and occasional salinity (undoubtedly enhanced by the sea salt-saturated air) are as many reflections of the grape as terroir.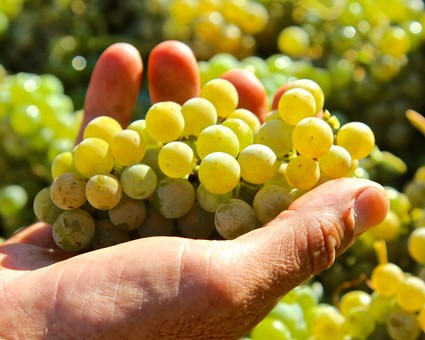 Close-up of waxy cuticle coated, Lodi grown Albariño
Lodi breakthroughs
Lodi is not Rías Baixas. For one, Lodi's growing seasons are much dryer and are typified by California's wider-ranging diurnal swings (averaging in the mid-50°s at night and lower 90°s in the day during the peak of summer).
All the same, the grape has proven to be so well adapted to the Lodi AVA that there are now more Lodi brands of Albariño than there are for Chardonnay. The region's pioneer of the grape is Bokisch Vineyards (producing their first vintage in 2001), but other growers and producers of note now include Estate Crush, Harney Lane Winery, Klinker Brick Winery, Mettler Family Vineyards, Oak Farm Vineyards, Onesta Wines, and Paskett Vineyards & Winery.
The Bokischs are growers of numerous wine grapes in the region; farming some 2,500 acres, mostly in the hillier eastern sections of the AVA (in sub-appellations like Borden Ranch, Jahant, and Clements Hills), supplying grapes to some 50 different wineries. Out of all of this acreage, however, less than 60 of them are devoted to Spanish grapes; the bulk of it Albariño (now up to 35 acres), and the balance consists of Tempranillo, Spanish clones of Garnacha and Garnacha Blanca, Graciano, Monastrell, and Verdejo.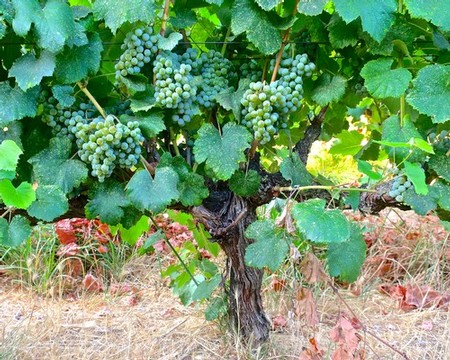 There is some salient history behind the Bokischs' devotion to Spanish grapes. In the early 1990s, Markus Bokisch was charged by Joseph Phelps Vineyards to source Rhône varieties for the winery's Vin de Mistral line (now defunct). It was while driving back and forth between Napa Valley and Lodi on Hwy. 12 that Markus first felt the spirit. The Sacramento-San Joaquin River Delta reminded him of the Delta de l'Ebre in Spain, a rice-producing delta region where many of his close relatives still live (although Markus was raised in California, he spent many of his childhood summers in Catalonia). After leaving Joseph Phelps, Bokisch moved to Spain to work in the Spanish wine industry for a spell; returning to California in 1995 to establish his Lodi-based grape-growing business.
Less than 1% of what Bokisch Ranches actually grows ends up being bottled under the Bokisch brand, devoted primarily to Spanish-style wines. Early vintages of Bokisch Albariño were estate-grown blends from two of Lodi's sub-regions: one part from a 3-acre "mother block" (behind the Bokisch home near the little CDP of Victor) falling within the Mokelumne River AVA, on a flat site sitting in relatively deep, sandy, high vigor alluvial loam typifying Lodi's oldest vineyards; and the other from their Terra Alta Vineyard in the Clements Hills AVA – the latter, a lower vigor, slightly higher elevation hillside appellation, marked by shallow, volcanic gravelly loam over a hard clay pan, typical of the eastern side of Lodi where it transitions into the Sierra Foothills.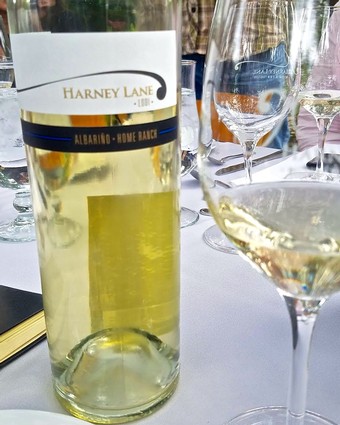 Since the summation of Winkler degree days in most of Lodi is low Region IV – a warm Mediterranean climate bearing a closer resemblance to the center of Spain than to the Atlantic coast of Spain – it has been interesting to see how the originally cooler-climate adapted Albariño has adjusted to this part of California. As the Bokisch plantings have matured, so has the Bokischs' grasp of the grape. As recently as the 2008 vintage, the Bokisch Albariños was fairly big (over 14% alcohol), hugely aromatic wines – gushing with tropical flowers and fruits (orange, tangerine, and grapefruit qualities often mixed with pineapple and mango sensations) – that could make even a Viognier taste small by comparison.
Since 2009, however, Markus Bokisch began to trust more in the grape by picking considerably earlier, closer to 21° or 22° Brix (i.e. sugar reading) as opposed to 23° or 24°. This, according to Bokisch, required "a leap of faith, but necessary to making wine lower in alcohol and higher in acidity." What has since transpired, for the Bokischs, are Albariños that are significantly lighter (closer to 12% alcohol), crisper, and finer, while still possessing all the honeyed, citrus, tropical flower, and wet stone fruitiness you look for in the grape.
Virtually all of Lodi's other Albariño producers have followed suit, and Lodi Albariño lovers have been enjoying all of them. For instance, Harney Lane, which grows its own Albariño in their east side Mokelumne River-Lodi estate, produces a slightly steelier variant of the varietal — flowery yet acid driven. From a vineyard not far from Harney Lane's, Mettler Family has been producing a slightly fleshier, richly textured style of Albariño, which still retains the grape's inner core of citrus/nectarine-like crispness. Klinker Brick's part, prettily scented Albariño (also grown on Lodi's east side, along Alpine Rd.) falls somewhere in between Harney Lane's and Mettler Family's. And although they have been sourcing Albariño from multiple vineyards and sub-appellations, the multi-award winning style of Oak Farm Vineyards has been falling more on the gentle, long, sleek, and floral/fragrant side of the grape.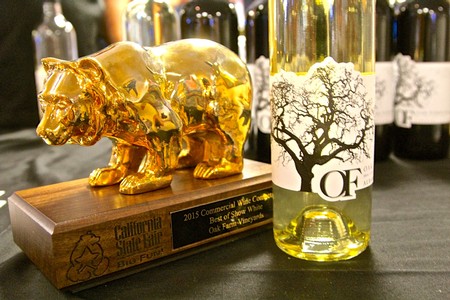 Even Bokisch Vineyards, in recent vintages, has begun separating their Albariño bottlings to reflect varying vineyards and appellations, resulting in diverging sensory qualities. Bokisch's Las Cerezas Vineyard Albariño, from the family's original planting in Lodi's Mokelumne River AVA, exhibits the lush, almost extravagant tropical fruit freshness typifying this particular vineyard; and their Terra Alta Vineyard Albariño is driven more by the citrus/green apple crispness reflecting the elevated acidity resulting from smaller cluster/berried fruit yielded by the shallower, lower vigor volcanic slopes of Lodi's Clements Hills AVA.
Following a 3-day visit to Lodi last spring (2019), the widely read Wine Compass author Todd Godbout made these interesting observations of Lodi-grown Albariños, particularly when compared to one highly regarded Spanish iteration:
The Klinker Brick and Mettler Family Albariños both share the classic Rías Baixas style as did the Bokisch Vineyards 2017 Clement Hills Terra Alta Vineyard Albariño. These wines are characterized by a pronounced floral aroma, green apples and citrus, noticeable minerality, and racy acids. In fact, during a blind tasting of New World vs Old World white wines, the Bokisch Terra Alta Albariño tasted closer to Rías Baixas style Albariño than a Palacio de Fefiñanes Albariño which came from Rías Baixas. On the other hand, the Palacio de Fefiñanes had appreciable New World qualities such as intense stone fruits and shades of honey.
Fascinating variables, showing off all the possibilities of Lodi's varying appellations and terroirs, and all adding up to the wonderful food (especially seafood) versatility of this most gastronomic grape.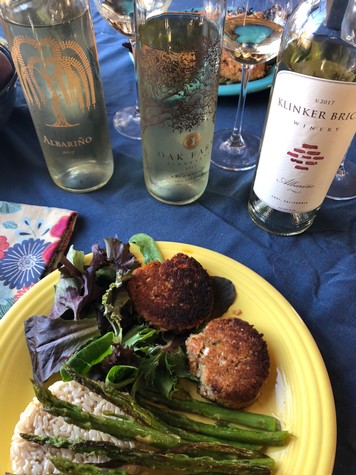 Comments