Letters from Lodi
An insightful and objective look at viticulture and winemaking from the Lodi
Appellation and the growers and vintners behind these crafts. Told from the
perspective of multi-award winning wine journalist, Randy Caparoso.

March 10, 2022 | Randy Caparoso
What wine lovers really want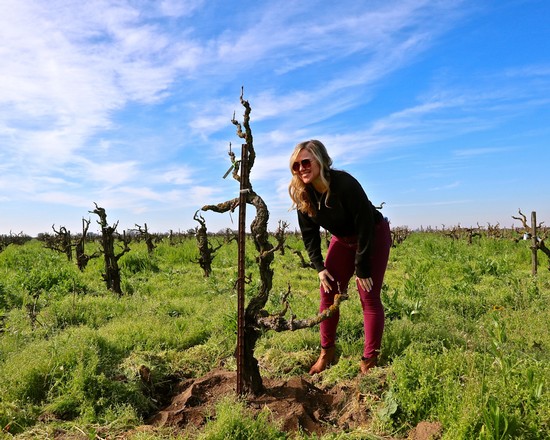 What do wine lovers want?
On one hand, every other day there seems to be a new "natural wine bar" popping up in cities big and small, near (Sacramento and San Francisco) and far (Miami and New York).
Yet, on the other hand, America's best-selling wines are still, by far, the average-$10 brands — made in predictable styles that are the very opposite of "natural" or "artisanal" — that you can find on the shelves of every supermarket or big box store in the country.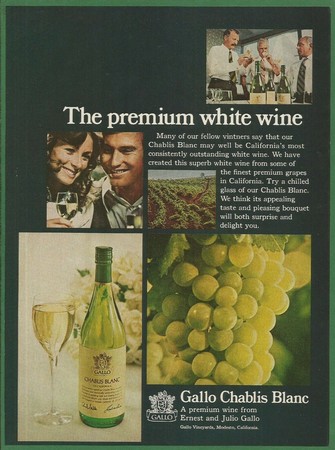 Just 50 years ago, Gallo Chablis Blanc (a generic blend of grapes such as Colombard, Chenin blanc, Burger, Sultana, etc.) was presented to consumers as California's "premium wine."
Clearly, American wine lovers would prefer to choose from an ever-increasing variety of wines. Many of them are perfectly happy with the "commercial," yet consistent, styles put out by gigantic wineries. Yet more and more of them are demanding the wackier products of teeny-tiny brands, many of whom do not even own wineries (they're just renting spaces). Americans want it all.
When consumers "graduated" from generic jug wines back in the 1970s, the big ticket at the time was varietal wines, although it took a while for consumers to learn how to count the number of varietals actually available to them on more than one hand. When I was working in restaurants in the late '80s, it seemed like over 75% of customers ordered just one of three wines: a Chardonnay, a Cabernet Sauvignon, or a White Zinfandel. For a while there, getting them to try a Pinot Noir or Albariño was like pulling teeth.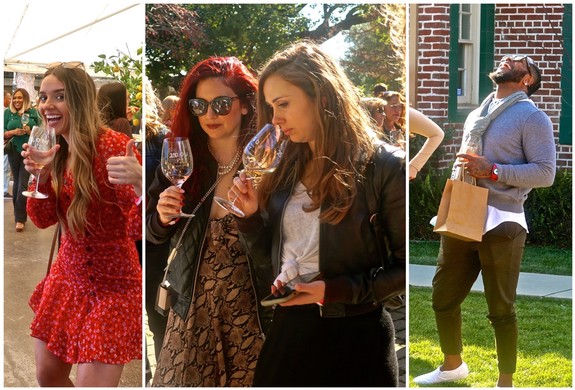 Different generations, different tastes: Faces of Millennial and Gen Z (born after the mid-1990s) wine lovers during Lodi's most recent Wine & Chocolate Festival.
Eventually, they came around, of course, and thank goodness. Now they're counting with two hands. The young, ingenious sommeliers of today have absolutely no idea what it was like to be a sommelier or wine buyer thirty or forty years ago. I think we went through at least seven or eight circles of Dante's wine-hell, just to get customers to a point where they know there is such a thing as Tempranillo or Albariño.
When I first started in the restaurant business in 1974, almost all commercial table wines were finished at about 12% alcohol (or 13%, if you really wanted to go wild). Anything topping 14% was considered weird, a freak of nature. Most California red wines were aged in tree-sized redwood vats until their varietal fruit qualities were smoothed (or dried) out, and virtually no white wines saw aging in small "center of France" oak barrels.

The reason why Californians, in particular, were producing less ripe, lower alcohol style wines prior to the 1980s were that in those days they didn't have better ways of doing it. Trellising and viticultural practices of the past made it difficult to grow grapes beyond 22° or 22.5° Brix (sugar levels that convert to just 12% to 13% alcohol and, thus, diminished fruit expression). It wasn't so much a style choice as an only choice.
But face it. The reason we reached a point where, today, ultra-ripe, oaky, 15% alcohol wines have become the norm (and 14% alcohol wines are now considered light) is that we can; and most of the trade, consumers, and especially 100-point critics, have liked them that way. We're Americans, not Europeans. For the vast majority of us, the bigger and riper the wine, the better.
Still, change is inevitable. Out here in Lodi, for instance, one of the most interesting things to happen just over the past three, or four years is the sudden popularity of an 18-acre vineyard called Somers. Ten years ago the owners of Somers Vineyard couldn't give their fruit away because it produces a translucent, light red wine (barely 12% ABV) with a low fruit profile and absolutely no tannin backbone. Yet it's a beautiful site, located right along the Mokelumne River, and the plants themselves are tall, rather majestic, vertical cordon-trained vines, planted some 50 years ago. The problem was, these were Mission vines — as unfashionable as a cultivar can be.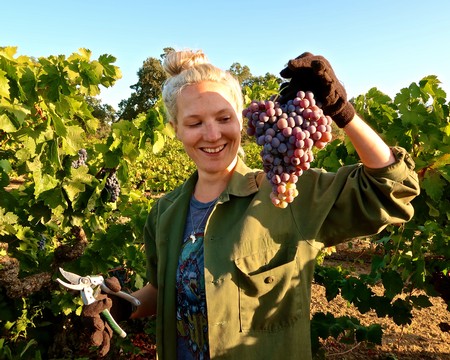 Lately, at least half-a-dozen small, artisanal-style wineries have been standing in line to buy Somers Vineyard Mission. Ironically, it's because it makes translucent, light red wines with a low fruit profile and absolutely no tannin backbone —exactly, or so it seems, what a growing number of today's consumers are looking for.
Consumer tastes in table wines are bound to lighten up, aren't they? Actually, I doubt it. If anything, I think the transition we are currently going through has more to do with an increased appreciation of the proliferating number of grapes wines are made from, plus the many new places, they are grown. In response, consumers are becoming more sophisticated; and the more sophisticated they get, the more diverse their tastes.
Big wines, light wines, bone dry wines, super-sweet wines, soft and fruit-driven wines, tart and minerally wines, you name it, consumers are drinking it. Even the recent increases in broad categories such as dry rosés and sparklers are not so much an indication of interest in dry rosés and sparklers as they are in diversity itself. Consumers, like proverbial spoiled rotten children, have come to expect to have more of everything at their disposal.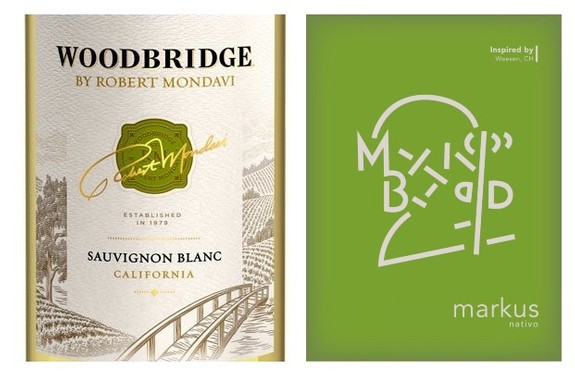 It's also good news that consumers seem to be less inclined to be pigeonholed into narrow taste preferences, such as that of the old "fighting varietal" (i.e., Chardonnay/Cabernet Sauvignon/White Zinfandel) formula. I chalk this up to the ever-expanding range of wine-growing regions being explored by wine industry investors.
There are so many different wine regions today, consumers are beginning to recognize and appreciate widely varying sensory qualities, even among regions growing the same grape varieties. Napa Valley, that is to say, no longer sets the only standard for Cabernet Sauvignon; the same for, Chardonnay from Sonoma Coast, Pinot Noir from Russian River Valley, or even Willamette Valley. In this scenario, of course, wine regions such as Lodi or the Sierra Foothills are perceived as being on equal footing with regions such as Napa or Sonoma — their wines are appreciated for tasting like Lodi and Sierra Foothills wines, not like Napa or Sonoma. Hallelujah.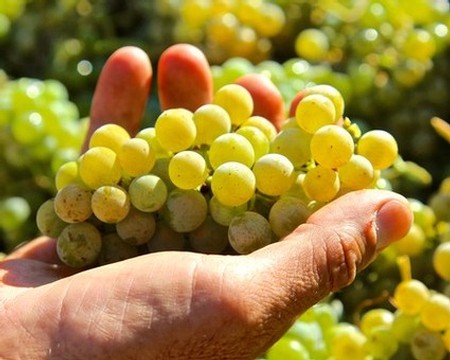 American wines, in other words, are steadily evolving towards what you already see in far older wine cultures. That is, in European countries, where classification systems are based entirely upon identification and regulation of regions — the places where wines come from — rather than by how wines are made or how a brand is supposed to taste. In European appellation systems, place trumps style. There are no "varietal" expectations, no "pursuit of balance" or any other arbitrarily set standards. Wines end up tasting different because they are grown in different places. How sensible.
How far along has the American wine industry come along this path? Honestly, not very far. Because, after the 1960s, the wine industry began putting branding and varietal identification in front of regional distinctions — something that couldn't be helped, of course, since no one had any inkling of regional distinctions forty, or fifty years ago — it will probably take a bit longer to turn this ship around and headed towards the inevitable European models.
I have no doubt, though, that it will be the consumers doing most of the pushing and prodding, with the grape and wine production industries dragged along kicking and screaming. The signs are everywhere. If, for instance, a few wine lovers can create a sudden demand for table reds made from Mission — a grape that the entire California wine industry has been trying to run away from since the 1850s — they can certainly institute giant, wholesale changes, whatever that may be, in what is grown, produced and sold, in every American wine region.
Customers, after all, want what they want... and they are always right!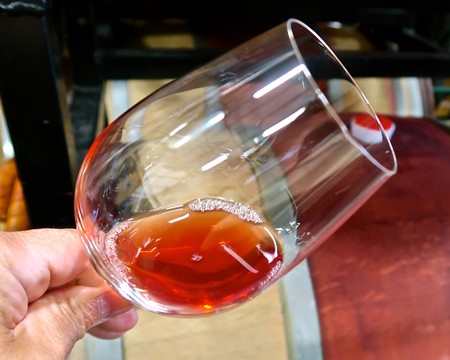 Comments