Letters from Lodi
An insightful and objective look at viticulture and winemaking from the Lodi
Appellation and the growers and vintners behind these crafts. Told from the
perspective of multi-award winning wine journalist, Randy Caparoso.

August 6, 2015 | Randy Caparoso
What makes Lodi special? For Mike McCay, it's the excavation of ancient vines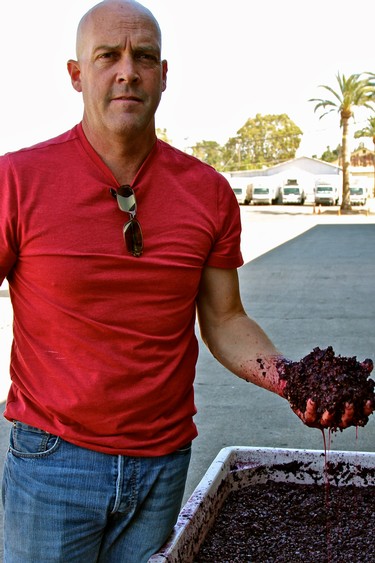 McCay Cellars owner/winemaker Mike McCay
If you ask Mike McCay, the winemaker/owner of McCay Cellars, about what makes Lodi special, he's going to want to talk about ancient vines and Zinfandel; which, after all, are his specialty.
But Zinfandel grows well all over California; and certainly, ancient vine plantings in places like Sonoma, Napa Valley, Paso Robles, Mendocino, Contra Costa, the Sierra Foothills or elsewhere do not take a backseat to plantings in any other region, including Lodi.
So what does make ancient vine Zinfandel in Lodi different, besides the fact that Lodi has a lot more acreage of these plantings (vineyards planted 50, 75, even over 100 years ago) than other regions?
The answer can be found in the type of Zinfandels fashioned by Mr. McCay since his first commercial vintage in 2007: Zinfandels with a strong sense of earthiness, even rawness, apart from the usual varietal fruitiness. Zinfandels that give the type of distinctive organic sensations that many wine lovers would characterize, for lack of a better word, as "soulful." Others, of course, would mutter words like terroir – with the proper French grrrowl.
Most of it has to do with the fact that Lodi does have a lot of vineyards that naturally express earthy qualities, which seem to pop out in lieu of more gently structured, lush fruit qualities. Maybe because they are not quite as intense in sheer varietal fruit as, say, Zinfandels grown in Napa or Sonoma. Or because they don't have as much of the varietal "spice" as Zinfandels from Amador County, or the ultra-ripe opulence of Zinfandels from Paso Robles.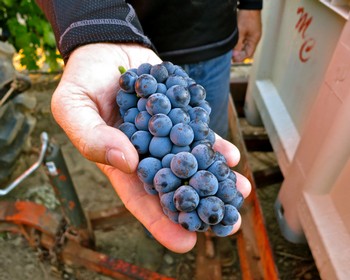 McCay's 2012 Trulux Vineyard Zinfandel cluster
A lot of it also has to do with the McCay approach to viticulture and winemaking. "I have an Old World palate," he has said from the get-go. "I'm not a fan of the r.s. style of Zinfandel" – meaning, Zinfandels made from grapes picked so high in sugar that they result perceptively sweet fruitiness. "By picking fruit little earlier (usually between 24.5° and 25.5° Brix) than usual for Lodi, I can produce a dryer, less jammy style of Zinfandel, without the high octane alcohol."
In other words, a more restrained style of Zinfandel – one that deliberately goes in the opposite direction of Zinfandels designed for maximum size and pedal-to-the-metal varietal character ("no wimpy wines," as one of California's more famous Zinfandel specialists proudly proclaims) – which, as it were, happens to be a style that makes vineyard-related sensations a little easier to delineate in the glass.
A current McCay release exemplifying this contrarian style? The 2012 McCay Cellars Lot 13-Faith Lodi Zinfandel ($32): a penetratingly perfumed, Bing cherry and dusty sandalwood scented bottling from a vineyard planted in 1915, owned and farmed by Mr. McCay himself, and rendered in a sleek, delicate, tart edged, downright waifish style (a vinous equivalent to a pretty but surly teenage girl – secret tattoo, pierced navel and all).
No wonder McCay Cellars has achieved more than its share of acclaim within eight short years. There is, after all, a growing segment of wine lovers who really never liked the gigantic, anti-wimpy style of Zinfandel, and for that reason stayed away from Zinfandel for many years. Wine lovers who think of lightness and moderation as positives, who eschew the taste of oak and high alcohol, and look for earthy, soulful, even down-and-dirty sensations in their Zinfandel.
Therefore, if you ask Mike McCay what makes Lodi special, he has to say it's mostly ancient vines and unique Zinfandels. He's found his schtick – multiple bottlings of single-vineyard wines, elevated in an Old World (mostly native yeast fermented) style – and he's schticking to it.
Or, in his own words:
Lodi has one of California's best climates for producing wine grapes. That, and our deep sandy loam soils, which allow vines to spread their roots and find their own natural sense of balance. It's why Lodi is perfect for Zinfandel, either grafted or on natural rootstocks; as well as for Rhône grapes, which are an easy fit in this warm climate, cooled off by Delta breezes each night.
But Lodi is also like an archeologist's dream, or like walking through Rome – the region is filled with hidden vineyards, like gems. Each one waiting to be uncovered, right under our feet. We're talking about heritage plantings, many of them over 75 or 100 years old – vineyards that have been disappearing into the 100-ton fermentors of the big boys for decades.
Every year I am working with two or three of these "new" vineyards, which actually have been around forever. We just never noticed them before. Often it's the case of a new generation taking over, who want to see their family properties finally get the credit they deserve.
And people are dying to taste them – the overwhelming success of the Lodi Native project is evidence of that. We're tasting single-vineyard Zinfandels which share similar themes of bright, elegant fruit – that's the overall Lodi character. Yet each of these old vine Zinfandels are different. It's our job to figure it out and present them.
As winemakers, step 1 for us has been identifying those vineyards. Step 2 has been learning each site's personality, what they respond to – what kind of crop loads, when and how much to thin, water, leaf pull, all those decisions you make to bring out the best in a field of old vine Zinfandel.
Native yeast fermentation helps us clarify each vineyard's personality, but it doesn't work 100% for every site. Some vineyards want to be bigger, more robust, sexier, earthier or richer. Some vineyards want to be more delicate, lighter, more perfumed, a little finer. We need to handle each one accordingly.
When we farm old vines and work with the grapes, the idea is not to try to put a square peg into a round hole. We're learning each vineyard's personality as we go along --that in itself is what makes this process so exciting. It's what keeps me going!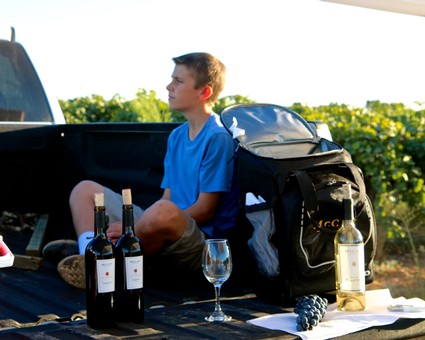 Matthew McCay manning back-of-truck Zinfandel tasting in Lot 13 Vineyard
Comments