Letters from Lodi
An insightful and objective look at viticulture and winemaking from the Lodi
Appellation and the growers and vintners behind these crafts. Told from the
perspective of multi-award winning wine journalist, Randy Caparoso.

August 11, 2015 | Randy Caparoso
What makes Lodi special? For Markus Bokisch, it's newfound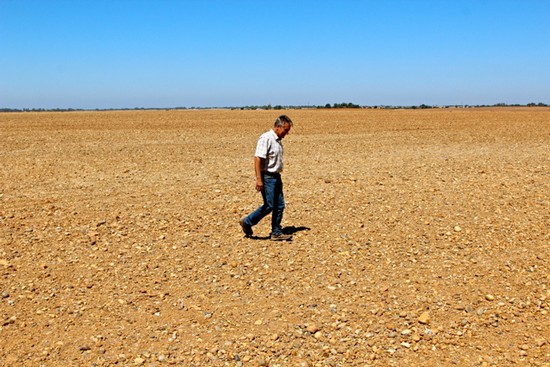 Markus Bokisch walking over cobbly clay terrain in Lodi's Cosumnes River AVA; site of one of Bokisch Ranches' latest vineyard plantings.
Is there any winegrower more sold on the Lodi Viticultural Area than Markus Bokisch of Bokisch Ranches?
Mr. Bokisch first started to come to Lodi during the early 1990s, while fulfilling his job of sourcing "Rhône Ranger" grapes (i.e. Syrah, Mourvèdre, Grenache, Carignan, Viognier, etc.) for Joseph Phelps Vineyards' Vin du Mistral program (since deactivated).
Enthralled by the region's Mediterranean-like terroirs, Mr. Bokisch and his wife, Liz Bokisch, left Napa Valley and moved to Lodi, purchasing their first vineyard property in 1995. Their dream was to specialize in Spanish grapes (like Albariño, Tempranillo, Garnacha and Graciano), inspired by Mr. Bokisch's Spanish heritage. But as a matter of practicality, they also began developing vineyards planted primarily to the wine grapes in biggest demand (Cabernet Sauvignon, Chardonnay, Merlot, Pinot Noir, etc.).
Today Bokisch Ranches has grown to over 2,000 acres, located in no less than six of Lodi's seven separate sub-appellations. He supplies over 50 wineries with some 40 different grape varieties; while producing hugely successful Spanish and Portuguese varietals (plus an ancient vine "Tizona" Zinfandel) under their own Bokisch Vineyards label.
Bokisch Ranches is emblematic of the bold, expansive, maybe even wild and crazy nature of the Lodi wine grape industry. Next door to the Bokischs' original planting of Spanish grapes along the Mokelumne River, there is a vineyard planted to over 40 German and Austrian grapes. Across the road there are stands of ancient vine Tokay and young trellised Syrah and Merlot, right alongside Zinfandel and Carignan dating back to the early 1900s.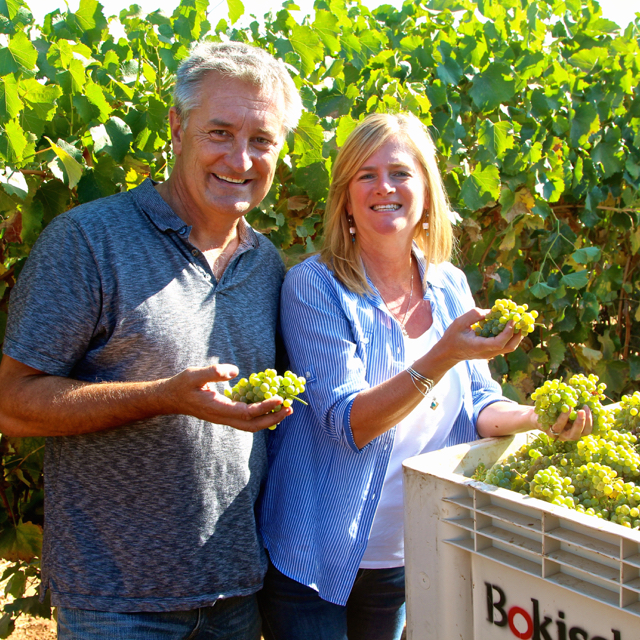 Markus & Liz Bokisch with their 2015 Terra Alta Vineyard Albarino harvest
There are over 100 varieties of wine grapes planted in Lodi; and they all find a home. According Mr. Bokisch, this why they came to Lodi in the first place: it represents a "freedom" unlike any other wine region in California.
In his own words:
What I love about Lodi is that it offers vineyardists and winemakers freedom to create wines without having to worry about the constraints of location. If you're in Napa, the economics dictate Cabernet. In Carneros, it's Chardonnay. Paso Robles is associated with Rhône and Bordeaux varieties. But in Lodi, the picture has yet to be painted. It's still wide open.
We planted Iberian, French and German varietals, all with equal success. This freedom of direction is due, in part, to Lodi's historic ability to redefine itself. Starting predominantly with table grapes in the 19th century, Lodi transitioned through Prohibition into a grape packing-house industry for home winemakers across the country. The era of Zinfandel was soon followed by the transition to Chardonnay, Merlot and Cabernet in the 1990s.
Most recently we have seen an explosion of different varieties and winemaking styles – from the delicate aromatics of Picpoul to the robust, gripping muscularity of Tannat. This constant redefining of what Lodi has to offer is a direct result of the cooperative and cohesive spirit of the area's growers.
This freedom which defines Lodi could not be possible were if not for the area's moderating climate and varied soils. Lodi's Delta breezes originate from the Pacific and cool us down every night. With regard to soils, Lodi's seven distinct AVAs range from cobbled slopes, the volcanic clay loams of the Foothills, to the organic, peat soils found in the Delta. In Lodi you find almost every possible combination of climate and soils appropriate to distinct wine grape varieties.
Lodi is indeed a unique place in the world of wine.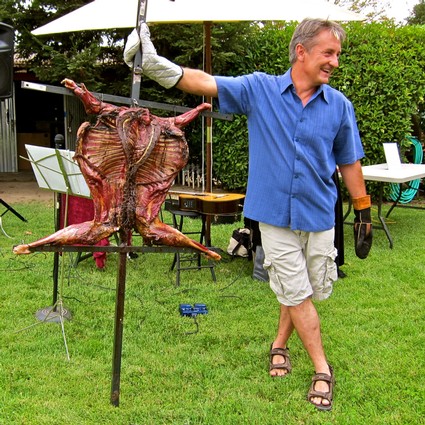 Comments