Letters from Lodi
An insightful and objective look at viticulture and winemaking from the Lodi
Appellation and the growers and vintners behind these crafts. Told from the
perspective of multi-award winning wine journalist, Randy Caparoso.

August 4, 2015 | Randy Caparoso
What makes Lodi special? For Borra's Markus Niggli, it's about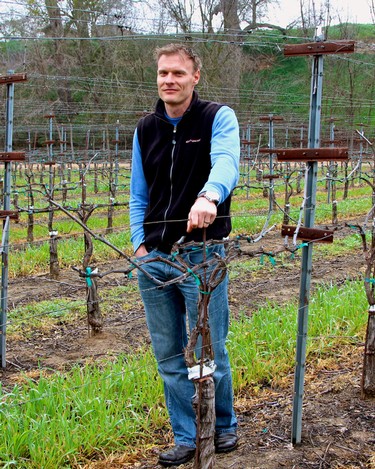 Borra Vineyards winemaker Markus Niggli with wintering Vermentino
What sets Lodi apart from other American Viticultural Areas? We asked Markus Niggli, the Swiss-born winemaker of Borra Vineyards. Borra is currently Lodi's oldest continuously operating family winery (bonded in 1975). Yet today, Borra is known as Lodi's most innovative winery – a reputation garnered almost since the first day, in 2006, when third generation Lodi grower/founder Steve Borra welcomed Mr. Niggli onboard.
"I trust him implicitly," Mr. Borra has been quoted to say in the local newspaper (Lodi News-Sentinel). "I like to say it is really Markus' winery — I just happen to own it."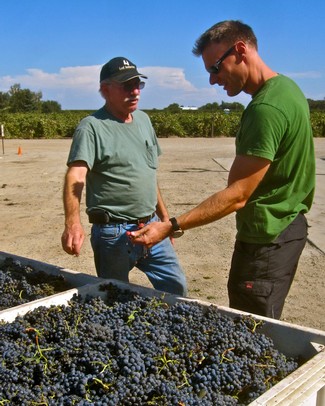 Borra Vineyards owner/grower Steve Borra with Markus Niggli
It is also hard to say what speaks in more volumes – the fascinating array of contemporary style wines crafted by Mr. Niggli, or Mr. Niggli himself. While low key, Niggli is not shy about talking about the dramatic changes he has brought to Borra Vineyards: the implementation of European style winemaking – particularly native yeast fermentation and an instinctive aversion to anything "unnatural," like acid adjustments and enzymes – and an aggressive embrace of Northern European grapes (such as Riesling, Kerner, Bacchus and Gewürztraminer) hitherto not associated with the Lodi AVA, known for its Mediterranean climate.
By the same token, wines like the 2013 markus Lodi Nimmo ($22) come across and gentle, bone dry and tautly tart, yet speak effusively in the nose and thunderously on the palate. A barrel fermented blend of Kerner (69%) with Gewürztraminer, Riesling and Bacchus, this white wine explodes with citrusy notes of candied tangerine and lime, with silky textures suggestive of whipped cream and twists of lemon peel.
And so naturally, when Niggli talks about what makes Lodi special, he talks about natural circumstances that invite versatility – there are few varieties of Vitis vinifera (i.e. classic European wine grapes) that can't grow well in Lodi – which has led to an environment that fosters innovation.
In Niggli's own words:
The more I think about what makes Lodi different, the more it comes back to change...
A change has happened here in Lodi over the past few years.
It is a changing of the guard – a "next generation" of vintners and winemakers already exploring the many new opportunities that the region offers.
It is a change in climate – we have been seeing earlier ripening growing seasons, which has pushed winemakers to get creative. The big winners are the new white wines with much higher acid levels than what people expect out Lodi. We have the climate – the Delta breeze cools off the valley every night with temperature drops up to 40° F. differences.
It is a change in grape varieties – this new generation of winemakers working with the many adventurous varieties now available to them. German grapes, Spanish grapes, Portuguese grapes, French grapes... and customers are responding with great enthusiasm to these new styles of white wine. Clearly, the market is hungry for it; and maybe more than any other region, Lodi is capable of delivering this!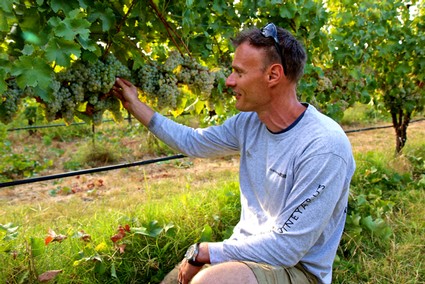 Borra's Markus Niggli with Mokelumne Glen Vineyard grown Kerner grapes
Comments