Letters from Lodi
An insightful and objective look at viticulture and winemaking from the Lodi
Appellation and the growers and vintners behind these crafts. Told from the
perspective of multi-award winning wine journalist, Randy Caparoso.

July 28, 2015 | Randy Caparoso
What makes Lodi special? According to Craig Rous, it's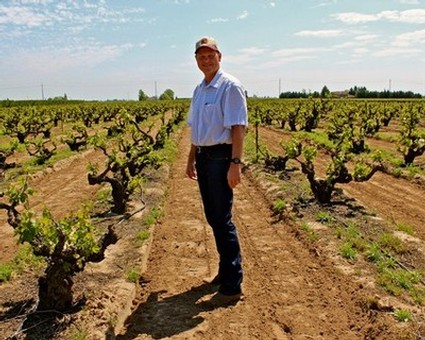 Craig Rous among his 106-year-old Rous Vineyard Zinfandel vines
Over the next two weeks we will feature words from a few winemakers and growers, speaking out on one subject: what makes Lodi special.
That is to say, the things that make the Lodi Viticultural Area different from other American AVAs that go beyond terroir – the mostly natural elements of a wine region related to climate and topography.
We will start with Craig Rous, the Director of Operations and Planning of the Kautz family's Bear Creek Winery. Mr. Rous not only oversees the processing of a myriad of wine grapes from all parts of the Lodi AVA, he also happens to be the owner/grower of Rous Vineyard – a 10-acre Zinfandel vineyard originally planted in 1909 on St. George rootstocks, located in the beach sand-like soils of the east side of Lodi's Mokelumne River AVA.
Rous Vineyard has long been considered one of Lodi's great growths. It is always one of the highlights in the line-up of single vineyard bottlings crafted by Macchia Wines each year. The 2013 Macchia Luxurious Rous Vineyard Lodi Zinfandel ($28) lives up to its moniker as a luxuriously textured, flowery scented expression of the varietal.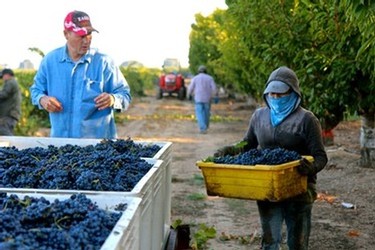 Craig Rous harvesting his 2014 Rous Vineyard Zinfandel
Perhaps even more of a definitive rendering of the vineyard is the 2013 Ironstone Rous Vineyard Lodi Zinfandel ($28); aged in more neutral oak barrels to emphasize the grape's natural, sweetly spiced (cracked peppercorn and clove), fleshy, silken layered fruit, merging black cherry and blueberry-ish perfumes.
There is both nuanced complexity and frank, easy accessibility in Rous Vineyard Zinfandels, which also reflect Mr. Rous's assessment of what defines Lodi. In his words:
What makes Lodi special? We can go on and on about warm days, cool nights, sandy soils, and a plethora of old vines. But when you think about it, I think it's the fact that when you visit Lodi as an enthusiastic wine lover, you really get unfettered access to principals. This is practically the only place where, wherever you go, you find yourself talking to owners and winemakers, not just winery employees.
And in most cases, owners are the winemakers in Lodi, and they also grow the grapes. This means they are doing things that make the best wines, not just for profit. Sandy soils and old vines are important, but so is the close, personal attention that owners naturally apply to what they do.
In Lodi, it's the personal touch that makes a difference. It's like Napa Valley was, 40, 50 years ago. We are a large wine region, but within a comparatively small, tight community, with direct connections between winemakers, growers and grapes. Our winemakers and owners are out in the vineyard more than in other wine regions. They live among the vines, and so they are in tune with what's going on, winter, spring, summer and fall. And it's a relationship that goes way back – in many cases, for over 100 years.
It's that close proximity that makes a difference, and it ends up in the wines. Sure, a lot of people still aren't exactly sure what a "Lodi wine" really is. But our winemakers and growers do, and we're doing a better job each year getting the word out.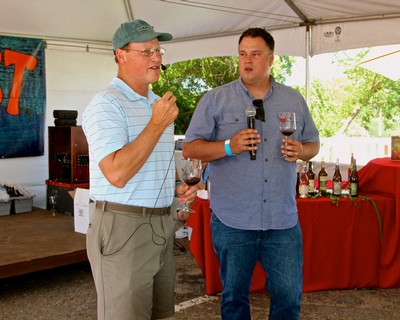 Craig Rous speaking at 2014 Lodi ZinFest (with Turley Wine Cellars' Tegan Passalacqua)
Comments
nike
@ Apr 30, 2016 at 5:45 AM
cool