Letters from Lodi
An insightful and objective look at viticulture and winemaking from the Lodi
Appellation and the growers and vintners behind these crafts. Told from the
perspective of multi-award winning wine journalist, Randy Caparoso.

December 12, 2016 | Randy Caparoso
Viticultural consultant Stan Grant talks about Lodi growers' "quiet revolution"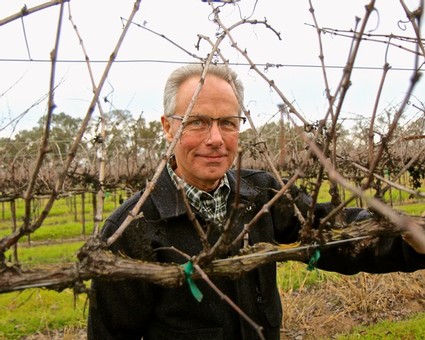 Lodi has become synonymous with generous, expressive wines; many readily available at exceptional, value-range prices, and more and more of them crafted by smaller specialty producers in classic artisanal styles. None of this came out of nowhere. It represents a culmination of labors, organization and advances generated primarily in Lodi's vineyards, which now add up to easily the largest acreage of premium wine grapes in the U.S.
Vineyard consultant Stan Grant has played a small part in this growth; enough to be able to articulate it, at least from a viticultural perspective. We met with him last week (early December 2016) in Den Hartog International Farms – a vineyard owned and farmed by Pieter Den Hartog, located in the north-west corner of Lodi's Mokelumne River AVA.
Mr. Grant drew our attention to the trellis system that he recommended for Den Hartog's Pinot Noir block; in which two horizontal cordons (or "arms") are trained from a single 5-ft. high trunk – only, rather than perpendicular as in most California vineyards today, the arms are spread apart and trained along two parallel wires, effectively opening up an area of space down the middle of the vines.
"This is called the Wye trellis," says Grant. "It's a double-cordon system with the arms trained on wires in an 'S' shape, creating parallel fruit zones down the vine row and promoting balance between leaves and fruit, and fruit exposure to dappled sunlight."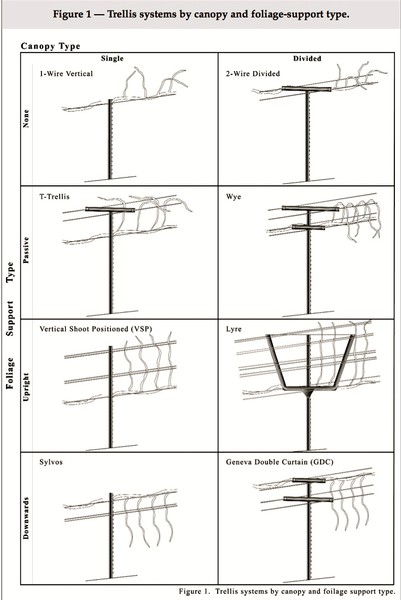 Then Grant walks a few feet across a dirt road to an adjoining block of planted Pinot Gris vines, trained on a more typical modern-day trellis called VSP (i.e. Vertical Shoot Positioned); where shoots are grown upwards between parallel wires, giving grape clusters growing along the cordoned arms below more exposure to sunlight.
"There are a number of redeeming features to VSP," Grant explains. "It is relatively inexpensive to install, not requiring a lot of hardware. It's easy to prune, hedge, and mechanically harvest; and it's aesthetically pleasing, which is probably why you see it everywhere you go on the West Coast.
"But the downside – for most of California, including Lodi – is that VSP can be inefficient viticulturally. Clusters tend to be bunched in a narrow fruit zone. Shoots are also scrunched up together between the wires, creating interior leaf shading rather than the ideal configuration, where every leaf is exposed to sunlight (thus, doing the work of photosynthesis). There can also be over-exposure of external clusters to direct sunlight, resulting in sunburn or raisining.
"While the fruit quality off of VSP is sometimes less than ideal, productivity is also limited on a consistent basis. I would argue that you not only get higher quality fruit from a more spread-out Wye trellis, there is also potential for higher yields. VSP in Lodi, in other words, puts limitations not only on quality, but also limits production per unit to raw land.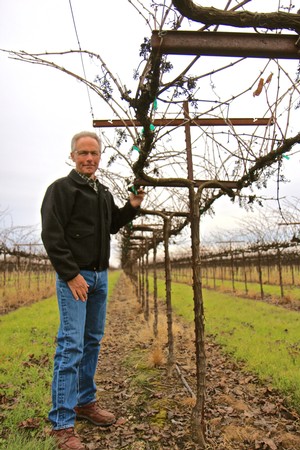 Mr. Grant's point being: The Wye trellis is one of several technological options available to forward thinking Lodi growers. It is a system that allows them to address many of their growing needs; particularly concerning how to achieve economically viable yields of higher quality wine grapes, to meet the increasingly higher standards set by today's wineries, both large and small. This is not to mention the multiple challenges, both topical and perennial, possible or imminent: labor shortage, drought, land use restrictions, a shifting economy, an evolving market, pests and diseases, climate change, or any combination thereof.
Grant's consulting firm, Progressive Viticulture, has been very active in California. He has consulted on, or designed and developed, vineyards in Clarksburg, the Central Coast, the Sierra Foothills, and all over San Joaquin Valley. In Lodi, he has worked closely with the Lodi Winegrape Commission's staff and Lodi Rules Committee; while also serving as adjunct advisor for Mid Valley Agricultural Services, applying his innovative viticultural designs to companies like Den Hartog International Farms, Tamura Farms, Sorelle Winery, and others.
Earlier this month (December 2016) we sat down with Mr. Grant to pick his brains further; particularly to get an idea of where he thinks the Lodi American Viticultural Area is headed in respect to viticulture. Our chat...
R.C.: How long have you been working in the Lodi area?
S.G.: To some degree, nearly as long as I've been involved with viticulture, which is going on three decades. During that time, what's been happening has been nothing short of a quiet viticultural revolution.
The industry has evolved tremendously; becoming more in synch with seasonal grapevine development and the allocation of resources throughout the season in order to maintain healthier vines, which produce higher quality grapes for wineries.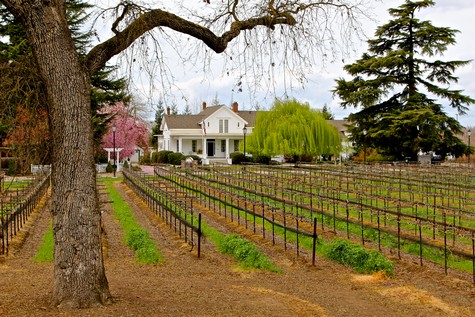 More than ever, the focus is on doing the right things at the right time; beginning with the proper selections of clones, rootstocks, training and trellising methods. The objective is to produce the best quality grapes as efficiently as we possibly can. I feel fortunate to have come into the industry at a time when there are so many opportunities for a guy like me.
R.C.: When did you start your own consulting firm?
S.G.: I began Progressive Viticulture nearly 17 years ago. From the beginning of my consulting business, Lodi has been a primary market for me. I first came here when I was working for E. & J. Gallo as a viticulturist. My involvement deepened as I developed and managed vineyards in the Lodi region for Duarte Nursery.
R.C.: What is the primary focus of Progressive Viticulture?
S.G.: Helping grape growers advance their vineyard businesses. To that end, I assist in evaluations of potential vineyard sites, vineyard design and development, and vineyard management for optimized operational efficiency and sustained high yields of high quality wine grapes.
R.C.: Are there adjustments made when advising growers planting to different varieties, or in the different viticultural areas of Lodi?
S.G.: There is, in fact, a great diversity of soil types in the Lodi region – some more conducive to larger vines than others. Most soils in the heart of the region, around the City of Lodi, are deep, well drained, and fertile; which correspondingly support larger vines. When we go east of Hwy, 88 we find older terrace soils, including San Joaquin series soils, which are highly weathered and low in fertility. Vines on these older soils tend to be smaller, so we adjust vineyard designs and management inputs accordingly.
Adjusting to grape variety, of course, is always crucial in vineyard design. Foliage support is commonly the key. For example, Cabernet Sauvignon and Sauvignon Blanc are upright growers – whereas Petite Sirah has a draping growing habit and therefore benefits from foliage support, with the use of cross-arms on a t-trellis, or a Wye trellis.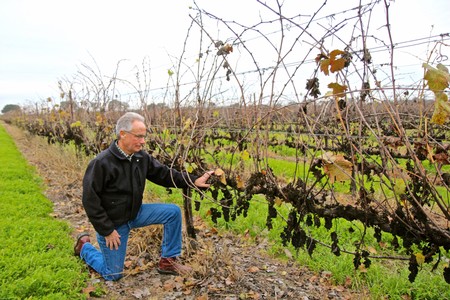 Stan Grant with example of VSP (Vertical Shoot Positioned Pinot Gris)
Beyond variations of site and variety, there is always a standard set of goals in vineyard design and management. First, you always want a balance of leaf and fruit growth – about 14 to 16 leaves for shoots bearing 2 clusters. You want to achieve that balance as soon as possible after fruit set.
R.C.: Please explain the reasons for achieving that precise kind of vine balance in a way that a layman might understand.
S.G.: Put it this way: when there is not enough leaf surface on a plant it is difficult to ripen crop. You end up with fruit that won't reach full maturity. But when there is too much leaf surface in relation to fruit, there is a tendency for fruit to end up with vegetal characteristics that also won't meet wineries' quality standards. On top of that, you get operational inefficiencies – the need to hedge canopies, waste of water and nutrients, or possible fungal diseases. The idea is to have balance – you want just enough canopy, but not too much canopy, to ripen fruit efficiently and meet quality goals.
R.C.: How would you summarize the overall goals of an ideal vineyard design?
S.G.: You want to achieve three things, all with the fewest inputs during an average rainfall year. First, you want it to be conducive to a balanced growth; allowing you to manage it to meet the right equation of leaf and fruit. Second, you want to be able to achieve exposure of fruit beneath a canopy to dappled sunlight – you get that with a veneer of a single leaf layer over fruit.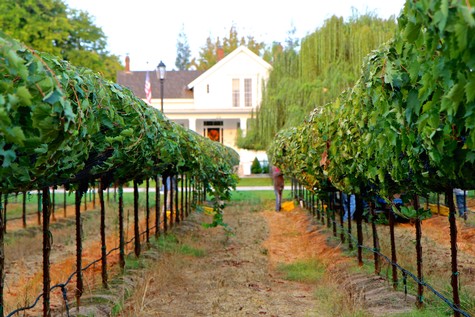 R.C.: In other words, you don't want grape clusters fully exposed to sunlight, but at the same time you don't want fruit to be under full shade caused by excess amount of leaves?
S.G.: Correct. Direct exposure harms fruit – bleaches the skin, damages mechanisms of color and flavor synthesis, and might result in raisining or shriveling. But if you have more than one layer of leaf and too much shading, color and flavor are also diminished.
R.C.: What is the third goal of correct vineyard design?
S.G.: That would be installation of a high performance drip irrigation system to moderate water stress; again, something in practice that is achieved as soon as possible after fruit set. Careful vineyard water management – or what we call RDI, regulated deficit irrigation – can have a direct impact on color, flavor, aroma, tannin, etc., and also keeps pH lower and acidity higher.
R.C.: Have thoughts on deficit irrigation also evolved over the past 30 years?
S.G.: Oh, yes. The deficit irrigation concept grew out of research in the 1970s in Australia, and the 1980s in the U.S. After that, it took a number of years before California practitioners came to appreciate, adopt, and become comfortable with deficit irrigation.
R.C.: Is it safe to assume that, 20 or 25 years ago, many of the plantings in Lodi weren't as easily amenable to evolving irrigation or canopy management strategies?
S.G.: No question, it is easier to achieve vine balance and productivity when vineyards are designed appropriately for the variety and site.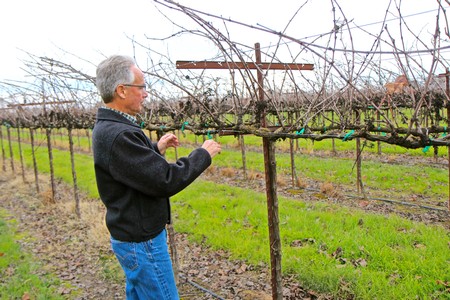 R.C.: Especially since more and more of these same growers – at least in Lodi – have also been transitioning to winemaking themselves. Does it matter more when you are more conscious of growing grapes to make wine, rather than just "fruit"?
S.G.: Very much so. A lot of the progress in Lodi has been driven by growers who have become wine producers, focused more on higher quality grapes.
R.C.: Yet in Lodi, growers are still getting a fraction of what growers get in places like Napa and Sonoma for their fruit. How can Lodi growers possibly put more effort into growing higher quality grapes when they are not nearly as well compensated?
S.G.: There is a two-pronged approach to dealing with this situation. One: optimize the quality of Lodi wine grapes and improve perceptions about them. Two: take advantage of our local assets and farm efficiently.
A key component of the second prong is designing vineyards that maximize quality, efficiency, as well as productivity per acre. For instance, as you know I am a strong advocate for what we call the Wye trellis – a horizontally divided, bilateral trellis system involving interlocking cordons in an "S" shape, which opens up the canopy, increases fruit production per acre while also increasing fruit quality.
R.C.: Why is the Wye trellis superior to the VSP (Vertical Shoot Positioning) that predominates up and down the West Coast?
S.G.: The VSP is a trellis system designed for cool climates, but Lodi as well as most California winegrowing regions have warm climates. The advantage of VSP is that it keeps shoot tips upright and fully exposes clusters to sunlight – which is great in a cool climate, but a distinct disadvantage in warm climate regions.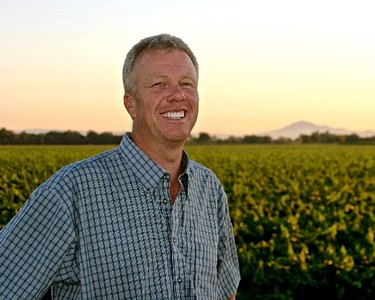 R.C.: Is the Wye trellis just as effective for varieties like Pinot Noir and Chardonnay as it is for Cabernet Sauvignon or Petite Sirah?
S.G.: The Wye trellis is adaptable to nearly all wine grape varieties, although vine spacing and cordon length need to be adjusted to accommodate the inherent growth capacity of the variety and rootstock.
R.C.: Just as long as you maintain an ideal balance of fruit and leaf/canopy?
S.G.: Precisely. Another advantage of the Wye, which I didn't mention before, is that vines are trained higher and trunks are longer – 55 to 60 inches, as opposed to 30 or 32 inches typical of Vertical Shoot Positioning. The longer trunk gives vines greater storage capacity for carbohydrates and minerals such as nitrogen. Vines with more stored reserves have a greater capacity for early season leaf development. This gives plants a head start and a ripening advantage.
However, the comparison of Wye trellises with vertical shoot positioning trellises may be bit behind the times. While VSP trellis installations were common in Lodi during the 1990s planting boom, the percentage of new VSP vineyards since 2000 has diminished. Since that time, a large number of the major wineries have recommended alternative systems, and some prominent Lodi viticulturists have openly criticized it, including Paul Verdegaal (the San Joaquin County Farm Advisor for University of California Cooperative Extension) and Chris Storm (Viticulturist for Lodi's Vino Farms).
R.C.: While I have seen trellis systems like the Wye done successfully at wineries like Sorelle, where it is used for Sangiovese and Barbera, it has not become a norm. When you drive around the Lodi region, it still looks like many growers are determined to copy what they see in Napa Valley.
S.G.: I can't agree with the premise of that statement. While a few Lodi growers look to the coast, most of them chart their own course, and many are true innovators. You don't have to look far for examples of that: the accomplishments of grower organizations like the Lodi Winegrape Commission; the many Lodi-specific research projects; and Lodi Rules for Sustainable Winegrowing certification.
I love working in Lodi, but frankly, my own role in advancing viticulture in Lodi has been minimal. I have functioned more as an observer than agent for change. Since first becoming involved in Lodi projects in 1989, the art and science of vineyard design and management has progressed substantially in California, and I believe the advances have been most profound in Lodi and the Delta.
So many significant advances in vineyard design, farming practices, vineyard mechanization and mineral nutrient management have originated in Lodi. While the Lodi wine region itself has many natural assets, clearly it is the people in Lodi who are making exciting things happen!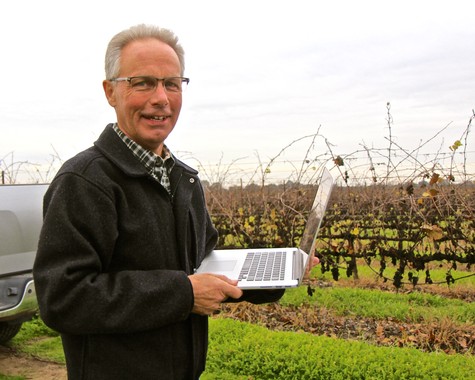 Comments