Letters from Lodi
An insightful and objective look at viticulture and winemaking from the Lodi
Appellation and the growers and vintners behind these crafts. Told from the
perspective of multi-award winning wine journalist, Randy Caparoso.

November 30, 2017 | Randy Caparoso
Uvaggio's Vermentino and Passito exemplify the once, future and never-to-be-again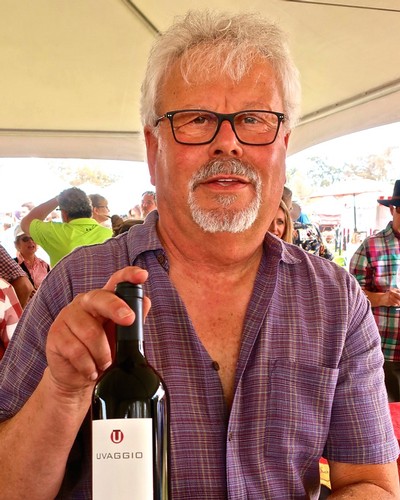 Alone in the vegetable kingdom, the vine makes the true savor of the earth intelligible to man. - Colette
The knock on California wines – particularly by those with a penchant for European wines – is that the weather is so warm and benign that the resulting wines are invariably more fruity than expressive of "place." This may be true. In fact, rather than wines that best express their respective vineyard sources, American magazines tend to gleefully give the highest scores to wines that have the plumpest, fruitiest character.
When it comes to wines, California is like the preening hunk or curvaceous hussy we can't wait to watch each week.
But is it the weather or the grapes that pump up California wines into shallow, liquid fruit bombs? Nearly 30 years ago, on a personal quest to learn what makes French wines tick, I tasted for the first time white wines in Provence made from a grape called Rolle. It was an awkward introduction, as are all encounters when you have no point of reference and something is a little off or different. These white wines were not full bodied or intense with fruit, which is how California wines are rated. Instead they were lean, tart and dry – like drinking mineral water, only with alcohol and a squeeze of lemon – and their aromas were more like mixtures of thyme, anise and lavender rather than the apples-peaches-pumpkin-pies typical of California wines.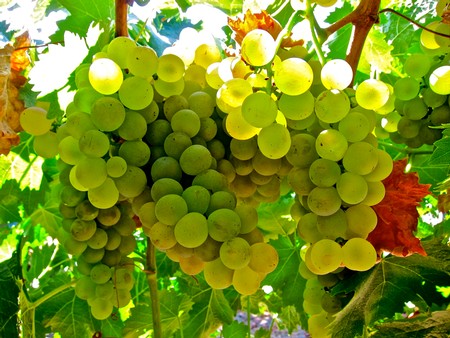 A few years later (in the mid-'90s), just as I was getting used to white wines made from Rolle, the famous Berkeley importer named Kermit Lynch tasted me on his "latest" white wines imported from Corsica – also made from Rolle, only there they call the grape Vermentino. Oh goody, I thought, more wines with weird sounding names. Like the white wines from Provence, the Corsican whites were the opposite of "fruity." In fact, they were even more herbaceous – smelling, as Lynch explained it, like the island's maquis, or wild brush (I guess what we would call "weeds") – with mineral sensations bordering on brininess (like swimming in salty water). Love it or leave it.
Some 16 years later (in 2011), livin' la vida loca in Lodi, I sat down for the first time with a winemaker named Jim Moore, who owns and produces wines under the Uvaggio label. Although Moore has the somewhat brusque personality of someone who doesn't suffer fools gladly, for the past dozen or so years he has been on a mission that some may just as well call a fool's errand: He wants to make Vermentino as popular a varietal white wine as Pinot Grigio, maybe even Sauvignon Blanc or Chardonnay. In fact, Moore is fond of saying, "Vermentino is the thinking man's Pinot Grigio."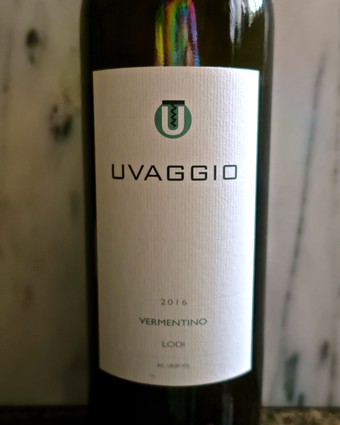 Not only is Moore bullish on Vermentino, he is 100% convinced that Lodi is the wine region that may eventually turn the American consumer away from the sea of tutti-fruity commercial white wines. Says Moore, "Not only is it more possible to grow very good Vermentino in Lodi, Lodi is the land of cost-effective viticulture... No one in Napa Valley (where Moore actually lives and works) would take the risk with an adventurous, esoteric grape like Vermentino – I had to come to Lodi for that.
"We were among the first to embrace this distinctive cultivar in the Lodi AVA, and in the early 2000's I persuaded my friend Rod Schatz to plant 1.5 acres as an experiment. Our first vintage was in 2005, and it was successful. So we sought out an additional grape supply, which led us to also begin working with Kevin Delu in 2006. Over the past 13 harvests, we have vinified Vermentino from six different blocks, located in four of Lodi's various sub-appellations."
The good news is that slowly but surely the American consumer is coming around to precisely the type of wine personified by Moore's current release, the 2016 Uvaggio Lodi Vermentino ($18), even if it still is a small minority. But if you prefer tart, light (barely 12% alcohol), tingly, lemony dry whites, you may think the Uvaggio Vermentino is the finest in America.
A lot of it is the grape: Like that of the classic Rolles of Provence and Vermentinos of Corsica, the Uvaggio's nose is decidedly unfruity – more like slivers of fennel, or a drop of licorice, with a squeeze of lemon and a stony minerality.
Commenting on the moderate alcohol of his Vermentino, Moore tells us: "We have experimented with different harvest maturities and have zeroed-in on a lower Brix (i.e. grape sugar readings) to achieve about 12.5%. Since 2014 we have focused exclusively on a single block in the Borden Ranch AVA that is harvested at around 20.5°-21.0° Brix." The result is the type of light and airy white wine, verging on the edge of puckering, that absolutely screams for shrimp or oysters, although on the bottle's back label Moore recommends Thai or Vietnamese cuisines.
And now for something completely different: the Uvaggio Lodi Vermentino Passito ($20; 375 ML), which is a dessert style rendering of the varietal, made in the traditional Italian style of "drying" the grapes (i.e. passito) until they reach an almost raisined, natural sweetness. But because it is a Vermentino (in Southern Italy passito style whites are usually made from fragrant Moscato), the brassy tinted Uvaggio Passito has more of a mix of herbs and honey in the nose (not apricots and peaches like most dessert style whites); and on the palate, it is light, airy and citrusy fresh – its sweetness delivered in a silken fine, dancing texture, with a smack of lemon peel towards its deft and filagreed finish.
Moore explains how his Vermentino Passito came about: "After Rod (Schatz) determined his original experimental block was destined for eventual removal (the grapes were fantastic, but had to go to make room for winery expansion), we decided to optimize this doomed resource. Since we had no place to dry grapes, rather than make a vin de paille, in 2012 we cut the trunks on some of the vines (essentially killing them) and allowed the grapes to dry on the vine until they reached over 36° Brix.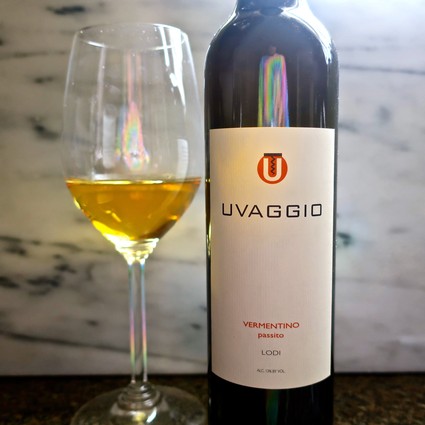 "In drying via this method, we could time when to terminate the natural maturation and avoid double handling. This mini-experiment proved so successful that in 2013, the remainder of the block was handled in this fashion. I cannot envision us getting more 'full geek' than we managed with this wine – no yeast inoculation, 100% barrel fermented, 100% barrel aged and no SO2 added until bottling."
The only drawback to Uvaggio's Vermentino Passito, of course, is that it is product of specific 2012 and 2013 happenstances – never to be repeated anytime soon. Quips Moore, "Since it was made from a block that was removed, think of this as giving Rod's vines an afterlife."
The Uvaggio Vermentino bottlings, you can say, are truly phenomenal for being what they are (made from one of the world's most unique grapes), what they could be (possible precursors to a "new American taste" in white wine), and what they are never to be again (at least in the case of Uvaggio's amazing Passito).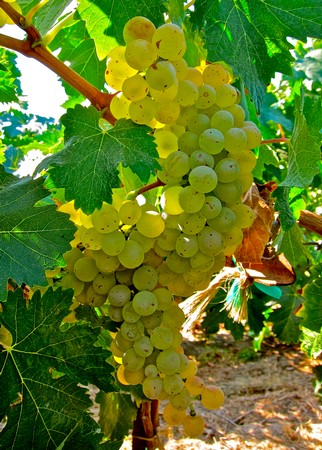 Comments