Letters from Lodi
An insightful and objective look at viticulture and winemaking from the Lodi
Appellation and the growers and vintners behind these crafts. Told from the
perspective of multi-award winning wine journalist, Randy Caparoso.

October 2, 2015 | Randy Caparoso
Top Elk Grove chef/restaurateur finds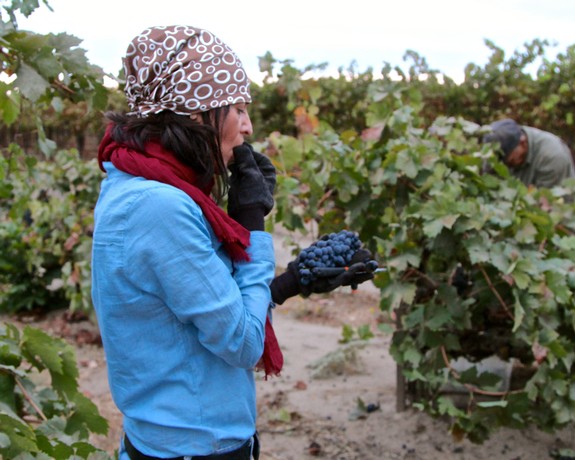 Todo un Poco chef/owner Marie Mertz tasting just-picked ancient vine Zinfandel in Lodi
Marie Mertz is a restaurateur/chef who lives and works in Elk Grove, one of California's most rapidly growing cities, located just south of Sacramento. But up until last week, she never really spent time in Lodi wine country, despite the fact that her popular restaurant, called Todo un Poco, is located well within Lodi's Alta Mesa AVA.
Ms. Mertz readily admits, "Lodi is in my backyard, but whenever an opportunity arose to visit wineries I always went elsewhere with the belief that I could learn more about wine in other regions." Like others in the restaurant trade, Mertz was handicapped by preconceived notions of Lodi. First, that it was, in Mertz's words, "Zinfandel-land" – a type of wine that she felt wasn't exactly simpatico with her cuisine at Todo un Poco.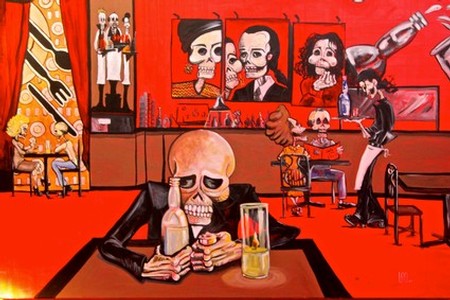 Muertos themed mural in Todo un Poco, depicting the bar and dining room of Todo un Poco
At the urging of Camron King, the Executive Director of the Lodi Winegrape Commission (i.e. LoCA), Mertz joined 28 other sommeliers from across the country in a 3-day study of the Lodi Viticultural Area this past September. It was tough going – staying at Wine & Roses Hotel, but waking up at 5:00 in the morning to pick Zinfandel and visit ancient vine plantings; punching down fermenting vats and tasting dozens of wines deep into the night.
But whatever preconception Ms. Mertz had about Lodi was quickly cast aside the moment her lips touched a glass of one of the Delta's new style wines. She tells us, "Upon our first reception at Oak Farm Vineyards, I tasted the 2013 Onesta Lodi Cinsault Rosé ($22) from Bechthold Vineyard, made by Onesta winemaker/owner Jillian Johnson, with beautifully bright acidity, a lush elegance, yet bone dry... it was love at the first sip!"
Prior to her pilgrimage Chef Mertz had a good reason for being a Lodi skeptic: her palate is very much a culinary one. For her, if a wine doesn't fit with foods she prepares, serves or enjoys, she's just not interested. She simply wasn't aware that Lodi grew and produced wines very much conducive to dishes served at Todo un Poco; which, incidentally, may be the best restaurant in both Sacramento County and San Joaquin Valley that you never heard of. It's certainly been among Elk Grove's most successful restaurants during the past 15 years.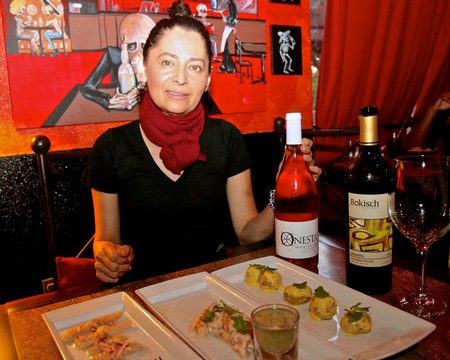 Maria Mertz with two of her favorite Lodi wines (Onesta Rose and Bokisch Albarino) and three of her tapas style dishes in chile spiced vinaigrettes or aquas
Todo un poco, according to a recent article on Mertz's restaurant in Comstock's magazine, "means 'a little bit of everything,'" which describes the approach of Ms. Mertz. Although Mertz is in partnership with her husband Manny Singh, who was in the pizza restaurant business before they came together to establish their restaurant, Mertz is the one who brings that je nais sais quoi – or rather, todo un poco – to the table. According to Comstock's, "She runs the bistro's operations, cooks, builds menus, chooses daily specials, buys fresh produce, trains staff, handles community relations and hand-selects her wines."
The cuisine at Todo un Poco fuses Mexican and Italian culinary traditions, which in Mertz's hands is a lot more seamless than it sounds. It is the result of a natural evolution: Ms. Mertz grew up in Guadalajara, Mexico, the daughter of a Mexican/American Indian mother and German Jewish father. She grew up cooking in a kitchen with her late father's best friend, who was Italian. So according to Mertz, "We had a very international feel in our household... I thought it was normal."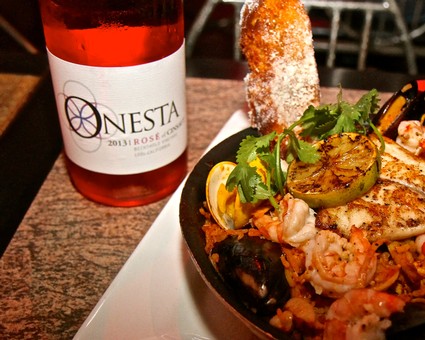 There is a magical connection between Onesta's brightly fruited Rose and Todo un Poco's earthy, briny seafood paella
There are also Asian, Caribbean, Portuguese and Punjabi Indian elements in Todo un Poco's cuisine – influences from Ms. Mertz's life in California, and that of her husband, who originates from Punjab. So while one of her more popular dishes may be spaghetti with carnitas in a laboriously layered oregano and mole tinged sauce, she'll also make a 3-cheese pizza with cauliflower, potatoes and cilantro cooked in India masala.
Under any circumstances, this original approach to fusion style cooking can be a challenge for wines. Dishes with multiple spices and sensations that touch every part of the palate can be hell on wines. As much as you love wines, you might be tempted to settle for beer with such assertively flavored dishes. For Mertz, it took a multi-day immersion in Lodi to discover that there is a myriad of wines grown right in her own backyard that are more than up to the task of complimenting her multi-faceted cuisine.
The reason why most people are tempted to reach for beer when faced with spicy dishes is that the instinct is to enjoy beverages that freshen the palate with light, easy sensations. Chef Mertz found that wines like the 2014 Bokisch Las Cerezas Vineyard Lodi-Mokelumne River Albariño ($18) are not just light and easy, but also refreshingly delineated. She says, "I love the crisp acidity of the Bokisch Albariño – it could pair well with a variety of seafood dishes and, of course, a good paella. I can enjoying this beautiful white wine with our camarones alla diabla – shrimp cooked in a light spicy and sweet sauce. It is the Bokisch Albariño's acidity that make it so versatile. You can enjoy it with a shrimp ceviche, or a beautiful white fish crudo with hints of jalapeño and mint chutney."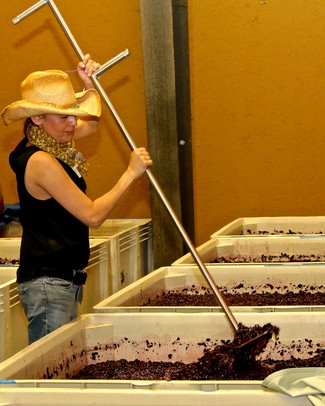 Chef Mertz punching down fermenting Zinfandel at Lodi's Macchia Wines
Mertz goes on to say: "Bokisch also produces a 2014 Clements Hills-Lodi Albariño from their Terra Alta Vineyard ($18) that made me think of our meatballs à la tomatillo, with fresh jalapeños and cilantro sauce. We also have a pasta las marias – spaghetti and chicken cooked in tomatillo sauce with fresh cilantro, tomato, hints of sour cream and a touch of queso fresco.
"Another wine by Bokisch Vineyards that would be a great pairing for seafood crudo or ceviche, not to mention mussels in citrus-tomato-chorizo sauce, is their 2014 Borden Ranch-Lodi Verdejo from Clay Station Vineyard. These medium bodied whites by Bokisch share common qualities of bright acidity, long finishes and very inviting aromatics – typical of the types of white wines Lodi is producing these days."
Are you getting hungry yet, listening to how Chef Mertz "thinks food" when tasting Lodi wine? We are!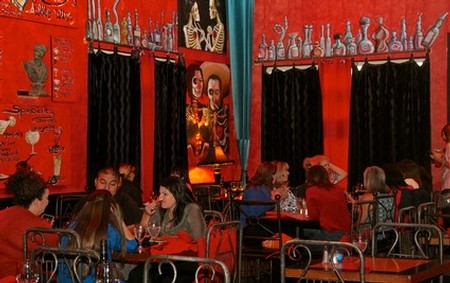 Happy live guests at Todo un Poco
Mertz goes on to describe the 2013 Onesta Cinsault Rosé as "a fantastic gastronomic wine." When she savors this pink wine's soft yet refreshing acidity, she immediately thinks of "brunch, tapas, or Indian inspired cuisine." The tinge of earthiness beneath the Onesta Rosé's bright strawberry-rhubarb fruit makes the wine a salivating match with Todo un Poco's pungently saffoned, briny shellfish studded paella. Ms. Mertz also cites "spinach and salmon salad with feta in sun dried tomato vinaigrette," or else "a Provençal style chicken with apples, light tomatoes and herbs that I prepare for holiday caterings."
Chef Mertz was also enthusiastic about the 2014 markus Lodi Nimmo ($22). Crafted by Borra Vineyards' Markus Niggli, this is airy-fresh, silky, gently tart, avante-garde style white wine blended from Lodi grown Kerner (71%), Gewürztraminer (13%), Riesling (11%) and Bacchus (5%). Says Mertz: "Nimmo is another great, exotic white wine from Lodi with the right balance of acidity and fruit to pair with seafood dishes and assorted styles of ceviche inspired in Mexican and Peruvian cuisine. I also think of chipotle shrimp taco; or else grilled fish with hints of curry and citrus, perhaps topped with a raita, a yogurt sauce with fresh cucumbers and a touch of fresh mint."
In any case, Chef Mertz tells us that her visit to Lodi "totally changed my conception of the region. Like others, I was once skeptical of the quality of the wines, and surprised by the vast selection of varietals now being produced there. As more people in the industry are exposed to the beautiful, unique white wines, especially, being produced there, I think we will see more representation of these wines on wine lists across the country."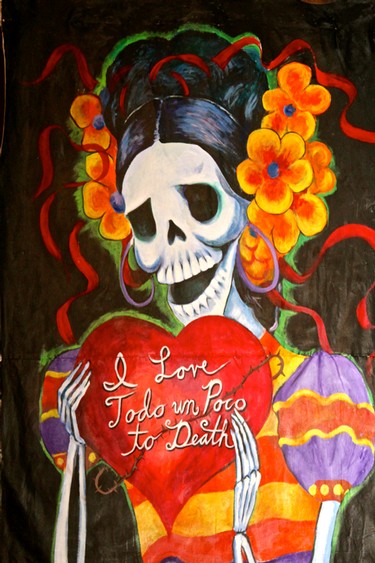 Comments