Letters from Lodi
An insightful and objective look at viticulture and winemaking from the Lodi
Appellation and the growers and vintners behind these crafts. Told from the
perspective of multi-award winning wine journalist, Randy Caparoso.

December 16, 2015 | Randy Caparoso
Toasted Toad's Lodi wines are as adventurous as its winemakers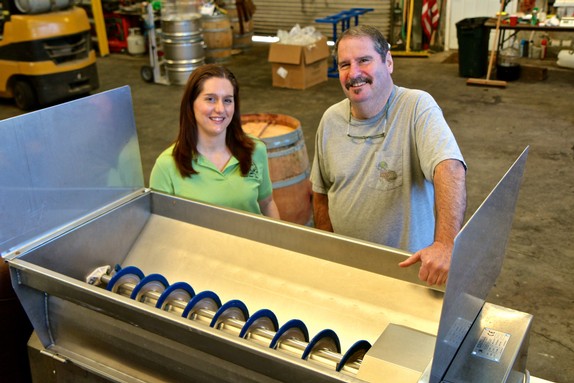 Toasted Toad's daughter/father team Laura and Jeff Werter in their Downtown Lodi winery
Last week, speaking in his Downtown Lodi winery and tasting room, Toasted Toad Cellars Owner/Assistant Winemaker Jeff Werter told us, "It's been 4 years, 1 month and 5 days since we opened, and we've loved every minute of it."
There are primarily two strands to this feel-good story. First, Mr. Werter – who has harbored a love of wine as a collector/consumer and home winemaker virtually his entire adult life (and actually, even before that) – basically started up Toasted Toad Cellars to give daughter/partner, Laura Werter, an opportunity to be a Winemaker/Owner of her own winery.
Second: Guess how Ms. Werter caught the winemaking bug in the first place? Dear ol' dad, of course. "I grew up making wine," she tells us, "from the time I was 7, when dad made his first barrel of Zinfandel." Ms. Werter has since grown up to become a winemaker with an exacting sense of detail that starts in vineyards, while sharing her father's sense of fun and family. "Wine should be fun," she tells us, "no matter how seriously you take it."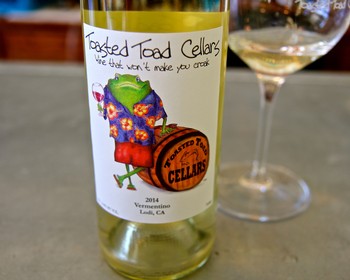 The older Werter adds, "We're ADD. when it comes to choosing varietals... we've already made wine from at least 30 different grapes – our favorites are the ones that people would consider the most uncommon!" Indeed, visitors to Toasted Toad Cellars are given the opportunity to try a whimsical range of nearly two-dozen blends and varietals; which include Vermentino, Verdelho, Viognier, Primitivo, Pinotage, dry as well as sweet Port style reds made from grapes like Souzão and Touriga, and even a best selling Zinfandel (imagine that, a Zinfandel by a Lodi winery).
Still, says the younger Werter, "We're fortunate that we live in Lodi, where we have access to so many different grapes – something that we wouldn't have if we were somewhere else. Still, we care about what we put in the bottle – if a wine doesn't come out right, I'd rather dump it down the drain than put our label on it."
"Stylistically," says Mr. Werter, "we're minimalist – we don't do a lot to our wines, we barely filter or fine, and our wines see very little oak influence, if at all." The Werters' first case in point: The 2014 Toasted Toad Lodi Vermentino ($20), which is exceptionally light (just 10.8% alcohol), lemony and minerally scented white wine that sees zero oak – resulting in a steely, clean, appealingly tart taste that just screams for a bed of oysters or a shrimp cocktail. "This was my daily wine of choice this past summer," says Ms. Werter, "although it's great anytime of year, with any kind of seafood."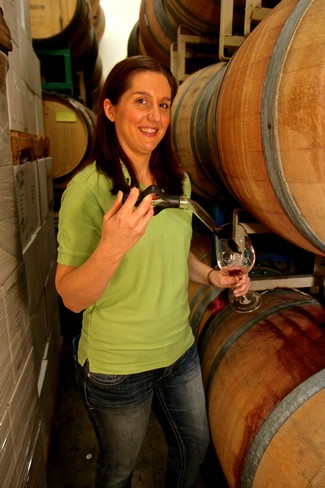 Toasted Toad winemaker/owner Laura Werter
The 2011 Toasted Toad Lodi Malbec ($24) also reflects the Werters' restrained, balanced approach to winemaking: flowery, leafy, hibiscus tea-like fragrances tinged with judicious doses of sweet dill and vanilla, tucked into a slim, sleek, light-medium weight body. "I drank a lot this red wine last summer, too," admits Ms. Werter. "My favorite dish for it is a grilled burger, preferably made from ground buffalo, with provolone, tomato, basil and thousand-island on a kaiser or ciabatta roll."
For something more exotic, adventurous Lodi wine lovers are almost sure to be enthralled by the 2011 Toasted Toad Lodi Touriga ($21). This is a dense, zesty red wine of moderately full body (12.9% alcohol); packed with aromas and flavors of dried flowers and berries, citrus peel, and cracked walnuts. Ms. Werter comments, "The Touriga is my second favorite wine in the tasting room... I love its acid, which allows it to go great with Asian style meat dishes like lemon grass beef."
So what's the story behind these imaginative wines? Says Mr. Werter, "I guess you would have to blame my mother for nurturing a childhood ambition to make wine, which somehow passed down to my daughter."
Mr. Werter continues: "I grew up with parents who both worked, and then my mother fell in love with Julia Child. So we'd spend days cooking and eating French foods, which always required the proper libation – wine. We lived in Newport Beach, and mom would take us to the local wine shops in search of the best French or German wines. Then there were trips to Northern California to visit my cousins, which included visits to wineries in Napa and Sonoma. Mom always slipped me little tastes of the wines, wherever we would go."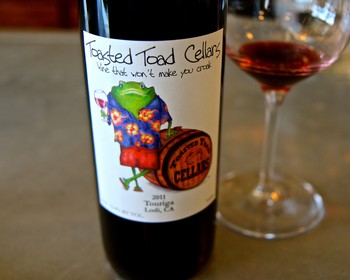 Mr. Werter would go on a successful career in Southern California as geo-project engineer, helping in the development of thousands of homes, hospitals and schools. In 1992 he moved his own family to Antioch to work on a large land project that also involved cleaning up biohazardous waste, and worse. He tells us that this, plus the proximity to Northern California wineries where he could continue to indulge in his lifelong obsession, "is what eventually drove me to drink."
In 1993, a chance meeting with an enthusiastic group of home winemakers at a fundraising event for the Dry Creek-Lokoya Volunteer Fire Department led to the first barrel of his own "garage" wine – a Zinfandel, sourced from a Napa Valley vineyard. "I loved the lifestyle of home winemakers," says Mr. Werter. "To this day I still spend a lot of time with my home winemakers/friends – it's lifetime relationships that go a lot deeper than just wine talk."
It was also always in Laura Werter's nature to labor right alongside her father on each vintage of homemade wine. After matriculating to Cal-Poly to work towards a degree in Business Administration, Ms. Werter felt what many students often feel – restlessness. So she convinced her dad to underwrite studies in Australia, where she inevitably visited a winery. Ms. Werter recalls, "the smell of wine fermenting in tanks and barrels made me think, 'I really miss this!'"
Upon returning to Cal Poly in San Luis Obispo, Ms. Werter immediately added a minor in Wine and Viticulture. Upon graduating in 2008, she landed a job in a tasting room in Paso Robles, where she eventually wiggled into a position in the lab, analyzing wine color and phenolics. Then she took a marketing job in a Livermore Valley winery; and once again, talked her way into the production side, assisting the winemaker the way she had always assisted her dad all those years.
The die, evidently, was permanently cast – too much winemaking in Ms. Werter's blood to ignore. Both daughter and father were soon having conversations to the effect of, "wouldn't it be great to start our own winery?" Says Mr. Werter, "Visiting a Web site advertising for commercial production grapes, I saw a posting for Lodi Malbec and Tempranillo, which really interested me... I also saw an ad for Estate Crush (Downtown Lodi's custom crush facility), which could be a convenient place to help us get started. That's when we decided Lodi was the place to be."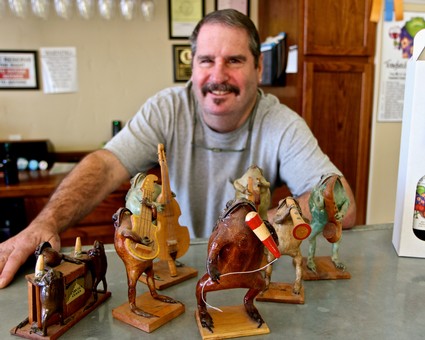 Toasted Toad's Jeff Werter with some of his musical frog "friends"
The Werters' passion became a business in 2011, although both father and daughter still work day-jobs to help pay the price of their indulgence. "We asked ourselves, what's the worse that can happen?" says Mr. Werter. "We've never worked harder, have never been poorer, and never been happier."
Finally, the six-million-dollar question: why the name, "Toasted Toad?" Mr. Werter tells us, "We started talking about a winery while drinking saké bombs and playing pinball – so in a way we were 'toasted'... plus, we always like French food and wines, which is where frogs come in." Adds Ms. Werter, "Wine barrels are also 'toasted,' so it fits there, too."
But the reality, says, Mr. Werter, is this: "One of my hobbies has also been playing drums. A long time ago I happened to be at a garage sale, where I found a little statue of a frog playing drums. Not only that, there were other frogs playing musical instruments, so I bought the entire set. For years afterwards, whenever family and friends thought about what gifts to give me, for lack of anything else to think of, I would receive even more frog stuff.
"Of course, when we were trying to think of a winery name we tried to avoid 'frog' because there already is a winery with 'frog' in its name. We thought, 'gee, it's toadily hard to come up with our own original idea,' then it hit us – Toasted Toad!"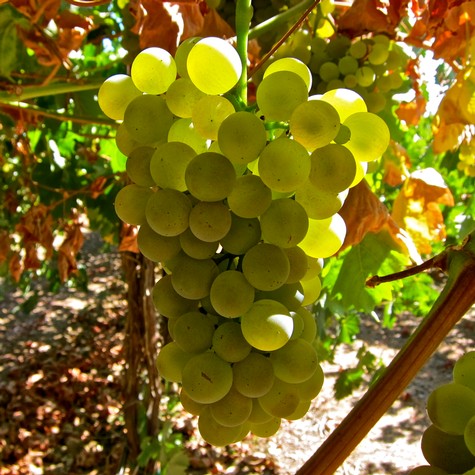 Vermentino grapes in Kevin Delu's Bella Vigna Vineyard, source of Toasted Toad's Lodi Vermentino
Comments