Letters from Lodi
An insightful and objective look at viticulture and winemaking from the Lodi
Appellation and the growers and vintners behind these crafts. Told from the
perspective of multi-award winning wine journalist, Randy Caparoso.

October 28, 2019 | Randy Caparoso
Tiny Stonum Vineyards is poised to become one of Lodi's latest prestige wineries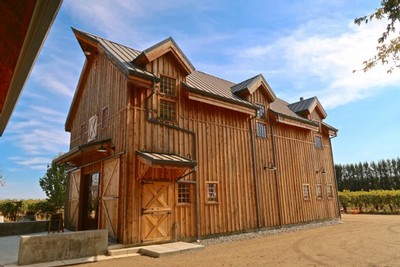 You might call Lodi's Stonum Vineyards a "best kept secret," when in fact, it may be one of Lodi's best winery-estates period, even if you haven't yet heard of it.
By way of explanation, there are a few factors accounting for Stonum's under-the-radar profile. First, the winery came out with its first commercial wine (a 2009) only eight years ago. Second, its production is tiny – barely 200 cases of an estate grown Zinfandel produced each year (in 2017, just 48 cases).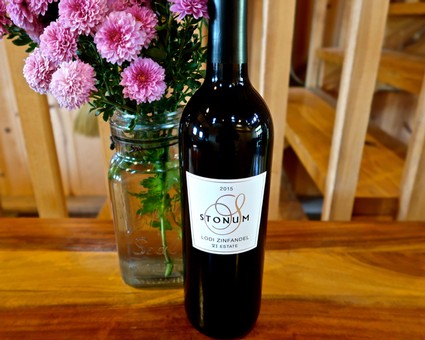 But oh, what a wine it is. The current vintage – the 2016 Stonum VII Lodi Estate Zinfandel ($35) – is crafted in a lean, svelte, yet zesty and energetic style than wouldn't have been very popular ten years ago, when most Zinfandel lovers were still looking for bigger, fatter, riper and "jammier" styles. But the fruit profile of the 2016 is invitingly floral and red/blue berry focused; and as such, very true to the style of Zinfandel grown on Lodi's "east side" (where soils are more like beach sands than vineyard loams) that more and more Zinfandel lovers are appreciating, especially for their multi-food-friendliness.
Also still available is the 2015 Stonum VI Lodi Estate Zinfandel ($35). This vintage is a "big brother" to the 2016: slightly more pungent, deeper black cherry aroma with subtle yet toasty oak nuances; medium-full and a little more rounded, yet still with a core of zesty, natural, palate freshening acidity not usually found in most California Zinfandels, let alone Lodi grown Zinfandels.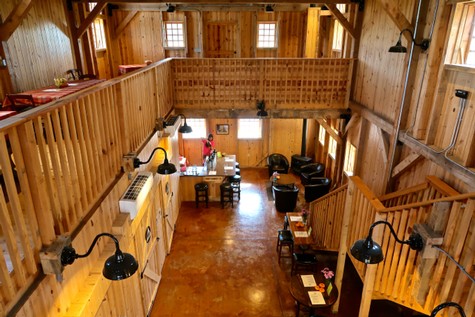 This Zinfandel style – somewhat iconic, or uncompromising in its understated, acid driven profile – personifies the winery itself. In fact, everything that is impressive about Stonum Vineyards – the winery, tasting room and vineyard, the wines and Stonum family themselves – is hidden in plain sight, despite a tony Alpine Rd. address, where thousands of visitors pass by every weekend on the way to, say, the Klinker Brick Winery or Mettler Family Vineyards, two larger production grower/wineries owned by longtime Lodi families who have developed a national reputation for the excellence of their wines and grapes.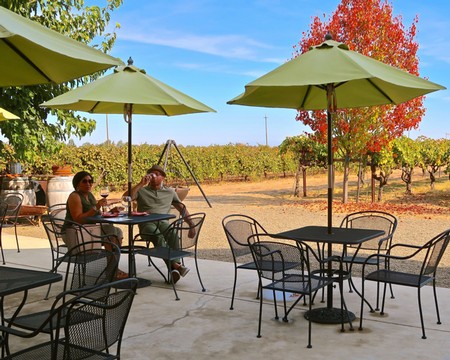 But if you took the time to turn into the Stonum driveway, even longtime Lodi residents and visitors may be surprised by what they find: a stunningly unsuspected, recently erected (finished in 2018), gable windowed 2-story wood barn, plopped down among 40-year-old vines seemingly right out of a vast Kansas cornfield after a Wizard-of-Oz-ian storm. Knocks you right out of your ruby slippers.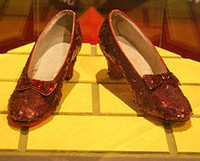 The barn serves as the Stonum tasting room (open Fridays-through-Sundays during the season), where you are invited to sit at tables or on cushioned chairs on both floors, or outside under patio umbrellas, and members of the Stonum family (typical of Lodi, the Stonums do virtually everything themselves) greet you with their wines and little bites of food (such as the crunchiest, most delicious little rolls of Filipino lumpia, or petite amuse-bouche like zucchini-chocolate squares).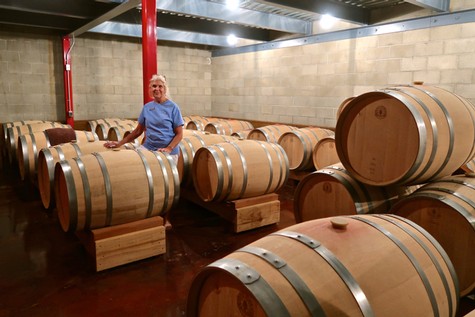 Next to the barn is the Stonum winery, housed in a small, farmhouse style wood building where you find gleaming, temperature controlled stainless steel fermentation tanks and, below, a rare (for Lodi) underground cellar filled with white oak barrels. The surrounding 15 acres of Zinfandel are all trained on parallel "split canopy" wires to control the growth of the vine spurs, effectively opening up each plant's canopy of leaves to duplicate the dappled sunlight typically achieved by head trained, spur pruned (or as the French describe it, gobelet) vines more typical of the Lodi landscape.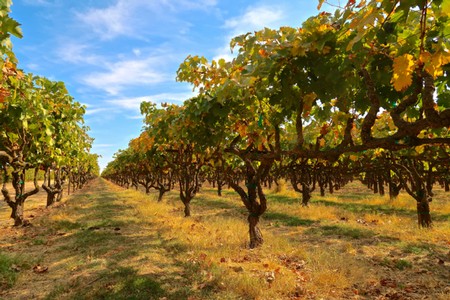 Only, on this particular trellis system, the Zinfandel canopies are more precisely controlled than on "wild" growing, free standing vines. In fact, everything about Stonum – the tasting room barn, the state-of-the-art boutique winery, and the meticulously cultivated vineyard – is indicative of a no-stone-unturned, nothing-but-first-class thought process. That is to say, an obsessive attention to detail attributable directly to a brother-and-sister team, Mike and Kathy Stonum, who first came to Lodi in 1979 when their parents purchased the Alpine Rd. property, originally planted to cherry trees and Flame Tokay vines.
Mike Stonum, sadly, passed away this past August 2019, leaving the management of the winery estate in the able hands of his sister, although Ms. Stonum is amply supported by Mike's wife Maridel Stonum (managing retail and guest services), Mike and Maridel's daughter Francesca, and another nephew Chris Stonum.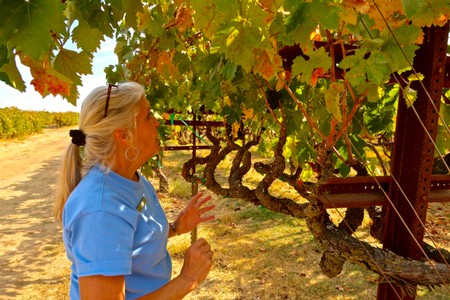 Taking the time to chat this past weekend, Kathy Stonum shared some of her vision: "We also produce Atlas Peak AVA (from Napa Valley) Cabernet Sauvignon and Chardonnay because Mike's dream was always to work with higher altitude grapes, even if he lived in Lodi. Starting next year, however, we plan to move in a different direction and focus exclusively on Lodi grown grapes. After all, this has been our home for 40 years, and everything we've done over the past 10 years – finishing a state-of-the-art winery, and our beautiful tasting room – has been building up to that. Instead of buying from Napa Valley, we'll be actively looking for other grape varieties grown by neighboring Lodi vineyards to complement our estate Zinfandel."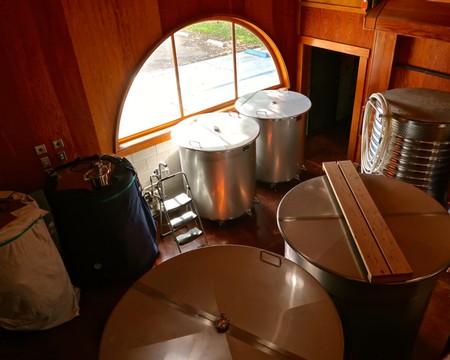 The house style, Stonum made perfectly clear, will remain the same. "We're minimalistic – no fining, no filtering or adjustments made to our wine," Ms. Stonum says. "Even in 2017, when our Zinfandel got away from us and fermented out to 17% alcohol, we made the decision not to water it down or do anything to reduce the alcohol simply because we don't believe wine should be manipulated that way. Every wine should be allowed to express its true self!"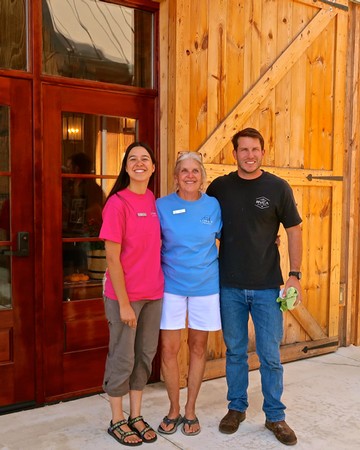 Most of the Zinfandel grown on the Stonum property still goes to a giant winery, but like what some of their more high profile neighbors (such as Klinker Brick's Felten family, or the Mettlers of Harney Lane Winery and Mettler Family Vineyards) have already done, the Stonums are seriously considering taking destiny into their own hands and transitioning to production of more of their estate label Zinfandel. "Our Zinfandel," says Kathy, "has always been our flagship wine – particularly the fruit from the first 8 acres that we planted in 1989, 1990."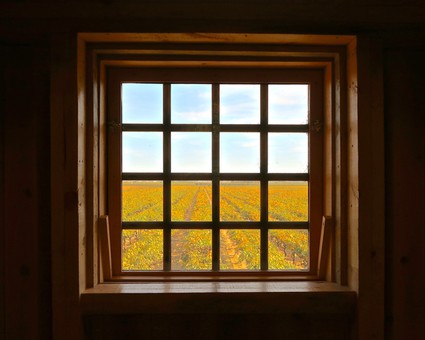 Ms. Stonum adds, "We're very aware of the fact that we live in a Mediterranean region. It's a warm climate area not only suitable to Zinfandel, but also other warm climate grapes like Barbera, which I'd also love to make. When we first moved to Lodi 40 years ago we finally felt like that we were 'home.' After all the work we've put into it, this property is going to be our legacy, our future – hopefully more as wine producers than as grape growers. If we're going to live in Lodi we want to represent Lodi, and represent it well!"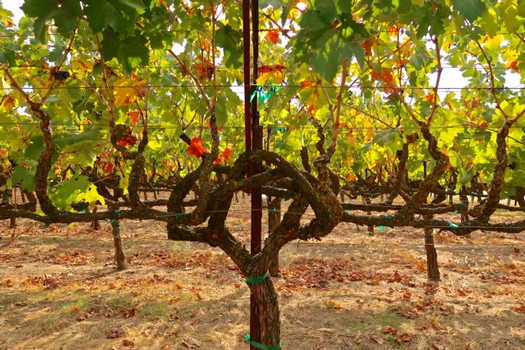 Comments
Commenting has been turned off.