Letters from Lodi
An insightful and objective look at viticulture and winemaking from the Lodi
Appellation and the growers and vintners behind these crafts. Told from the
perspective of multi-award winning wine journalist, Randy Caparoso.

July 5, 2016 | Randy Caparoso
Lodi's Mediterranean climate makes it ideal for rosé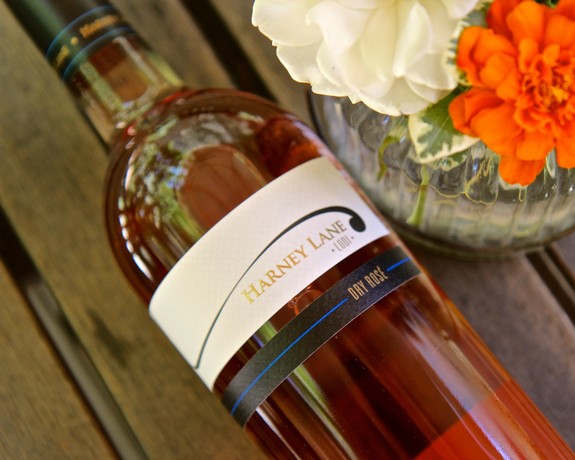 The ideal dry rosè is scented but not overly fruity in the nose; fluid and a little fleshy in the mouth without being soft, hard or harsh with excess alcohol or tannin; and nuanced with sensory qualities other than plain fruit, like smidgens of kitchen herbs or minerals.
In recent years, as Lodi's small community of artisanal wineries has come to fruition, we have been seeing more and more Lodi grown rosés crafted almost effortlessly to achieve these ideal qualities. Surely this cannot be a fluke. And it isn't. The reason is a set of geological circumstances which make Lodi similar in a number ways to the region where more rosé is produced than in any other part of the world: France's Provence, the source of over 1 million cases of dry pink wine each and every year.
If dry rosé is like summer captured in a glass, Provence is like perpetual summer.
Anyone who has been to Southern France has seen, smelled, felt and tasted the classic landscape, like Impressionism come to life: wall-to-wall grapes tucked between golden sun drenched towns along the azure-blue Mediterranean Sea or at the foot of chalky-white cliffs, with endless fields of lavender and sunflowers, surrounded by rugged hills covered with wild thyme, rosemary and other pungent, scrubby growth.
In fact, something like 85% of all the grapes grown in Provence is turned into dry rosés, which are drunk like water. And it's been like that for, like, forever. The locals trace their wine grape culture back to 600 B.C. – more than two and a half millenniums ago – when Greeks bearing gifts first settled in the area around Marseille.
In his book entitled, simply, Rosé (Chronicle Books, 2005), Jeff Morgan asks Gilles Masson of the Provence Center for Rosé Research about why Southern France has always been all about rosé. Replied Masson, "It's got to relate to our warm weather as well as various human and economic factors."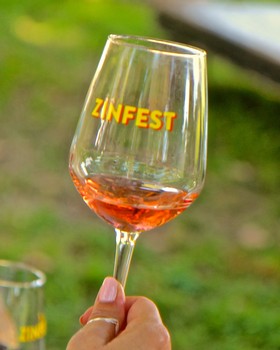 Morgan also put the question to Olivier Ott of Provence's renowned Domaine Ott, who said that this is just the way it always has been since "antiquity." Most of the grapes grown in Provence are black skinned, which normally is turned into red wine. From the beginning, according to Monsieur Ott, Provence's vignerons "didn't ferment wines with their skins, which gave off color." The resulting wines have always had a rosy, rather than dark and deep, hue, weight and flavor.
Here in Lodi, we do not have a culture like Provence's, forged by over 2,500 years of viticultural practice and culinary tradition. However, what we do have in common is a classic Mediterranean climate – that combination of hot, dry summers and cool, often wet winters that wine grapes love so much.
This is why flora so easily grown in Provence is equally comfortable in Lodi, where you find more wine grapes than in any other wine region in the U.S. (now topping 110,000 acres, which is more than Napa Valley and Sonoma County combined), as well as olives, walnuts, almonds, citrus, cherry, strawberry, oaks, cypresses, et al.
To be a little more precise, here is a historic snapshot of average high and low temperatures (Fahrenheit) in Aix-en-Provence compared to Lodi during the four warmest months of the growing season:

The regions are not exactly the same; particularly because of Aix-en-Provence's immediate proximity to the Mediterranean – many of its finest growths planted to vines almost literally spilling out into the sea – accounting for much narrower diurnal temperature shifts. More typical of California's coastal regions (from Sonoma County down to Santa Barbara), Lodi's day vs. night-time temperatures swing more than 30° during peak summer months.
One thing rosé lovers have always noticed about Southern French wines is their subtle fruit qualities mixed with pungent notes often described as "minerally" – a rather vague, catch-all term used to describe aromas and flavors often related to the chalky soils and wild scrub (lavender, sage, thyme, etc.) growing alongside the vines.
When you go to the Wines of Provence Web site, you find that its French authors make no bones of the fact that what distinguishes dry Provençal rosés is the strong suggestion of "Mediterranean Basin soils... its hillsides covered with wild lavender, rosemary, and thyme... reflected in the crisp flavors and zesty aromas of the rosé wines made there." This is the "notion of place and the influence it has... a uniquely French concept, referred to as terroir."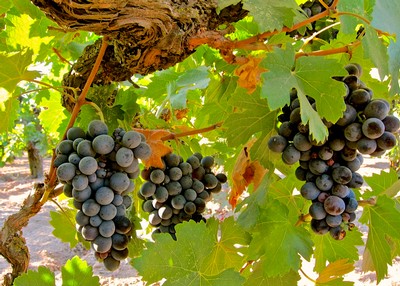 Can you find similar sensations in Lodi grown rosés? Yes! But because Lodi's rosés are grown in a more Californian Mediterranean terroir – grapes developing intensity under conditions of more extreme diurnal temperatures – there is a little more intrinsic fruitiness in a Lodi rosé compared to those of Provence. In Lodi rosés (similar to Lodi grown white wines), that thread of minerality – not uncommonly, suggesting lavender or herbes de Provence, if not a dusty loaminess – is pushed into a backdrop, but is often there nonetheless, manifested as faint notes behind sensations of cherry, strawberry, citrus, etc.
But as the French would say, c'est la vie – so it goes in life. A soft, breezy, stony Provençal rosé is the way it is because of where it is grown; and so, too, is a sharply fruited, yet dry, sometimes mildly minerally, Lodi grown rosé.
What there also is in Lodi are finer rosés than ever before, made from quite a bevy of grapes at the disposal of our vintners.
For your summer pleasure, detailed notes on what makes some of Lodi's more outstanding dry rosés unique and unto themselves: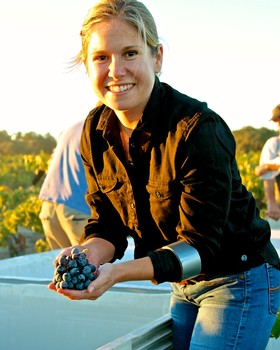 2014 Onesta, Bechthold Vineyard Lodi Rosé of Cinsaut ($22) – In recent years, this is has been the cream of the crop for Lodi grown dry rosé; crafted from a historic vineyard planted completely to Cinsaut – one of the major grapes of Southern France used in rosé production – way back in 1886. Much of the quality of Onesta's rosé is directly attributable to the staggering age of these vines; and much of it to the grape itself (which exhibits a strawberry-rhubarb pie-like warmth and richness), the deep sandy loam terroir of the vineyard (contributing a subtle yet distinct herbes de Provence-like earthiness), and the skill of Onesta winemaker/owner Jillian Johnson, who has been working with these ancient vines since 2004. The lush fruit is zesty with natural acidity on the palate, adding a plump, juicy, blood-orange juiciness to the profile. By any standard – compared to anything in California or the rest of the world – a truly great rosé.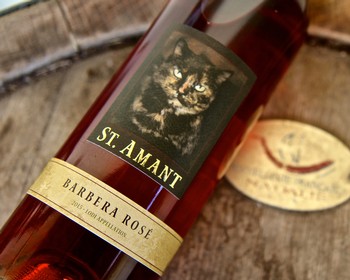 2015 St. Amant, Lodi Barbera Rosé ($15) – Why is this desert dry, deeply pink colored rosé one of the the biggest steals in the Western World? Only 70 cases of this neutral oak fermented wine were produced. It is essentially a saignée (a "bleeding" off of pink tinged juice from a larger vat, which was turned into St. Amant's sensational red Barbera), sourced from mature east-side Lodi vines planted by Ted Leventini in 1972. This wine is also special because it is made from Barbera, a Northern Italian grape that is typically higher in acid than any of the world's serious red wine grapes; and it is that natural acidity that drives this rosé from beginning to end – mobilizing the fresh strawberry nose and giving the perfume a rhubarb-like complexion, and then adding a lemon squeeze-like tartness to the palate that gives the red berry quality a cranberry-like spark, punctuating the wine's fleshy, medium-full body.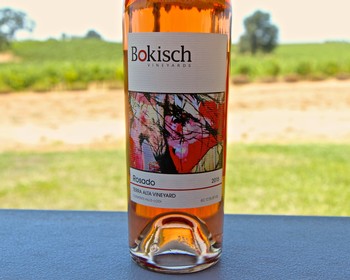 2015 Bokisch, Terra Alta Vineyard Clements Hills-Lodi Rosado ($16) – 99% of this wine comes from the Grenache grape (the other 1%, Graciano), which is the workhorse variety of Southern French rosé. However, Bokisch farms a smaller cluster/berried Spanish clone of Grenache, which makes an exacting reference to it as Garnacha Rioja Baja more appropriate. Hence, this variant's higher skin-to-juice ratio contributes directly to the citrus edged focus of this wine – not quite as soft, round or airy as classic Grenache based rosés from either Provence or California – and the aroma, while typically strawberryish, is tinged with grapefuit/citrus and rosehip tea-like nuances, with a mouth-watering, nectarine-like savoriness lightening up a medium body (12.5% alcohol).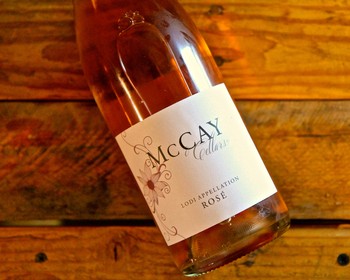 2015 McCay, Lodi Rosé ($18) – Year-in, year-out, Mike McCay makes a transparent dry rosé that is as close to authentic Provençal style rosé – svelte, sheer as silk, discreetly tart, scented like vivid Alpine strawberry laced with faint notes of lavender and loam – as any in the Western Hemisphere. It's not just because he's a good winemaker (he's good, but California has good to great winemakers coming up its yin-yang), or even because he's fastidious (prior to native yeast fermentation, he soaks dormant pink must in a cold room for at least 30 days). It's primarily because he sources most of this rosé from early picked Carignan from wise, wizened 109-year old vines growing in the sandiest patch of east side Lodi's Mokelumne River appellation. A smaller proportion comes from a nearby Grenache planting, cultivated by grape-retentive grower named Phil Abba. So basically, what Mr. McCay does is make sure to pick when the grapes' natural acidity is still high, separate the juice from the skins, and leaves well enough alone while the grapes do their thing.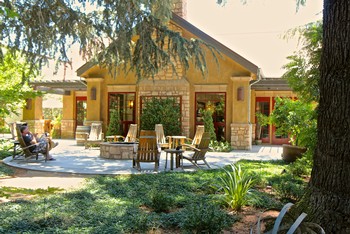 2015 Harney Lane, Lodi Dry Rosé ($18) – The blend in this rosé is very "Lodi" – crafted from Tempranillo (this Spanish grape is another natural for the region's Mediteranean climate) with two grapes of long-standing lineage in the Delta, Petite Sirah and Zinfandel. The nose is also very "Lodi" – a billowing, piquant-fresh generosity of raspberry fruitiness harmonized with rose petal-like floral and black tea leafy fragrances. On the palate, a medium-full body (13.9% alcohol) is kept compact and edgy by a mild grapefruity tartness, bursting in the mouth like wedges of Mandarin orange. Very Lodi, very nice.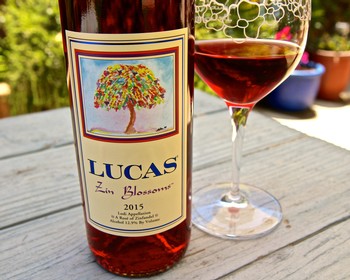 2015 The Lucas, Lodi Zin Blossoms ($20) – As implied by the name, this deeper pink (verging on ruby red) colored, bone dry rosé is made 100% from Zinfandel; picked at lower sugars and elevated acidity, lightly crushed and left to soak overnight in a tank before pressing first thing the next morning. This aggressive action results in a fuller, firmer, denser style of rosé – a smidgen of tannin adding a meaty texture to the vibrant fruit, like spooning into the flesh of a pink grapefuit – as well as a lavish nose of sweet watermelon, with a squirt of raspberry/blueberry smoothie. The opposite, in a sense, of both tutti-fruity White Zinfandels and soft, airy styles of dry Southern French rosés; but served in the right context (think of salmon glazed with fresh blueberry, duck a l'orange, or even foie gras with a compote of strawberry and/or rhubarb), possibly a whole new adventure.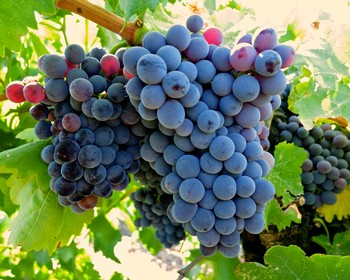 2015 Acquiesce, Lodi Rosé ($24) – Acquiesce owner/grower Sue Tipton has a "secret" that won't be one anymore, once we've opened our big mouths: she is now achieving the freshest, most delicately balanced qualities possible in her dry rosé by gently pressing the juice of her estate grown Grenache grapes from the skins and fermenting in stainless steel tanks; and then afterwards, adjusting for color (a modestly transparent pink) simply by adding a smidgen of red wine (also made from her Grenache grapes). Listen up, all you rounders: this is not cheating. It is actually one of the smartest ways to produce rosé (virtually all the great French Champagne rosés, for instance, are fashioned this way). The result, in the Acquiesce, is a delicously chubby yet bright, crisp, upbeat rosé, shimmying like a jelly on a plate with fresh strawberry, watermelon-ish fruit; underlined by intriguingly earthy nuances, hinting at dried, woody kitchen herbs. Bravo.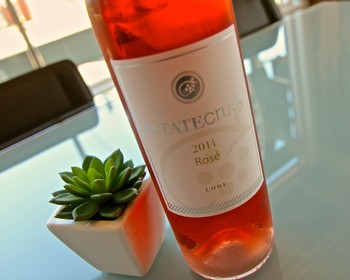 2014 Estate Crush, Lodi Rosé ($14) – The variation in this medium-full bodied rosé is the use of Sangiovese, blended with Petite Sirah and Zinfandel. The Italian grape gives its own high toned red cherry/strawberry stamp to the wine, as well as a sprightly, tart edged silkiness; while the heritage grapes give a slightly grippy feel, notwithstanding a refreshingly clean, easy finish. Terrific value – especially if you're in need of something dry, pink and a cut-above to drink by the bucket, this summer by the pool or in a tub.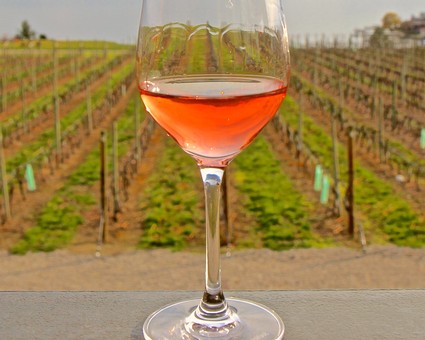 Comments