Letters from Lodi
An insightful and objective look at viticulture and winemaking from the Lodi
Appellation and the growers and vintners behind these crafts. Told from the
perspective of multi-award winning wine journalist, Randy Caparoso.

October 3, 2019 | Randy Caparoso
The story behind who picks Lodi's grapes, and why they do it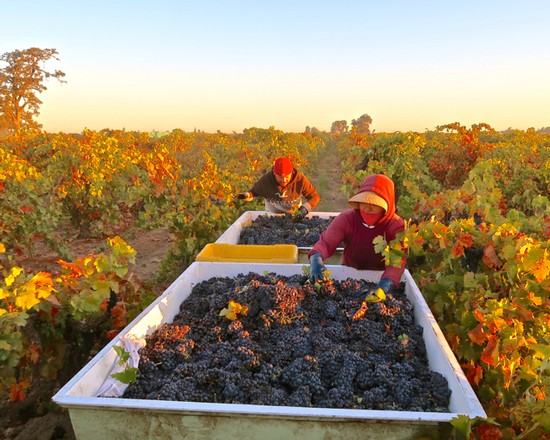 Besides skill, there is a certain amount of brute strength, or at least a mental toughness, required to pick wine grapes. Otherwise, anybody could do it, when in fact not everyone is willing to do it, or even capable of doing it. It's too damned hard.
Take your typical tote tub, or stackable plastic lug box, used for hand picking. When filled to the top with grape bunches, each tub typically weighs at least 30 pounds – closer to 40 pounds for certain types of (heavier weighted) grape varieties or when piled high in a mound. Each picker fills a tub, lifts it from the ground and carries it 10 to 30 feet to a half-ton macro-bin or steel gondola pulled by a tractor between the vine rows.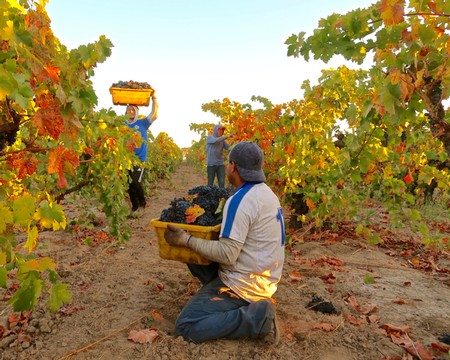 Lifting and carrying one 35-pound tub is one thing. Try doing that at least 130 or up to 200 times over – lifting and running with it at near-breakneck speed, over a period of 5 to 6 hours, often on a 90° to 100° day. By the end of the day, a typical grape picker lifts over 4,000 pounds, or 2 tons, of fruit. That is the high bar that these grape pickers, working in teams or "crews," set for themselves – especially because of the way they prefer to be paid, which is by the ton (or amount of fruit picked) rather than by the hour or for a set fee.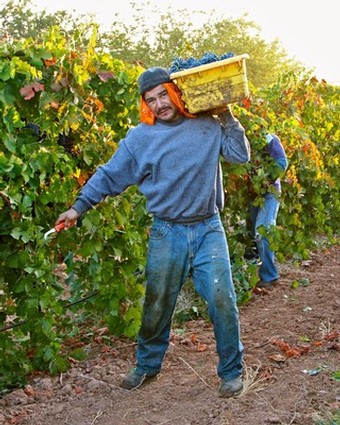 Grape picking is not only grueling, it is highly skilled work. It takes an experienced eye and practiced hands to know exactly which grape clusters need to come off the vine in a split-second decision. With, literally, tons of grapes to harvest, pickers don't have time to dillydally, and wineries won't accept loads with excess rot or fruit of less than optimal quality.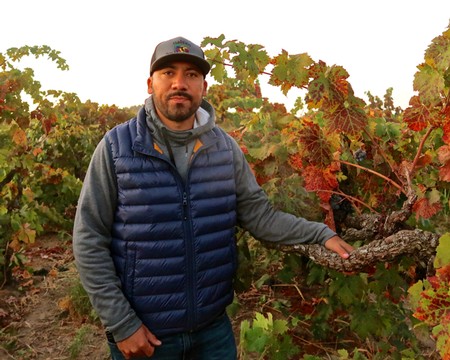 Vineyard owners rely on vineyard management companies to make sure the wineries are pleased, lest they lose their contracts; and vineyard management companies, in turn, rely a lot on people like Mario Galvan – owner of Galvan Farming Services, which supplies the farm labor for a number of Lodi's top vineyard management companies and winery estates – to make sure the work is done correctly, by the right people.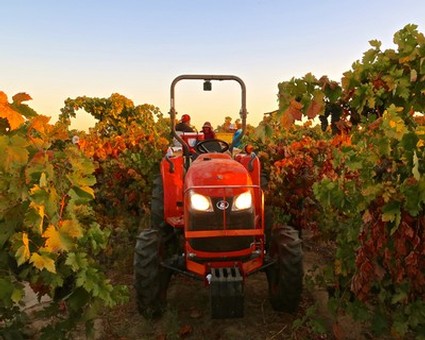 At about a quarter to seven this past Wednesday (October 2, 2019), we met with Mr. Galvan out in Jessie's Grove Vineyard, with a large team of his hand-pickers and grape sorters, totaling nearly 60 people. On this particular morning the temperature was around 45° but it felt like closer to 40° because of the damp air, and the workers picking up their yellow picking tubs were rubbing their hands or warming them in their pockets to ward off the sting.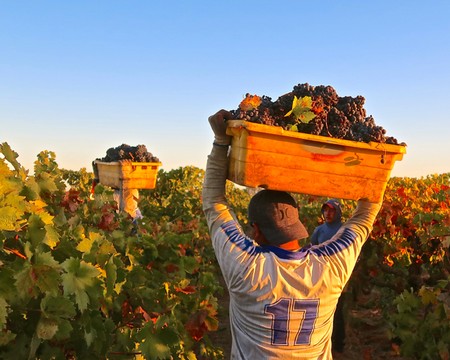 Mr. Galvan explained: "I have 7 crews of 8 people each, who will get be paid by the ton. The work is hard – picking old vine Zinfandel is harder than picking trellised vineyards – but they prefer to be paid that way. They can still pick fast and clean, leaving all the bad bunches on the vine, and each person will still make at least $30/hour – not bad for 5, 6 hours' work.
"Today I have crews out in other Lodi vineyards, as well as crews in Fairfield and Napa Valley. Altogether, I'd say my people will pick at least 250 tons all day."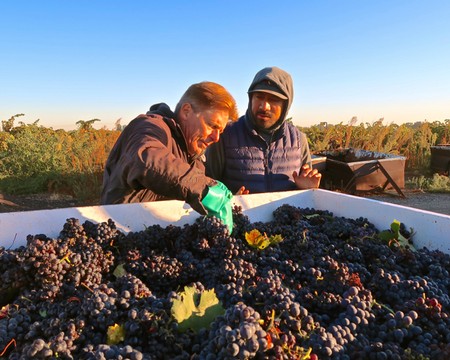 The fields that needed to be picked that morning were the last of Jessie's Grove's head trained, own-rooted old vine Zinfandel. These were tall, gnarly, imposing vines, including the winery's Westwind Vineyard (planted 77 years ago in 1942) as well as Fancy Quest Vineyard (planted over 65 years ago in the early 1950s). According to Greg Burns, owner of Jessie's Grove, all the fruit picked that morning was destined to go to the Bogle Vineyards winery in Clarksburg, and will probably end up in that brand's Old Vine Zinfandel bottling, which sells for about $10 under a California appellation.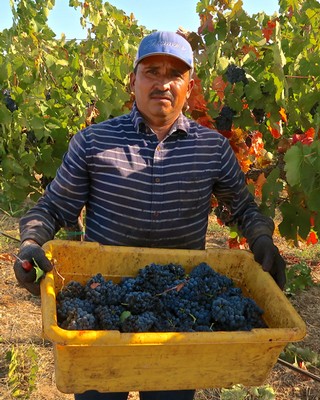 Gerardo Espinosa talks about Anaya Vineyards' labor pool
Two questions that often come up when talking about grape pickers include: Who are these people, and why are they willing to do such hard work?
Earlier this week we got the chance to sit down with Gerardo Espinosa, owner/winemaker of Anaya Vineyards. Espinosa primarily draws from 98 acres of vineyards owned and farmed by his four uncles, Victor Jr., Ramon, Armando and Gerardo Anaya. The Anaya brothers inherited their love of farming from their father, Victor Anaya Sr., who first started traveling back and forth between Mexico and the Central Valley to follow the crops in the mid-1940s, before settling permanently here in Lodi.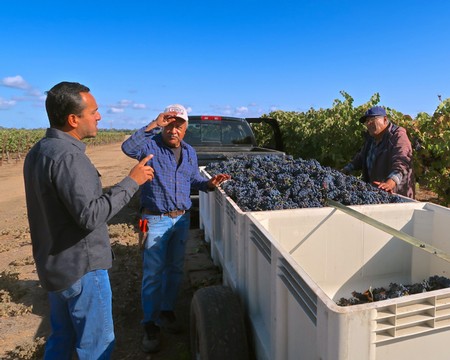 Mr. Espinosa told us: "To pick all 98 acres of our Anaya Vineyards, my family has been relying on one other family to do at least 50% of the work for at least 10 or more years. The rest of the pickers are typical migrant farm workers who usually live in Mexico, and come up to California each year to pick whatever needs to be picked at certain times of the year – it could be cherries, almonds, grapes, olives...
"But each year that pool of labor to supplement our own people gets smaller and smaller, and so we rely on some of the active farm work contractors like Pearls or Santibanez, and there are others.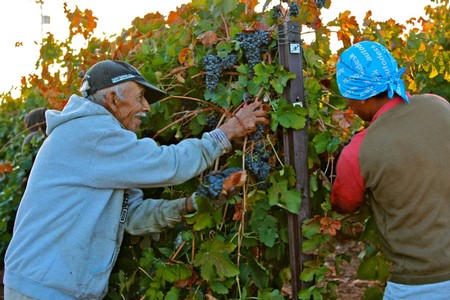 "Altogether, we employ about 70 people to do our picking each year. Whether they are living here in Lodi or are here just for the harvest, most of them are people who have a personal relationship with either my uncles or Felipe Barron, our vineyard foreman for many, many years
"To keep these people, we try to keep them busy all through the year, and with vineyards there's always lots to do – pruning, shoot thinning, leafing, etc. On top of the Anaya family's 98 acres, I am also contracted to help with a 40-acre vineyard in Contra Costa County, and there are other vineyards here in Lodi that I also help farm and make wine off of. It all adds up to about 160 acres, so there's plenty of work to go around.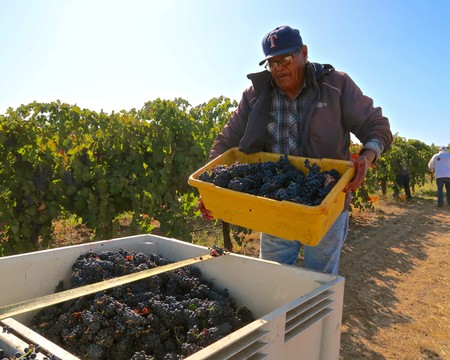 "In Lodi, we pay grape pickers by the ton. Depending on the size of the field, the rough amount is $140 to $150/ton, and a group of 6 people can pick 6 to 8 tons in one morning. That way, each person is walking away with at least $150, after 5 or 6 hours of picking.
"There have been years when, for some reason or another, the fruit in one of our fields is not as good, so we'll ask the pickers to take their time and be more selective. That's when we'll also offer them an hourly wage, usually around $13, $14/hour. Still, the ideal thing for them is to get paid by the ton, when they can make twice as much."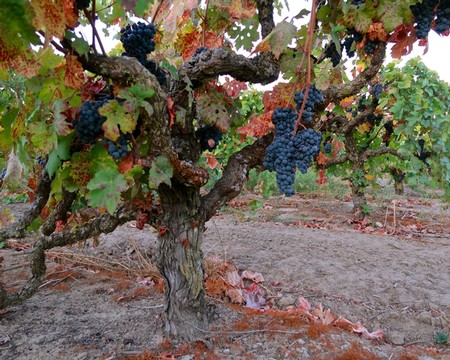 Alex Lopez on the people behind Galvan Farming Services
To get the details on how Mario Galvan has been able to build up his farm labor services over the past ten years, we sat down with one of his crew managers, Alex Lopez, who is Lodi born and raised. Lopez previously worked as a vineyard manager for Bokisch Vineyards for nearly 13 years before branching off to work with Round Valley Ranches for just over a year.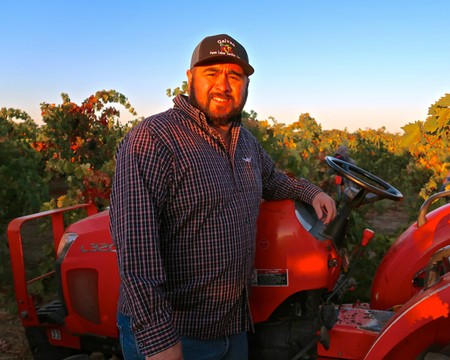 Explained Mr. Lopez: "I started working mostly with Mario Galvan just before the 2019 harvest. Galvan provides year-round farm labor to Lodi growers, and it's mostly vineyards, at least 90%, although they help with other crops like pears or cherries. Some of the companies we do a lot of work with include Round Valley Ranches (who, besides locally owned vineyards, manages properties owned by wineries such as Oak Farm Vineyards, Acquiesce Winery and Jessie's Grove), and Bokisch Vineyards (which owns or farms over 2,000 acres of planted vines). We also do some work with Machado family (R-N-R Vineyard Management), Ben Kolber (KG Vineyard Management), Gregg Lewis (Dancing Fox Vineyards), Keith Watts Vineyards, Phillips Farms (Michael David Winery), and a few others.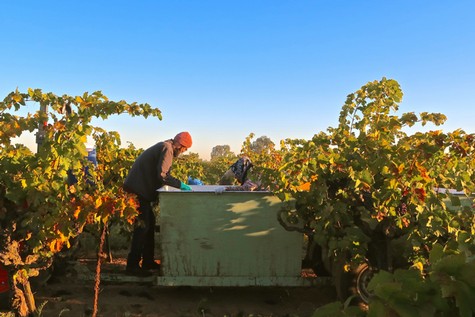 "If I were to describe the business, I would say it is mostly just answering the phone whenever someone needs help, and Mario can draw from on a pool of well over 100 people living mostly in Lodi, but also in Stockton, Galt or as far off as Sacramento. I'd say that at least 95% of our people live in a 209 area code
"Labor shortage these days is such that we can pick and choose our clients, and so our preference is not to work with one-offs, or companies who can offer just occasional work. We prefer vineyard management companies that need help all year-round – pruning in the winter, shoot thinning in the spring, dropping fruit and removing leaves in the summer.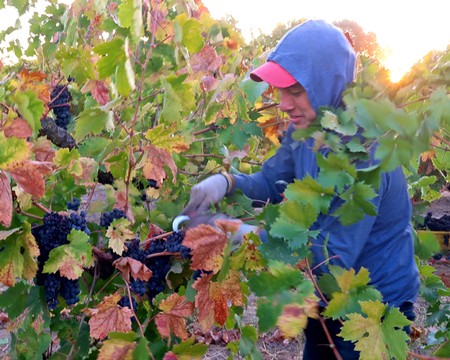 "The big advantage for picking crews who work with the same vineyards all year-round is, when it comes time for harvest, they're already familiar with the vineyards. We always tell them that when they do a good job earlier in the year, the job of picking is so much easier because you have higher quality fruit, and the plants are groomed so that they're nice and clean, with all the leaves removed from the fruit zones, which makes it faster and easier to pick.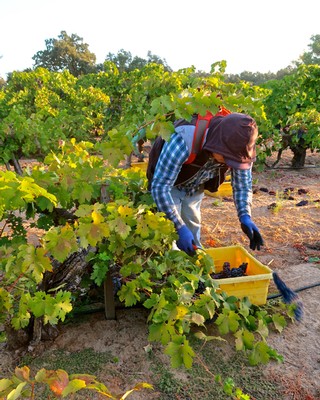 "And the faster and easier to pick, the more money you make since they get paid primarily by the ton. On the other hand, when vineyards are not properly maintained there's more chance for injuries. You can get hurt when you have to fight through leaves and canes to get at the fruit, and of course, these vineyards are slower to pick. Usually, when we know we are working with vineyards that haven't been properly managed, we'll negotiate for a higher price. Our priority is to always make sure our guys are making their money. That's how we are able to keep the large numbers of people needed to supply our farming services.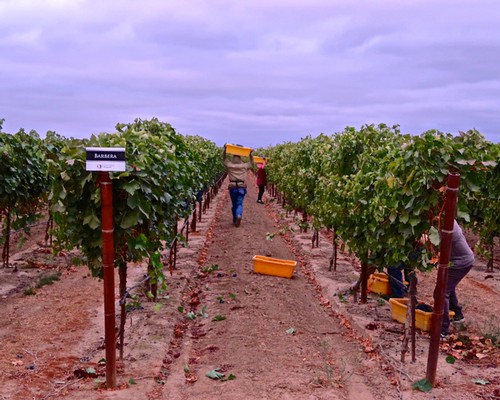 In Oak Farm Vineyards, Galvan Farming Services 8-man crews picking 2019 Barbera
"Typically, at least for the picking crews coming out of Lodi, it's about 50% couples, husband/wife teams, who work in teams of 8 people. For fields with trellised vines, each crew will pick 4 rows at a time, 2 people in charge of picking each row, with the tractor pulling the macro-bins going down the middle rows.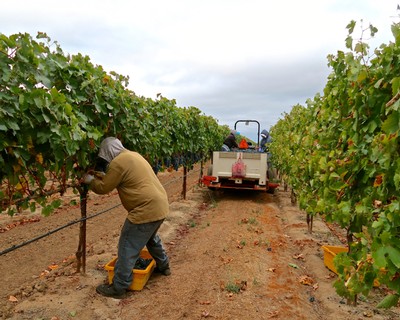 "One person can pick 2 tons in 5 hours, depending on the grape type. In vineyards where they're usually filling half-ton macro-bins, each picker will get paid $50 or as much as $70 per every macro-bin they fill. Ideally, each 8-man crew is able to pick about 33 macro-bins a day, adding up to 16 and a half tons. Even making our minimum charge of $50/bin, divided by 8 members in a crew this means each person earns $206.25 for about 5 hours of work. That's approximately $41.25/hour.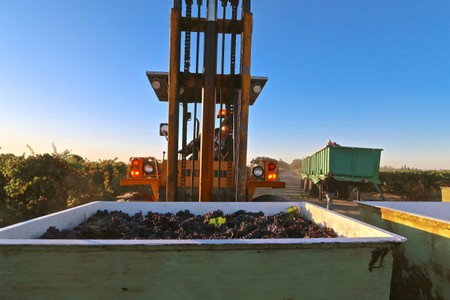 "We'll also supply at least 2 sorters to pick out all the MOG (i.e. 'material other than grapes') at the macro-bins or gondolas, and so the vineyard owner or winery gets a high quality, clean pick.
"There are cases where vineyard managers are asking for a more delicate pick, or more rigorous sorting – they might not want any clusters with signs of rot or red "water berry." In those cases, they'll want the pickers to take their time, and so we may have to negotiate an hourly pay. For field work during the year, like pruning and leaf pulling, the going rate in Lodi is at least $12.50/hour. But during the harvest, our pickers obviously prefer to get paid by the ton so they can make as much as $30 to $40/hour.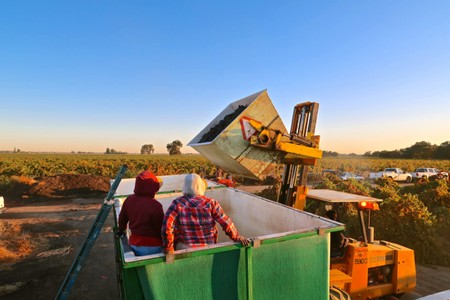 "It is true, these days, that in regions like Napa Valley or Sonoma County the going rate for farm labor is as much as twice that of Lodi, and we do take a few jobs over there. But by and large, our people would rather stick close to home. For many of them, a higher hourly pay is not quite worth their time, or the danger of commuting all the way to Napa.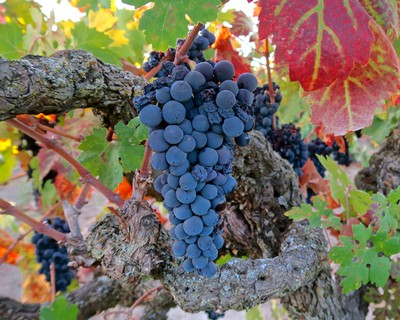 "Grape picking is hard work. You may ask, why do people do it? Of course, only certain people are willing to do it. You notice that fewer and fewer of the new generation of kids are in the fields. Young people, even of Mexican descent, are just not into it. They're into technology, or work where they can make more money for less effort. But the ones who are still doing it – especially all the old-timers you still see out there – they say they love it. I know because I ask them all the time. A lot of them say it's a good way to get away from what they normally do, or to spend time outdoors.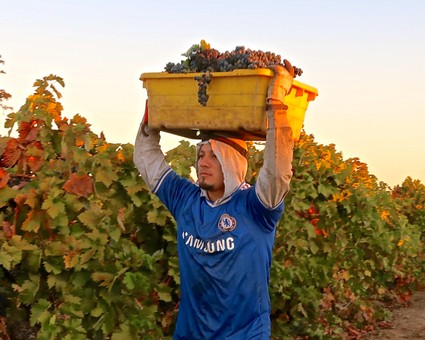 "I know one guy who normally does work as an independent contractor, where he makes a lot more money. One day I saw him out with the picking crews. I went up and asked, 'what brings you here?' The story he gave is that he lives and works here by himself, since his family is in Mexico. But being with a picking crew, he said, he can literally 'smell' the food and women – things he can't smell when working by himself – and of course there's the talking, the singing, the music, sharing lunch with the crews. With some of the crews, especially the ones with a lot of couples, it can be a soap opera, which I guess is fun in that way.
"In other words it's social, not just a way to make money. Of course, many of our farm laborers have other jobs. But picking grapes, they can make their $150 by the end of the morning and still get to their other jobs. A lot of our jobs involve night picking, and so ladies can go to work at 9:00 PM, finish by 2:00 AM, go home, wake up the kids, fix them their lunch and send them off to school, and maybe go off to work somewhere else.
"Grape picking, anyone can see, is a real art. It's a skill not everyone can do. I always say, it's like Karate Kid, where you learn by going wax-on, wax-off. The better you get at it, the more rewarding the work!"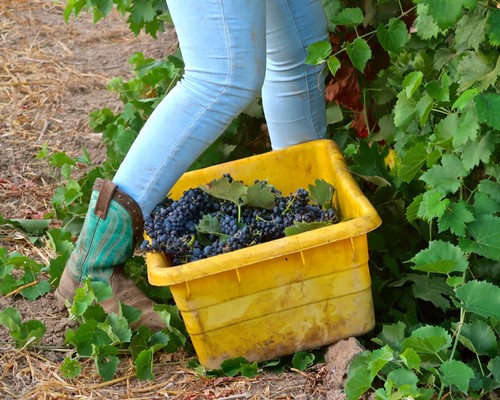 Comments