Letters from Lodi
An insightful and objective look at viticulture and winemaking from the Lodi
Appellation and the growers and vintners behind these crafts. Told from the
perspective of multi-award winning wine journalist, Randy Caparoso.

November 9, 2017 | Randy Caparoso
The new Markus wines take Lodi reds to another level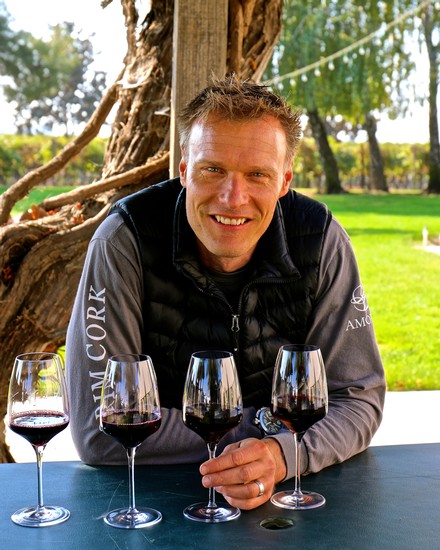 The word is officially out: At the end of 2017, Lodi's historic Borra Vineyards (the region's oldest independent family winery) will cease to exist. Borra's acclaimed winemaker, Markus Niggli, will be packing up the winery equipment – lock, stock and (literally) barrel – and moving everything to a still-to-be-announced location elsewhere in the Lodi region, where he will focus 100% on his own brand, Markus Wine Co.
While Borra Vineyards founder/proprietor Steve Borra will convert the existing winery facility and tasting room over to additional office space for his other successful business, Lodi Pump & Irrigation, he will continue to work with Mr. Niggli with Borra family vineyard operations.
Meanwhile, Niggli has just released the first of four phenomenal, reserve level (meaning, no-holds-barred viticulture and crafting) red wines bottled under his Markus label; all showing off this Swiss-born winemaker's unique, European approach to vinification (largely native yeast fermented, with minimal oak influence) and blending.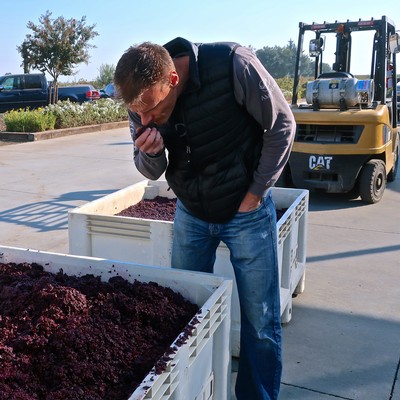 According to Niggli himself: "All of these reds are made from old-time varieties, which give age-worthy tannins and a heftiness in the mouth-feel, supporting the gorgeous fruit that we can get from vineyards in the Lodi region.
"Each is different....
• If you like the taste of red fruits, I suggest our Domo blend, made primarily from Carignan.
• For the taste of blacker fruit, I recommend our Zeitlos Syrah blend or Sol Red Wine (Petite Sirah/Syrah/Mourvèdre) – the Zeitlos is the more elegant and age-worthy of the two, while the Sol is the biggest of our blends.
• Last but not least is our Blue from mostly old vine Zinfandel – the grape that has supported the entire Lodi industry for many years, made in a shamelessly big alcohol, big fruit style."
Each of the new Markus label reds are officially released; for sale at the current Borra tasting room on Armstrong Rd. According to Markus Wine Co. spokesman Jon Bjork: "All the new Markus reds are $39 a bottle. We have also started our revamped shipping program at a flat rate of $15 per shipment, regardless of how many bottles are ordered – although, of course, we can only ship to a limited number of states that allow this."
Our tasting notes, along with further comments from Mr. Niggli on each of these exciting new red wines: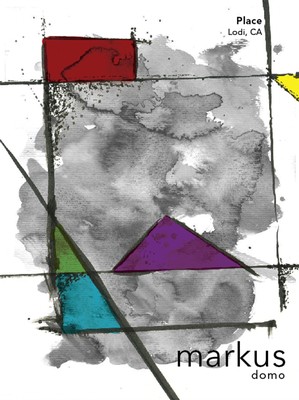 2015 Markus, Lodi Domo
Crafted from Carignan (75%) from the Borra family's Church Block (alongside Borra's current winery on Armstrong Rd., at the south end of Lodi's Mokelumne River AVA), with Petite Sirah (15%) and Syrah (10%) from Borra's Gill Creek Ranch in Lodi's Clements Hills appellation. The old vine Carignan (planted in the 1920s) predominates, with a gorgeous, wafting, fresh baked cherry/cranberry pie aroma tinged with peppery/clove spice; and on the palate, the spiced cranberry fruit is lightly tart, with a touch of zingy lemon peel and firm yet moderate, rounded tannin. Serious depth for a wine with such a light, dancing quality. Comments Niggli, "It's long been said within the industry that Carignan is the wine that winemakers actually drink... although you can see your fingers through the wine's ruby-red color, there is plenty of weight and spice to the wine."
Adds Niggli: "The Domo's art label, by Annerose Ross, also tells a story. It captures Lodi's sense of place – home to my family, a great place for both kids and wines to put down roots and grow, and actively explore the region's great potential to rise even higher in quality on the world stage. Home, to me, is not just a place, it is also a feeling – a sense of newness and uniqueness!"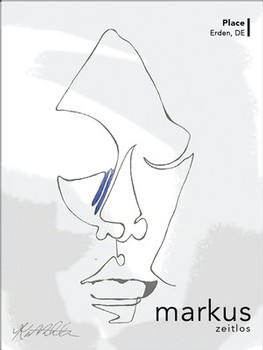 2015 Markus, Lodi Zeitlos
For this red, according to Niggli, Syrah (76%) and Viognier (4%) were picked on the same day and co-fermented in the Northern Rhône tradition. Old vine Carignan (12%) adds aromatic complexity, and Petite Sirah (8%) some tannin structure. The result is a purplish-ruby red with a penetrating aroma of raspberry liqueur and sun dried cherry, with flowery and sandalwood-ish spice flourishes. On the palate, these fruit sensations come across as vividly etched, with mouth-watering acidity and firm, medium tannin in a fairly full mouth-feel (14.6% alcohol; with final touches of crushed kitchen herbs lingering with the raspberry/cherry fruit qualities in the finish.
Says Niggli, "I can taste the vineyards (the Syrah and Viognier from Clements Hills' Gill Creek Ranch; Carignan and Petite Sirah from Borra's home ranch in Mokelumne River) in these wines – the complexity of fruit, violets, fruitcake, dirt and gripping tannin. Makes me want lamb grilled with rosemary, olive oil, and sea salt; or just home-ground burgers or spaghetti Bolognese.
"The label art is by Karina Michaels, and expresses the sacrifice for quality that goes into the growing of grapes for wines such as Zeitlos. People, like wines, are shaped by unique places and memories. The label reminds me of Erden, a wine region in Germany just five and a half hours' drive from my hometown. I used to take day-trips to Erden and watch workers climb up ladders to work on Riesling vines climbing up ridiculously steep hills. This was a 'gold spot,' or zeitlos – meaning, ageless and memorable – for wines. Zeitlos forms the foundation of my approach to winemaking."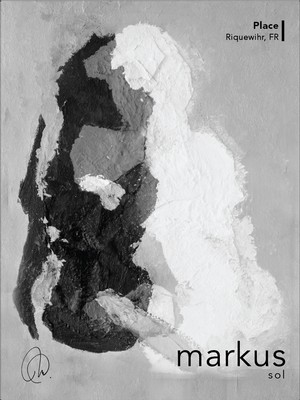 2015 Markus, Lodi Sol
The aroma of this opaque, black-purplish red almost literally reaches out from the glass and grabs the nose – "super raspberry" perfume (like framboise liqueur), luscious, soaring, seamless, with the most subtle oak (second-year French) and smoked bacon nuances. The feel is full (14.9% alcohol), textured and fleshy; the fruit bolstered by dense yet rounded tannin; the long raspberry sensations finishing with a chocolaty and roasted coffee bean richness.
According to Niggli, "Sol comes from the best three barrels of Petite Sirah (42%), Syrah (37%) and Mourvèdre (21%) that we made in 2015. The combination comes across like a succulent sauce of blackberries and blueberries, and the forest floor, tobacco and cocoa notes makes me think of grilled ribeye rubbed with coffee and peppercorn.
"The label art for Sol is by Alicia Muiños. Sol is French for soil, ground or earth. Alicia's depiction of sol not only suggests the savory mix of 'mixed blacks' going into the wine, it also reminds me of Riquewihr, a beautiful 16th century village in Alsace, France, where I first came to understand how unique soils can produce unique wines. In Riquewihr, ages of clashing of faults, and the Rhine River eroding mountain rocks, form an incredible diversity of Mother Earth soil, or sol. Slowly, over the years, I have come to appreciate the unique, powerful yet elegant wines from this area of France, which has shaped my own approach to wines in Lodi."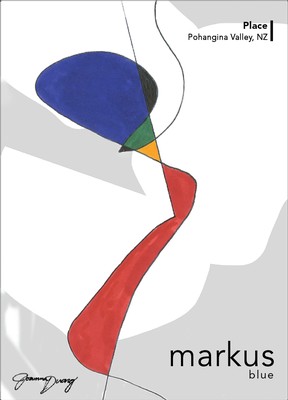 2015 Markus, Lodi Blue
Niggli's Blue is technically a varietal Zinfandel (90%) – grown primarily in the Borra family's Gill Creek Ranch (49-year-old vines), reflecting the gravelly red clay of Lodi's Clements Hills appellation – with smaller proportions of Petit Verdot (5%) and Petite Sirah (5%). As unabashedly big and brawny as this wine is (16.5% alcohol), the ringing varietal fruit is beautifully focused in black cherry and raspberry, with a bare minimum of French oak influence. Fine, velvet textured qualities give plush sensations without a sense of weightiness, with acid/tannin underpinnings lending a buoyant, bouncy, firmly dry feel. A Zinfandel with the intensity of "Late Harvest" style Zinfandels, but absolutely free of any raisined fruitiness, roughness or sweetness of typical Late Harvest Zinfandel.
Niggli tells us: The label art by Joanna Duong captures a sense of New Zealand, where I once (in 1994) spent a year picking blueberries on a farm in the middle of nowhere. It was hard work, but it was that first trip away from my home in Switzerland that taught me how different and cool the world is, and planted the seeds to move to California later."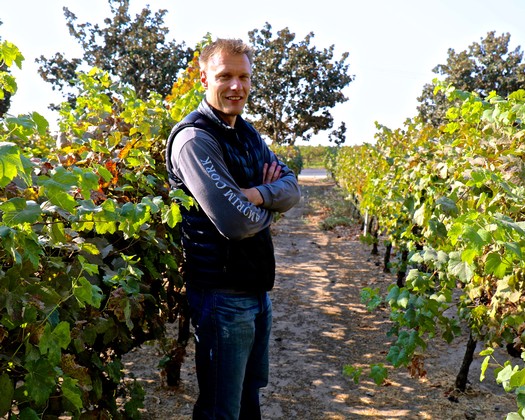 Comments