Letters from Lodi
An insightful and objective look at viticulture and winemaking from the Lodi
Appellation and the growers and vintners behind these crafts. Told from the
perspective of multi-award winning wine journalist, Randy Caparoso.

January 31, 2019 | Randy Caparoso
The latest wines of Lodi's Heritage Oak demonstrate a mastery of pure varietals... and blends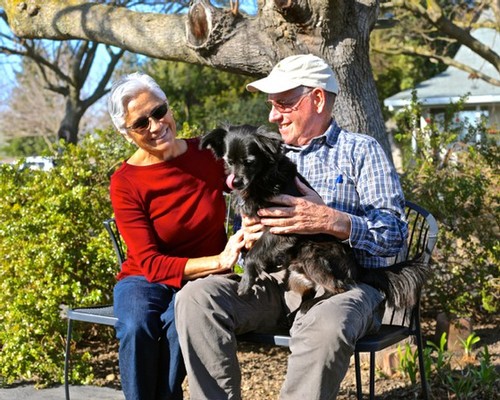 Tom Hoffman, Heritage Oak Winery's owner/grower/winemaker, likes to have things both ways. On one hand, he appreciates the beauty of pure varietals – wines expressing the qualities of one grape, and one grape only. At the same time, he well knows the advantages of blending – weaving the qualities of multiple grapes into seamlessly and intricately layered qualities that can't be achieved in 100% varietal wines.
Either way, Hoffman demonstrates a mastery of both approaches to the discipline of winegrowing and craft of winemaking in his latest releases. As he explains: "In 2012 we put in a lot of new vines and replantings with many different varieties – three to five rows of each, 65 vines per row. Hence, my latest blends and varietal reds from the 2016 vintage, and new varietal whites from 2018. It's sort of experimental, to see what works. The only variety that I'm not so happy with so far is Nebbiolo – I can't seem to get a reasonable amount of color out of it."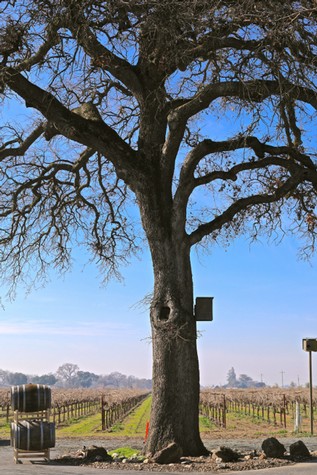 Of the 100% varietals, the most exciting might be the 2018 Heritage Oak Estate Lodi Chenin Blanc ($18), from a 2-acre Mokelumne River-side block along Bruella Rd. The wine's nose is the essence of the varietal: super-fresh, honeyed and flowery, with faint touches of minerality and leafy rose petal. On the palate, the wine is steely dry, crisp with natural acidity and light as a feather. Comments Hoffman, "Chenin blanc is an underrated grape with a potential to be wonderful, but because of its history – in the '70s and '80s it was made into a sweet wine – it's hard to get people to look at it again. I well remember the Chenin blancs popularized by E. & J. Gallo. In fact, I still use the jugs it used to come in, in the winery!"
From another one of Hoffman's riverside blocks, the 2018 Heritage Oak Estate Lodi Sauvignon Blanc ($15) has the unerringly pure, leafy herbiness typical of the varietal, along with scents of grapefruit and lemon skin; these citrus juice, skin and leaf fragrances manifested in light, long, refreshing lemony crisp sensations, as bright and pristine as a proverbial spring day. "This vineyard is so close to the river," says Hoffman, "that it flooded during 2017's heavy winter rains; the vineyard is just coming back, and we got 3 tons of fruit from it in 2018."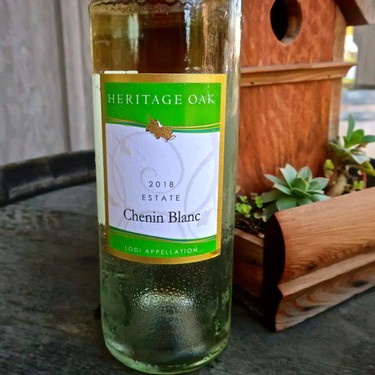 Among the 100% varietal reds, the 2016 Heritage Oak Estate Lodi Graciano ($28) might be the most intriguing to connoisseurs of more esoteric grapes now strongly identified with Lodi. This brightly pigmented red has a subtle yet dark, exotic nose suggesting black fruit and an herby, wild scrubby spice, and comes across as moderate in weight yet deep in flavor, with a slightly gripping palate-feel filled out by zippy acidity and firming tannin. While his Graciano is an exceptionally smooth and voluptuous wine, Hoffman tells a different story: it was kept in neutral barrels for a while, he explains, "because I wasn't sure if it would ever smooth out, but it did, even though it was rough and edgy right up until bottling."
Mr. Hoffman's approach to purely varietal reds, if anything, lends itself perfectly to wine lovers who prefer a balanced, finely textured wine that compliments food, rather than overpowering dishes with high alcohol, rough tannin, and a fat, sweet fruitiness. A perfect example is the 2016 Heritage Oak Estate Lodi Sangiovese ($28), which practically screams for pastas or slow cooked stews with its easy, zesty, buoyantly balanced medium body and floral red cherry/raspberry fragrances unfettered by spare, polished wood undertones. And if you like the green herby/minty taste of a Cabernet without the huge weight or mouthfuls of tannin and alcohol, the floral/berry scented, slim, zippy and even keeled 2016 Heritage Oak Estate Lodi Cabernet Franc ($28) is the red wine for you.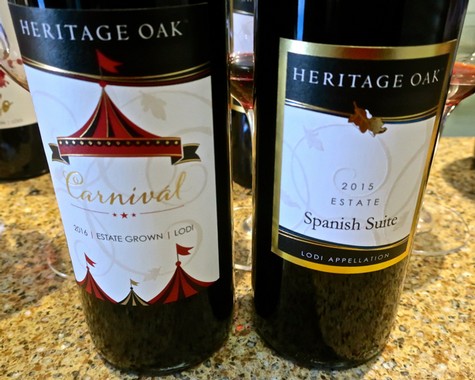 Then again, it is with blends that Hoffman may truly show his craftiness as a winemaker. "What I like about blending," he tells us, "is you can get a full mouth experience, from the front all the way to the finish, whereas with single varietals you see nuances of individual grapes." This vinous gestalt is on full, joyous display in Hoffman's 2016 Heritage Oak Estate Grown Lodi Carnival ($18), an almost musical harmony of Tempranillo (50%), Graciano (25%) and Malbec (25%): aromas of red and black fruit mingling with floral notes, flowing in dense yet fluid, svelte, layered sensations, velvety in the feel and zesty in its barely medium-full body.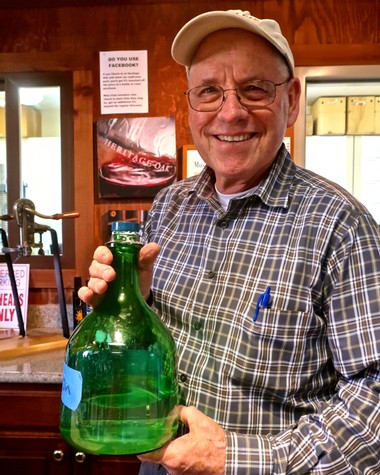 Explains Hoffman, "Because both grapes are traditionally grown alongside each other in Spain, we've always known Tempranillo and Graciano go well together; but I was surprised by how well the Malbec fits, bringing a central structure to the wine without upsetting the balance of red and dark fruit of the other grapes." While there is nothing "big" about the 2016 Carnival, Hoffman contrasts this Tempranillo/Graciano/Malbec blend with the the combination of Tempranillo, Graciano, and Garnacha in the 2015 Heritage Oak Estate Lodi Spanish Suite ($28), which is also a current release. While similar in its floral interplay of red and black berry qualities, the 2015 comes across as zippier and lighter in its medium sized body – the use of Garnacha adding a fresh squeeze of red cherry (as opposed to the darker berried weight and tannin of Malbec in the 2016 Carnival) towards the finish.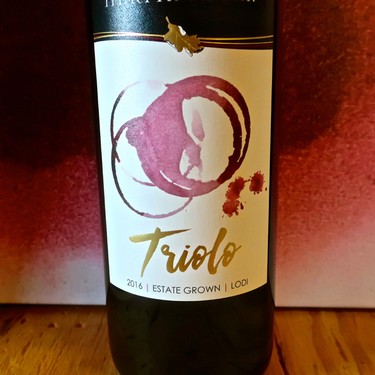 The 2016 Heritage Oak Estate Grown Lodi Triolo ($28) is Hoffman's ode to Italian traditions, although the choice of grapes – Sangiovese (50%), Barbera (25%) and Zinfandel (25%) – is very "Lodi," the latter two varieties having a much longer, storied history in the region's winegrowing industry than the Tuscan grape, Sangiovese. Nonetheless, the Triolo is very "Italian" in its bright, energetic, food-friendly qualities: a nose like a bowl of fresh red, black and blue berries set out for breakfast, unvarnished by oak or any other excesses, and a slim yet sinewy medium body carrying flavors ending with a tingly, mouth-watering touch of natural acidity.
The 2015 Heritage Oak Estate Lodi French Blend ($28) is an even more intricate layering of Cabernet Sauvignon, Syrah, Petit Verdot and Cabernet Franc; an extra year in the barrel giving the Cabernet Sauvignon component the time needed to round out its intrinsically musclebound tannin and green herby/eucalyptus aromas and flavors, and the other varieties adding just enough textural complexity to compose a medium-full bodied wine with a round, polished grip of tannin, with a good flow and finesseful feel throughout a long, smooth middle and finish.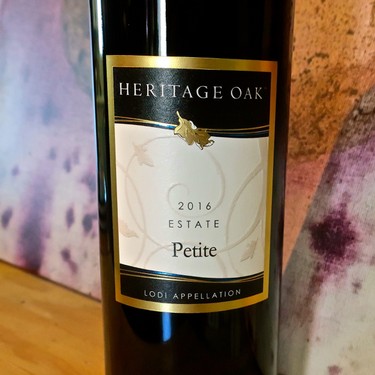 Last but far from least – in fact, probably the most interesting for specifically "Lodi" wine lovers – is Hoffman's 2016 Heritage Oak Estate Petite ($18), a 50/50 blend of Petite Sirah and Petit Verdot. A reference point, of course, is Michael David Winery's enormously popular "Petite Petit" Petite Sirah, which is usually blended with around 15% Petit Verdot (for details, please see our previous post, Lodi grown Petite Sirahs command more respect). Hoffman's 50/50 approach allows the dark colored yet less overtly fruited, moderately weighted Petit Verdot to put even more of a kibosh on Petite Sirah's habit of overpowering any wine, or any palate, with copious amounts of alcohol, tannin and fruitiness. The result, in Hoffman's "Petite," is a deep purplish wine with a sweetly concentrated nose – the violet qualities of Petit Verdot singing above the Petite Sirah's blueberry liqueur-like intensity – and a dense, meaty, firm yet fleshy and compact feel on the palate, the scented fruit punching through the grippy layering.
"People like a nice, dark red wine like Petite Sirah," says Hoffman, "but I like it better when there's a synergy and balance... the use of more Petit Verdot creates a more 'complete picture' in this blend."
And what a beautiful picture it is!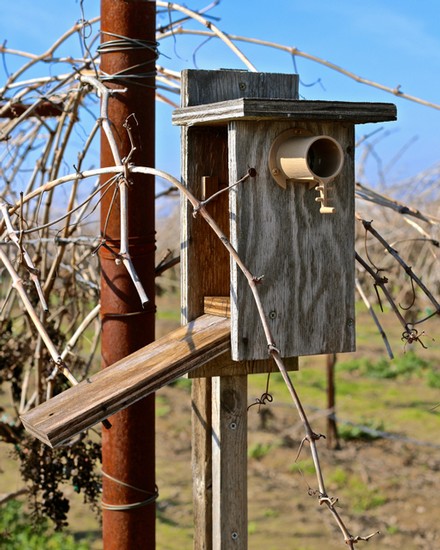 Comments