Letters from Lodi
An insightful and objective look at viticulture and winemaking from the Lodi
Appellation and the growers and vintners behind these crafts. Told from the
perspective of multi-award winning wine journalist, Randy Caparoso.

April 20, 2021 | Randy Caparoso
The handcraft wines of Seis Soles target new consumers of Hispanic descent while appealing to the most sophisticated wine lovers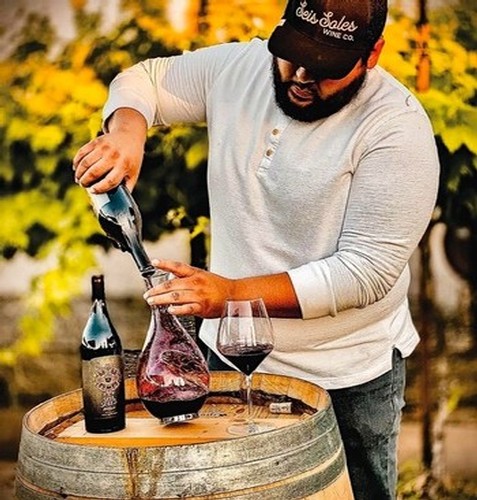 Seis Soles Wine Co. owner/winemaker Christopher Rivera, or just "Chris," is a man on a mission. He started working at Klinker Brick Winery just seven years ago and quickly worked his way up to the position of assistant winemaker. He wasn't satisfied with that.
Less than four years ago, or as soon as humanly possible, he decided to heed a call only he could hear and begin handcrafting wines for his own label. It helped, of course, to have the resources available to him at the wildly successful Klinker Brick Winery — a brand now known in every state plus numerous countries overseas — and to also have the blessings of head winemaker Joseph Smith as well as that of the Felten family who owns Klinker Brick.
The upshot: Seis Soles Wine Co. currently produces five wines (three reds, a white, and a rosé) that fulfill everything a wine consumer would want in wines defined as "handcrafted." They are honest, distinctive, somewhat one-of-a-kind, and as good as they are interesting. They aren't inexpensive ($19 to $65), but they taste expensive.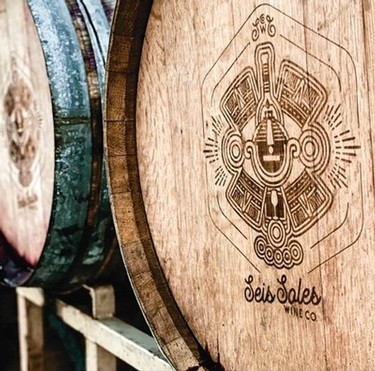 On his website, Rivera states that Seis Soles produces "traditional wines designed for the modern palate." But the story behind them goes much deeper and is worth any wine lover's attention.
In a conversation at the winery last week, Rivera began telling his story by saying, "I am a first-generation Mexican-American, born in the U.S.A. My parents originally came from [the Mexican state of] Michoacán, but I grew up in American pop culture.
"I experienced my first vintage at Klinker Brick in 2014, but three years after that I was already thinking about creating something for myself. One of the main reasons was that I could see that too many people in my community, the wine industry was a little intimidating. It's also very mysterious to many younger people of my generation, besides people of minorities or different socio-economic statuses. This is why many of them are not yet into drinking wine, although they may be interested.
"As a relative newcomer to the industry, I've gone through the same experiences myself. I've also had the experience of being treated differently. I've lost count of how many times I've gone out with friends to other wineries, not just in Lodi but all over California, and having people treat you differently. It's a very cold and lonely feeling. You walk into a tasting room and they don't acknowledge you. They don't answer any of your questions, and all the time they're treating other groups in the room in a completely opposite way. I get it. For many people, it's not so much that they don't like you, but they just don't think there is as much value in any time put into your group. We're 'Mexicans.'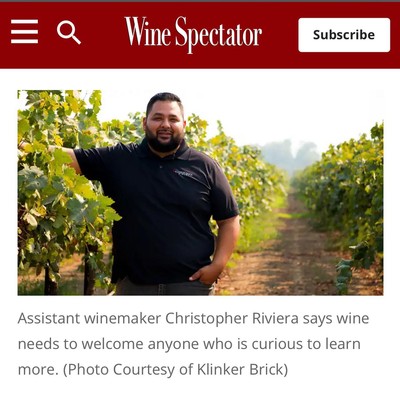 "So I created Seis Soles, wines not just for our people, but also anyone just getting into wine. The name refers to the Aztec myth of the six suns. The Aztecs thought the world was created and destroyed four times before them, and that they lived under the god of the fifth sun. All of us are living under the 'sixth sun,' no matter what our backgrounds, values, or beliefs. I am also thinking of things that are new under the sun. The wines of Seis Soles are designed to be welcoming to new wine drinkers, in a style new wine drinkers may like."
At the heart of Rivera's thought process, however, is his Mexican-American heritage. "If there are more people who look like us who are into wine," he says, "it can become more normalized. This brand is especially for younger Mexican-Americans, to make it easier for them to become part of the growing wine culture. Then maybe there can be more people like us crossing over. From being not just the ones who pick the grapes and work in the fields, but also winemakers, oenologists, viticulturists, winery owners, or work in sales or logistics.
"Seis Soles is my way to organically open up those doors. I'm doing my part to introduce wine to households where it hasn't been before, and expose it to children who can grow up to appreciate wine as something completely normalized, not a foreign concept."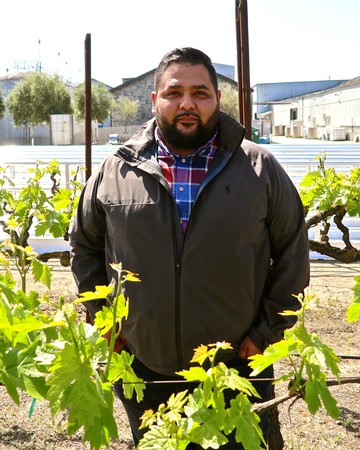 The Seis Soles Wines
2020 Seis Soles, Lodi Rosé ($19) — Pale, transparent pinkish brick color and fragrant aroma suggesting tropical fruit and (a scent familiar to many a novice wine lover) Strawberry Jolly Ranchers, plus a smidgen of dusty, almost menthol-like eucalyptus. The freshness in the nose follows up in an off-dry palate feel that is light (11.8% alcohol) and zippy with fresh fruit acidity. An ideal wine for pizza (I'd go with anchovy, bell pepper, mushrooms, and olives) as well as any spicy street taco (from seafood to carne asada and Cabeza).
Adds Mr. Rivera, "What I've found is that lots of folks in my community like a wine that is fruit-forward. It could be on the bigger side, but it should be very easy to drink. I produce a semi-sweet rosé, for instance, that might appeal to folks who like Stella Rosa wines, although my rosé [finished at 11 grams of residual sugar] is not nearly as sweet. The Seis Soles Rosé is made from hand-picked, whole cluster-pressed Mourvèdre [42%] and Grenache [58%]. It's more of a sophisticated style of rosé, which I think might be preferred by today's new wine drinkers, who have already missed the White Zinfandel craze."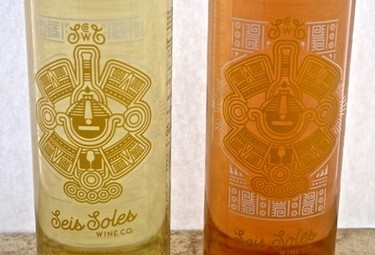 2020 Seis Soles, Lodi White Blend ($19) — Pungent tropical fruit aroma (think Banana Laffy Taffy) followed by the same sensations packaged in light (just 11.8% alcohol), orange/citrusy-tart, dry qualities on the palate, finishing with a bright, breezy, even-keeled feel.
Says Mr. Rivera, "The 2020 Seis Soles White is dryer than the rosé [at 5 grams of residual sugar, at the lowest threshold of most people's perception of 'sweetness'], but is not as acid-forward. It's meant to be a softer style of dry white wine, but is very fresh, blending Albariño [68%] from Klinker Brick's Jungeblut Vineyard [located right next to the Mokelumne River at Bruella Rd., just north of Victor] with Grenache blanc [32%] grown in Acquiesce Vineyards.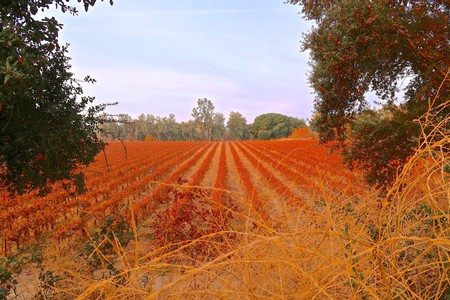 "Although Acquiesce does not sell grapes to other wineries, they were kind enough to let me have a couple of tons after I told them I was a big fan of their Grenache Blanc. My first vintage of Seis Soles White Blend was in 2019, and it blended Grenache blanc from Ripken Vineyards [related note: Klinker Brick's 2019 Grenache Blanc, also sourced from Ripken Vineyards, was included in Wine Spectator Magazine's 2020 "Top 100 Sweepstakes," among the finest wines in the entire world].
"When I make my rosés and white wines, I picture myself hanging out with my aunts and cousins, and I imagine what they'd like to drink. My motive is to eventually coax them to like more traditional, dryer styles of wine, although I know they'd prefer something that comes across at least a little bit fruity in the nose."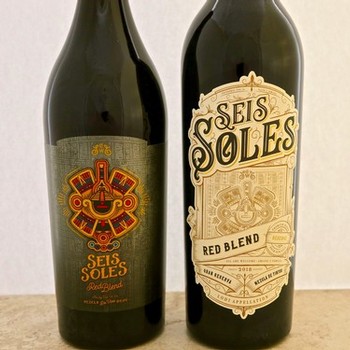 2018 Seis Soles, Lodi Red Blend ($23) — Plenty of fruit sensations (plummy black fruit and black cherry) in the nose plopped against a backdrop of faintly charred oak, making you think of a Mexican-style outdoor grill restaurant, serving up chicken, ribs, and tri-tips with beans, rice and corn tortillas (Lodi locals may think of Noriega's Chicken Grill). The palate feel comes across as round, full-bodied yet soft and pliant, finishing with sensations of rich fruit encased in hickory/tobacco-ish smoke. Imagine hearty food matches of Mexican stews with anything from beef, pork, chicken, or menudo, to chilies, beans or hominy, tortilla, or nopales.
Rivera adds a few particulars, telling us, "The 2018 Red Blend is made from Syrah [60%] and Cabernet Sauvignon [40%]. It has the richness of those varietals but is made with lower tannin, avoiding any bitter taste. I want this to appeal to transition wine drinkers who, nevertheless, are very interested in exploring classic wines. The Syrah comes from Farrah Vineyard [Klinker Brick's multi-award-winning vineyard] and has lots of viscosity, but without the big tannin you find in, say, a Petite Sirah. The Cabernet Sauvignon was aged in more neutral French oak for 22 months, long enough to get the large tannins to drop out."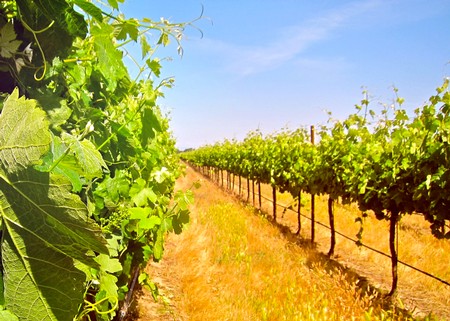 2018 Seis Soles, Lodi Gran Reserva Red Blend ($35) — This blend of Syrah (55%), Cabernet Sauvignon (40%), and Merlot (5%) is as fine as any blend coming out of the Lodi appellation, which is saying a lot. A promising, deep purplish ruby color is fulfilled by sumptuous aromas of blackberry and an exotic note suggesting Mexican chili spiced watermelon candy (like Pulparindo Sabor Sandia). The body is full (14.2% alcohol) and perfectly scaled, hugging the palate with round, fleshy, layered, velvet-textured flavors, tinged by hickory smoke and peppery spice toward the finish. Mr. Rivera adds, "The Reserva is entirely French oak aged, meant to give you the full-bodied structure and richness you look for in a reserve style wine, but with an integration of medium tannins, making the wine very approachable. When I added that touch of Merlot, it increased the approachability."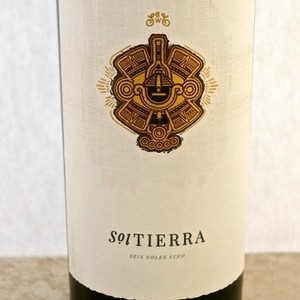 2018 Seis Soles, Lodi Soltierra Red Blend ($65) — The 2018 Soltierra (i.e., "sun and soil") shoots for the Moon, and pretty much hits the mark. The nose combines Bing cherry and minty blackberries with a tinge of smoky oak and is full, dense, and svelte with muscular tannin on the palate, its sense of concentration kicked up by oak spice. Says Rivera, "This is my first vintage of this wine and is meant to be a bigger style of California red. It has more tannin, and so can come across as very dry to beginning wine drinkers. But the tannins are well balanced, and the blend [70% Cabernet Sauvignon/20% Petite Sirah/5% Merlot/5% Petit Verdot] gives big, dark, forward fruit, with lots of weight and viscosity in the middle-palate. The kind of wine that could appeal to the most serious wine drinkers."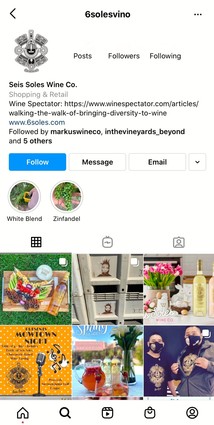 If you find this independent brand as intriguing as we do, you should be able to find these bottlings through 6soles.com, or the 6solesvino Facebook and 6solesvino Instagram pages. In fact, says Rivera, "I've been able to sell most of my wines through connections made on social media. I launched my first vintages last year at about this time after the covid crisis hit, but the immediate response was very positive.
"I've had a little success placing my wines in restaurants — not so much here in Lodi or San Joaquin County, because of the greater restrictions. Restaurants in Orange County, San Diego, and the Temecula areas had fewer restrictions during the lockdown, so I have been more successful there. I've also been able to sell Seis Soles to customers in Modesto, Turlock, and Stockton. In Lodi, there is a lot more competition from other brands, but there are plenty of people looking for this kind of wine all over the state."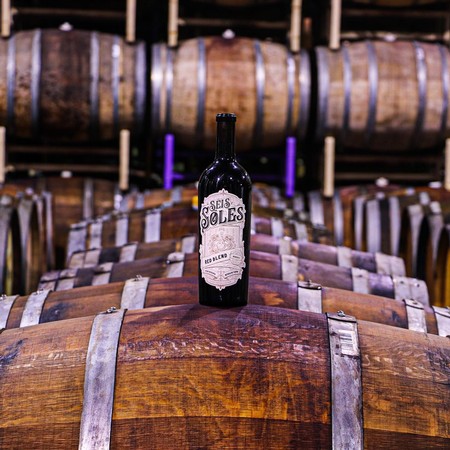 Comments